Is Violence Inherent to Religion?
The barbaric execution of a Jordanian pilot at the hands of ISIS leaves no doubt, if there ever was any, that we are confronting boundless inhumanity.
A Jordanian girl holds a poster of pilot Muath al-Kasaesbeh, February 2, 2015.
Credit: Reuters
Until last week, ISIS executioners beheading prisoners in orange jumpsuits defined for many of us the imminent violence threatening Western civilization. The stakes changed suddenly when a highly produced video was posted online showing Jordanian pilot Lt. Muath al-Kaseasbeh being burned alive in torturous slow motion. As much as beheading is barbaric, this new abject horror we viscerally felt on witnessing the agonized screams of a man reduced to char has left us with no doubt, if there was any before, that we are confronting seemingly unbounded inhumanity; all the more to frighten and unsettle us.
When the immediate response of the Jordanian government the morning after the immolation was to hang two Al-Qaida-linked terrorists who were awaiting execution, who among us will not admit to feeling some degree of satisfaction, of rectification, that at least momentarily justice had been served and the barbarians had been held back at the gates?
It is no revelation that the vast majority of global terrorist acts today are perpetrated by groups with extremist Islamic ideologies. A significant question that requires serious consideration is whether there is an inherent linkage between the religion, Islam, and acts of atrocity.
More broadly, should we extend this question to all of the Abrahamic faiths - Judaism, Christianity and Islam? Is there an intrinsic linkage between all three of them with violence? Or is violence in the name of any religion a perversion, masking ulterior motivations?
Speaking at the National Prayer Breakfast in Washington D.C. last week, U.S. President Barack Obama argued that ISIS and Al-Qaida are not the only religious extremists to use violence. "This is not unique to one group or one religion," he claimed. "There is a tendency in us, a sinful tendency that can pervert and distort our faith." As proof for his assertion, he cited Christianity's violent past: "[L]est we get on our high horse and think this is unique to some other place, remember that during the Crusades and the Inquisition, people committed terrible deeds in the name of Christ."
One can expand on Obama's argument by tracing the history of those who, in the name of Christianity, targeted marginalized groups as scapegoats, most often the Jews, via pogroms and in the most nefarious expression, the Holocaust.
Kareem Abdul-Jabbar, six-time NBA champion and league Most Valuable Player, now a celebrated educator and filmmaker, recently authored an article for Time magazine in response to the murderous rampages in Paris, titled "These terrorist attacks are not about religion."
He writes,
"For me, religion—no matter which one—is ultimately about people wanting to live humble, moral lives that create a harmonious community and promote tolerance and friendship with those outside the religious community. Any religious rules should be in service of this goal. The Islam I learned and practice does just thatWhen the Ku Klux Klan burns a cross in a black family's yard, Christians aren't required to explain how these aren't really Christian acts."
Karen Armstrong, in the introduction to her new book, "Fields of Blood: Religion and the History of Violence," writes,
"In the West we see 'religion' as a coherent system of obligatory beliefs, institutions, and rituals, centering on a supernatural God, whose practice is essentially private and hermetically sealed off from all 'secular' activities. But words in other languages that we translate as 'religion' almost invariably refer to something larger, vaguer, and more encompassing."
Armstrong understands that a worldview positing a linkage between religion and violence is antithetical to religion's expansive meaning, its spiritual essence. Religion and by extension, faith, provide a path for living, for balancing competing moral values in a complex world. Religion is based on choice and is personal, as my relationship with G-d is different from that of another person.
When religion is reduced to formulistic dogma, it loses its mystery, its ability to inspire awe. The individual, when subject to external control by those who claim to express the "Divine Will," is prone to manipulation. The comfort and certainty of creed comes at a heavy price. At its extreme, it becomes a cult, with abandonment of free will and enslavement to ideology.
In contrast, when discussing the Jewish response, Armstrong writes,
"The Talmudic rabbis would have found it impossible to express what they meant by faith in a single word or even in a formula, since the Talmud was expressly designed to bring the whole of human life into the ambit of the sacred."
The rabbis of the Talmud, drawing upon the Oral Tradition, received at Mount Sinai, transmitted from Moses to Joshua, to the Elders and forward, knew that when the Bible writes, "an eye for an eye and a tooth for a tooth" that even though a literal reading limits retribution to the extent of the damage (as in the Code of Hammurabi), the application of the law is to require monetary compensation.
In the Book of Deuteronomy, Chapter 21, verses 10-14, the Bible deals with the problematic situation when soldiers encounter desirable women during wartime. Instead of acting on impulse, the soldier is required to bring the captive woman home. However, first there is a month-long waiting period, after which he may marry her, but in the meantime his lust may cool off and he then may send her away.
It is clear that the Bible is not describing the ideal. But it asserts that even during wartime there is a religious way to act: with kedushah, holiness.
In the violent world in which we live, with executions perpetrated in the name of religion, with serious questions to ask of G-d as to how and why, it would be comforting to have definitive answers on which to hang our faith. Such is not the religious path.
Abraham, father of the three faith communities bearing his name, searched his entire life for that which was worthy of belief. At the age of 70, he encountered G-d. Instead of certainty, Abraham's life henceforth was filled with challenges and tests, but it was a life blessed with meaning. Such is the religious path.
Rabbi Yehoshua Looks is COO of Ayeka, a teacher and a freelance consultant to non-profit organizations. The opinions expressed are personal and not representative of any organization with which he is associated.
Click the alert icon to follow topics:
ICYMI
Ken Burns' Brilliant 'The U.S. and the Holocaust' Has Only One Problem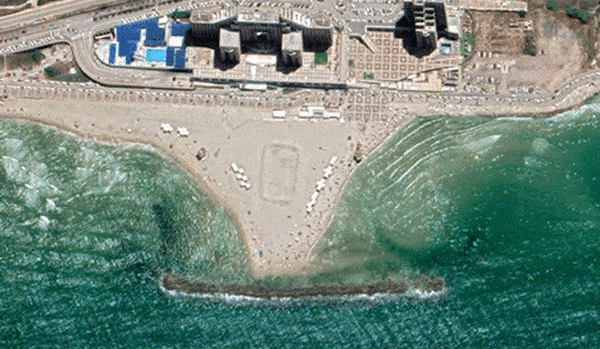 Facing Rapid Rise in Sea Levels, Israel Could Lose Large Parts of Its Coastline by 2050
As Israel Reins in Its Cyberarms Industry, an Ex-intel Officer Is Building a New Empire
How the Queen's Death Changes British Jewry's Most Distinctive Prayer
Chile Community Leaders 'Horrified' by Treatment of Israeli Envoy
Over 120 Countries, but Never Israel: Queen Elizabeth II's Unofficial Boycott