Paris Jews at Odds Over Where the Dead – and Living - Belong
The decision to bury the four victims of the Hyper Cacher attack in Israel, rather than in their native France, underscores the community's ambivalence about the land they live in.
Gathering in solidarity with victims of two terrorist attacks in Paris in Berlin, January 11, 2015.
Credit: AP
PARIS — Some one million people are said to be buried in Cimetière parisien de Pantin, the largest cemetery in France. More than 8,000 trees grow here, and 32 kilometers of roads crisscross the vast grounds, which include a separate Jewish section. But the four victims of the terror attack on a Jewish minimarket in Paris last week are not among those resting in Pantin. France was not where their families, or the Israeli government, thought they belonged.
While there is a long and strong tradition of Diaspora Jews wishing to be buried in Israel — the funerals of Yoav Hattab, Philippe Braham, Yohan Cohen and François-Michel Saada in Jerusalem this week nonetheless symbolized something.
If not reflecting outright that many of the half a million or so Jews who live here do not fully feel France is their home – it at least speaks to the fact that the question of belonging has once again, with recent events, become all the more complicated for Jews.
"We used to record about 80 anti-Semitic events a year," says Marc Knobel, a researcher at the CRIF— the representative council of French Jewish institutions. "But the numbers have been shooting up with a new, different, wave of attacks." The turning point, he says, was October 2000 when, on the second day of the second intifada, 12-year-old Mohammed al-Dura was killed in Gaza. "That week alone we recorded 75 attacks on French Jews, and the numbers have stayed high. Since 2000, all told, there have been over 8,000 incidents – from verbal abuse to desecrations of graves and violence.
"At first, the most violent attacks were against synagogues, which was traumatic in and of itself," says Knobel. "Then the targets changed."
The first big sign of that change, says Knobel, came in 2006. That's when Ilan Halimi, a 23-year-old French Jewish phone salesman was kidnapped, tortured and killed by a group called the Gang of Barbarians, led by a Muslim Frenchman of Ivorian descent who believed Halimi's family and community would have money to pay ransom because he was Jewish.
In 2012, a shooting rampage in Toulouse that traumatized the community left seven people dead, including a policeman, two soldiers and four Jews, three of them children, at a Jewish school. The attacker, a French Muslim of Algerian decent, said he chose the school because "the Jews kill our brothers and sisters in Palestine." And in May last year, another French Muslim of Algerian descent killed four people – among them a visiting Israeli couple – across the border in Brussels, at the Jewish Museum of Belgium.
"We have gone from feeling unsafe in our religious institutions, to not even being able to feel safe in our schools or our cultural institutions – or now, with this attack on the Hyper Cacher [the kosher mini-market in Paris], in our businesses either," says Knobel.
According to a poll commissioned last year by the Foundation for Political Innovation, a Paris think tank, a full 14 percent of French people said they believed attacks against the Jewish community were understandable. In that same poll, 35 percent agreed that Jews use their status as victims of the Holocaust in their own interest, and 16 percent reported believing in the existence of a global Zionist conspiracy.
A mourner kneels near the graves of Yohan Cohen, Yoav Hattab, Philippe Braham and Francois-Michel Saada, victims of the Hyper Cacher attack, during their funeral in Jerusalem, Jan. 13, 2015. Photo by Reuters
Muslim respondents to the poll, notes Simone Rodan, the American Jewish Committee's representative in Paris, were two to three times more likely to hold anti-Jewish views than the rest of French population. "Most disappointingly," she says, Muslim attitudes towards Jews did not vary according to age, socio-economic background or even education. "They seem only to be determined by the level of religiosity." This means, she explains, that the more religious a Muslim purported to be, regardless of other factors, the more likely they were to hold anti-Jewish beliefs.
'Where was everyone after the killings in Toulouse?'
The show of unity on Sunday in which over 1.5 million people marched through the streets of Paris – and millions of others demonstrated across the country — to declare their support for free speech and their opposition to terror and violence, does not seem to have mitigated the sense of vulnerability and fear within the Jewish community.
"Do you think those masses were out there demonstrating because innocent Jews were killed?" asks Laurent Munnich, the founder and director of Akadem, the main cultural website of the French Jewish community. "It is only because the Hyper Cacher attack came right on the heels of the attack on Charlie Hebdo that we got pulled into this, on the same wave," he says. "We are not foolish enough to think suddenly everyone feels it's awful to kill Jews. Where was everyone after the killings in Toulouse?"
Others, who asked to speak on condition of anonymity citing security reasons, added that reports of substantial numbers of Muslims joining in the marches were exaggerated. "They just did not show up in force," said one Jewish leader. "Both because many Muslims who might be against violence are offended by Charlie Hebdo, but also because there are many Muslims who might be against violence – unless it is directed at Jews." "I know how the Muslim community can come out to demonstrate when they really feel strongly about something," added the leader. "I saw it this summer, when they came out against Israel's actions in Gaza."
Karim Sahnoun, a Muslim waiter in Paris of Algerian origin who did not attend the march admitted, along with many other Muslims on the street here, that he had found the 'Je suis Charlie' slogan difficult to muster, given what they regard as the magazine's offensive way of depicting their prophet. "The victims being Jewish was not the problem," says Sahnoun. "Even though I know some said they did not want to be marching in a demonstration with [Israeli Prime Minister Benjamin] Netanyahu."
People pay tribute to the four victims of the terror attack on the Hyper Cacher supermarket, Paris, Jan. 10, 2015. Photo by Reuters
Halimi also buried in Israel
"I was at the Halimi funeral," said a Jewish psychologist, recalling the young victim's burial in the Jewish section of Pantin in 2006. "There were representatives of the government, but otherwise everyone was Jewish. It was not like the larger community cared," A year later, Halimi's mother, citing fear that his killers might one day come and spit on his grave, had his body exhumed, flown to Israel and reburied in Jerusalem.
The psychologist, who also did not want to be identified by name for security reasons, is part of a group organized by the Jewish community here that has spent the days since the Friday attack on the Jewish mini market treating the released hostages and the families of the victims.
Meanwhile, groups of other psychologists and social workers organized by the community, many of them volunteers, have spread out among Paris' 180–plus Jewish schools to help children cope with their feelings in the aftermath of the attacks. About one third of Jews in France send their children to all-Jewish schools — almost all of which have been guarded starting this week by an extra force of 4,700 police.
"Many of us used to send our children to Jewish schools because we thought that would be safest for them – they would not have to deal with any anti-Semitism," said the psychologist. "Now we are terrified that they are less safe in the Jewish schools."
According to Munnich and others familiar with the proceedings within the Jewish community that went on after the attack, there was not much of a debate as to where the victims of the Hyper Cacher attack – all of whom had personal or familiar connections to Israel – would be laid to rest. Munnich said that by Saturday evening, in concert with the wishes of the families, the FSJU – known as the local United Jewish Social Fund is known – had mobilized, bought the plane tickets, was in negotiations to pay for the plots and had organized all the necessary legalities to fly the bodies to Israel.
A similar scenario had played out in 2012 when, after the terror attacks in Toulouse, those victims' families had asked for them to be buried in Israel as well. The practice of burying loved ones in Israel is very common, especially among Sephardim, adds Munnich, estimating that at least a dozen coffins are flown from France to Israel every week.
Mourners standing around the bodies of the Toulouse shooting victims during their joint funeral service in Jerusalem, March 2012. Photo by Reuters
But another person privy to the discussions within the Jewish community leadership this past weekend disputed this "official" version of events – saying that there was debate and that one of the victims' families initially considered holding his funeral in Paris. According to this source, who spoke on condition of anonymity, representatives of the Israeli government leaned on the families to have a joint funeral in Jerusalem, offering to pay for travel and plots.
"Personally, I do not believe this was the right thing to do," says the source, noting that the funeral of Ahmed Merabet, the Muslim policeman killed in the attack last week at Charlie Hebdo, here, in France, had been meaningful for many in the larger French community. "This could have been the right moment, when there is a heightened sense of unity, to say 'yes, we do want to believe we are in this together. We live here, just like everyone else, and we will be buried here, just like everyone else. We are French and we have not given up.'"
Two thousand people attended the funerals of the four Jewish victims at Har Hamenuhot cemetery in Jerusalem on Tuesday, which came complete with all the trappings of an official event – including speeches by President Reuven Rivlin and Netanyahu. "This is not how we wanted to see you return to the State of Israel and its capital Jerusalem," Rivlin told the mourners. "We wanted you alive."
Many have already heeded these calls by Israeli leaders – some 7,000 Jews immigrated from France to Israel last year, double the number that arrived the year before. Overall, immigration was up 88 percent from Western Europe in 2014, with the arrival of 8,640 immigrants compared with some 4,600 in 2013, with surges from Italy, Belgium and Britain, according to the Jewish Agency.
Hattab, the 21-year-old son of the rabbi of La Grand Synagogue in Tunis, who was studying in Paris this year and who had just returned to Europe after a Birthright trip to Israel, was, it has been reported, hoping to immigrate himself someday. But that did not stop his Muslim friends back at home in La Goulette, a coastal town outside Tunis, from reacting negatively to his being buried in the Holy Land.
Many went on Facebook to complain: "Yoav, you are Tunisian, you should be buried in Tunisia!" wrote one. "Tunisia is the land of our ancestors, we would have liked to have gone to the funeral of one of our own and paid our respects," said another. "The Tunisian Jews are an important part of our society, and are our brothers," wrote a third.
Here in Paris, the friends and family of the other three victims, all of them French-born and bred, have not, so far, expressed similar sentiments. Perhaps they, Jews and non-Jews alike, have been convinced their loved ones are now where they belong.
Click the alert icon to follow topics:
ICYMI
Ken Burns' Brilliant 'The U.S. and the Holocaust' Has Only One Problem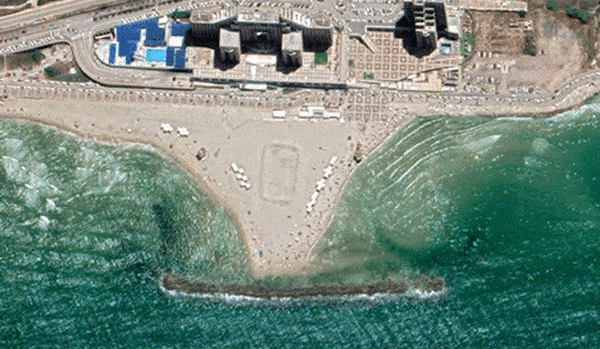 Facing Rapid Rise in Sea Levels, Israel Could Lose Large Parts of Its Coastline by 2050
As Israel Reins in Its Cyberarms Industry, an Ex-intel Officer Is Building a New Empire
How the Queen's Death Changes British Jewry's Most Distinctive Prayer
Chile Community Leaders 'Horrified' by Treatment of Israeli Envoy
Over 120 Countries, but Never Israel: Queen Elizabeth II's Unofficial Boycott