Anti-Semitism Looms Over Turkey's Last Jews
Turkey, once a safe haven for Jews, now outranks Iran in harboring anti-Semitic sentiment.
A shopping street near the Grand Bazaar in Istanbul, Turkey
Credit: John Walker
ISTANBUL – Neve Shalom Synagogue is tucked into a nondescript side street in what was once Istanbul's lively Jewish neighborhood. Its façade is barely noticeable, dotted with black-suited security guards speaking into earpieces as they survey the perimeter.
"They try to keep a low profile," said a security coordinator.
The synagogue was the scene of a number of terror attacks – most recently in 2003, when car bombs exploded here and at another Istanbul synagogue, claiming 27 lives.
Foreigners must submit their passport, pass through a security detector and walk through a maze of vault-like corridors before entering an almost empty prayer hall, where men pray powerfully to fill the thick silence.
Lara Hillel, a 26-year-old Istanbul native, recalls that attending services as a young girl at Neve Shalom, the city's largest synagogue, was "always full of children and joy." But on Yom Kippur this year, no more than a few dozen mostly white-haired worshippers were expected.
"For the Jewish people there is no life in Istanbul, but also I feel very Turkish and I want to live here all my life if it's possible," says Hillel, who was one of only three women at services on the eve of Rosh Hashanah.
Her ancestors, like most of Turkey's Jews, sought refuge in the Ottoman Empire after expulsion from Spain in 1492. For centuries Turkey was a safe haven for Sephardic Jews, who thrived as merchants and traders.
"I think 500 years ago Turkey was more modern," she says.
But the community's numbers began to drop after anti-Jewish riots erupted in the 1930s, and in the years thereafter as economic and political tensions were high.
Over the past decade, again, a casual hostility toward Jews has emerged with the rise of religious conservatism. Deteriorated Turkish-Israeli relations, moreover, have provided a channel for Turkish hatred toward Jews.
Turkish Jews have gradually been moving to Israel, the United States and wealthier European countries, in search of religious freedom and a better life. Today the community numbers just above 15,000, a sharp drop from 80,000 just before the creation of the State of Israel. It is expected to plunge even further as older Jews die out and younger Jews intermarry and choose to have smaller families.
The Hillel family is a case in point.
Twenty-five years ago, Lara's father, a practicing Jew, moved to Italy, soon to be followed by Lara and her sister. For most of her adult life, she never imagined returning home. But a year ago she made the bittersweet decision to do just that when her long-term boyfriend, Tansu, proposed.
Though he is a Turkish Muslim, religion was a non-issue for Lara and Tansu. "For us, we are just in love," she says.
But she kept the relationship a secret from her father for years. She feared disappointing him further after her sister had married an Italian Christian – "a big problem for him," she says, laughing nervously.
While she is determined to raise her children as Jews, she dreads the growing vitriolic attitude toward Jews for which she faults President Recep Tayyip Erdogan's Islamist Justice and Development Party, known by the initials AKP.
"Not outright, but in meaning, Erdogan speaks about Jews as guests in Turkey, which is to say that we're not Turkish," says Hillel, sitting in an outdoor square near the Galata Tower. She speaks in hushed tones, and like many of those who remain here, says she is wary of discussing Judaism in public.
According to a global index created by Anti-Defamation League, Turkey outranks Iran in harboring anti-Semitic sentiment. In Turkey, 75 percent of those questioned in a survey agreed that Jews have too much power in the business world, and 69 percent said that Jews are more loyal to Israel than to their country of residence. Aykan Erdemir, a politician from the secular Republican People's Party, called it a "warning."
"Our Jewish citizens are unfortunately entering the New Year in an environment where anti-Semitism, discrimination, hate crimes and hate speeches are on the rise," he told a September 25 press conference marking Rosh Hashanah.
Many secularists argue that Erdogan's AKP party – which is rooted in conservative Islamists formerly repressed under Kemalist military regimes – has been gradually chipping away at the nation's pluralist core.
In response to criticism from the secular left, Erdogan has disseminated assorted conspiracy theories, which have in turn fanned the flames of anti-Semitism and anti-minority hatred.
In one of his greatest challenges as a leader, Erdogan claimed during the 2013 Gezi Park protests that the Europeans and the "interest-rate lobby" – a thinly veiled reference to Jewish financial circles – were backing the anti-government campaign, with the ultimate goal of dividing Turkey from within.
At the height of the Gaza war this past summer, anti-Israel rhetoric quickly morphed in some cases into anti-Semitism as public protestors called for Turkey's Jews to be punished and exiled for Israel's military operation.
In the days following the launch of Operation Protective Edge this summer, 30,926 Turkish-language tweets commended Hitler and the Holocaust, according to a survey released by Gonzo Insight, a Turkish research group. One tweet posted by the famous pop singer Yildiz Tilbe read, "May God Bless Hitler." In the official sphere, Erdogan stated that Israel "surpasses Hitler in barbarism," and called on Turkey's Jews to condemn Israel's military actions, for their own safety.
"I talked with our Jewish citizens' leaders on Thursday and stated that they should adopt a firm stance and release a statement against the Israeli government," he told the Turkish Daily Sabah newspaper.
Regardless of their views on Israel and the war, however, liberals pushed back.
"During the war, Islamo-fascist media and press have attempted to rekindle the hatred against Turkish Jews," says Cumhur Oranci, a 53-year-old activist with Say Stop to Racism, a Turkish NGO that organized a counter-protest calling for the defense of Turkey's Jews. According to Oranci, Turks from both the radical right and the anti-war left participated in anti-Israel protests that quickly turned anti-Semitic.
"The campaign, which gave the impression that it was seeking the punishment of 'murderers guilty of crimes against humanity,' in reality seeks to eliminate the right of our Jewish citizens to live as human beings in this country," said a statement released by the NGO.
For Ilya Avramoglu, the Jewish owner of the Kelebek Corset Shop on Istanbul's bustling Istiklal Avenue, anti-Semitism is an immediate threat to his livelihood. Under a new Turkish law that allows the arbitrary eviction of tenants of more than 10 years, his landlords are demanding his eviction. One eviction letter read, "You are Jewish, so you are dangerous."
The shuttering of his doors after 78 years, he says, would be "a hanging" not only for the city's historical heritage, but also a great loss for the modest but steady clientele who can find his specialty products nowhere else. These products include breast inserts for women who have undergone mastectomies, costume bras and panties for Turkish soap stars, and polyester thongs for his transsexual customers – all of whom, he proudly explains, make up the diverse and colorful fabric of his city.
Yet, persecution is nothing new for the Avramoglu family. In September 1955 the shop was one of those targeted in the anti-minority pogroms that killed at least 12 people and injured hundreds. Since then, most Armenians and Greeks have moved elsewhere.
"These days are just as bad as then, when my grandfather had to rebuild from the rubble," he says. Every morning, he reads Sefer Tehilim (The Book of Psalms) in Turkish transliteration, "and sometimes I cry," he says.
But for the High Holy Days, Avramoglu, a patriot who served in the Turkish army, says that his only wish for the New Year is to remain where he belongs. He realizes that it's a tall order.
In the next 50 years, the Jews of Istanbul may very well completely "disappear," says Mario Levi, an acclaimed Jewish Turkish writer and self-described "male Scheherazade."
His hefty, vignette-styled novel "Istanbul Was a Fairy Tale" was an attempt to save both his own life and to "immortalize" the Jewish characters of his childhood, he says over Turkish coffee at a café near his home on the Asian side of Istanbul.
This summer, the book was also featured on a list of Jewish products to be boycotted. As a Jew, the social media campaign for the boycott argued, Levi was accountable for Israel's actions.
It is ironic, he says, since he views Netanyahu's administration as "chauvinist." He has publicly expressed sympathy for both Israeli and Palestinian victims, for which he has also received flak from within the Jewish community, and which he considers interesting material for his next book.
"While anti-Semitism has become worse in the last 15 years, there is a paradox in Turkey in which we are much more courageous in discussing the Jewish and minority identity," he says.
As a Jew and an outsider in Istanbul he has suffered, he says, though as a writer on the margins he has also been granted a favorable vantage point from which to view the compelling questions of modern Turkish identity.
"I don't know what will be, honestly," he says, "though I hope that this year will be better."
Click the alert icon to follow topics:
ICYMI
Ken Burns' Brilliant 'The U.S. and the Holocaust' Has Only One Problem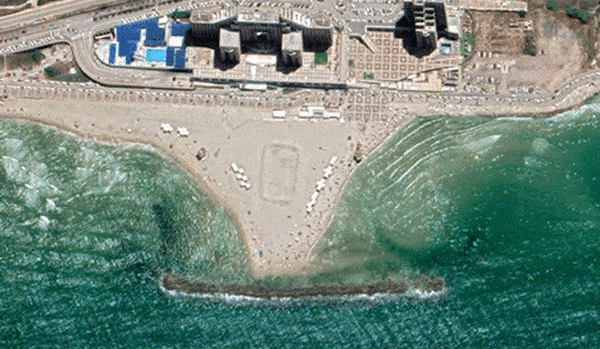 Facing Rapid Rise in Sea Levels, Israel Could Lose Large Parts of Its Coastline by 2050
Lapid to Haaretz: 'I Have Learned to Respect the Left'
The Mossad's Fateful 48 Hours Before the Yom Kippur War
As Israel Reins in Its Cyberarms Industry, an Ex-intel Officer Is Building a New Empire
How the Queen's Death Changes British Jewry's Most Distinctive Prayer