The Misadventures of a Secular Jew on Yom Kippur
A new take on Judaism's holiest holiday: 'The Day of Atonement confronted me with the possibility of a terrifying fate. Was my name in the Book of Life?'
The prevailing religion in my family's home played on an endless loop of BBC broadcasts on my father's short-wave radio. Israel and all news related to its progress – this was our creed. On the grown-ups' bookshelf, a few Jewish liturgical texts moldered next to the latest books by Bellow, Uris, Updike and Morrison, not to mention "Valley of the Dolls" and "The Joy of Sex." But we did have a running, Oxford-accented news commentary that filled the halls of our Venezuelan quinta with words like "Kiryat Shmona massacre," "Arab League," and "Operation Entebbe" uttered with such gravitas that the broadcasters – I imagined them as robed university dons – put small children in a mild trance.
Once a year, however, our peripheral religion broke through with its terrifying motif of a different kind of book. I sat up and listened. My parents greeted Rosh Hashanah with a quick nod of honey-dipped apples. But for Jews "lite," Yom Kippur, with its 25-hour fast and repentance panic, was the real test to see if you could keep a foot in your tradition.
Every year, my father took us to services at the Conservative synagogue of Caracas, where I understood little except that the Book of Life was about to be sealed. As soon as Rosh Hashanah had come around, I'd been quietly alarmed by the sweetly exchanged wishes, among our Jewish friends and teachers, that we all survive the year to come. For a literal-minded kid who prayed in the privacy of my shag-carpet bedroom (open expressions of devotion were greeted with gentle eye-rolls at home), the words "May you be inscribed in the Book of Life" sounded dreadfully like all bets were off.
Despite assurances to the contrary from my two most-trusted non-believers, my parents, I couldn't be sure that my name had been inscribed. Above the comfort zone of my family's Israeli allegiances and foodie Judaism – the gefilte fish, latkes and matzo balls – hung the radical possibility of a recalibrated fate. Was my name in the Book, and what if it wasn't?
I didn't think too anthropomorphically about the God I prayed to, but I sensed he was basically a Jerusalemite from Rehavia, versed in all the languages of my home: English, Hebrew, of course, and Spanish. And every year he cracked open his books and drew up a list of the un-inscribed, which seemed to be filled with plenty of Catholics along with Jews (and Arabs, if you listened closely to the BBC dons and their bad news about attacks and counterattacks involving Israel). Could you be especially good between Rosh Hashanah and Yom Kippur and be granted another year of life? And if you fell short, how would the end come? "Who by earthquake and who by drowning? Who by strangling and who by stoning?" the liturgy asks. Fire, water, sword, beast, hunger, thirst? Bleak choices all around.
For us, being good Jews meant being decent people: You shared your toys with your sister, you showed your children you loved them and you mingled well with your Catholic neighbors. If you were my father, you dug up your kippah and fasted for that one day. In turn, the goyim followed the same general mandates (minus the fast) and everyone would be okay.
But this was clearly not enough, even for those of us who were neither righteous nor wicked, but somewhere in between. As far as I could tell, that was most of us, including a child like myself who daily terrorized the family cats and stole imported candy from the children of diplomats during school lunch at the Escuela Campo Alegre in Caracas.
Gunfire and Syrians
One year, a good friend of my father, whose children often played at our house, didn't make into the Book of Life. It was October of 1973. My father and his friend joined a handful of Israelis in Venezuela – former army officers working in the country's oil economy and business sector. They traveled to Israel and volunteered their services in the Yom Kippur War.
I myself was getting to know Israel, from yearly visits, as a place of playgrounds and stray cats, where small children ran unsupervised on ethereal streets, among sand-colored buildings. Men who'd left, like my father and his friend, went back at a moment's notice to protect it.
After 40 days, my father returned home. His friend didn't. I don't remember those weeks – only that my father's pipe-scented den was strangely empty. In the years that followed, I'd often hear him tell the story of his friend Yoram's death in halting words. There was gunfire. There were Syrian enemies. There was a low wall in the battlefield that didn't protect Yoram, and (my conclusion back then) there was a fickle, impulsive God writing and crossing out names for kicks.
Growing up, a parallel world of dead people formed in my imagination. Those God had obviously rubbed out during the High Holy Days with his grim decrees showed up within the year.
When I was old enough to absorb my father's stories about Yoram, I imagined him there, on an open terrace where those for whom the scales had tipped toward death could find refuge, and something like my mother's orange-liqueur cake. In this place, beyond scrolls and ledgers, Yoram was several men at once – the soldier with impossible wounds lying in a field, the friend drinking coffee with my father in our Avenida Gloria house, and the father still watching over his children who'd since moved to Israel.
Other un-inscribed folks arrived over the years: my maternal grandmother with her sad sunglasses and tins of hand cream; my father's cousin Rafi, from whom he'd been inseparable as a child in Jerusalem; our handyman, Alfonso, who tinkered our Zenith TV back to life every week and was fond of his motorcycle; and Kenneth, the brother of a classmate who sailed on his skateboard into a gate on the grounds of our school.
Every year on Yom Kippur, my otherwise non-observant father lay wilted in bed, all prayer focused on the chicken my mother was roasting for dinner after the closing service. Helping her prepare this Jewish meal was the influential housekeeper we loved and shared our home with – a Galician who kept a bleeding Christ framed on her bedroom wall.
Later, when the ledgers were shut, the judgment passed and the shofar's painful wheeze signaled to the ill-humored adults at services that it was finally time to eat again, this was the only image I could conjure up back home: my own multidenominational pantheon of those who hadn't made the right list, a private affront to the Days of Awe.
Israel-happy vulgarians
When I was older and living in New York, I fit in with that much maligned Jewish group – the Israel-happy vulgarians in America who should be taught their own religion. I was, as per the latest Pew labels, a Jewish "none," an advocate for the writers and artists who defined modern American Jewish life (as much as Brooklyn's Hasidim did). This was everyone from Philip Roth and Susan Sontag to Jerry Seinfeld.
I still had my open pantheon and talked to my dead, as I suspect many of us do, in defiance of the rabbinical, here-and-now sobriety my religion offered. Soon enough, I dropped even the little pretense of tradition that I'd had. One year I observed Yom Kippur; one year I didn't. "But you need to show your Christian bosses that you have a religion too," an Upper West Side boyfriend insisted.
One year I ate lightly; another year I fasted on the wrong day. One year at my parents' New York apartment, I simply announced that I was going into work. My mother, who was undergoing chemotherapy, gave me an amused smile. "Show some solidarity with your people," my father rebuked. This was years before I'd learn that I had two Catholic-raised half-sisters in Ecuador, where my father had traveled on business since my youth.
I'd long known the Book of Life was a metaphor rabbis used to exhort personal change. But I still bristled at the idea of arbitrary exclusions, which a city like New York was full of (especially if you couldn't pay the steep synagogue-membership dues).
For me, the most poignant part of the High Holy Days story – the lousy state of suspension in which all in-between souls hung for 10 days – was close to the truth of the life I knew of dragged-out breakups, family illness and estrangement, small acts of redemption and forgiveness, and obscenely unrealistic goals for the future.
In this way, the message of Yom Kippur as I understood it gave me a gift: the idea of flux and fundamental uncertainty. Introspection and regret meshed with renewal and love. You wished for everyone to be scripted into another year of life, including yourself. And, like Zionist leader Berl Katznelson, who was happy with his "confused, uneasy soul" in a world of "reversals, torments and hopes" – you just put up with not knowing.
Click the alert icon to follow topics:
ICYMI
Ken Burns' Brilliant 'The U.S. and the Holocaust' Has Only One Problem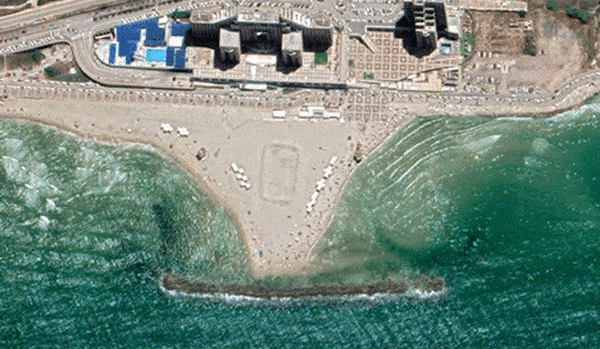 Facing Rapid Rise in Sea Levels, Israel Could Lose Large Parts of Its Coastline by 2050
As Israel Reins in Its Cyberarms Industry, an Ex-intel Officer Is Building a New Empire
How the Queen's Death Changes British Jewry's Most Distinctive Prayer
Chile Community Leaders 'Horrified' by Treatment of Israeli Envoy
Over 120 Countries, but Never Israel: Queen Elizabeth II's Unofficial Boycott