5774: When Beheadings, Eastern Europe and anti-Semitism Made a Comeback
If years were music or fashion, the one now ending would best be described as 'retro'- a year that looked backward for its models and inspiration, rather than to a better future.
Netanyahu meets the new year. Photos by Michal Fattal, dreamstime
If years were music or fashion, the one now ending would best be described as "retro" – a year that looked backward for its models and inspiration, rather than to a better future.
5774 was not a year that struck out boldly in a quest for new horizons. It didn't take any bulls by the horns and wrestle them to the ground in a spirit of uncompromising determination. It preferred the tried and the tested – such as old war diplomacy against a recidivist Russia and yet another Middle East peace process on a hiding to nothing, Whatever made the least waves.
A year of stasis
It was a cautious year; a year of stasis. Perhaps 5774 was best summed up by Prime Minister Benjamin Netanyahu's publicly enunciated goal for the war in Gaza toward the end of the year: "returning quiet to the country." That's the sort of year it was; backward-looking and proudly unambitious.
The Klos C enters the Eilat Port on March 8, 2014. (Photo: Tomer Appelbaum)
The year was bracketed by violence. It began with the Al-Shabab attack on a mall in Nairobi, Kenya, and ended with the war between Israel and militants in the Gaza Strip. In-between, Israel captured an Iranian arms ship, apparently bound for Gaza, the civil war in Syria dragged on – edging worryingly close to Israel's north-eastern border – and Putin threw his toys out of the cot when Ukraine dared to glance flirtatiously westward.
The resumption of hostilities in the eastern European "bloodlands," as Timothy Snyder called them, was not the only ominous – and defiantly retro – cloud on the global horizon. There was also the precipitous rise of the Islamic State group (née ISIS) in Syria and Iraq, with its gory use of beheadings as a political statement – a sort of inverted French Revolution in sandals and black keffiyot.
A soldier atop a Russian armored personnel carrier, Crimea, Ukraine, Feb. 28, 2014. (Photo: AP)
Both Islamic State and Putin's methodical dismantlement of Ukraine were down-payments on the year to come. If you think things are bad now, they seemed to be signaling, you ain't seen nothing yet. Welcome to 5775.
Head in the sand
In Israel, 5774 was an ostrich year; three-hundred-and-sixty-five days of diligently shoving our collective head deeper into the sand. The highlight, of course, was the hyperbolic "peace process," which was widely eulogized before it even began and conscientiously fulfilled all expectations. Not since Henry Kissinger had a U.S. secretary of state notched up as many air miles as John Kerry, but peace in the Middle East evaded him – as it had evaded his eminent predecessors.
Kerry and Netanyahu at a press conference in Jerusalem, January 2, 2014. (Photo: Reuters)
The collapse of the Kerry mission was accompanied by precisely-modulated mutual recriminations between the United States and Israel and what was described as "bad chemistry" between Netanyahu and U.S. President Barak Obama (had it been bad physics, it could conceivably have been blamed on the Higgs boson, which was supposedly identified during the course of the year.) The low point came when Defense Minister Moshe Ya'alon was compelled to grovel after describing Kerry as "obsessive and messianic" and asking him to leave Israel alone.
Smoke and fire from the explosion of an Israeli strike rise over Gaza City, July 22, 2014 (Photo: AP)
Things improved somewhat toward the end of the year, with the United States supporting Israel solidly during the Gaza war (though Kerry was snubbed when he asked to join in the cease-fire game) and Obama apparently deciding to devote himself to the less-intractable issues of Ukraine and Islamic State. Israel appreciates benign neglect (backed up by lots of money, weapons and UN vetoes) in an American president.
The three youths kidnapped and murdered in the West Bank: Eyal Yifrah, Naftali Fraenkel and Gilad Shaar. Center: The car thought to be used in the kidnapping.
The peace trap
Having avoided the trap of peace, Israel set about dismantling the even more subtle snare of Fatah-Hamas reconciliation. When three Israeli youths were kidnapped and heinously murdered in the West Bank in June, the government took the opportunity to curb the growing presence of Hamas outside its Gaza stronghold. That action may or may not have precipitated the subsequent conflict in Gaza – as with most things in Israel, there are differences of opinion – but it did not succeed in provoking a Palestinian divorce. As the year drifts to an end, the Palestinians remain reconciled, albeit in serious need of marriage counselling.
Palestinians-shmalestinians, as my grandmother might have said, but was it a good year for the Jews? No it wasn't, to be frank. In America, the wars of the Jews continued, with the Conference of Presidents rejecting an attempt by the progressive organization J Street to join its ranks (though then-incoming president Reuven Rivlin, not known as a friend of Reform Judaism, indicated he wanted to to be president of all Jews.) The BDS movement to boycott Israeli goods and representatives grew stronger – despite Netanyahu's assertion that any Jew supporting a boycott was an anti-Semite – and the issue of Israel seemed to have roiled and split community organizations in many parts of the Diaspora.
Demonstrators attend a Pro-Palestinian rally in Marseille, Saturday July 26, 2014. (Photo: AP)
Intra-Jewish issues took a back-seat, however, as anti-Israel protests erupted in many parts of the world during the Gaza war. In London, Paris, Berlin, Milan, Cape Town and elsewhere, the distinction between anti-Zionism and anti-Semitism (a fiction at the best of times, in the eyes of the Anti-Defamation League and many in Israel) blurred into meaninglessness. Jewish self-defense groups clashed with anti-Semites, synagogues were attacked and Jews beaten up. Many French Jews packed up and left for Israel, accentuating an exodus that had begun before the war.
The global protests died down when a cease-fire put an end to the seven weeks of hostilities, but the scabs remained. Jews were left asking themselves whether 70 years of post-World War II tolerance were coming to an end.
Obama, Cameron and Danish PM Schmidt take a 'selfie' at Mandela's memorial service (Photo: AFP)
Dear departed
Years are invariably marked by those who took leave of us during their duration. The most significant death in 5774 was that of freedom fighter and former South African president Nelson Mandela, an event that seemed to envelope the entire world in sadness. Such was Mandela's towering stature, that not even the comic ineptness of a fake sign language interpreter could lower the tone. Mandela was one of a kind and his death was a loss for all.
Peres lays a wreath by Ariel Sharon's coffin, January 13, 2014. (Photo: AP)
In Israel, former general and prime minister Ariel Sharon made a brief reappearance in the public eye when he died after eight years in a coma. If anything highlighted the retro nature of 5774, it was those last few days of Sharon's life and the speculation they evoked of what might have been, had he not been stricken by a stroke so soon after the Israeli withdrawal from the Gaza Strip in 2006.
Other Israeli notables who passed away during the past year included national bard and cultural icon Arik Einstein and comedian Sefi Rivlin. Both represented an earlier – possibly happier – Israel. Shimon Peres, on the other hand, kept on going like the Energizer Bunny. He handed over the office of president to Rivlin late in the year, leaving the country wondering where he would turn up next.
Maccabi Tel Aviv supporters celebrate in Rabin Square. (Photo: Moti Milrod)
On the bright side...
It was not all war and death in 5774, however. On the bright side, Israelis and Diaspora Jews continued to win Nobel prizes, Maccabi Tel Aviv won the Euroleague for the sixth time, Scarlett Johansson remained the public face of SodaStream, in defiance of the BDS bullies, the pope visited Israel (but don't mention the wall) and Lady Gaga brought her act to Tel Aviv. On Israel's south-western flank, General Abdel Fattah Al-Sissi cracked down on the Muslim Brotherhood and won the Egyptian election, giving Israel a much-needed regional ally.
Throughout the vicissitudes of 5774, one thing stayed solid, constant and reliable: Haaretz. As the Guardian newspaper put it, Haaretz "remains unbowed, firm in its belief that the greatest form of patriotism is holding one's country to its highest ideals. It is the very model of a liberal newspaper." Stay tuned for 5775.
Click the alert icon to follow topics:
ICYMI
Ken Burns' Brilliant 'The U.S. and the Holocaust' Has Only One Problem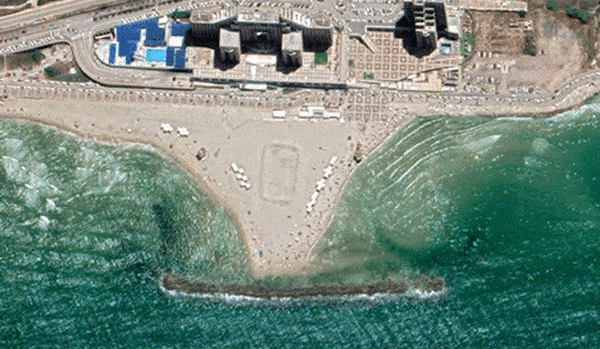 Facing Rapid Rise in Sea Levels, Israel Could Lose Large Parts of Its Coastline by 2050
As Israel Reins in Its Cyberarms Industry, an Ex-intel Officer Is Building a New Empire
How the Queen's Death Changes British Jewry's Most Distinctive Prayer
Chile Community Leaders 'Horrified' by Treatment of Israeli Envoy
Over 120 Countries, but Never Israel: Queen Elizabeth II's Unofficial Boycott