The Hippest Commandment for Progressive Jews
For the environmentally and socially conscious crowd who buy local and compost their leftovers - shmitta is a Jewish law that really resonates.
Shmitta, the hippest commandment for progressive Jews.
Credit: Dreamstime
Letting the land rest for a year, waiving rights to private property and forgiving past debts – all marvelous ideas in theory, but hard to apply in modern times.
So, as in many other areas of Jewish life, a group of rabbis came up with clever ways to get around these nice, but rather impractical, Torah commandments that apply once every seven years, and only in the Land of Israel. The only problem was that other rabbis opposed their bending of the rules, and what began as a genuine attempt to adapt the Biblical laws of shmita to modernity ended up pitting Jew against Jew in this country. So much so that in the last shmita year, the Israeli Supreme Court was forced to step in.
When Rosh Hashanah begins next week, so too will a new year of shmita, a concept first mentioned in the Book of Exodus: Six years you shall sow your land and gather in its produce, but the seventh year you shall let it rest and lie fallow, that the poor of your people may eat; and what they leave, the beasts of the field may eat.
But as things appear now, this shmita year promises something beyond the usual bickering over the interpretation of the law. Not because the various streams of Orthodoxy have agreed to call a truce, but rather because progressive Jews are suddenly discovering that this sabbatical mandated by the Torah speaks to them in ways many other Biblical laws do not. It's not the intricate technicalities of the law that appeal to these non-Orthodox Jews, rather the larger values upon which it is predicated: social and environmental justice, slowing down and sharing with others.
It should come as no surprise that among progressive-minded Jews – those who make a point of buying locally grown produce and composting their leftovers – this particular commandment would resonate strongly. At its core, after all, it's about treating the earth well.
"We usually tended to relate to shmita as a problem that needs to be solved, but now people are starting to see it as a solution," observes Dr. Jeremy Benstein, associate director of the Heschel Center for Sustainability. "Shmita comes along and says that for one whole year of out of seven, let's stop this ownership thing and create community support systems to help those in need. It's about looking at our food differently and about rebooting. And the nice thing is it's all part of our ancient Jewish tradition – there's nothing new-age about this at all."
Known as a powerhouse in the Jewish renewal movement, MK Ruth Calderon (Yesh Atid) has been using her new legislative powers to give shmita a modern and very practical twist. Her pet project these days is a new fund, inspired by the ancient shmita commandment of wiping out all debts in the seventh year (but which rabbis long ago found a loophole around). The fund, which will be officially launched in November, aims to help debt-ridden Israeli families get back on their feet by providing them with some incentives. The way it will work is that in exchange for the creditors writing off part of their debts, the families will commit to repay another portion, and the balance will be covered by a special fund to be operated by an organization called Matan – the Israeli equivalent of The United Way. Matan will raise donations for the project both from Jews in Israel and abroad.
"Usually, the mitzvah of shmita can only be fulfilled in Israel," notes Calderon. "But this is a way for Jews abroad to be able to fulfill this mitzvah as well." The plan, she adds, is to help 5,000 families start over with a clean slate.
Calderon has also been promoting several other shmita-themed initiatives, among them a free course in basic financial management targeting young Israelis just out of the army; new study programs in the school system and youth movements that focus on the values behind the ancient practice; and a sabbatical from fishing in parts of the country in order help replenish wildlife supplies in the seas. All fishermen who agree to take a break for a year would have their salaries paid for by the government, if this program obtains government approval.
Einat Kramer is the driving force behind Israeli Shmita, a coalition of environmental and Jewish renewal organizations, along with government offices and nonprofits that are focused on helping Israel's disadvantaged and destitute. Created two years ago, its goal is to find modern applications for the values intrinsic in the shmita practice. Kramer, a mother of four who lives in the Galilee, says she felt the ground was ripe for such an initiative after the mass social protests of summer 2011.
"The last shmita there was so much fighting over the interpretation of the law between the national religious and the ultra-Orthodox that you had a situation where people couldn't even sit down at the same table because they couldn't agree on what they were allowed to eat," recalls Kramer, who for the past seven years has served as the director of Teva Ivri, a nonprofit that promotes Jewish environmental accountability. "But ever since the social protest movement, there's a new spirit of activism in the country that has swept up not only secular Israelis but also the religious. People were looking for new outlets for social activism, and that's how this idea caught on."
Over the coming year, Israeli Shmita is organizing dozens of workshops and lectures on the Biblical commandment and its modern applications, tours that aim to reconnect young and old Israelis with mother earth, cultural and artistic events, and community service and volunteer projects.
Among those religious Jews trying to promote shmita as a unifying rather than dividing force in the country is Rabbi Yosef Zvi Rimon, who runs the Halacha Education Center and is known as an expert on the specific laws pertaining to the practice. "I think that what's happened is that even though we live in a capitalist society, people have started feeling that something was missing," he notes. "They understood that socialism doesn't work, so they began looking for something else and discovered shmita, which is thousands of years old but contains amazing ideas."
Among the projects Rimon plans to launch during the upcoming Jewish year is Shmita Hour, a volunteer program that will require all participants to donate an hour of their time every week to helping others. After the holidays, a special educational project he conceived on the values of shmita is slated to open at the Jerusalem Botanical Gardens.
Although the laws of shmita apply only in Israel, the craze has spread beyond the country's borders and Jewish social activists abroad have also been busy of late planning projects and events that inject new meaning into this ancient practice.
At the forefront of such efforts in the United States is Hazon, a nonprofit that urges Jewish people to think more deeply about their food choices and healthy, sustainable living. As part of its new Shmita Project, Hazon is offering local communities, synagogues and farms assistance in organizing shmita-inspired events this year. It has also created a database of educational resources on the topic.
In London, the JHub, a center for Jewish social action and innovation, will be launching a new shmita-inspired campaign in the upcoming Jewish year that combines social and environmental justice with classes on the Biblical practice. It's title: "Give It a Rest."
Click the alert icon to follow topics:
ICYMI
Ken Burns' Brilliant 'The U.S. and the Holocaust' Has Only One Problem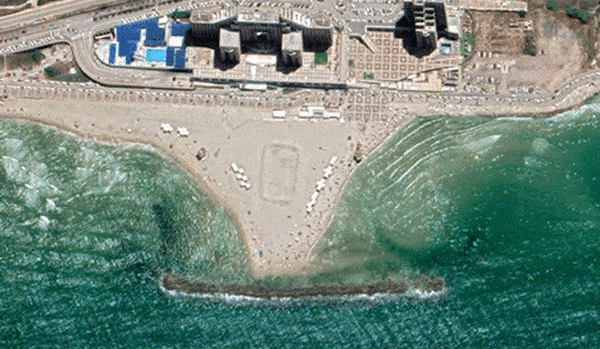 Facing Rapid Rise in Sea Levels, Israel Could Lose Large Parts of Its Coastline by 2050
As Israel Reins in Its Cyberarms Industry, an Ex-intel Officer Is Building a New Empire
How the Queen's Death Changes British Jewry's Most Distinctive Prayer
Chile Community Leaders 'Horrified' by Treatment of Israeli Envoy
Over 120 Countries, but Never Israel: Queen Elizabeth II's Unofficial Boycott