20 Years After the Lubavitcher Rebbe, Chabad Is Thriving
The messianic and non-messianic camps have learned to live together, but has Chabad lost what once made it unique?
Members of the Chabad Hasidic sect mourn the Lubavitcher rabbi Menachem Mendel Schneerson.
Credit: AP
About a year ago, an unusual visitor came to 770 Eastern Parkway in New York, the headquarters and beating heart of Chabad, where the Lubavitcher rebbe lived until his death 20 years ago. Rabbi Rick Jacobs, president of the Union for Reform Judaism – America's largest Jewish denomination, with some 900,000 members – had come for a private meeting with Rabbi Yehuda Krinsky, the rebbe's former personal secretary who is now one of Chabad's leaders. Jacobs came at his own initiative, inter alia seeking advice on how to make Reform synagogues more attractive to the public – something at which Chabad synagogues have been dizzyingly successful.
In Israel, a friendly meeting between a Haredi (ultra-Orthodox) rabbi and a Reform one sounds hallucinatory. Even in America, it isn't an everyday occurrence. Such a dialogue would have been inconceivable a few years ago and it attests to Chabad's enormous influence on world Jewry in general and American Jewry in particular. Unsurprisingly, Krinsky sees it as proof of one thing only: the power of the seventh and last Lubavitcher rebbe, whose influence extends far beyond the Chabad community and continues to expand years after his death.
Tuesday will mark 20 years since Chabad lost Rabbi Menachem Mendel Schneerson. Most Chabad Hasidim refer to his "departure" rather than his death – a euphemism that serves to blunt the dispute within Chabad over the belief that Schneerson will yet be revealed as the Messiah (though the most zealous messianists don't even use the term "departure," referring to him as a living person whose whereabouts are unknown.)
At the time, many thought Schneerson's passing would lead to Chabad's decline. But, despite schisms and disputes, Chabad has only grown stronger. The persona of the seventh Lubavitcher rebbe arouses unceasing interest among his admirers, as well as among anyone who wants to know something about contemporary Judaism. He is the subject of an endless stream of biographies, articles and research studies. Twenty years after his death, the Lubavitcher rebbe is Judaism's most vibrantly alive dead man.
A visitor prays at the gravesite of the Lubavitcher Rebbe, Rabbi Menachem Mendel Schneerson June 30, 2014. Photo by AFP
Chabad hasn't waited for Tuesday to commemorate its leader or watch videos of his lectures – a standard Saturday night practice in Chabad communities for the last 20 years. Nevertheless, this anniversary will be marked by a series of huge conferences and gatherings like the one last Thursday night in Tel Aviv's Nokia Arena.
The Chabad Empire
Nothing makes a Chabadnik happier than hearing that Chabad is an empire, the leading power in the Jewish world today. Both the Chabad establishment and ordinary Chabadniks work to cultivate this idea, which isn't necessarily wrong. Chabad has expanded by every possible numerical measure, first and foremost the number of emissaries, who have been the crowning glory of Chabad activity since Schneerson's day. Today, more than 4,000 emissaries and their families are active in 84 countries, including 980 Chabad centers in North America alone. By comparison, when the rebbe died in 1994, Chabad had only 1,243 emissaries.
But Chabad has also grown in less measurable ways, and has influenced the entire Jewish world: the non-Orthodox Jewish denominations, which face competition from Chabad's inclusive, undemanding approach to non-observant Jews; religious Zionists in Israel, who have set up imitation Chabad houses from Tel Aviv to the Far East; neo-Hasidic communities and even the "Lithuanian" (non-Hasidic) Haredim, who once waged all-out war against Chabad, but have now set up numerous kiruv organizations - modeled after those created by the rebbe - aimed at drawing nonreligious Jews closer to Judaism.
Visitors pray at the gravesite of the Lubavitcher Rebbe, Rabbi Menachem Mendel Schneerson June 30, 2014. Photo by AFP
From the outside, everything looks rosy; and even from within, the dispute that tore Chabad apart after the rebbe died now seems to have cooled. On the day after Schneerson's death in June 1994, then-Haaretz correspondent Shlomo Shamir reported on dozens of young messianists who "gathered in groups apart from the huge congregation and periodically burst out dancing and singing 'our master and rabbi, the King Messiah.' One of them explained that he and his friends aren't mourning, because 'the rebbe will be revealed any moment as the King Messiah.'"
This messianic fervor was instilled in them by the rebbe himself, especially in his later years (which led two leading Haredi rabbis, Eliezer Menachem Schach and Ovadia Yosef, to accuse him of idol worship.) But it caused a prolonged schism. The young messianists' behavior dismayed veteran Chabad leaders, with Krinsky, the rebbe's former secretary, among the leaders of the opposition. Such messianism distorted the rebbe's teaching, he charged: "The rebbe never said anything to imply that he claims the Messiah's crown."
Learning to live together
The warring camps have learned to coexist in recent years and come into daily contact with each other. "Today most Chabadniks live in peace; the guys have grown up and the emotions have subsided," said Menachem Cohen, editor of the Kfar Chabad magazine. "Today, someone can say 'long live our master, teacher and rabbi' at the end of his prayers and it doesn't bother you. People pray in mixed synagogues, schools and yeshivas."
Visitors pray at the gravesite of the Lubavitcher Rebbe, Rabbi Menachem Mendel Schneerson June 30, 2014. Photo by AFP
Most of Chabad's attention is focused on its emissaries, an enormous project that raises large amounts of money and is personally familiar to numerous Israelis from their travels overseas. The project's quantitative focus came from the rebbe himself: as many Chabad centers as possible, as many Jews donning tefillin (phylacteries) as possible, even if their commitment to observing Jewish law is nonexistent.
A few months ago, this project even won legal recognition in Israel, when a new conscription law included working in Chabad houses overseas on the list of civilian service activities that draft-age Haredim can substitute for army service.
Ironically, however, this very law made many people, including in Chabad itself, realize just how much Chabad has lost its uniqueness and abandoned the "middle road" the rebbe advocated. Chabad was always distinct from the Haredim, both socially and ideologically, in its emphasis on a "middle road" that bridged the Haredi and secular worlds. But in recent years, Chabad rabbis have increasingly fallen into line with other Haredi rabbis on public issues. For instance, the Chabad rabbinical court urged Chabadniks to attend a mass demonstration against the conscription law in Jerusalem last March.
Thus, just when Chabad has achieved unrivaled status in the Jewish world, criticism has started emerging from within.
A man prays at the gravesite of Chaya Mushka Schneerson, the wife of the Lubavitcher Rebbe, Rabbi Menachem Mendel Schneerson, New York June 30, 2014. Photo by Reuters
"The emissary project is a marvelous one that has been wildly successful," one Chabadnik said. "The problem is that aside from the emissary project, Chabad as an intellectual movement, as a community with tens of thousands of Hasidim, has been in stasis if not in retreat. When it had the rebbe, Chabad was a unique voice in Israel, and also abroad. Unfortunately, it has slowly been losing this unique voice."
Another, who was interviewed by Haaretz a few years ago, said, "Chabad Hasidism, which was always the most intellectual, which posed a cultural and intellectual challenge to numerous graduates of 'Lithuanian' yeshivas, is busy today with the most technical parts of Judaism. You've taken talented boys and made them mediocre. What will happen to the real Chabad in another 10 years?"
Menachem Ziegelbaum, editor of the messianist journal Beis Moshiach, was quoted in that same article as saying, "We've become too nice a movement. We need to remember the principal mission the rebbe assigned us, and that's to prepare the world for the Messiah ... I have the feeling the secondary goal has become the main one."
Click the alert icon to follow topics:
ICYMI
Ken Burns' Brilliant 'The U.S. and the Holocaust' Has Only One Problem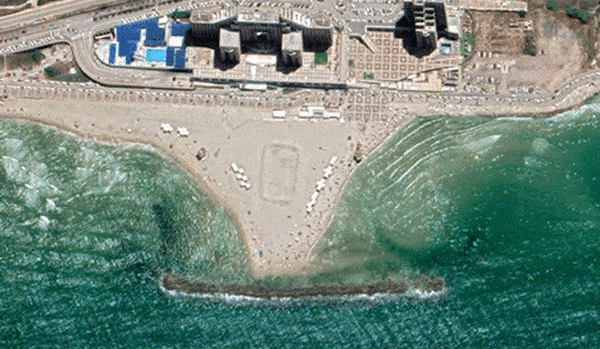 Facing Rapid Rise in Sea Levels, Israel Could Lose Large Parts of Its Coastline by 2050
As Israel Reins in Its Cyberarms Industry, an Ex-intel Officer Is Building a New Empire
How the Queen's Death Changes British Jewry's Most Distinctive Prayer
Chile Community Leaders 'Horrified' by Treatment of Israeli Envoy
Over 120 Countries, but Never Israel: Queen Elizabeth II's Unofficial Boycott