As Moscow Tilts Toward Totalitarianism, Jews Quietly Weigh Their Options
Beneath a veneer of normalcy, Moscovites ponder how much time they have left before the country will change completely.
Deja vu: Members of a communist youth group, created in the Soviet Union, march in Moscow's Red square on May 18.
Credit: AFP
MOSCOW — Russia is at times irritatingly pleasant. Like when one arrives in a springtime Moscow, with its blue skies and blossoming boulevards, and one is gently struck by a glittering exterior, a booming metropolis which worships luxury and hums in doublespeak.
What one says isn't what is, I am calmly told by countless Muscovites, over office desks, café tables, hotel bars. As Ukraine tears itself apart, as the Kremlin pushes its morale-boosting nationalism, and as the May 25th Ukrainian elections draw near, I am reminded constantly – "The Americans understand nothing."
The trick to fitting in here is to not dwell on the absurd. One learns to read between the lines, nod along without questioning, and then shrug with a laugh: Nu, there's nothing we can do about it.
And one realizes quickly how powerful media narratives are in creating perceptions, and how utterly irrelevant Western media's portrayal of Russia is to the reality Russians encounter. Sure, all that ugliness exists: corruption, regime politics, xenophobia, imperialist longings, homophobia, whatever. What's shocking is its sheer banality; the ease with which this absurdity becomes acceptable reality, in which injustice is no call for outcry but rather something one takes in stride, preferably with an ironic sense of humor, circa 1970, and a shot of vodka.
A week in Moscow is enough to humble one's American sense of know-it-all, and especially that of a Soviet emigrants' hot-blooded daughter, smug with schadenfreude over leaving that place, as Masha Gessen captured perfectly in The New York Times this past March. But here, one's American notions of democracy prove irrelevant; there's no need to get upset over that either, because the authorities are surprisingly subtle, and any sort of furor is amusing at most.
Subtlety is a relatively novel trait in Russian culture, but it is here that Putin's brilliance lies, in a grip that is barely noticed in its silent capital, as Bentleys alongside Ladas whizz by on wide avenues. No Big Brother smiles from billboards, no political slogans either, and only Victory Day paraphernalia litters the streets, some hammers and sickles too. Locals rarely refer to the head of state who looms in Western media, and when mentioned, he is a sort of He-Who-Must-Not-Be-Named, a nameless "he," a vague "Commander-in-Chief," and at most direct, Vladimir Vladimirovich.
Here, one finds a people well-trained in knowing when to stay quiet, careful. Muscovites are known for their slurred syllables and mouths which barely move as they speak in a rapid Russian, and perhaps there is good reason for this, a sort of conditioning that's become subconscious at this point. Ask locals their political opinions, and they'll share them with you — "it's the 21st century, bozhe moi [My God]" — but only after a few awkward pauses.
The power of paranoia
The brilliance here is that the fear may be half-imaginary, self-imposed almost – or so Russians remind me, in these schizophrenic conversations in which they themselves are unsure about what they can and cannot say, what they can post on their VKontakte profiles and what they reserve for kitchen conversations. In a country where this mentality is deeply imprinted, the transition into fearing surveillance is a convenient one to make, almost natural. And here the power lies: in the quiet, the caution, the paranoia with murky sources.
At a weekend in the outskirts of Moscow, at a Limmud FSU conference where over a thousand Jews gather, the quiet is idyllic.
Dachas, birch trees, small yachts floating down the river with boat parties till late in the night. The resort's owner, the Department for Presidential Affairs of the Russian Federation, is barely noticed. (And why, when one steps off an Aeroflot plane, does one imagine that one will be flooded with the face and voice of Putin? Has American media been an inadvertent partner in creating this myth, as much as his own media machine has been?)
Political tensions run high in foreign newspaper headlines, but here, in the outskirts of the capital and even at its center, it's calm. Here at Moscow's largest Jewish gathering of the year, the local intelligentsia gathers – mostly young, overwhelmingly secular, and hip, some older professorial types, young families, well-dressed and well-traveled. In this town, to be Jewish is to be successful and therefore cosmopolitan.
Participants go to seminars bearing neutral titles ("We are an apolitical organization," the organizers insist), but in each lecture, the conversation turns back to that same old subject, that old guessing game. It's not so much Crimea or Ukraine which concern Muscovites, and it's not an especially Jewish question either ("You thought there was anti-Semitism? Here? In Moscow?" Russian Jews shake their heads and chuckle at American naiveté. "But then, on second thought – Moscow is no Russia, that's certain.")
Rather, the fear here is more basic, that of the loss of normalcy.
Talk to Moscow's young Jews, university graduates and professionals, go on a Sabbath walk with them among the birch trees, sit in stairwells or at restaurant tables with them – and you'll see that people are delicately weighing their options. Financiers speak to packed lecture halls about foreign investments in uncertain times, the MASA Israel programs table is crowded with kids; no one mentions Donetsk's brawls, but rather they mention personal conflicts, protecting financial assets and flourishing startups, comparing the benefits of an Israeli citizenship versus the simplicity of attaining an Italian passport – all while, mere kilometers away, the Russian parliament debates a bill requiring citizens to report dual citizenships to the authorities.
"We want to live like normal people," one young woman tells me. She and some friends run a popular online radio station geared for young Russian-speaking Jews, Radio-Yo; she shows me the station's sleek app on her iPhone. "There's a lot of young energy here, so many business ideas and innovation going on...So we start businesses, we travel, we party, we want to live as normally as we can. That is, before the Iron Curtain closes again," she says somberly, and then winks. I laugh politely and then wonder if I didn't inherit my parents' Soviet sense of humor after all.
"People will be leaving, things are changing so quickly," a young businessman tells me on Shabbat afternoon. "I don't remember the Soviet Union, but my parents do, and they say that this reminds them of that time. Now it's all calm and fine," he gestures to the river floating by. "But when Vladimir Vladimirovich announces that the Internet is a CIA conspiracy, even we begin to get worried."
Here, there are two gauges of freedom which Muscovites constantly cite – two ultimatums which, once crossed, raise alarm.
The first ultimatum: Internet freedom. Influential commentators in outlets like DozhdTV, Lenta.ru, and Snob.ru, now face increasing threats, as bloggers with over 3,000 readers are required to register with Roskomnadzor, the government's media supervision agency, and as consumers seeking critical reporting turn to Twitter and have stopped watching state-controlled television entirely.
And the second gauge of freedom: the airports. Rumor goes (though who knows how much of this is Russian propaganda or Western sensationalism, it may be a combination of the two) that border freedom is on the line too, as the government tightens screws on business growth and as the elite begins to buy properties abroad and flock to the old haunts of the White emigres, Paris and London, and now also Berlin and Cyprus. In a country which has systematic and neat cleanses of its sharpest and most vibrant minds, it's a well-known story, and one only wonders who, then, is left behind. Moscow's dinner-table gossip (over imported wines and caviar, no less) has once again reverted to the expected return of exit visas, bets on border security, rumors from the West – "zapad", that New World which is no longer as alien, nor uniquely wealthy, as it once was.
'How long do we have?'
In a lecture hall, one of Russia's most prominent political commentators and bloggers, Anton Nossik, answers questions from the audience on best emigration practices.
"For those of us who have decided to remain living here, for whatever reasons," one woman asks, "what is your prognosis for the next ten years?"
"Ten years!" Nossik laughs. "This place doesn't have ten years as we know it today."
Several young Jews in the room stand up and ask, one after another: "How much time do we have left here? How many years before this country becomes totalitarian?"
"You have a week," Nossik says quickly, and the audience begins to fuss. "By the autumn," he continues, his voice rising, "this will be a changed country. The border will be closed entirely. I recommend you consider your options."
As Nossik goes on, casually pointing out how Vladimir Vladimirovich admired German fascists as strategists, that there's no coincidence that he requested a KGB placement in Germany in the 90's, that Crimea is a Sudetenland – there is a growing murmur in the audience.
"This is too negative for the public!" one woman exclaims.
"He can't be serious," an older gentleman near me grumbles. "This is too much..."
Hours later, the same questions are posed to economist and human rights activist Irina Yasina. Yasina sighs and is uncharacteristically reserved. "I'm generally an optimist," she says. "But right now, I can't offer you anything optimistic at this point…We will have our answers quickly. It won't be a slow agony for us."
Click the alert icon to follow topics:
ICYMI
Ken Burns' Brilliant 'The U.S. and the Holocaust' Has Only One Problem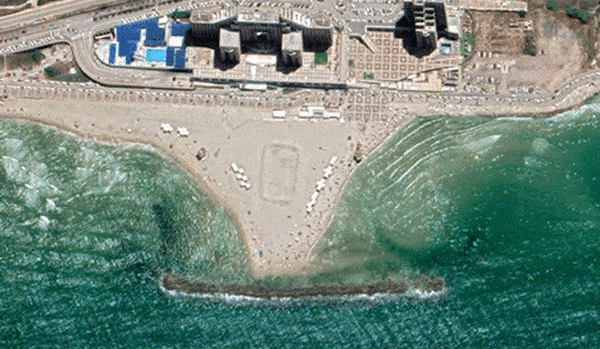 Facing Rapid Rise in Sea Levels, Israel Could Lose Large Parts of Its Coastline by 2050
As Israel Reins in Its Cyberarms Industry, an Ex-intel Officer Is Building a New Empire
How the Queen's Death Changes British Jewry's Most Distinctive Prayer
Chile Community Leaders 'Horrified' by Treatment of Israeli Envoy
Over 120 Countries, but Never Israel: Queen Elizabeth II's Unofficial Boycott