Why the Shock? SAR School Let Girls Wear Tefillin 20 Years Ago
Recent decision to allow two current students to wear phylacteries is so fraught for school leaders that they declined to speak with a reporters.
NEW YORK – News that SAR High School, a modern Orthodox school in Riverdale, New York, has allowed two girls to pray wearing tefillin ricocheted around the Internet. But in reality, they are not the first girls to pray there with tefillin and tallit.
Despite the fact that the issue is today regarded as so sensitive that SAR officials and students would not speak with Haaretz about the recent decision, two other girls — a pair of sisters who attended SAR through middle school and then Ramaz high school — paved the way more than two decades ago.
After discussion with the head of the SAR middle school at the time, the girls "had two peaceful years of acceptance and understanding" wearing the ritual items that in Orthodox circles are often associated with men, said Aviva Cayam, a social worker who made aliyah with her family 18 years ago and lives in Jerusalem.
Her daughters, Atira and Dalit, are now mothers themselves and also live in Jerusalem. When they moved to Ramaz High School (SAR did not then have a high school), however, they ran into greater opposition.
In what Cayam said was a compromise, they were permitted to pray each morning at Congregation Kehilath Jeshurun, the nearby modern Orthodox synagogue led by Rabbi Haskel Lookstein, who also serves as Ramaz's principal.
The decision to allow two current SAR students to wear tefillin during morning prayer is so fraught for school leaders that they declined to speak with a reporter. Principal Rabbi Tully Harcsztark emailed a statement. "This is not the common practice in our community," he wrote. "However, since there is basis in Halakha and these students have been committed to daily prayer with tefillin since their bat mitzvah, I felt it appropriate to create a space at SAR for tefilah that is meaningful to them."
He declined to say whether it marks a change in policy for girls school-wide or applies only to the two girls who pushed for permission "for many long months," according to SAR High School's student newspaper, The Buzz, which also wrote that the decision as been "very politically charged" at the Riverdale school. Harcsztark met individually with each grade in the school soon after he notified them about his decision last month.
"When you change then it causes machloket [argument]," Harcsztark told The Buzz. "And I feel like this has caused enough machloket for right now."
The girls, junior Ronit Morris and sophomore Yael Marans, have both been wrapping tefillin since they became bat mitzvah. Both girls come from Conservative movement-affiliated homes, said Shalhevet Schwartz, 16, and an SAR junior. Schwartz, who co-leads the women's prayer group where both Morris and Marans pray each morning, said, "there's a lot of halachic ignorance as to whether it's actually allowed, and most of it comes from general comfort or discomfort with tradition and change."
Morris, who is 17, told Haaretz that wrapping tefillin is "a very important part of my tefillah every morning. Everybody in my davening group understands how important this mitzvah is to me and they and my teachers have all been really supportive. I especially appreciate how Rabbi Harcsztark has encouraged me and other SAR students to think seriously about our commitment to halakha and mitzvot."
Marans told The Forward that her mother and brothers pray with tefillin, and that "I'm not going to say that every time I lay tefillin I feel a renewed awe of God, but sometimes it really makes me think. It's just something in my day that makes me really conscious and concentrated." She declined to be interviewed by Haaretz.
So did one of the students who opposes the change. After agreeing to an interview with Haaretz Tamar David changed her mind, but told The Buzz that girls praying with tefillin is not Orthodox. It "is regarded as a purely Conservative act, and therefore SAR shouldn't allow it in their buildings." David compared it to a Conservative-affiliated SAR student who might not want to fully observe Shabbat during a school retreat. "Like the non-shomer Shabbos student only breaks Shabbos at home, the Conservative girls who have opted into wrapping tefillin should do so in their own homes."
"Every new step has encountered the same kind of push and pull," said Blu Greenberg, whose husband, Rabbi Yitz Greenberg, is one of SAR's founders. He headed one of the three schools that merged to form SAR. His school taught girls Talmud, which the other two schools opposed it. "The merger almost broke down over that," recalled Blu Greenberg, and "look how accepted that is now."
"Women are entering the tradition in a fuller way than has been open to women in the past. As long as there are halachic precedent and permissibility, that certainly works," said Greenberg, who founded the advocacy and education organization Jewish Orthodox Feminist Alliance.
When Atira Cayam began attending Ramaz High School (she is the older of the two sisters), school leaders objected to her wearing tefillin during prayer.
"The leadership of the high school didn't want this to become just a demonstration of feminism," Lookstein told Haaretz. "We were a little bit concerned that this would become a whole rebel issue."
But Lookstein personally supported the idea. So he suggested that she pray in the daily minyan at Kehilath Jeshurun instead of the school. Every morning her parents drove Atira, and later her younger sister, as well to the early morning minyan. Lookstein was impressed with their commitment. "Their davening was so sincere and so serious that they could serve as a terrific example to girls and boys in the Ramaz minyan," Lookstein said.
No girls currently at Ramaz pray with tefillin, nor have any others since the Cayam girls did in the 1990s, said Lookstein and Paul Shaviv, Ramaz High School's head of school.
"The question of women's roles in ritual and practice will be one of the dividing lines between Haredi Judaism and modern Orthodox Judaism in the future, if it isn't already," said Shaviv.
Shaviv and Lookstein issued a statement Tuesday saying, "Ramaz would be happy to allow any female student who wants to observe the mitzvah of tefillin to do so."
Heads of two other modern Orthodox high schools, in New Jersey, did not respond to inquiries about their policy on girls and tefillin.
"Twenty years after our initial and only experience with it I feel even more strongly than I did then," Lookstein said. "It's a breakthrough in some circles. So was Torah learning" for women.
After publication, it was brought to the attention of Haaretz that, despite Rabbi Haskel Lookstein's initial recollection that no girls at the modern Orthodox Ramaz High School had asked to pray with tefillin since the first girls did so in the early 1990s, two other girls did in 2002 as well. Those girls were permitted to do so at a weekly Ramaz women's tefillah group. The other days they, like the first Ramaz girls who prayed with tefillin, had to do so at Lookstein's nearby Congregation Kehilath Jeshurun.
Click the alert icon to follow topics:
ICYMI
Ken Burns' Brilliant 'The U.S. and the Holocaust' Has Only One Problem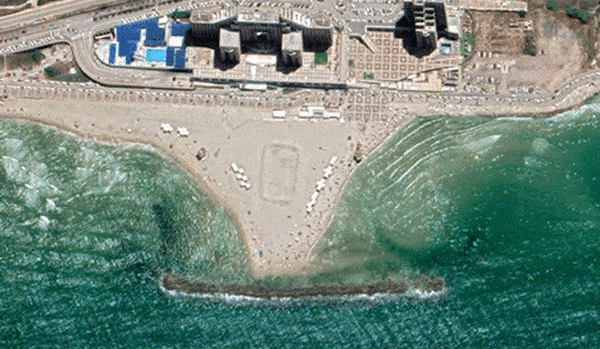 Facing Rapid Rise in Sea Levels, Israel Could Lose Large Parts of Its Coastline by 2050
As Israel Reins in Its Cyberarms Industry, an Ex-intel Officer Is Building a New Empire
How the Queen's Death Changes British Jewry's Most Distinctive Prayer
Chile Community Leaders 'Horrified' by Treatment of Israeli Envoy
Over 120 Countries, but Never Israel: Queen Elizabeth II's Unofficial Boycott