Just Don't Call the Rabbi 'Feminist'
Rabbi Daniel Sperber, who has been instrumental in broadening the role of women in Orthodox worship, says it's all about human dignity.
Once a year, during Simhat Torah celebrations, Rabbi Daniel Sperber ventures across the divider, or mehitza, that separates the men's and women's sections of his Orthodox synagogue and tries to get a female congregant to accept a Torah scroll from his hands.
He rarely finds willing customers.
"It's usually only the young girls who agree to take it," he says. "The older ones do not. They just don't feel that they need it."
This may sound strange, considering that outside of his own congregation Sperber is known as a leading advocate of partnership minyanim, which encourage greater female participation in Orthodox prayer services. But he's the last person to take offense at his long-standing congregants and certainly has no intention of imposing his own less conventional views on them.
"This is why I've always suggested that partnership minyanim work best with new congregations founded by men and women of like minds, usually men who have studied in modern hesder yeshivas [whose students combine religious studies with service in the Israel Defense Forces] and women who are graduates of michlalot [colleges for Orthodox women, in this context], who feel a spiritual need to do this," he says, "not in established congregations, where they are likely to create conflict."
Sperber, who in 1992 was awarded the distinguished Israel Prize in Jewish studies, is a professor of Talmudic studies at Israel's Bar-Ilan University and the author of "Minhagei Yisrael," an eight-volume work on Jewish customs, among numerous other publications. When he's not teaching, writing, reviewing dissertations or leading his congregation at Menachem Zion Synagogue in the Old City of Jerusalem, the Welsh-born scholar is busy lending a hand to a growing number of new partnership minyanim in the United States, Israel and, most recently, England, where he has been advising the second initiative of this sort to pop up in the past few years.
"It's a movement that is attracting more and more people who feel somehow dissatisfied with the state of liturgy in the synagogues," Sperber says. "A partnership minyan is much more meaningful to many people – both to men and to women. It brings in different voices, different sounds, and there's a certain enthusiasm that comes along with having people there who come because they want to come – not because it's their social or religious duty to do so."
To be sure, Orthodox egalitarian minyanim (where, incidentally, women are still not counted for the 10-man quorum, or minyan, required for reciting certain prayers) are not an entirely new phenomenon. The first two to be established, Shira Hadasha in Jerusalem and Darchei Noam in New York, have been around fore more than a decade.
The Jewish Orthodox Feminist Alliance, the international women's organization that has been a driving force behind these congregations, defines a partnership minyan as "a prayer group that is both committed to maintaining halakhic standards and practices and also committed to including women in ritual leadership roles to the fullest extent possible within the boundaries of Jewish Law." At such prayer groups, women are permitted and encouraged to read from the Torah, recite the blessings before and after the Torah readings and lead certain parts of the prayer service, such as the Friday evening Kabbalat Shabbat. As is customary in Orthodox synagogues, women and men sit in separate sections that are divided by a mehitza whose height, permanence and degree of transparency may vary across different congregations.
It is difficult to ascertain exactly how many partnership minyanim there are today, since most worship in schools, private homes or community centers rather than in synagogues, and do not belong to any formal organization. In addition, many of these minyanim hold services only sporadically, on certain days of the month or year, rather than every Shabbat. The JOFA website includes a list of 22 partnership minyanim. The overwhelming majority are in the United States, with two in Israel (Shira Hadasha in Jerusalem and Darchei Noam in Modi'in), one in Canada and one in Australia.
The list does not contain some of the newer partnership minyanim that have sprung on college campuses around the United States – including the University of Michigan and the University of Maryland – though it does include the University of Pennsylvania group. Neither does it include some of the newer minyanim in Israel, among other places, in Tel Aviv, Rehovot and Mazkeret Batya.
Undoubtedly, says Sperber, the rise of feminism and the growing numbers of Orthodox women engaging in Jewish study have been catalysts for the movement. "It's almost a natural progression from learning Torah to a greater role in the synagogue," as he notes. And the trend has picked up momentum in recent years, he says, largely because now there is a model to work from.
"Initially, you had a few congregations that were pioneers, and they didn't really know what to do. They didn't know what part of the service women were permitted to participate in, whether women could blow the shofar on Rosh Hashanah, whether they could recite the Kol Nidre on Yom Kippur. Once these pioneering congregations began developing programs, others began looking at them as role models and more or less adopted their principles, which made it easier."
One of the first Orthodox rabbis to express support for women assuming a more prominent role in the synagogue, Sperber says his views are derived from three key principles of halakha, or Jewish law.
"The first is that in the same way it is forbidden to permit that which is forbidden, it's also forbidden to forbid that which is permitted. The second is that it is not forbidden to permit that which is permitted, even if it wasn't practiced in the past, because halakha is dynamic and when cultural circumstances change, one has to face up to these changes and accommodate them. The third principle is that if you can find a position of leniency, you should do so. So when things are permitted, they should be encouraged."
Won't there be those who say that if you allow women to read from the Torah, the next step is having men and women sit together, and it's a slippery slope from there?
"'Slippery slope' is one of those red flags that people raise in front of you. But there are halakhic laws, and the rabbis weren't concerned with slippery slopes. They didn't say you couldn't cook on the holidays because otherwise you might be tempted to do so on Shabbat. On the holidays you can, and on Shabbat you cannot."
Could these new partnership minyanim been seen as a new stream of Judaism – something in between the Orthodox and Conservative movements – or do you see them as strictly Orthodox?
"When you start giving labels to movements, it gets very complicated. There's ultra-Orthodox, right-Orthodox, left-Orthodox, Orthodox-light. To me, if anything, ultra-Orthodoxy is the deviation from Judaism, which should be an embracing and welcoming religion."
In defending the right of Orthodox women to read from and be called up to the Torah, Sperber has argued that human dignity trumps communal dignity in halakha. In other words, the offense caused to women who are not allowed to read from the Torah and wish to do so is worse than the offense caused to those men in the congregation who are forced to hear those women when they wish not to.
Could a similar argument be made for allowing a group like Women of the Wall to wear prayer shawls and tefillin at the Kotel, even when that offends ultra-Orthodox worshippers?
"Why would that offend other people?" he asks, clearly surprised by the idea that anyone could equate the two situations.
"By contrast, they should be delighted that there are women who want to daven seriously. If you have fanatics that take offense even though this is halakhically permissible, why should that be your guiding light?"
Sperber and his wife Phyllis Magnus, a couples therapist originally from the United States, have 10 children, three sons and seven daughters. (One of them, Abigail, is the founder of Bat Kol, an Orthodox lesbian organization).
He is clearly amused by the question - he says it's a common one – of whether being surrounded by so many women has influenced his thinking in any way. "I tell everyone I'm not a feminist, I'm a halakhist. I assume that being surrounded by so many women – some of them quite active, powerful and intelligent – must have some influence. But I never thought in feminist terms. I always examine things in a sort of bookish fashion. "
Click the alert icon to follow topics:
ICYMI
Ken Burns' Brilliant 'The U.S. and the Holocaust' Has Only One Problem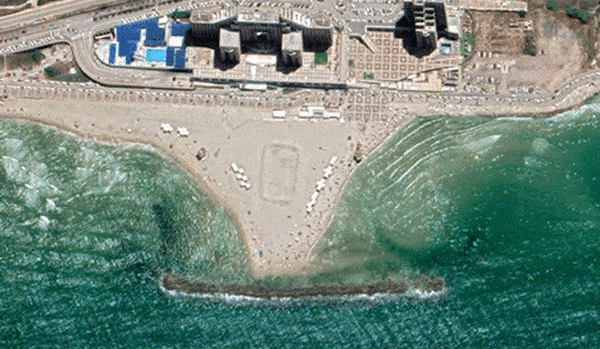 Facing Rapid Rise in Sea Levels, Israel Could Lose Large Parts of Its Coastline by 2050
Lapid to Haaretz: 'I Have Learned to Respect the Left'
The Mossad's Fateful 48 Hours Before the Yom Kippur War
As Israel Reins in Its Cyberarms Industry, an Ex-intel Officer Is Building a New Empire
How the Queen's Death Changes British Jewry's Most Distinctive Prayer