This Day in Jewish History |
1939: Universal Studios Founder and Producer of anti-German Films Dies
Carl Laemmle, a German himself, recognized the dangers Germany posed to Jews early on and acted to frustrate it, and to rescue Jews, as best he could.
Carl Laemmle with his children, Rosabelle and Carl Jr.
Credit: Courtesy George Grantham Bain Collection, Library of Congress Prints and Photographs Division, Washington, D.C.
September 24, 1939, is the day on which the renowned German-born film producer Carl Laemmle died. Well before the rest of the world Laemmle grasped that the Nazi regime posed a threat to the Jews. Not only did his studio stop doing business in Germany, he actively worked to rescue Jews from that country.
The affidavits that Laemmle, founding head of Universal Studios, provided made it possible for more than 300 refugees to resettle in the United States.
Karl Laemmle ("The name means little lamb, and is pronounced as if it were spelled 'lem-lee'," he once told The Literary Digest) was born on January 17, 1867, in the town of Laupheim, in southwestern Germany. By age 13, he was working as an apprentice in a local business, learning early on basic skills like accounting and sales.
In 1884, armed with a steamship ticket he had received from his father, Laemmle emigrated to the United States. There, he joined his older brother Joseph in Chicago.
During his first decade in the U.S., Laemmle held a variety of manual jobs, including seven weeks as a farmhand in South Dakota, while at the same time learning English and becoming a citizen. In 1894, he was hired to be the bookkeeper of a clothing store in Oshkosh, Wisconsin, a job that he held for the next 10 years, and one that placed him firmly in the middle class. It earning him the distinction of being named "one of the fifteen most eminent and enterprising business men in town" in 1905.
The following year Laemmle decided it was time for a change.
Moving Universal Pictures to a chicken farm
Having observed the rapid growth of the embryonic movie business – with somewhere up to 10,000 theaters opening in the country over a two-to-three year at the time – he elected to invest in nickelodeons. He started in Chicago, and in addition to opening theaters, he soon started his own film-distribution business.
By 1908, Laemmle's business was operating nationwide, becoming the largest of its kind in the United States. His success brought him into perpetual legal conflict with Thomas Edison, whose Edison Trust controlled numerous patents and business related to film production and distribution, enabling it effectively to levy a tax on every movie screened in the country.
By the time the U.S. Supreme Court ordered the dismantling of the Edison Trust, in 1915, Carl Laemmle was already producing movies, and, with a group of other independent moviemakers, had formed Universal Pictures. He soon became the company's sole owner, and moved it to the 230-acre site of a former chicken farm in the San Fernando Valley, dubbing the compound the Universal City.
Producing 'The Kaiser: The Beast of Berlin'
During the period of World War I, Universal Studios produced a chain of anti-German films. Though Laemmle was proud of both his Jewish and German heritage, he felt that as a naturalized American citizen, he needed to show his loyalty to his adoptive country. He also recognized that propagandistic material would go over well at the box office. Universal movies released in 1918 and 1919 included such titles as "The Sinking of the Lusitania" and "The Kaiser: The Beast of Berlin."
Following the war, Laemmle became involved in efforts to raise money for the reconstruction of Germany. These included writing opinion pieces, published mainly in the Saturday Evening Post, that explained to American readers the need for humanitarian aid to the defeated country.
He also resumed his own regular visits to his Laupheim, his birthplace, where he invested great efforts (and cash) in cultivating an image of himself as a rich uncle dedicated to the town's improvement.
Not coincidentally, in the years 1921-1922, Universal supplied more than half of the American movies allowed into his native country under the German film quota.
In 1930, Universal released "All Quiet on the Western Front," its adaptation of Erich Maria Remarque's 1929 anti-war novel. Laemmle saw it as presenting the German people in a positive light, even as it depicted the horrors of World War I, and so he was surprised by the anger with which it was received in Germany. Although the movie received the Oscar for Best Picture in the U.S., in Germany, "All Quiet on the Wstern Front" was greeted with negative reviews and riots. Joseph Goebbels organized Nazi gangs to protest in front of – and also inside -- theaters screening the movies. After three days, the movie was banned in Germany.
Nazis rise and seize his company
After the Nazi rise to power, Laemmle's local production company was taken over by the government and his other assets were confiscated. A street that had been name for him in Laupheim was renamed and his philanthropic projects were dubbed "Jewish corruptive lies."
Other serious financial setbacks at home led to Laemmle and his family being forced to sell Universal in 1936.
During the remaining years of his life, Carl Laemmle was involved principally in humanitarian work. From his home atop Benedict Canyon in Los Angeles, he devoted himself to the arduous task of obtaining visas for Jews who wanted to escape Germany. Examples of the letters he wrote to State Department officials in Washington, D.C., and U.S. consular staff in Germany, are on display in the exhibition "Against the Odds," currently on display at the Museum of Jewish Heritage in New York. In April 1938, for example, Laemmle wrote to Secretary of State Cordell Hull, suggesting to him that "Your consuls can give the law a little more liberal interpretations which I think, under the circumstances, is permissible."
In October 1938, a month before Kristallnacht, Laemmle wrote to his cousin William Wyler, the French-born, Jewish movie director, to enlist his help in his efforts to provide bona fides for refugees:
"Dear Mr. Wyler: I want to ask you a very big favor. The Jewish situation in Germany has been getting on my nerves for a long, long time. I feel that these poor, unfortunate people need help the worst way. I have been over there recently and know what they are going through. I have issued so many personal affidavits that the United States government won't accept any more from me except for my closest blood-relatives. Nevertheless, while I was over there, I was worried so much by the distressed people that I promised about 150 of them I would move heaven and earth to find sponsors for them. And that's why I am writing you this letter."
Together with movie agent Paul Kohner, Wyler and Laemmle established the European Film Fund, to provide assistance to refugees once they arrived in the U.S. The affidavits Laemmle provided vouched for the character of the refugees, and promised the U.S. government that they would have jobs in America and would not constitute a drain on local resources. Laemmle also made efforts, ultimately unsuccessful, to find a refuge for the more than 900 Jews aboard the SS St. Louis in the U.S. or the Caribbean. Eventually, they were sent back to Europe.
Carl Laemmle died of heart disease on September 24, 1939, at the age of 72. His life and career provide a valuable counterpoint to the current trend of presenting Jewish studio heads as oblivious to the plight of their brethren in Europe, and willing to appease Nazi cultural commissars at all costs.
ICYMI
Ken Burns' Brilliant 'The U.S. and the Holocaust' Has Only One Problem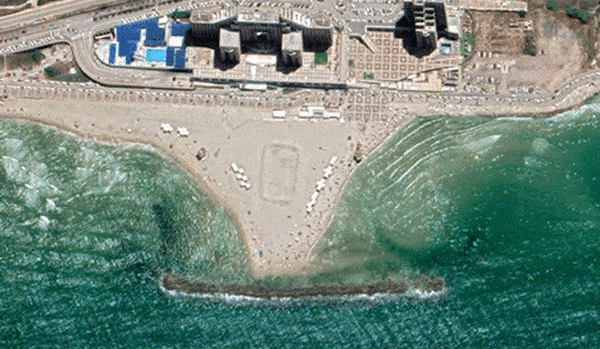 Facing Rapid Rise in Sea Levels, Israel Could Lose Large Parts of Its Coastline by 2050
Lapid to Haaretz: 'I Have Learned to Respect the Left'
The Mossad's Fateful 48 Hours Before the Yom Kippur War
As Israel Reins in Its Cyberarms Industry, an Ex-intel Officer Is Building a New Empire
How the Queen's Death Changes British Jewry's Most Distinctive Prayer