From Tisha B'Av to Tu B'Av, Discovering the Key to Redemption
Love is about remaining committed to being in relationship, pledging to endure internal and external hardships together, even when we most disagree.
Close to 2,000 years ago, Roman forces destroyed the Jewish Temple, razed Jerusalem, and nearly extinguished all Jewish civilization. The rabbis of the Talmud asserted that this catastrophe, which Jews around the world commemorated last week on Tisha B'Av, happened because of "baseless hatred" among Jews. Sometimes, the Talmudic claim is taken to mean that the destruction was a divine punishment for the sin of baseless hatred, but a less supernatural explanation is that it refers to the bitter factions that existed among the Jews of that time. These rifts nearly caused Jewish civil wars, leading to a Roman crackdown on the Jewish community. These measures led to a Jewish revolt against Rome, which ended in devastation for the Jews. The rabbis' lesson, then, to paraphrase the television show "LOST", is that if we Jews cannot learn to live together, then we will die alone.
Two millennia later, it is hard to argue that we have heeded this lesson. Divisions among Jews today may be different than those that animated our ancestors, but they are no less bitter, and continue to threaten to consume us from within. Just days before Tisha B'Av, a Jewish women's prayer group was barred access to the Western Wall due to overwhelming protests from ultra-Orthodox Jews. Even in the alternate location, many ultra-Orthodox Jews jeered the women and blew whistles to drown out their prayers. Some threw eggs and even stones at the worshippers.
When my Conservative rabbinic colleagues and I were recognized as rabbis on the Knesset floor last month, ultra-Orthodox MKs made a point of walking out of the chamber. Among Diaspora Jews, perspectives about Israeli policies, and even political affiliations, are used as litmus tests for communal inclusion. And various communities reject each other's converts, marriages, and divorces as illegitimate.
Of course, there are two sides to every division. Just because someone hates me, I do not have to hate him or her back. More importantly, just because someone engages in hateful or spiteful behavior toward me, I do not have to reciprocate in kind. The bigger problem with the bitter and angry divisiveness that the rabbis diagnosed in our ancestors, and that continues to plague us today, is not merely that a person or a group hates another, but rather that the hated group responds with equal animosity.
The Torah commands Jews to love all other Jews. This is the classic rabbinic interpretation of Leviticus 19:18, the obligations to not bear a grudge, not take vengeance, and to love one's fellow as oneself. Consequently, it is a sin for a Jew to hate (or act spitefully toward) another Jew. True, a Jew who hates me is a sinner, but that does not free me from my obligation to love him or her or give me license to respond with a sin of my own. Moreover, hating a hater will not dispel his or her enmity; it only compounds the transgression. I cannot stop a person from sinning, however much I'd like to. I only have control over my own thoughts, feelings, and behavior. Instead, in the face of others' hatred, I must love. It may not stop their hate, but at least it halts the cycle and prevents me from becoming what I detest.
My teacher Rabbi Bradley Shavit Artson frequently points out that loving others, even if they hate us, does not mean we have to like them. Nor does it mean we have to agree with them or abide repugnant behavior. We can abhor sinful acts even while loving the perpetrators of those acts. Love is not about being constantly enamored with the other, tolerating the intolerable, or being a pushover. Rather, it is about remaining committed to being in relationship with each other, pledging to endure internal and external hardships together, even – and perhaps especially – when we most disagree.
It is fitting, then, that the holiday immediately following Tisha B'Av is Tu B'Av (which this year falls on Monday, July 22). According to the Mishnah (Tractate Ta'anit 4:8), Tu B'Av is the happiest day on the Jewish calendar, making it the mirror image of Tisha B'Av, our saddest.
In ancient Israel, Tu B'Av was a day for Jewish singles to mingle and, hopefully, to find a spouse. All the single ladies would put on white garments and frolic in the vineyards, followed by young men on the market for a bride. On Tu B'Av, the countryside would be turned into one big wine-drenched singles' party.
According to the Talmud, this ancient shindig was scheduled on the 15th of Av because on that date, the twelve tribes of ancient Israel were granted permission to marry each other. Later, following a period in which the Benjaminite tribe was not allowed to marry into others, their permission was restored on the 15th of Av.
Seen in this context, Tu B'Av, which was celebrated by making a lifelong relationship commitment, commemorates moments when the Jewish people rekindled their commitments to each other.
Tu B'Av, then, is not a holiday about love in the Hallmark/Valentine's Day sense of the word. Rather, it is a holiday about the primacy of our commitments to and relationships with each other. If the defining symbol of Valentine's Day, and of the romance it celebrates, is the bouquet of roses, the defining symbol of Tu B'Av, and of the commitment it extols, is the wedding ring. The former is beautiful and appealing, but wilts quickly. The latter is more modest, perhaps, but enduring, withstanding pressures of all kinds.
As the perfect counterpoint to Tisha B'Av, Tu B'Av teaches that a powerful, resilient love is the pathway for communal redemption, as well as the redemption of our world.
Michael Knopf, a Rabbi Without Borders, is the Assistant Rabbi of Har Zion Temple in Penn Valley, Pennsylvania. ‪You can follow him on Facebook at
www.facebook.com/rabbiknopf
Click the alert icon to follow topics:
ICYMI
Ken Burns' Brilliant 'The U.S. and the Holocaust' Has Only One Problem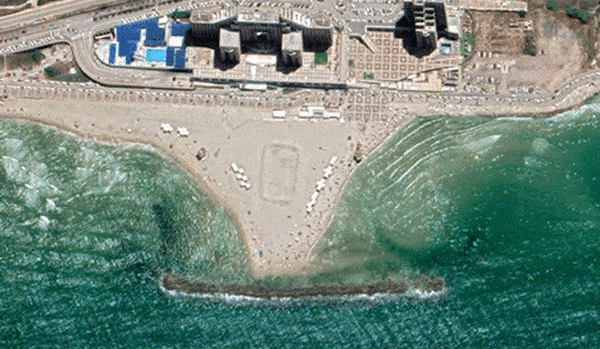 Facing Rapid Rise in Sea Levels, Israel Could Lose Large Parts of Its Coastline by 2050
As Israel Reins in Its Cyberarms Industry, an Ex-intel Officer Is Building a New Empire
How the Queen's Death Changes British Jewry's Most Distinctive Prayer
Chile Community Leaders 'Horrified' by Treatment of Israeli Envoy
Over 120 Countries, but Never Israel: Queen Elizabeth II's Unofficial Boycott