This Day in Jewish History |
1886: 'The World's Greatest Entertainer' Is Born
Al Jolson was one of the most popular American entertainers of the earlier 20th century, and the son of a rabbi and cantor was also a proud Jew.
Al Jolson.
Credit: Wikimedia
May 26, 1886, is the date on which Al Jolson – one of the most popular American entertainers of the first half of the 20 th century, and the first to openly identify as a Jew – celebrated his birthday.
The singer, actor and comedian was born Asa Yoelson in the shtetl of Srednik (today Seredzius), near Kovno (Kaunas), Lithuania. The son of a rabbi and cantor, Moshe Reuben Yoelson, and his wife, the former Naomi Cantor, Jolson never knew his actual date of his birth, but decided to mark it on May 26. (A recently found record of births from his home town, however, suggests that he was born on June 9, 1886.)
In 1894, having himself moved to the United States three years earlier, Moshe Yoelson found a job at a synagogue in Washington, D.C., and could afford to bring the rest of the family over. Late that same year, Naomi Yoelson died, leaving Moshe to raise Asa and his three older siblings on his own. Asa and his brother Hirsch became fascinated with performing and show business, and began singing in the streets of the capital. They used the small change they earned buy tickets to local theaters. The brothers soon Americanized their names to "Al" and "Harry," and eventually changed their family name to "Jolson."
Al Jolson's first onstage appearance came in September 1899, as an extra in a production of Israel Zangwill's "Children of the Ghetto" in Washington. His desire to be onstage soon drove him to leave home several times during the early years of the 20th century. In 1898, for example, he and Harry were in New York performing for the 15th Pennsylvanian Volunteer troops drafted to fight in the Spanish-American War; in 1902, he signed up with Walter L. Main's Circus, where his obvious talents landed him a role as singer in the circus' "Indian Medicine Side Show."
Jolson's first use of blackface apparently took place in 1904, during a vaudeville performance at Keeney's Theater, in Brooklyn. He was then playing the comic character in a trio together with his brother and a third performer, Joe Palmer, but the role made him feel self-conscious. Making up his face with burnt cork gave him a freedom to express himself in an unrestrained manner, and it was popular with audiences. Though eventually blackface became unacceptable when used to make an ironic statement about racial stereotypes, when used in vaudeville, it wasn't necessarily racist in intent, and minstrel shows actually served to indirectly introduce white audiences to certain aspects of African-American culture. A number of historians have even suggested that minstrel shows could serve as a statement of identification by Jewish performers with blacks and their culture of suffering. (When playwright Samson Raphaelson, who later wrote Jolson's most well-known play and film, "The Jazz Singer," saw him in blackface in the stage play "Robinson Crusoe," he said that he thought to himself, "My God, this isn't a jazz singer. This is a cantor.")
In 1906, Jolson showed up in San Francisco, just after the city was hit by its massive earthquake and fire, and he liked to say he was cheering up the suffering people of the city. It was then that he introduced the line, "You ain't heard nothin' yet," which he uttered at every appearance until the end of his life. By now, he and brother Harry had split up as an act, and in 1908, Al was married for the first of four times.
Back in New York, Jolson became a regular in a show called Dockstader's Minstrels, appearing in blackface. This brought him to the attention of theatrical producer J.J. Shubert, who in 1911 hired him to perform on Broadway in a revue known as "La Belle Paree," again in blackface. By 1920, after a number of successful stage performances, Jolson was Broadway's most popular star, so much so that in 1921, Lee Shubert named his newest hall "Jolson's Fifty-Ninth Street Theater." It opened with Jolson's highly successful show "Bombo," which went on to have a national tour with the star.
Jolson had first appeared on screen in 1916, but his first big role was the one that made him a legend to this day, "The Jazz Singer," in 1927. It is in effect the story of Jolson himself, though his character is called "Jakie Rabinowitz." Although not fully a "talkie," it was one of the first films that utilized sound, combining dialogue presented with written titles with four musical sequences. Jakie is a cantor's son who ignores his father's dream to see him follow in his footsteps, and instead pursues a career in vaudeville, singing such numbers as "Mammy." He becomes a star, and is scheduled to open in his own show on Broadway on … the eve of Yom Kippur. That same day, he learns that his father is on his deathbed, and has asked for Jakie to take his place chanting the Kol Nidre service in the synagogue. Jakie indeed fills in for his father (his producer agrees to postpone opening night of his play), but afterwards resists the call to stay and replace his father as a liturgical singer.
"The Jazz Singer" was a tremendous success, commercially and critically, both at home and in Europe, and reportedly grossed $5 million in the U.S. Jolson followed it with such movie roles as "The Singing Fool" (1928) and "Wonder Bar," the 1934 screen version of a stage play he had also starred in. In 1946, Jolson supplied the vocals for producer Harry Cohn's "The Jolson Story," in which actor Larry Parks played the title role. Jolson even appeared in one scene onscreen, performing his blackface number "Swanee," which was filmed in a long shot. This film was followed in 1949 by "Jolson Sings Again."
Although Jolson, who returned to the stage while continuing to start on screen, was initially reluctant to appear on television – which he called "smell-o-vision," he was eventually persuaded to accept an offer to star in a special about himself, to be called "You Ain't Heard Nothin' Yet," in 1950. His death that year occurred before the project could come to fruition.
Jolson performed regularly for troops throughout World War II (during which he contracted malaria and had a lung removed), and when the Korean War began, in 1950, he supposedly called the White House to announce that "I'm gonna go to Korea." When Jolson was told that the U.S.O. didn't have the funds to finance a tour, Jolson offered to finance the trip himself. In September 1950, he flew to Korea, giving 42 shows in 16 days. He returned to the United States by way of San Francisco, where he suffered a heart attack and died, on October 23, 1950. His last words were said to have been, "Boys, I'm going."
It's hard to overstate just how big and beloved a star Al Jolson was during his lifetime. He was popular among African-American audiences as well as white ones. And he was unapologetically Jewish in his identity. He recorded in Hebrew and was very involved in raising money both for refugees after World War II and for the newly-found State of Israel.
Though married four times, Jolson never had biological children, although with two of his wives, Ruby Keeler and Erle Galbraith, he adopted a total of three children.
Click the alert icon to follow topics:
ICYMI
Ken Burns' Brilliant 'The U.S. and the Holocaust' Has Only One Problem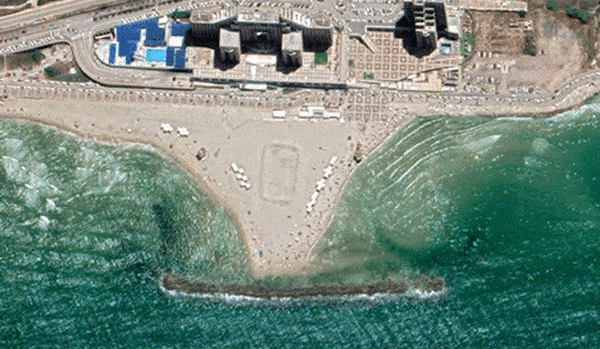 Facing Rapid Rise in Sea Levels, Israel Could Lose Large Parts of Its Coastline by 2050
As Israel Reins in Its Cyberarms Industry, an Ex-intel Officer Is Building a New Empire
How the Queen's Death Changes British Jewry's Most Distinctive Prayer
Chile Community Leaders 'Horrified' by Treatment of Israeli Envoy
Over 120 Countries, but Never Israel: Queen Elizabeth II's Unofficial Boycott