Russian-American Jews Reconnect With the Motherland, in New Jersey
At Limmud FSU's annual Jewish learning conference in Princeton, New Jersey, second-generation Russian-Jewish immigrants find common ground and plenty of reasons to sing.
The lectures on Communist rabbis, kosher lust and the Siege of Leningrad are being held in the Sholem Aleichem Room, while the art gallery and wine tasting is in the Joseph Brodsky Room. Yoga is being taught by a woman named Irina, while optional Sabbath services are being led by the former cantor of the Moscow Choral Synagogue.
Welcome to Limmud FSU's annual conference in Princeton, New Jersey, one of the largest gatherings of Russian-speaking American Jews in the United States, with over 750 people in attendance this year. Walking the halls and conference rooms of the hotel offers a view of a fascinating social phenomenon, where the vast majority of participants are between the ages of 21 and 35 and where the languages are an unconscious mix of Russian, English, Hebrew and a smattering of Yiddish and Bukhari. Here, in one of the biggest Russian-American-Jewish social scenes of the year, there's a very particular format for making small talk.
"Where are you from?" is a question that has two answers – one first answers Brooklyn or Queens, and then clarifies: Well, really, I'm from Moscow-Leningrad-Baku-Minsk-Tashkent-Kiev.
The conference features academics, journalists, politicians, community leaders and other public figures leading lectures, workshops and panel discussions, along with music concerts and other cultural events – all of which are somehow related to Russian Jewry. The music concerts are a fusion of klezmer and hip hop, and a significant number of the lectures are held entirely in Russian.
The cultural specialization here is necessary. Polls conducted by Limmud FSU this past week showed that 57 percent of Russian-American Jews don't feel part of the American Jewish community, yet feel strongly about their Jewish heritage and Israel (97% of them have been to Israel at least once). "This is their conference," Chaim Chesler, the chief executive and foudner of Limmud FSU, says emphatically as we sit together with co-founder and philanthropist Sandy Cahn in the hotel's piano lobby on Saturday night.
Using the British-conceived model of Limmud, a conference that celebrates Jewish ideas and is unaffiliated with any particular stream of Judaism, Limmud FSU seeks to offer the very same learning opportunity to Russian Jewish communities worldwide.
"This is a very powerful community that's coming into its own," Cahn tells me. "We're here to give them skills to do that, to feel even more empowered." She gestures to a young mother passing by with a stroller. "To think about all that people went through, and then to look at this crowd, the progeny meeting and having the freedom and opportunity to create their own futures ... It's extremely energizing."
"Seven years ago, we pitched the idea of a Limmud FSU in Moscow," Chesler recounts. "We wanted to let the people run their own show, a conference not by any organization or authority, but by themselves. No one believed us. And now, every year, we get a thousand people at our Moscow conference – a full house. This Princeton conference alone raised $100,000. Our philosophy here emphasizes both volunteerism (the whole conference is organized by volunteers) and investment, in which people pay for the opportunity to come, and feel like this has been an investment on their parts."
Chesler is interrupted by an eruption of singing – the formerly subdued piano music is suddenly in a wild frenzy over an old Odessan song, something about the Black Sea growing bluer and a sailor who falls in love: "Our Kostya the sailor has fallen in love, cry the ship-loaders on the pier." There are a dozen young people gathered around the piano, laughing and singing along. I smile – I grew up with this song, too, my Kiev-born father teaching us the lyrics with my mother exclaiming that it's lowbrow of us to sing sailor songs.
"This is why we do this," Cahn says, nodding her head in the direction of the music.
It's bizarre, really: hundreds of young people gathering to talk in their native language – most of them having come here as young children, and some of them (myself included) born here. "I'm American," I insist in Russian when people ask where I'm from. But they laugh and say, "Nu, you're one of us, stop pretending." And here we are, singing the songs from '70's Soviet children's cartoons, citing the bittersweet anecdotes that we heard at our parents' tables, mocking Putin's latest antics and having conversations about history and politics without needing to translate those dark words we grew up with, 'evakuatzia,' 'immigratzia.'"
Throughout the sessions and meals, I'm shocked by how much we gravitate towards each other – almost exactly as the older generations did with their enclaves in Brighton Beach and Forest Hills. And while, as children, we scoffed at our elders for their incurable foreignness and interdependency – now, we also turn to each other, in our own 21st century ways. Members of my generation choose to blast Moscow techno music as we cruise down the Belt Parkway; and while we speak fluent English – our gossip is often in Russian. It's somehow more delicious that way.
Arguably, this is a community that's entirely different from the Russian community in Israel or the one that stayed Behind – because this world, here in Brooklyn, Queens and beyond, is one that has frozen a moment, the very last moment before we left That Place, and somehow stayed perpetual immigrants, deliberately so. We continue to remember everything, obsessively. It's as if our language and songs and anecdotes are sacred relics of a time when our identity was at once obvious and secret, in our documents and on our faces, but also hidden in the smallest things.
Our Jewishness emerged in wedding parties singing 'Lomer aleh ineynem', in a mysterious box of matzos that would materialize in springtime, in a grandmother accidentally saying the word "rabbi," and then quickly correcting herself in front of the children: "'Rybak,' I meant 'rybak', a 'fisherman.' I don't even know what a 'rabbi' is." Everything was carefully kept hidden inside key words and symbols – history, tradition, and emotion too – and today, we continue to preserve those stories of symbols as if it's 1978 and we're still in Kiev.
I stumble into yet another frozen moment late Saturday night, as I walk back to my hotel room. As I turn the corner, a young man appears in the corridor and introduces himself right away. Sergei, I think. "Come, come inside! They're playing music!" he says.
A door opens, and in a tiny hotel room there's a crowd of young people, a violin, an accordion and a guitar. They're shouting to each other, laughing; a Sasha manages the makeshift liquor bar and there are more people streaming in, sitting down in groups on the bed and the floor and singing along to classics of Mark Bernes and Edith Piaf.
"You'll enjoy this," Sergei tells me, nodding. He introduces me to the group. They invite me in and pour me a drink: "Come, come, devushka, only you must sing with us."
They're singing my favorite childhood melody, the wartime song of a blue handkerchief that's featured in every year's Victory Day concert in Moscow: "A blue and simple handkerchief fell from lowered girlish shoulders. You said you wouldn't forget tender, happy meetings … In battle, your image follows me, and I feel, with a loving glance, that you are always near."
And I'm not sure where I am anymore, a hotel room in New Jersey or perhaps a student dormitory in Leningrad: these young Russian-Jewish men in fedoras, these blue-eyed women's short haircuts, the red lipstick and heels, the shouts of "comrade" make me dizzy. It's four in the morning, I don't know a single person in the room, but they feel like cousins.
"Welcome to our tusovka, mademoiselle," a Eugene tells me. 'Tusovka" – that lovely untranslatable word for a spontaneous late-night get together.
One of the girls sings in a soulful contralto: "And let it be, that today I am without my love, but I know you are hiding behind that blue handkerchief."
The room applauds. An Aleksander standing next to me turns and sighs with a smile. "It's only once a year that we get this, at Limmud," he says and then laughs: "It feels like home here."
Indeed, it's like we've found a home of sorts – not in Moscow or on Brighton Beach Avenue, but maybe in the company of one other and in the accordion chords of the past.
Click the alert icon to follow topics:
ICYMI
Ken Burns' Brilliant 'The U.S. and the Holocaust' Has Only One Problem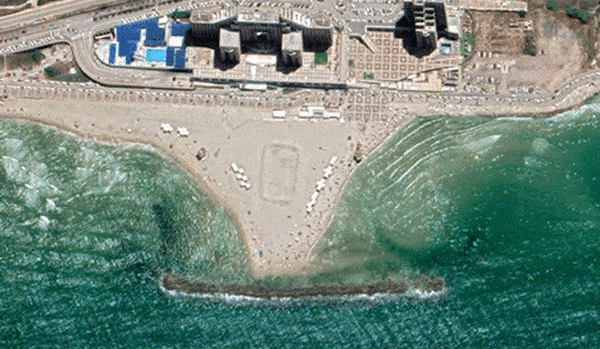 Facing Rapid Rise in Sea Levels, Israel Could Lose Large Parts of Its Coastline by 2050
As Israel Reins in Its Cyberarms Industry, an Ex-intel Officer Is Building a New Empire
How the Queen's Death Changes British Jewry's Most Distinctive Prayer
Chile Community Leaders 'Horrified' by Treatment of Israeli Envoy
Over 120 Countries, but Never Israel: Queen Elizabeth II's Unofficial Boycott