Up All Night: A Glimpse of Shavuot Eve in Tel Aviv
Tel Avivians – both secular and religious - shun the bars and restaurants for one night each year in favor of a Jewish learning experience.
A Shavuot lecture at "Beit Ha'aam" in Tel Aviv.
Credit: Daniel Bar-On
It's 6:30 P.M. on Saturday night, erev Shavuot, and the doors of Fishka on Eilat Street are already open. A young couple is tangoing across the inner courtyard. A cluster is forming around the cheese and wine. Someone is doing a sound check for the microphones being set up in the library. Raz. Dvah. Tri. "Do you know why we eat cheese on this holiday?" Vova Tashaev, a 31 year old chef, asks, cutting a slice of Israeli-made camembert.
"It's because once they received the Torah, the Jews were ordered to keep Kosher, so they had to wash their pots and pans, could not cook any meat -- and had to make do with cheese." He glances over at Rita Brudnik, 31, whose family made Aliyah from Moscow six years before his. "Isn't that right Rita?"
"I grew up with no religion, like pretty much everyone here," Tashaev continues, gesturing around at the other Russian speaking young Israelis who have come along to the social and community club that straddles the Tel Aviv-Jaffa border. "But I'm sort of interested. It's culture. It's History. My culture and history."
According to Midrash, on the night before the Torah was given to the Israelites at Mount Sinai, they went to bed early, so as to be ready for the big day ahead. As it happens, they then proceeded to oversleep - keeping God waiting on the mountaintop, and necessitating a wakeup call from Moses himself.
To make up for this primordial mess up, a custom arose amongst religious Jews to stay up all night and study Torah on the night of Shavuot, the holiday which celebrates that revelation. The mystics further believe that at midnight the heavens open and favorably receive the thoughts, study, and prayers of those who remain awake.
It's 8:30 P.M. and in the walk-up library on Bezalel Yaffe street that serves as the home of Beit Tefillah, a young liberal community, famous for their popular summertime Friday night services at the Tel Aviv port, cucumbers and white cheese dip are being put out in the back of the room.
Up front, a long haired cello player takes his seat near a bongo drummer and flutist, and the small crowd, mostly dressed in white, starts humming. There is a long night ahead, Estaban Gottfried, founder and director of the community says, as the drummer starts up a steady beat, "let's start slowly and welcome the holiday."
The tradition of the so-called "Tikkun Leil Shavuot" explains Gottfried, has another explanation too, with the world "Tikkun" referring to the preparation and decoration of a bride. In this scenario, the receiving of the Torah at Sinai is compared to a marriage between God and the Jewish people – with Moses as matchmaker and the Torah as the "ketubah," or marriage certificate. The Jews are like a nervous bride unable to sleep before her wedding, and as such they stay up all night to read the "ketubah" - and review, think and prepare for the relationship to come.
However one prefers to understand the tradition, over time, the all-nighter study session has taken its place alongside the reading of the book of Ruth and the rolling out of the cheesecake and cheese blintzes – and has become an integral part of the holiday.
It's just approaching 10 P.M. and little groups of Tel Avivians, arriving on bicycle and by foot, are looking for the entry to Kehilat Ha'lev, a young "musical and spiritual" community associated with the Reform movement. They go down a dark alley and into the next building's backyard and finally reach a barn-like structure tucked away in a little garden. Little plastic cups of wine are being passed out, and an eclectic mix of dried fruits, cheese cakes, quinoa salad and coffee is spread out on the tables.
While many stick to studying the Talmud, Mishneh and Torah – any subject can be approached on Shavuot night. And, increasingly, any and all are. Here, at Kehilat Ha'Lev, this year's Shavuot study is dedicated to the subject of love, with panels debating the question "is there such a thing as free love?" Guests attend psychodrama sessions on relationships and, at 4 A.M. a Tibetan meditation session on the language of love is held. Or Zohar, the congregation's rabbi, puts down his acoustic guitar and talks about what can be achieved on this night. "Not sleeping breaks a cycle and can awaken us to other possibilities, and other ideas," he says. "This 'tikkun' is a time for you each to do your own thinking. We are here as a community to support that."
A young woman in a tank top and jeans wanders into Kehilat Ha'Lev and hangs back by the quinoa. Ilana Shapira, a 28 year old who works in digital media, never celebrated Shavuot before but typed "Tikkun" and "Tel Aviv," into Google, made a little list, and set out to see what it was all about.
"Welcome," says Yair Dayan, a 45 year old postal worker, here with his wife Yardena. "Didn't I see you earlier at that lecture over at Beit Ha'aam?" he asks her. "The one on how today's social protest started at Mt. Sinai?" Ah, she was at the venue, replies Shapira, but opted for the other lecture up on the roof, an excellent session on anti-identity and the dilemma of the post-nationalist Jewish Israeli. "I told you we should have gone to that one," says Yardena.
Tikkun Leil Shavuot, Tel Aviv-style, owes a lot of its current day shape to Alma College - the college for Hebrew culture – that decided, 16 years ago by - to broaden the Shavuot tradition by starting their own, alternative study sessions– thus giving Tel Aviv, the city that never sleeps, one more good reason to stay up all night. So popular is Alma's Shavuot event today, that they have moved operations into the Tel Aviv Museum, and charge admittance.
It's 11:30 P.M. at the museum, and over 1500 well groomed Tel Avivians are walking the galleries looking for their classes. The editor of a fashion magazine, in a peach dress, matching high heels and a fancy hair-do, is chatting up a famous musician and sipping coffee. A politician and his wife are signing up for a session on water problems in art and in the bible.
Outside Hall One, there is a veritable riot when it turns out the room is too full and security stops letting people in. Inside, a lecture on "Our forefather Abraham: How he was scared to be himself," delivered by one of the favorite stars of the Tikkun scene, none other than journalist, author and politician Yair Lapid, dressed in his signature black, is about to begin. "Abraham and Sarah were married for a long time. But they didn't love each other much. That's something that happened in, and only in, biblical times," he says, standing at the microphone, a grand piano behind him, and getting his laugh.
"I don't want to go to the session about the Judaism and Stefan Zweig in hall four!" screeches one woman denied entrance, at the hapless guard. "You go there yourself!"
It's nearing 1 A.M. and at Tzavta, the trendy music and culture club in central Tel Aviv, a rapt audience of hundreds is listening to a panel of professors discuss Israel and democracy, as part of events organized by Tzohar, an organization of rabbis committed to fashioning a more inclusive Jewish national identity. A young couple sitting on the steps holds hands. An elderly man with a kippa takes notes. In the second theater space, a lively debate about conversion is taking place, and down the hallway, in the annex near the entrance to another club, where teenage girls in sequined tight tops and boys with gelled hair are lining up, a session on Jewish life in the modern age is about to begin.
It is 2 A.M. at the central bus station in south Tel Aviv, a place experiencing rising tensions between the locals and the thousands of African migrants and migrant workers who have made this neighborhood their home. "In the Torah you are commanded to love God, your neighbor – and the love the stranger who lives among you," says Eran Baruch, head of the BINA Center for Jewish Identity and Hebrew Culture, which operates Israel's first secular Yeshiva, located directly across from the bus station. This night, as part of their Tikkun, he tells the yeshiva's young students that he is leading a tour of the neighborhood, to learn something about that third kind of love. "This is a good night to be open," he says. "To try and understand more deeply."
Back at Fishka, 3:30 A.M., there is small session for women only, on witches in the scriptures, taking place in a corner room. A musician on electric guitar is belting out some original tunes in the main room, the accordionist accompanying him looks half asleep. Outside, in the courtyard, a different couple is now dancing the tango.
In a few hours, the crowds will walk from their various venues towards the beach and converge there for a sunrise "minyan" along the boardwalk. But that is hours away. The night is still young and there is plenty of coffee and much to study ahead.
Click the alert icon to follow topics:
ICYMI
Ken Burns' Brilliant 'The U.S. and the Holocaust' Has Only One Problem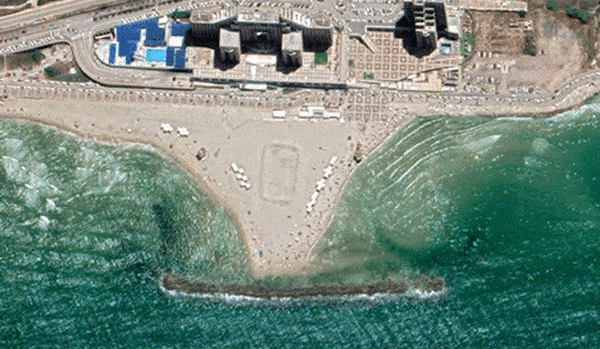 Facing Rapid Rise in Sea Levels, Israel Could Lose Large Parts of Its Coastline by 2050
As Israel Reins in Its Cyberarms Industry, an Ex-intel Officer Is Building a New Empire
How the Queen's Death Changes British Jewry's Most Distinctive Prayer
Chile Community Leaders 'Horrified' by Treatment of Israeli Envoy
Over 120 Countries, but Never Israel: Queen Elizabeth II's Unofficial Boycott