Israeli Troops Shot a Palestinian Boy in the Eye, and Didn't Even Try to Save It
A 14-year-old Palestinian, standing at the entrance to the vegetable store where he worked in the heart of Hebron, took a sponge-tipped bullet in the eye. The soldiers didn't bother to give him first aid, and it took 11 hours for him to reach an East Jerusalem hospital. Now he is half-blind
Izz a-Din al-Batash.
Credit: Alex Levac
Izz a-Din al-Batash still doesn't really know what happened to his eye. His parents are afraid to tell him what's lurking beneath the bandages. He may have removed them himself in secret and seen the gaping hole, or maybe not. In the meantime, his father switches to Hebrew when he talks to us about the eye his son lost.
Izz a-Din is a wiry, shy boy of 14. He lives with his parents, five brothers and two sisters in a renovated stone building in the Old City of Hebron – an area that's under the control of Israel and its settlers, which has been virtually emptied of its Palestinian community for some time. Only the poorest and the weakest remain in this ancient ghost city, whose dying market this week sputtered briefly to life under the aegis of Ramadan.
The Batash home is in the Qantara Dandis quarter of the Old City. From their roof on any given day, you can see more Israeli flags than in the whole neighborhood of Ramat Aviv on Independence Day. The settlers' Beit Romano community is above them, the Tomb of the Patriarchs is off to the side, and metal grating covers the nearby market to protect Palestinian passersby from the garbage that settler children throw at them. This is where this family makes its home.
Nidal, the father, is a 43-year-old independent contractor who works locally, installing pipes; Izz a-Din, his fifth child, is in the seventh grade. All his siblings are just as good-looking and well turned-out as he is, with fashionable haircuts and clothes to match. Their father tries to keep them as far as possible from the streets outside, where drugs and other hazards seem to lie in wait for children.
That's why young Izz a-Din has been working for the last two years or so in a vegetable store in the Bab a-Zawi quarter, in the heart of bustling Palestinian Hebron, which is owned by friends of the family – the brothers Issam and Mussa Aida. In the past few months Izz a-Din worked at the store every day, from morning to night, because his school was in coronavirus lockdown and his father didn't want him roaming the streets. At night one of the proprietors would escort him home, so he wouldn't have to walk alone. He earns between 30 and 50 shekels ($9 to $14) a day, which he saves up: He's already bought a cellphone and a bicycle with his earnings, and has even given his siblings some money, too. Nidal tells us jokingly that the boy is saving up for his wedding, and Izz a-Din flashes an embarrassed smile.
When he was younger, Nidal worked in Israel. Today he practices his Hebrew thanks to the Israel Defense Forces soldiers who patrol here nonstop. On April 9, a Friday, Nidal went to work at about 9:30. Half an hour later, Izz a-Din headed for the vegetable store, which is about a kilometer from his home.
In a yellow T-shirt and fashionably ripped jeans, his right eye bandaged, of course, Izz a-Din is now listening to what his father is telling us and occasionally adds his own account of what happened to him. Even before the incident, he wanted to be a doctor when he grows up – now he wants to be an eye doctor. He's also on his school's soccer team and is a big fan of Barcelona and Lionel Messi. Proudly, his father shows off his son's report cards: everything us above 90, except for 88 in mathematics.
On that Friday, Izz a-Din began to work as usual, along with his cousin, 13-year-old Abd al-Karim al-Batash. There was a lively flow of clients – it was the last Friday before the holy month of Ramadan, which began the following Monday. Issam, one of the owners, invited the two boys to join him for lunch in his home – a gesture of his fondness for the two young employees. They ate maqluba, a traditional Middle Eastern meat and rice dish, and went back to the store. Izz a-Din was standing on the sidewalk at the entrance to the store, next to the part of the stand stocked with fresh green chickpeas, called hamleh here.
The street was crowded with people but there were no soldiers, and everything was quiet at first. Izz a-Din was weighing and wrapping purchases when he noticed a small group of about 10 or 15 Palestinian children a few meters away on his side of the street, across from some soldiers who had now entered the city center. Because of the weekly prayers on Fridays the troops frequently enter the area designated H1, though it is supposedly under Palestinian control.
Izz a-Din relates that most of the children were younger than him, from the third grade, and only three were older kids. They taunted the soldiers with Hebrew curses they had picked up – ben zona (son of a bitch) and also homo, Izz a-Din recalls and blushes – and threw stones at the soldiers from a distance. It was a minor incident, the boy says. The soldiers didn't even fire tear gas. Izz a-Din stayed where he was, next to the chickpeas. Why didn't he join the children? "Why would I join them?" he says. By now it was after 2 o'clock.
Footage from the vegetable store's security camera, positioned above the chickpeas, shows the course of events beginning about a half-hour later. Izz a-Din, wearing a blue hoodie, is standing and arranging the produce with his cousin, looking toward the street when suddenly they seem to be frightened by something. Abd al-Karim runs into the store while Izz a-Din bends over, grabs his face and also rushes inside. None of the soldiers goes to see what happened.
At first he didn't feel that he'd been shot. But Issam shouted, "You've been hit by a bullet in your eye!" Izz a-Din started to scream, partly from panic, partly from the mounting pain. Issam quickly bundled him into a passing taxi and took him to nearby Alia Hospital. There he was x-rayed and given an intravenous painkiller, and his eye was bandaged. The hospital doesn't have an ophthalmic department. By now Nidal and other relatives had arrived at the hospital and were waiting next to the ER. They realized that they would need a permit to enter Israel and money to cover the expenses of Izz a-Din's treatment at either Hadassah Medical Center or at St. John of Jerusalem Eye Hospital, in the eastern part of the city. But the gears of Israel's coordination and liaison bureaucracy turn slowly, and hours passed.
At one point, Izz a-Din's father and cousins decided to take him out into the street and walk with him to the Israel Defense Forces checkpoint at the entrance to Hebron's Jewish Quarter, so that perhaps those who shot him would also deign to treat him, which they hadn't done. The group reached Shuhada Street – the main road leading to the Tomb of the Patriarchs, which is off-limits to Palestinians – and Nidal was worried that there would be problems. He only wanted medical care for his son. The cousins were impatient.
Nidal explained to the troops that they had brought the boy with them because there was nowhere in Hebron where he could get proper treatment. Izz a-Din sat down on the sidewalk. It was 9 P.M. One officer told them to drive to Bethlehem, to checkpoint 300. Nidal asked whether there would be an entry permit to Israel waiting for him there. Sure, the officer promised, and also an Israeli ambulance.
They reached the checkpoint at about 10 o'clock in a private car. The soldiers there knew nothing about the matter; there was neither an ambulance nor a permit. The group waited for more than an hour at the checkpoint. Finally an official from the military government's Civil Administration suggested that they call an ambulance, at their own expense. He said that the staff at St. John of Jerusalem would be waiting for them. The group ordered an Israeli ambulance, but when it arrived, the soldiers checked their computer system and informed Nidal that he had no entry permit to accompany his son into Israel. He was forced to part from Izz a-Din. Nidal's 33-year-old brother, Abed, the boy's uncle, did have a permit and was permitted to escort Izz a-Din.
The ambulance arrived at 12:40 A.M. and, after some initial confusion, arrived half an hour later at St. John of Jerusalem. It was now 11 hours after Izz a-Din had been wounded. Nidal stayed behind at the checkpoint until he heard his son had arrived. Thus, a wounded 14-year-old boy was driven to a hospital in the middle of the night without his father; his mother was at home and may have been able to escort him but she is pregnant and the family didn't want to summon her.
At first the staff at the eye hospital refused to admit the wounded teenager without financial assurances, until finally the uncle gave them a deposit of the 150 shekels ($46) he had with him. In the morning the hospital called Nidal and told him to go to the Hebron branch of the hospital, which is only a small clinic, in order to sign a consent form for the removal of his son's right eye. The operation was performed on Saturday afternoon. On Sunday evening Izz a-Din was sent home – with one eye.
Haaretz received the following statement from the IDF Spokesperson's Unit: "On April 9, 2021, a violent disturbance occurred in the city of Hebron with the participation of dozens of people who were disturbing the peace, during which stones and rocks were thrown, including by means of slingshots, at IDF fighters. They responded by using various means to disperse demonstrations, which included firing rubber [rubber- or sponge-tipped metal bullets]. It bears clarifying that firing was not directed at stores or at the uninvolved.
"The claim about a Palestinian who was wounded in a store close to the location of the disturbance was received only after the incident. Afterward an investigation was conducted, from which it emerged that there was no direct firing at the store or at those inside it."
We walk with Izz a-Din to the vegetable store where he worked. It's Ramadan and the Bab a-Zawiya quarter is abuzz with people and cars. Israeli flags flap in the breeze on the surrounding hilltops. The settlements are suffocating Hebron – the largest and most affluent Palestinian city in the territories – from every direction, as is the case with other Palestinian locales. Izz a-Din walks to the containers of green chickpeas. His smiling cousin, Abd al-Karim, joins him, and they both stand there – as though nothing had ever happened.
Click the alert icon to follow topics:
ICYMI
Ken Burns' Brilliant 'The U.S. and the Holocaust' Has Only One Problem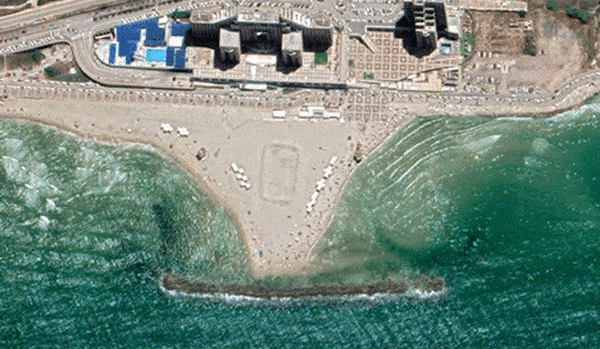 Facing Rapid Rise in Sea Levels, Israel Could Lose Large Parts of Its Coastline by 2050
As Israel Reins in Its Cyberarms Industry, an Ex-intel Officer Is Building a New Empire
How the Queen's Death Changes British Jewry's Most Distinctive Prayer
Chile Community Leaders 'Horrified' by Treatment of Israeli Envoy
Over 120 Countries, but Never Israel: Queen Elizabeth II's Unofficial Boycott