Travel Tel Aviv: Everything You Need to Know When Visiting Israel's Sin City
What to do, where to eat and how to get around the Israeli city of Tel Aviv.
Israelis playing matkot on the beach in Tel Aviv., March 17, 2015.
Credit: Ofer Vaknin
Tel Aviv, Israel's business and cultural capital, is the center of the country's largest metropolitan area. Liberal and wealthy, this beachfront city is all about lifestyle. Restaurants and cafes abound and are full at all hours, making some wonder whether anyone here works. The gay scene here is flourishing, and goes far beyond hot nightclubs; same-sex couples strolling with babies and strollers are a common sight.
It's known among Israelis as "the bubble," or alternately "the Country of Tel Aviv" – disparagingly or fondly, depending on whom you're talking to. One thing they'll all agree on is that visitors will find no shortage of ways to keep busy.
Must-Do
If you have limited time in Tel Aviv, here's what you should do:
Hire a Tel-O-Fun, the green bikes available for rent at stations throughout the city, and tour through the many kilometers of bike paths. We recommend starting at Rabin Square, passing through the shaded Chen Boulevard until you reach the plaza at Habima National Theater, and then continuing down scenic Rothschild Boulevard until you reach the picturesque neighborhood of Neve Tzedek. From there, head west toward the beach and follow the coastline to the old Jaffa port.
The key places to visit are Tel Aviv's bustling Carmel Market, and perhaps also the crafts market on neighboring Nahalat Binyamin Street (open Tuesdays and Fridays), and the stone-paved alleys of the Old City of Jaffa, as well as its port and the neighboring flea market. Stop there for lunch at one of the many cafes in the market precinct, or head back at night for dinner and a drink in one of the lantern-lit alleyways.
And then there's the beach. Make sure you visit the beach! Sink your feet into some of the best sand you've ever encountered and lap up some Mediterranean sun. Rent beach furniture easily at one of the new machines stationed on the boardwalk and refresh yourself with a cold drink from one of the numerous waterside kiosks or restaurants (warning: the price is commensurate with the location).
Different stretches of beach cater to different crowds: there's a beach for sea sports north of Gordon; a beach popular among gay men in front of the Hilton; and a walled-off section in front of Independence Park where men and women alternate days, which caters to Orthodox Jews. You'll notice the locals playing shesh besh (similar to backgammon) and matkot (the noisy ball-and-paddle game popular on the sand). Want to get in on the fun? Buy your own at beach supply stores around town, including at the Carmel Market.
Neighborhoods
The center of the city is known as Lev Ha'ir, literally "the heart of the city," and it includes the White City – the UNESCO-recognized collection of Bauhaus buildings – as well as the landmark Rabin Square, Habima National Theater, the Cinematheque and Dizengoff Center. It also includes the famous King George Street and Rothschild Boulevard. The center of the city is green and walkable, as is its continuation to the north of Arlozorov Street, known as the Old North.
The Old North is mainly residential, but also includes plenty of coffee shops and restaurants. South of the center you'll find the picturesque Neve Tzedek, a tony neighborhood of low houses, little boutiques and landmarks, including the Suzanne Dellal Center for Dance and Theater – home to the renowned Batsheva Dance Company. Neve Tzedek is known for being one of the first neighborhoods in Tel Aviv. So is the neighboring Yemenite Quarter, originally founded by immigrants from Yemen. This neighborhood was until recently quite run down but has undergone an impressive facelift in recent years. It includes the Carmel Market as well as a nearly endless selection of hole-in-the-wall luncheonettes that are extremely popular among locals.
South of Neve Tzedek is Florentin, a sooty neighborhood with narrow streets and lots of young, single residents. Here you'll find plenty of bars and restaurants as well as the Levinsky Market, where vendors offer dried fruits, legumes and spices. South of Florentin you'll find Jaffa, the ancient seaport city. The northern end of Jaffa includes the historical old city, the clock tower and the flea market area, which is bustling with fashionable restaurants and bric-a-brac to buy.
Cafés
Tel Aviv is known for its coffee shops, and in this regard it's hard to go wrong – most places that appear attractive from the outside will also be able to dish up a decent latte. Having said that, we've listed our favorites in this review: "The 10 Best 10 Cafes in Tel Aviv."
"Cafe hafuch" is Tel Aviv's drink of choice, or alternately an iced coffee in the summer. Don't be afraid to pick a coffee shop based on location alone; consider sitting at one of the coffee kiosks in the middle of Ben-Gurion Boulevard or Rothschild Boulevard, and relaxing with a drink as you people-watch. If your priority is a top-quality brew, hit up Mae, a boutique coffee roaster that imports its own beans from Costa Rica. Mae also provides beans to various coffee shops around the city, including the funky Xoho with its San Francisco vibe. The coffee chain with the best coffee is arguably LovEat – the beans are organic and fair trade, although prices are admittedly not so modest.
You can get free Wi-Fi at most cafes. In fact, the municipality offers free Wi-Fi throughout much of the city. Search for the FREE_TLV network.
Restaurants
Tel Aviv has no shortage of good restaurants run by acclaimed chefs, and the city's culinary scene has been drawing significant attention abroad. The most well known include Eyal Shani, whose Miznon chain of upmarket street food has expanded abroad, as well as Meir Adoni of Catit and Mizlala fame, but the quality extends far beyond those big names. There are so many restaurants to enjoy, it can be hard to narrow it down to a handful. We've done the hard work for you in our list of the 10 best restaurants in Tel Aviv.
Nightlife
Tel Aviv is a city that never sleeps. That's where it gets its other nickname, the "White City" – a reference to white nights. You'll find locals walking their dogs after dark, dinners being served at 9 P.M. and clubs just getting started after the clock strikes midnight. There's absolutely no reason for your day to end when the sun goes down.
Stroll the streets after dinner, then catch a theater show or dance performance (see "Culture," next), or head to any of the many bars and clubs that make the city a hot nightlife destination. We've listed the best bars with food here; those interested in Tel Aviv's flourishing gay nightlife can find recommendations here.
Standard tips range from 12 to 15 percent, but be generous with your bartenders and they'll be good to you.
Culture
Tel Aviv is all about culture. Catch a dance performance by the internationally acclaimed Batsheva Dance Company or Inbal Pinto and Avshalom Pollack Dance Company at the Suzanne Dellal Center. Tel Aviv is also home to many of the country's greatest theater companies – including Habima (Israel's national theater) the Cameri, Gesher (which regularly has English surtitles) and Beit Lessin – as well as fringe theaters including Tmuna, Simta and Aravi-Ivri.
The Tel Aviv Cinematheque screens arthouse cinema and also houses events, from the DocAviv film festival to annual science fiction conventions and Ethiopian cultural and religious festivals.
If you're looking for art, you can catch some of the country's best exhibits at the Tel Aviv Museum of Art. Other notable galleries include Beit Ha'ir, ambitious and provocative; Sommer, with its finger on the global scene; and Rosenfeld, which features contemporary trailblazers. Tel Aviv University's Botanical Gardens has on display a one-of-a-kind collection of local flora, and the Eretz Israel Museum hosts a sprawling collection of historical and archaeological exhibits.
Find out about special events and exhibits by checking "The Guide," Haaretz's weekly culture supplement, distributed with the Friday paper and available online as "Things To Do Around Israel."
Shopping
Tel Aviv is home to some of Israel's leading fashion designers. Hit up one of the dozens of local clothing boutiques on Dizengoff Street and Sheinkin Street in the center of the city, as well as in the Gan Ha'hashmal complex and Neve Tzedek neighborhood farther south. You can also browse fresh, unique fashions from Israel's up-and-coming designers at the Dizengoff Center fashion fair each Thursday and Friday.
Edible souvenirs such as olive oil, baklava, olives, tahini and spices can be found at the city's main markets. These include the Carmel Market, which offers nearly endless fresh produce, as well as clothing and Chinese-made trinkets; and the Levinsky Market, with its nearly endless collection of spices, dried fruits and legumes. The city also has a third market, Hatikva Market, also in the south; most of the streets are wide and walkable, but this market is much less tourist-oriented. The Tel Aviv Port's farmer's market is a small and pricey newcomer to the local market scene, with indoor shops open throughout the week and an expanded offering of vendors under an outdoor tent on Fridays.
If you're looking for a more international shopping experience (or even just air conditioning), consider visiting the up-market Ramat Aviv Mall, Dizengoff Center or Azrieli Mall (which also offers an observatory with great views of the city from the top floor). These shopping centers all have the larger Israeli fashion chains, as well as international brands. You'll find a similar collection of stores at tourist-friendly outdoor complexes like Sarona, Hatachana and the Tel Aviv Port. All three occupy historical sites – Sarona is the renovated German Templer colony, Hatachana is the first Jaffa-Tel Aviv train station, and the Tel Aviv Port is, well, a former port and overlooks the sea. All have the advantage of being open on Saturdays.
Transport
There are lots of ways to get around Tel Aviv. Locals often use bikes, and indeed this is one of the best modes of transport for touring the city. Tel-O-Fun bicycles – one of the green bikes parked at rental stations throughout town – can be borrowed at one station and returned at another. Just note that the system is made to encourage commuting, and extra fees are incurred when a bike is borrowed for more than 30 minutes at once. Try to stick to the bike paths.
Buses are also frequent and accessible – you can plan your route and double-check arrival times with a cell phone app like Moovit. Moniot sherut – minibus shared taxis – are also available on select routes.
Taxis are also widely available. Hail down a passing cab, or order one with the cell phone app Gett, which gives you the added comfort of knowing your driver's name and number, seeing exactly when it will arrive, and paying by credit card. You can also use Uber in Israel, but it's not the Uber you've come to know in other countries; instead of private vehicles, this app is serviced only by taxis.
For intercity travel, trains and buses are your cheapest bet on weekdays, but be aware they don't run on Friday nights or Saturdays until after Shabbat is out. Shared taxis (moniot sherut) can get you to and from other major cities around the clock and on weekends.
Kids
Israel is known as a kid-friendly country, and Tel Aviv is no exception. Children are welcome at restaurants, and breastfeeding in public is perfectly acceptable, so don't be shy about taking your kids with you to dinner.
For entertainment, there are plenty of options, the most obvious of which is the beach. Metzitzim beach, directly south of the Tel Aviv Port, is an excellent choice for children: It offers a brand-new playground meters from the water, as well as comfortable indoor showers and toilets, and the airplanes flying low as they take off and land at nearby civilian and military Sde Dov Airport are a hit attraction for toddlers. Also consider Gordon Pool, a complex of three pools overlooking the ocean and a large dock. There, children splash around a shaded wading pool full of toy installations.
Children will also find plenty to do at the Tel Aviv Port, much of it free. Attractions there include several massive, modern playgrounds; fountains for playing (scheduled to reopen in September); a carousel and the occasional public performance. Child-friendly food options abound there, too.
You'll also find plenty of families and playgrounds in the nearby Yarkon Park. Older children can rent paddleboats to explore the river.
Visit the safari in neighboring Ramat Gan, the new Sarona complex – with its big playgrounds next to convenient food options – and the Land of Israel Museum, with its child-friendly exhibits. Need to escape the heat? Take refuge at a gymboree at the Gan Ha'ir Mall (a bargain at 10 shekels ($2.60) per child), the Weizmann Center mall or Ramat Aviv Mall. Be aware that child-friendly destinations are crowded over the weekend, particularly on Saturdays, after 4 P.M. on weekdays, and during the entire month of August.
Accommodation
Most of the five-star major hotels are stacked up along the beachfront, from Hilton and Carlton on the north end to Dan and Royal Beach, extending to David Intercontinental on the far south. All of them are fine, some more expensive and some less so, but you get what you pay for, and in Tel Aviv, home of high real estate, do not expect spaciousness for chump change.
If you're in town strictly for business, maybe stay at a hotel along the Ayalon Freeway, such as Crowne Plaza Tel Aviv City Center or Leonardo City Tower, from which you can take the train to the airport.
But as Tel Aviv's chic quotient has risen in recent years, high-end boutique hotels are trending now. Find them in Jaffa (including Market House in the modish flea market, or Margosa and soon-to-be-opened W a bit further south) or off Rothschild Boulevard in the Bauhaus district (Norman, Rothschild, Diaghilev and Montefiore).
On a budget? Try Airbnb, but stick to Lev Hai'r if you want to be central or somewhere by the beach. Alternatively, choose a neighborhood that suits you best, based on the guide above.
Liz Steinberg is an editor at Haaretz English Edition and a long-time Tel Aviv resident.
Aimee Amiga, Marty Friedlander and Avi Pitchon contributed to this guide.
ICYMI
Ken Burns' Brilliant 'The U.S. and the Holocaust' Has Only One Problem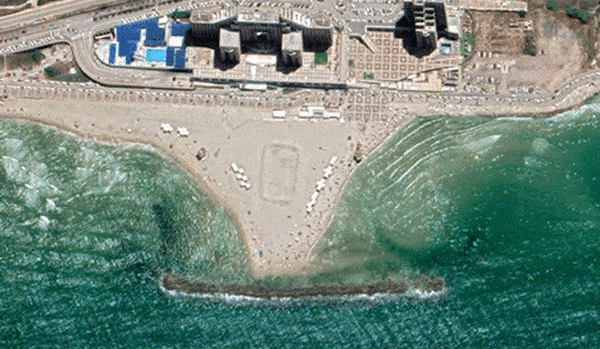 Facing Rapid Rise in Sea Levels, Israel Could Lose Large Parts of Its Coastline by 2050
As Israel Reins in Its Cyberarms Industry, an Ex-intel Officer Is Building a New Empire
How the Queen's Death Changes British Jewry's Most Distinctive Prayer
Chile Community Leaders 'Horrified' by Treatment of Israeli Envoy
Over 120 Countries, but Never Israel: Queen Elizabeth II's Unofficial Boycott