War Tourism, the Latest Thing
Kosovo, South Korea, Somalia and now Israel: Tour operators are taking advantage of a growing interest in travel to conflict zones, whether for thrills or to actually learn about places in the headlines.
It's a thin line between morbid curiosity about the catastrophes of others and a genuine desire to understand the world's most sensitive areas. It's what separates war tourism from deep journeying into a region in conflict. Nicholas Wood, a former New York Times Balkans correspondent who founded the study-tour company Political Tours five years ago, insists that his firm's activities fall into the latter group. You want to get a nuanced and complex understanding of the situations we see on the television news, he said, adding, that the idea is not to be voyeuristic, but rather to gain a deeper understanding.
In a telephone conversation from London, Wood related that over a decade of reporting from the Balkans for The New York Times he became an expert on the wars in the region, and is at home in Kosovo. He founded Political Tours in 2009 and is now its director. The idea, he said, is to bring people to the places they read about on the news and give them a closer, more knowledgable perspective. He said the emphasis is less on the conflict itself and more on getting a feel for the area.
Before the trip, participants receive an information package on the places they'll be visiting. Experts, usually journalists covering the area, accompany each tour. Participants meet with locals, including politicians, businesspeople and ordinary citizens, and listen to lectures from academics. Wood notes that countries such as Afghanistan or Iraq are off-limits, at least for now, because of the fighting. He said the company doesn't go to active war zones, adding that the goal is not to expose participants to danger, or to the suffering of the local population. The focus, he says, is on providing a learning experience.
Political Tours's list of destinations is long and varied. It includes North Korea, Bosnia, Kosovo, South Africa, Russia, Georgia, Libya, Northern Ireland and Scotland, where the focus is on the referendum on independence from the United Kingdom. A tour of Israel and the Palestinian Authority is planned for October.
Wood says Israel and the PA are ideal destinations. The itinerary includes meetings with Israeli and Palestinian figures: settlers and refugees, journalists and politicians. There are no plans for a trip to the Gaza Strip, Wood says, adding that the West Bank is fascinating and much more appropriate for his company's customers.
It's important to understand that the travel sector has changed completely in recent years, Wood says. There is a big demand for a different kind of trip, one that offers intellectual challenges as well as beautiful sights. He explains that while tourists tend to ignore geopolitics while traveling, Political Tours takes the opposite tack, giving travelers direct access to reality.
Participants skew male, educated and in their 50s, with half coming from Britain, where the company is based, and a quarter from the United States. The tour groups are small, at just eight to 10 participants, and the guiding is in English. Prices are relatively high, at 3,200 pounds ($5,460) for the nine-day trip to Israel and Palestine, for example.
Political Tours is not alone in the field. At least three other companies offer tours to conflict areas. The most prominent and provocative of them is War Zone Tours, whose slogan is "The ultimate in adventure travel." The home page opens to a photograph of a burning car, next to a description that begins: "Despite the seemingly politically incorrect name, War Zone tours offers a unique and surprisingly PC experience. Our main goal at WZT is to show you what is really going on in the places you had previously just seen on the televised news and print media, etc." Below is a quote from author Paulo Coelho: "You have to take risks. We will only understand the miracle of life fully when we allow the unexpected to happen." But the introduction also says: "Our unique tours are safe and customized to your vision, with few limitations."
WZT, which was founded 20 years ago, offers tours to destinations including Iraq, Beirut, Mexico, Somalia and the Republic of Congo. The website touts all the company's guides as being "experienced security professionals," with many staff members who are former military special operations personnel. "Our expatriate staff is supplemented by local security specialists, guides, drivers and support personnel from more than 20 countries,"
WZT's Rick Sweeney says in a telephone interview that most of the company's customers are people with no military experience who feel they have missed out by focusing on their studies or careers; now that they can afford it, they turn to his company to seek out adventure.
Gaza? Not now
Are the participants looking for risk? Yes, says Sweeney, but only up to a point. They trust us to manage the risk for them, so we have a great deal of responsibility, he says, noting that last week he convinced a prospective customer, after a long conversation, that while going to the Gaza Strip was a great idea now wasn't the best time to schedule a visit.
Beirut is one of the more popular destinations, Sweeney says. Many of WZT's customers have heard about it and want to see it for themselves, he says. They want to go to the sites of terror attacks, of car bombings, to see the boundaries of the areas controlled by Hezbollah.
The British-based Wild Frontiers offers adventure tours to Iran, Lebanon, Iraqi Kurdistan, Iraq, Jordan and Oman, as well as Israel and the PA, but also to Africa, Europe and the Caucusus, Latin America, India and China and Central Asia.
The trip to Israel and the PA is portrayed as "a walk through Bibleland." Sites include the Dead Sea, the Old City of Jerusalem, Bethlehem and other places that are not necessarily related to the Israeli-Palestinian conflict. The description barely mentions the conflict, which is not depicted as the focus of the trip. The nine-day tour costs 1,855 pounds.
Untamed Borders, another U.K.-based adventure travel company, promises "unparalleled access to some of the world's most interesting and inaccessible places." It offers tours to Pakistan, Afghanistan, northeastern India, Somalia, Chechenya and Uzbekistan. A three-week tour of Afghanistan costs 3,000 pounds.
James Willcox, one of the company's two founders, says in a telephone conversation that the company does not engage in what he calls war tourism. We're simply able to bring our clients to places that are almost inaccessible in any other way, he says. Some travelers are interested in excitement and maybe even in taking risks, but our job is to reduce the risk to a reasonable level. Adrenaline and risk are an inseparable part of these trips, but the real purpose is to get to know the location, meet the people who live in the remotest places and speak with them, according to Willcox. The tours of Afghanistan are limited to eight participants at most, while the trips to Somalia have no more than four. Willcox says that's because these are places where the ability to move quickly can be critical, adding that the small groups give the guides greater flexibility.
A view of the 
Golan Heights
Israel has played a starring role as a war-tourism destination in foreign magazines in recent months. The Golan Heights gets particular mention in this context. In "The Rise of Dark Tourism," published last week on the website of The Atlantic, Debra Kamin describes the observation point in Ein Zivan, which overlooks Quneitra: "High above a valley in the Israeli-occupied Golan Heights, Israeli tourists have a panoramic view of this strategically important location, which is also known as the Gateway to Damascus." She writes that every day dozens of tourists crowd into lookouts on the Golan Heights to view the civil war in Syria. The article also describes residents of Sderot gathering to watch the Israeli offensive in the Gaza Strip.
Kamin quotes Philip Stone, director of the Institute for Dark Tourism Research at the U.K.'s University of Central Lancashire, who says that while war tourism has been going on for centuries, it is only recently that it has been commercialized. Stone says adventure tourism, including but not limited to travel to war zones, "has grown by an average of 65 percent annually over the past four years and is now estimated to be worth $263 billion," Kamin wrote.
According to the three people interviewed for this article, the field is still in its early days. Political Tours' Wood said Stone is making a fundamental error by including visits to conflict areas as part of adventure tourism. He said his company is about education, not thrill-seeking.
Tunnel tourism
South Koreans knows about the attraction of conflict area. Tours of the demilitarized zone along the 38th parallel separating North Korea and South Korea are very popular with tourists. On a tour that I took of the area, the border region was described as "the most heavily-armed region on earth." And while uniformed soldiers manage the visit with military strictness, there are also soldier dolls that tourists are encouraged to take "selfies" with. The DMZ features a modern visitors' center, souvenir stands and observation points with telescopes, but visitors must show their passports at every station.
Hundreds of buses loaded with tourists, most of them from China, drove around the enormous parking lot along the DMZ. Soldiers counted us every time we got on or off the bus to keep us from escaping into North Korea or remaining in the DMZ. Other soldiers explained in detail what we were and were not allowed to do. When I tried to take a picture beyond the yellow line marked on the concrete floor, grave-faced soldiers almost took me prisoner. In one high point of the visit, we walked through a 1.7-kilometer-long tunnel discovered in 1978. Hewn from rock, it was 2 meters high and 2 meters wide, well-lit and with signs explaining the dangers of such tunnels. Three other tunnels have been discovered and excavated since then; according to the explanations, they were dug to enable a military invasion of South Korea from the north. All were discovered by South Korean troops, and one of them was opened as a tourist attraction.
Let's hope that will happen here soon, too.
Click the alert icon to follow topics:
ICYMI
Ken Burns' Brilliant 'The U.S. and the Holocaust' Has Only One Problem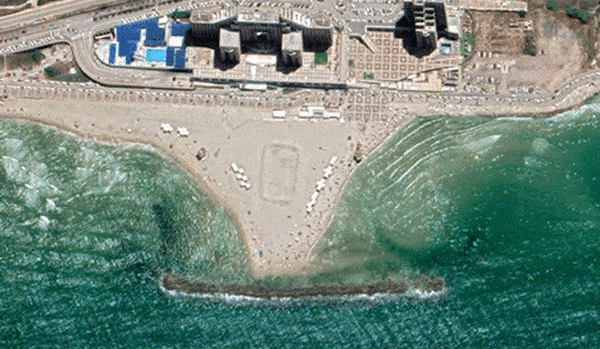 Facing Rapid Rise in Sea Levels, Israel Could Lose Large Parts of Its Coastline by 2050
Lapid to Haaretz: 'I Have Learned to Respect the Left'
The Mossad's Fateful 48 Hours Before the Yom Kippur War
As Israel Reins in Its Cyberarms Industry, an Ex-intel Officer Is Building a New Empire
How the Queen's Death Changes British Jewry's Most Distinctive Prayer