A Jewish Pope?
Could Catholic Christianity have once been led by a Jew? Vatican history and Jewish lore tell tales, some definitely tall ones and others more credible.
Pope Benedict XVI prays before the Western Wall in the old city of Jerusalem
Credit: Bloomberg
The idea that the highest figure in Catholic Christianity could be Jewish has been circling for millennia, intriguing both Jews and Christians. It was a thing of legend and a convenient accusation to rattle political rivals. But was there ever a Jewish pope?
Yes. Or rather, that depends how you define Jewish, and how you define pope.
St. Peter is clearly one of the most important figures in Christianity, but he was also a legendary figure among Jews, with a story spread among Medieval Jewry that Peter abandoned Christianity and returned to the religion of his ancestors before he died. According to this legend, he wrote the prayer "Nishmat Kol Chai."
In the early days of Christianity, the two religions were not so rigidly distinct. It is true that from quite early on, most Christians were gentiles, that is - non-Jews. Still, many were ethnically Jewish. This has led to speculation that some of the early popes may have been Jewish. But it remains speculation as little is known about these early pontiffs.
One of the most likely candidates to be a "Jewish pope" is Pope Zosimus, a 5th century pope.
The theory is based on records showing that he came from Greece, which had a sizable Jewish community, and that his father was named Abram, which would have been an extremely unlikely name for a non-Jewish Greek. Still, that is all we know.
Pope Zosimus. Photo by wikipedia
More about the pope's visit: The gospel according to Francis: Nir Hasson | A Jewish pope? Elon Gilad | Great expectations, great disappointment? Ariel David | What the pope won't see in Bethlehem: Judy Maltz | Protecting the pontiff: Allison Kaplan Sommer | Too cozy with the church? Anna Momigliano | Israel and Vatican strive to resolve tensions: Ariel David | Jews 'have nothing to discuss' with Vatican: Anna Momigliano | Did the pope say that?!? An interactive quiz | A history of papal visits to the Holy Land: Elon Gilad.
Jewish antipope?
Another candidate is Antipope Anacletus II. In the 11th century, a Jewish Roman apparently named Baruch, who had become rich and powerful, converted to Christianity. Pope Leo IX personally baptized Baruch as Leo de Benedicto. His son Peter Leo (Pierleone), further established the family as a powerful Roman patrician family, which from the next generation bore his name Pierleoni.
A day after Pope Honorius II died in 1130, a group of eight cardinals rushed to elect Cardinal Gregory Papareschi as his successor - Pope Innocent II. Later that day, the rest of the cardinals, scandalized by this underhanded attempt to steal the pontificate, elected a member of the Pierleoni family - Pietro Pierleoni, great grandson of Leo de Benedicto, as Pope Anacletus II.
Pope Leo IX. Photo by wikipedia
Pope Innocent II fled Rome and went north, where he gained powerful allies. In the meanwhile, Anacletus II was the recognized Bishop of Rome, at least in Rome itself. Only after he died, almost eight years after ascending to the Throne of St. Peter, was a new pope elected. But he yielded the papacy to Pope Innocent II and Anacletus II was branded antipope.
The expulsion of Jews from Spain by the Alhambra Decree in 1492 was accompanied by a mass conversion of Jews to Christianity. A fear arouse among many Christians that some Jews were only converting outwardly to save their skins and property, but continuing to practice Judaism at home. Some feared that these crypto-Jews would rise in influence and gain authority in the Church, and destabilize Christianity. Thus the Spanish inquisition was formed to root out "secret Jews."
Lampooned as a Jew
Pope Alexander VI, the infamous Borgia Pope, was often lampooned as Jewish by his enemies, most notably by Cardinal Giuliano della Rovere, who would later be Pope Julius II. Because the family was of Spanish origins coming from Valencia, the Borjas were often called Marranos, that is, Jewish converts to Christianity. The fact that Pope Alexander VI was friendly to the Jews and allowed Jews expelled from Spain in 1492 to settle in Rome didn't help his reputation.
Pope Honorius II. Photo by wikipedia
It is unlikely that the Borgias were Jews, but if they were the other Borgia pope - Pope Calixtus III - would have been Jewish too.
While Christians were fearing a Jewish pope, Jews started telling themselves stories of Jewish conversos who rose in Church ranks to and became Pope. These stories circulated in many variations, with the most common being the myth of Pope Andreas. According to one account of the story, a son of a wise rabbi is kidnapped by Christians and reared as a wise and pious Christian cleric, eventually becoming pope.
In one account of the story, Pope Andreas demands to learn his origins, and when one of his older underlings recounts the story of his early kidnapping, he sends for his father. After ascertaining that he was in fact his father, they talk theology and the Pope is persuaded that of the error of Christianity. He calls a convection of cardinals in which he repudiates the Christian faith and rejects the divinity of Jesus. Then he throws himself off a tower and dies. There is however no historical account of any such pope.
More recently, Aaron Lustiger, son of two Polish Jews who converted to Catholicism when he was 13 and baptized Jean-Marie Lustiger, rose up the ranks of the Catholic Church, eventually becoming cardinal. In 2005, after the death of Pope John Paul II, Cardinal Lustiger's name came up as a potential candidate to succeed him.
Ultimately Cardinal Joseph Aloisius Ratzinger was elected and became Pope Benedict XVI. Lustiger died in 2007.
Click the alert icon to follow topics:
ICYMI
Ken Burns' Brilliant 'The U.S. and the Holocaust' Has Only One Problem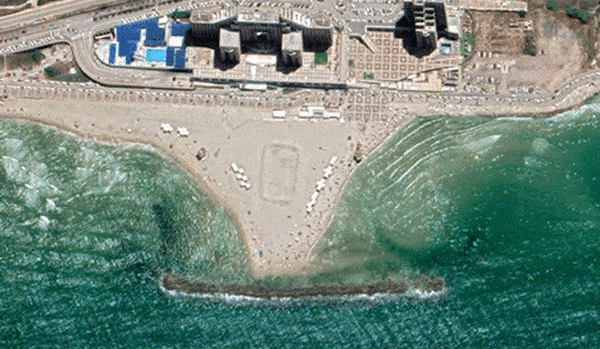 Facing Rapid Rise in Sea Levels, Israel Could Lose Large Parts of Its Coastline by 2050
Lapid to Haaretz: 'I Have Learned to Respect the Left'
The Mossad's Fateful 48 Hours Before the Yom Kippur War
As Israel Reins in Its Cyberarms Industry, an Ex-intel Officer Is Building a New Empire
How the Queen's Death Changes British Jewry's Most Distinctive Prayer