Rome's Chief Rabbi Says Jews 'Have Nothing to Discuss' With Vatican
Italy's most prominent rabbi warns theological talks 'should be approached with caution.'
Pope Benedict XVI shakes hands with chief rabbi Riccardo Di Segni at Rome's main synagogue. January 17, 2010.
Credit: Reuters
MILAN – As the pope was preparing for his trip to Israel this week, Italy's rabbis seemed to agree about the importance of carrying on a dialogue with Catholics, but not as much about what "dialogue" means.
Francis I, who is traveling to Israel, Jordan and the West Bank in the company of a rabbi and a Muslim community leader – Abraham Skorka and Omar Abboud, both fellow Argentinians – has described his trip as a pilgrimage of "communion, hope and peace." When hosting a delegation of American Jewish Committee leaders in the Vatican in February, the pontiff praised interfaith ties, and "the heritage of our mutual knowledge, esteem and friendship."
Rome's chief rabbi, Riccardo Di Segni, says he is "cautiously optimistic" about the visit, but warns that interfaith dialogue is a delicate issue "that should always be approached with caution."
Since there is no chief rabbi of all of Italy, and Rome has by far the largest Jewish community, Di Segni is de facto the country's most prominent Jewish leader. He has met Francis on several occasions.
More about the pope's visit: The gospel according to Francis: Nir Hasson | A Jewish pope? Elon Gilad | Great expectations, great disappointment? Ariel David | What the pope won't see in Bethlehem: Judy Maltz | Protecting the pontiff: Allison Kaplan Sommer | Too cozy with the church? Anna Momigliano | Israel and Vatican strive to resolve tensions: Ariel David | Jews 'have nothing to discuss' with Vatican: Anna Momigliano | Did the pope say that?!? An interactive quiz | A history of papal visits to the Holy Land: Elon Gilad.
"There's room [for Catholic and Jews] to discuss important issues," the rabbi told Haaretz in a phone interview. However, he added, while he is more than keen "on good neighborly relations" with the Vatican, located just blocks away from Rome's historical Jewish ghetto, "from the theological point of view, there is nothing to discuss."
This is no minor issue. Indeed, "theological dialogue" – a term that refers to a range of subjects, and potentially involves a confrontation on faith-based morality and a joint discussion of the Torah – is precisely what the Vatican seems interested in.
In truth, there are different ways to see interfaith dialogue. On the one hand, there are "secular" ties and conversations between two or more religious communities – which, in the case of Catholics and Jews, entail joining forces against anti-Semitism or discussing the historical role of the Vatican during the Holocaust. On the other hand, there are quintessentially "religious" topics, such as the Bible, which is of great importance to both Jews and Christians; the way the Catholic Church sees the fact that Jews do not accept Jesus as their messiah; and whether Jewish scholars perceive Jesus' teachings as at all compatible with halakha, traditional Jewish law.
The previous pope, Benedict XVI (Joseph Ratzinger), a guardian of Catholic orthodoxy, was believed to be ill-disposed toward extending interfaith dialogue to the realm of doctrine. But his successor is perceived as being more open-minded theologically. Francis himself has said the dialogue between Christians and Jews must have "a theological foundation" and go "beyond mutual respect and appreciation."
For his part, Cardinal Kurt Koch, who heads the Vatican's Commission for Religious Relations with Jews, said earlier this year that he aims to "expand the theological dialogue," which he described as "the [main] challenge for the future."
Jewish views
On the Jewish side, some American rabbis are vocal supporters of discussing doctrinal issues – among them David Rosen, the American Jewish Committee's international director of interreligious affairs. When it comes to Italian rabbis, though, few are open to discussing such matters – at least in depth or in public.
Recently, Pagine Ebraiche, an Italian Jewish monthly, published a survey conducted among leading local rabbis, concerning their expectations of the new pope. Most preferred to focus on good relations and coexistence, rather than on religion per se. Only Milan's chief rabbi, Alfonso Arbib, mentioned theology. Arbib said he appreciated Francis' implication that so-called substitution theology – the long-held Catholic belief that the New Testament in some way "replaced" the Torah – "is to be overcome and that coexistence without expectations of conversion is possible."
The dominant perception, a few scholars acknowledge privately, is that discussion with gentiles of religious issues, such as Torah and Jewish law, makes Jewish Italy uncomfortable these days. There are a few scholars and rabbis who support such discourse, but they prefer to conduct it quietly.
Haaretz has talked with two such figures, both of whom asked to remain anonymous due to the controversy over the issue. They agree to some extent that discussing certain aspects of halakha with Catholics is necessary (for instance, as part of an effort to show them that Jesus did not reject its precepts), but they also say that whenever the topic comes up in Jewish circles, it raises eyebrows.
Despite the current climate, it was in Italy that the dialogue between Orthodox Jewry and the Catholic Church – including on doctrinal issues, as well – first began to gain momentum in recent years. John Paul II's visit to Rome's main synagogue in 1986 – the first visit of a modern pope to a Jewish house of worship – was perhaps the most iconic moment.
What is less known, perhaps, is that the diplomatic work – and theological dialogue – that helped to pave the way for that breakthrough visit had started a few years earlier, in Milan. In the early 1980s, Giuseppe Laras, who was the city's chief rabbi at the time, and (the late) Archbishop Carlo Maria Martini laid the groundwork for an era of unprecedented good relations between Catholics and Jews under Pope John Paul II's pontificate. Since both of them were sophisticated biblical scholars and liberal-minded, they didn't shy away from broaching theological issues.
Since then, however, both the Jewish and the Catholic landscapes in Italy have changed a lot. The older generation of rabbis, including Laras, has been replaced by younger and stricter ones, with closer ties to Israel's Chief Rabbinate. Furthermore, some aspects of Benedict XVI's pontificate sparked concern among Jews – for instance, when the pope re-introduced a prayer for the conversion of Jews in 2009.
That move prompted some of the most "dialogue-oriented" rabbis to protest publicly: Elia Richetti, the chief rabbi of Venice then, wrote an open letter, accusing the pope of setting interfaith dialogue back 50 years. Interestingly enough, he chose to publish his letter in Popoli, the magazine of the Jesuits, the Catholic order to which Archbishop Martini belonged. While in that same letter Richetti announced that formal meetings between Catholic figures and Italian rabbis would be temporarily suspended in protest, the rumor was that a channel of communication was kept open with the archdiocese in Milan.
That incident was only partially forgotten when Di Segni invited Benedict XVI to visit Rome's synagogue in 2010, after the Vatican made it clear that its official policy involved converting Jews to Christianity – but only at the end of days. Di Segni's view was that, as long as Catholics did not actively try to convert Jews, a prayer about converting them at the end of time posed no major obstacle. "We have our own views about the end of times, they have theirs," he says.
But it seems that after re-introduction of the controversial prayer, the decision to host the pope at the synagogue raised even the ire of rabbis keen on theological dialogue.
The truth is that, in an apparent paradox, Ratzinger's hard line on doctrine made Jews who were skeptical to begin with about religious dialogue relatively comfortable, while those supporting such theological discourse were at odds with it. Now, with Francis, the situation may be reversed. The new pope hasn't spoken much about doctrine yet. But the fact that he is a Jesuit, and was the late Archbishop Martini's favored candidate at the 2005 papal conclave, make some think his views will be more in line with Martini's than Ratzinger's.
The question is: Will Italy's rabbis ready to answer the call?
Click the alert icon to follow topics:
ICYMI
Ken Burns' Brilliant 'The U.S. and the Holocaust' Has Only One Problem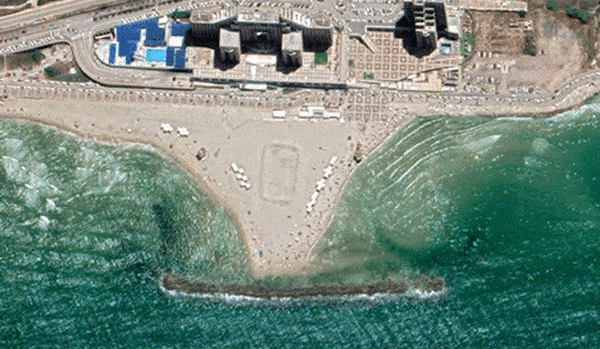 Facing Rapid Rise in Sea Levels, Israel Could Lose Large Parts of Its Coastline by 2050
Lapid to Haaretz: 'I Have Learned to Respect the Left'
The Mossad's Fateful 48 Hours Before the Yom Kippur War
As Israel Reins in Its Cyberarms Industry, an Ex-intel Officer Is Building a New Empire
How the Queen's Death Changes British Jewry's Most Distinctive Prayer