The 5 Best Couscous Dishes in Tel Aviv
This beloved flour-based food is a staple of the North African diet. Here's where to find the choicest couscous in Tel Aviv.
The debate over who invented couscous rages on, at least among the nations of North Africa. Was it the Moroccans, the Algerians or perhaps the Tunisians who rolled the first semolina pellets?
The hints we have are inconclusive. The earliest written reference to couscous is in a 12th-century cookbook from the southern Sahara. The word may have originally meant a special cooking utensil, the shape of the grains or "food" and "essential item" in certain dialects – testifying to its dietary importance.
Whichever of the three North African countries invented couscous, they can all claim responsibility for its worldwide diffusion, whether made of wheat or some other grain. The more important question, at least for foodies, is which couscous is the best?
The Moroccans and Tunisians like their couscous with a relatively large grain while their brethren from Algeria and Libya prefer it nearly as fine as the desert sand. The size of the couscous when it reaches your plate is determined by its preparation, which involves a time-consuming process of rolling and sieving the flour into tiny balls.
Couscous is usually served with a rich sauce containing meat, fish or vegetables, like pumpkin, cabbage, potatoes, carrots, chickpeas or beans. There are also sweet versions that incorporate dried fruit, pistachios, butter and milk, which are served at special events.
A traditionally festive food, couscous has found its way into the heart of Tel Aviv's culinary culture. You can find it prepared nearly any way your heart desires. Here are some of our favorites.
North African Riviera: Seafood couscous at Messa
Messa stands out among the restaurants in Tel Aviv. This applies to the impressive design of the restaurant space including the long marble table, the dim smoking bar and Chef Aviv Moshe's iconic dishes. Some will say that the food, like the design, is pretentious and larger than life. We think there is nothing wrong with that.
The dish: Seafood couscous. You will undoubtedly ask what couscous has to do with Messa. Well, Aviv has taken a popular dish, refined it, and brought it up-to-date.
A confession: We have been fond of Aviv's couscous since the days of his earlier restaurant Baraka. Now, the familiar large-grained couscous with fish has become couscous with seafood, which shamelessly steals the show. The fish from the original dish is reduced to a stock to which a bisque of crabs, mussels and scallops is added, rendering the soup velvety and chock-full of the spectacular flavors of the sea. It goes without saying that the soup itself brings mother's cooking to mind while remaining rich in butter, tomato seeds, garlic, white wine and a bit of thyme. It miraculously, all the while, it has a delicate and impressive presence. A wonderful dish.
Price: NIS 66
Accompaniments: Messa's bread and devastating dips
Messa, 19 Harba'a Street, Tel Aviv
A vegetarian feast: Vegetable couscous at Hamitbahon
Once upon a time, about 15 years ago, Hamitbahon opened as a secret spot bringing home cooking exclusively to neighborhood locals and those in the know.
But you can't really keep a secret in Tel Aviv. Hamitbahon was discovered, it expanded and today people flock there from all over town.
The food, however, hasn't changed. The menu sticks to the homey lineup of mama's recipes, which means you can get chopped liver, huge bowls of soup, salads and stuffed vegetables and not spend much more than you would have stocking your own kitchen. Is it any wonder that on weekends it is impossible to find a seat?
The dish: Vegetable couscous. One of the most popular dishes at Hamitbahon, this plate really only has one real competitor on the menu: the place's famous meat couscous. Both have been staples right from the very start, and thousands of Tel Aviv's residents can't be wrong.
A gigantic dish of couscous comes to the table, with a pile of vegetables from the soup pot at its center, dripping their juices into the very fine-grained pellets. Hamitbahon refuses to disclose the secret seasoning but we suspect turmeric among the abundance of chickpeas. This is a generous portion, well-made, not fawning, not overly sophisticated, and simply delicious. Just don't tell our mother that we prefer it to hers.
Price: NIS 38
Accompaniments: The order of couscous comes with the place's famous beet salad.
We recommend fortifying it with harif– hot pepper sauce – as well.
Hamitbahon – 18 Rabbi Akiva Street, Tel Aviv
Real Moroccan
Yoel Weik and Abdu Al'arj met in the kitchen of the late, lamented Fabian Restaurant. Abdu, who came from Morocco in the wake of a great love, cooked real Moroccan food for the workers there and Weik fell in love with this dishes.
Together they pair decided to open Jamila, where Abdu brings Moroccan cooking to the pots but not in its Israeli interpretation; you won't find soup powder here, there is very little oil in the food and they always cook with fresh vegetables. Jamila will soon mark its fourth birthday and this is a good opportunity to get to know one of the small and charming spots in the city.
The dish: Meat and vegetable couscous. The most outstanding thing about Jamila's couscous is the grains themselves, which sometimes get lost under the cover of the soup. Here they shine in their flavor and airy texture, testimony to long and careful work by hand. This might also explain why at the end of the meal you will feel comfortably full but not painfully stuffed.
The couscous comes on a lovely tagine platter topped with a yellow-orange stew of vegetables based on pumpkin, zucchini, carrot, cabbage and a lot of chickpeas. Spooned on top is a hearty portion of meat, with the fat trimmed, cooked in tomatoes – a small delight in its own right. Note: If you are expecting fiery or overly-spiced couscous there is a surprise here in the form of a quiet and delectable Moroccan dish. The bottom line: On of the most successful we've tasted in Tel Aviv.
Price: NIS 38 for the vegetarian version, NIS 43 with the addition of meat
Accompaniments: Two salads of your choice, excellent tahina, hot sauce that mustn't be missed and white bread. Classical.
Jamila – 31 Gruzenberg Street, Tel Aviv
The Tripolitan riposte – couscous with everything at Goueta
With the cry of "Welcome!" as you enter Goueta, you feel as if you have come home. One look at the menu, which lists Tripoli's greatest cuisine hits, and you know you are going to eat a lot and you are going to eat well. Rafi Goueta believes in real Tripolitan food very close to the way his late mother cooked it and this is the best opportunity to become acquainted with everything that can go on top of couscous, beyond vegetable soup.
The dish: Couscous complete. Prepare yourselves – this feast takes a serious detour from the usual combination of couscous with vegetable soup. Medium-grained snowy white couscous comes with a choice of three soups and stews, beyond the meat, with the classical vegetable soup and the excellent mafroum (stuffed potatoes) included in the meal. A stew of hummus bil car'a (hummus with pumpkin jam) is a delightful surprise in the form of a sweetish red and very exciting chickpea soup. Lubbiyeh bil silk (a stew of green beans with beets and chard) is a successful choice that will remind the knowledgeable of paqila or pequila – a green spinach dish. A third option is hummus bilkamun, chickpeas in a deep red cumin sauce. For those who have difficulty choosing, go for a tasting menu and roll your way home.
Price: NIS 48 including mafroum, tabha (bean stew) and meat
Accompaniments: Everything that always comes with homemade couscous – massayir (coarsely chopped salad), hot pepper and garlic sauce, tahini, amazing pumpkin salad and bread.
Goueta – 6 Sderot Yerushalayim, Jaffa
Almost like granny's: Lamb shoulder couscous at Rafael
Chef Rafi Cohen brought the taste of my childhood and Grandma Azizia's Moroccan kitchen to new heights at his Rafael Restaurant. Cohen studied the flavors and their origins and has made a contemporary interpretation of his own, so it isn't surprising to find both cigars (slender rods of fried phyllo pastry wrapped around spicy fillings) and fish croquettes. The public, it turns out, is crazy about this.
The dish: Lamb shoulder couscous. First of all, you have to see this dish, then to smell it and only then to taste it in order to experience it fully. In the tagine platter, which easily holds enough for two people, is a hearty portion of couscous, in the center of which is a lamb shoulder surrounded by carrots, onion, potatoes and chickpeas, each of them cooked separately and only melded together at the end.
The shoulder was cooked long and slow, getting perfect treatment and it slides easily off the bone, melting and soft. At every taste of the dish you will encounter the flavor and scent of spices brought from the Maghreb that give a cinnamon-y depth to the dish and a playful harmony between sweet and salty. The bottom line: One of the best options for couscous we'd be ready to eat at any given moment.
Price: NIS 75 at lunchtime (NIS 125 with the business lunch), NIS 105 in the evening
Accompaniments: Arissa – a hot pepper sauce – Cohen concocts himself that gives a piquant aroma of the couscous and of course a basket of Rafael's breads. We'd recommend fortifying with filled cigars.
The runners-up for outstanding couscous
Orna and Ella – Some of the best servings of couscous in the city can be found at Orna and Ella, the quaint café on Sheinkin Street better known for their sweet potato pancakes. The first comes with fish croquettes, the second with only vegetables (NIS 54), which sounds plain but what a rendition – one of the largest, tastiest and most satisfying portions we have tasted. The couscous arrives shaped in a pretty mound and is served with vegetable soup, chickpeas, zucchini and carrots. The twist: cubes of sweet potato and caramelized onions with almond flakes. A pleasure.
Orna and Ella – 33 Sheinkin Street, Tel Aviv
Fargi – Fargi restaurant in Jaffa always makes the same delicious couscous, which constitutes one of the cheapest (NIS 25 for vegetarian, NIS 35 with mafroum) and best options in town. Here they make the couscous just like at home, with authentic utensils and with lengthy steaming, which gives the couscous an airy and velvety texture. Meat eaters shouldn't miss the large cinnamon scented mafroum and the stew of chard with meat and beans. Now all you have to do is to find Fargi in the maze of narrow lanes.
Fargi, 8 Pinhas Ben Yair Street, Jaffa
Judah – This café-restaurant on northern Ben Yehuda Street serves up a number of homey dishes that change daily. Every Tuesday, just like in a good Moroccan home, an impressive couscous is served up starting at noon and continues to be dished out until the last grain is sold. Moroccan couscous (NIS 39 or NIS 48 in the business lunch including a first course and a beverage) with relatively large grains – handmade, of course – topped with a very rich soup, just like at home, containing chicken, cabbage, carrots, onions and potatoes. The brilliance comes in the form of pumpkin cooked with cinnamon and onions in a separate pot. The result: A soup with a delicate piquancy balanced by sweet pumpkin. Be prepared, though: The home-cooked flavors are coma-inducing, and will leave you wishing for your bed as soon as your belly is full.
Judah – 177 Ben Yehuda Street, Tel Aviv
Nelly's Kitchen – Chef Nelly Kerpner has a very clear connection to healthy food and she has quite a number of vegan dishes in her delicatessen restaurant. One of these is Omar's couscous (NIS 54). The couscous itself is made from whole and organic semolina and the soup is shaped from natural vegetables, with no soup powder or artificial flavors.
The person who makes the couscous is Omar from Morocco, who rolls the large grains and seasons them with turmeric. The result: golden yellow couscous with plenty of vegetables, expertly cooked until they are delicate and soft. It tastes like butter, but there isn't any here. A little tip: The secret for really making this dish shine is in the pickled lemons that come alongside it. Don't miss it.
Nelly's kitchen – 28 Margoza Street. Flea Market, Jaffa
Dr. Shakshuka –Bino Gabso's institution offers, beyond shakshuka and shwarma, a respectable selection of couscous with various stews. True, the price is somewhat higher than average but what you get is worth it. Our choice: eggplant and meat couscous (NIS 52). Here, as opposed to most other spots, the couscous is served separately from the stew, so you, the diner, can control how soggy it becomes. The couscous grains are very tasty and are marred by only one flaw: They are not uniform in size. The stew of eggplant and meat, however, has large pieces of eggplant cooked in a tomato sauce with quite a lot of meat. Accompaniments: hot peppers and bread.
Dr. Shakshuka, 3 Beit Haeshel Street, Tel Aviv
Couscous beyond Tel Aviv
Checho – The best Tripolitan restaurant in Netanya has been operating in this coastal city's market since 1963, and with good reason. No matter when you come there is always couscous on the menu and alongside it some of the best mafroum in the country. Above all, the dishes are ever-changing. You have to happen along on a good day to taste the okra with meat but just between us, the couscous here is best with the chershi (pumpkin stew). For the sake of those who don't have the time to go into the city, the owners recently opened a spiffy new branch at the Yakhin Center in the Poleg complex.
Checho – 10 Shoham Street, the Netanya market
Bechor et Shoshi – Much has already been told about Bechor who bequeathed his love of food to his daughter Shoshi and opened a small restaurant in Pardes Katz with mamas manning the pots. For more than 40 years they have been serving up the couscous recipe. Only the stews change; the grains never do. From the moment you take your seat you can get a taste of what they are serving (we tasted an excellent bean soup), along with assayir and the best chershi salad there is.
Ultimately we chose couscous with vegetables and mafroum – couscous as fine as sand with a rich vegetable soup and a lot of chickpeas. The mafroum itself has a sweet and piquant cinnamon flavored croquette, rich in cilantro and parsley. This is probably the best meal you can for NIS 37. Worth a trip to Pardes Katz if only to taste the original.
Bechor et Shoshi – 10 Rabbi Abuhatzeira Street, Bnei Brak
Oro – Anyone who is looking for fancy couscous and a pretty setting can go to Rehovot and get lovely couscous as part of quite a number of dishes. Our choice: Tagine Casablanca (NIS 67), which offers the chance to sample head meat, properly seasoned and properly cooked for a long time with a garlicky tomato sauce and chickpeas. This is also one of the best places to eat whole couscous.
Oro – 2 Oppenehimer Street, Science Park, Rehovot
Mama Mafrouma – We never tire of sitting at this small, delicious spot in Ashdod. It could be the excellent shakshuka or the mafroum but the crème de la crème here, so to speak, is the airy couscous that goes best with the stewed spinach. True, a green colored stew doesn't always look like it's going to tickle the taste buds, but that's only until you take a bite of it. Tripolitan food by the book.
Mama Mafrouma – 44 Haavoda Street, Ashdod
Darna – These days, it's the acclaimed Mahneyuda restaurant that is luring Tel Avivians into Jerusalem and out of their comfort zone, but it used to be Darna that beckoned Israelis from all corners with its authentic fare. Today's Darna is no longer the same, but the couscous at this time-honored Moroccan eatery is not bad at all, and the restaurant remains a great spot to take visitors from abroad. Try the couscous Tefaiya, a couscous that also reminds one it can also be a sweet dish thanks to dried fruit, raisins and sweet onions. The price for a full meal including appetizers and desserts is NIS 175.
Darna – 3 Yohanan Horkanos Street, Jerusalem
ICYMI
Ken Burns' Brilliant 'The U.S. and the Holocaust' Has Only One Problem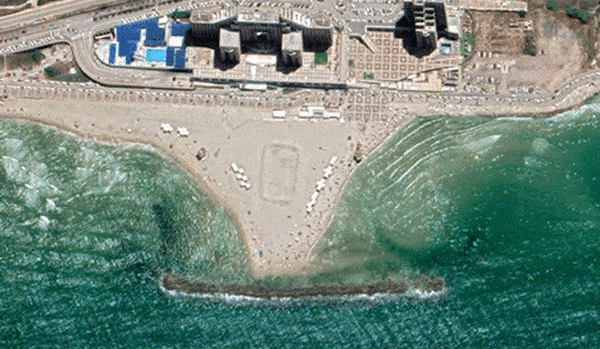 Facing Rapid Rise in Sea Levels, Israel Could Lose Large Parts of Its Coastline by 2050
As Israel Reins in Its Cyberarms Industry, an Ex-intel Officer Is Building a New Empire
How the Queen's Death Changes British Jewry's Most Distinctive Prayer
Chile Community Leaders 'Horrified' by Treatment of Israeli Envoy
Over 120 Countries, but Never Israel: Queen Elizabeth II's Unofficial Boycott