The Best Carpaccio Dishes in Tel Aviv
From sirloin at La Repubblica di Ronimotti, white mackerel at Hashaked, to beef fillet at Meat Bar, flowers at NG Meat Bar, and mango at Carpaccio Bar, here's where to get the best kind of raw deal.
Sometimes, a customer's tiny request can spurn a new, original dish that attains legendary status. Consider the tale of Amalia Nani Savoni, an Italian countess who in 1950 was advised by her doctor to avoid cooked meat. When she visited the famous Harry's Bar in Venice, she asked the chef if he could come up with a special dish for her that met this requirement. After deliberating, he decided to cut thin slices of raw meat, beating them until they were as thin as possible before adding a light dressing. The restaurant's owner, who noticed the vivid red color of the meat, decided to name the dish after the Italian painter Vittore Carpaccio, who used similar colors in his work.
From that day forth carpaccio became a name not only associated with art but also with food; in this case thinly sliced raw materials, from meat – usually fillet or sirloin – to fish and even fruit and vegetables. Carpaccio has long since ceased being the exclusive preserve of Italian restaurants, and today is a classic appetizer, even in cafés.
White (or red) mackerel carpaccio at HaShaked
HaShaked was established in 1967, and was for many years the go-to place for local wholesale traders, offering Jewish food, alongside fish, salads, bread and alcohol. The market has since disappeared, but the restaurant is still alive and kicking, and despite its modest décor and no-frills atmosphere, is considered to be one of the leading fish and seafood restaurants in the city.
The dish: White mackerel carpaccio. True, many restaurants have fresh fish carpaccio on their menus, but it's been served here for years, even as a main course. Sometimes they use red mackerel, sometimes white, other times they use grouper fish or even fresh anchovies. In any case, it's fresh produce that arrives straight from the Mediterranean, and is flavored with excellent olive oil, dill, salt and freshly ground pepper – all complementing the fish perfectly and enhancing its essence.
The cost: NIS 49
Bread: Pitas or baguettes are served up with a large selection of salads.
For the main course: It might be a bit difficult to stomach a full entrée after gorging yourself on all the salads, but the mixed fish (NIS 110) is sure to satisfy any lingering pangs of hunger.
HaShaked, 90 HaHashmona'im Street, Tel Aviv
The classic one: Sirloin carpaccio at La Repubblica di Ronimotti
Exactly one year ago, the Italian restaurant Ronimotti packed up its wares and moved from Ramat HaHayal to the center of Tel Aviv. The restaurant expanded as a result (and the name changed as well), but it still retains the same high-quality offerings and reasonable prices offered at its old location. This new spot also has a vegetable garden that offers fresh produce for the kitchen.
The dish: Sirloin carpaccio with arugula and parmesan. That's all there is to it – and it's simple, clean and tasty. Recently, a rash of over-elaborate carpaccio dishes packed of unnecessary extras have been cropping up all over the city, but as you'll find here, simplicity really enhances high-quality raw materials. The reddish strips of sirloin (the color indicating their freshness) are beautiful and free of fat and sinews. A touch of olive oil gives them a deep, strong flavor, a dash of lemon is added to the arugula and some quality parmesan is dashed over the top.
The bread: A basket of excellent Italian rolls, included in the price
The cost: NIS 48
For the main course: Two words: veal cannelloni. After this no other cannelloni will ever pass muster with your taste buds.
La Repubblica di Ronimotti, 3 Mazeh St., Tel Aviv
The carnivore's choice: Beef fillet carpaccio at Meat Bar
Before smoking meat in-house became fashionable, Meat Bar was already doing it – which isn't surprising when you take into account their 18 years of experience. Located on the most modest boulevard in Tel Aviv, Meat Bar has managed to retain its status as a prominent yet stable restaurant. It's a basic steak house taken to the next level, if you wish. A year and a half ago they founded an adjacent bar, aptly named "Next Door," which is also worth checking out.
The dish: Beef fillet carpaccio. The pieces of meat are thinly sliced yet still have the outstanding flavor that is characteristic of quality meat. Olive oil, a generous helping of parmesan, a dominant dash of lemon juice, nice twist of fragrant basil and sweet and sour drops of balsamic vinegar are also added. A celebration on a plate.
The cost: NIS 52
Bread: NIS 16, or free mini toasts
For the main course: Everyone raves about the steak, but we say the hamburger (NIS 68) can't be beaten.
Meat Bar, 52 Chen Boulevard, Tel Aviv
The unconventional one: Carpaccio flowers at NG Meat Bar
This meat bar in Neve Tzedek was founded exactly nine years ago, and was the first place that brought the concept of heavyweight porterhouse steaks to Israel. How heavy? Try six kilos. NG excels in the concept of sharing portions, and during their popular "Barbarian's Meals," customers feast on large chunks of meat with their hands.
The dish: Carpaccio flowers. Forget the knives and forks (at least for this dish) – the carcaccio here is eaten with your hands. The dish is beautifully presented, with the vivid red colors of the beef fillet slices also having a wonderful tenderness. The meat is rolled up like sushi, exposing the flavor of the meat to the taste buds before the filling makes its way there. This dish is an explosion of flavor – with the meat, arugula, balsamic vinegar and olive oil all working together to create an exceptional carpaccio that you won't easily find elsewhere.
The cost: NIS 55
Bread: In this case it's not strictly necessary, but if you must you can get a basket of bread for NIS 7.
For the main course: If you're already here, then you might as well share a 1.2 kilo porterhouse steak. This is a feast for all five senses – loosen your belts and take our word for it.
NG Meat Bar, 6 Ahad Ha'am St., Tel Aviv
For dessert: Mango carpaccio at Carpaccio Bar
This place is a small paradise for those who wish to turn carpaccio into an entire meal. When it opened it served almost exclusively carpaccio, but today offers other meat dishes as well. On their last birthday they even broke a world record for the world's most massive plate of carpaccio.
The dish: Mango carpaccio. Yes, there are other dishes here that may be prettier, but nothing like this one, which is also proof that carpaccio is becoming a byword for any type of thinly-sliced ingredient. Mango carpaccio follows it's beefy predecessor's example, except for the fact that here the meat is replaced by mango, the balsamic vinegar by pomegranate concentrate, and the olive oil by vanilla sugar. Pecans are added instead of capers, and the result is a refreshing, fun dish.
The cost: NIS 33
Bread: Not the best companion for mango, but other carpaccio dishes are served with a bun
For the main course: Oriental carpaccio. It's possible that right now some Italian chef is rolling over in his grave at the thought of carpaccio being served with tahini and cumin. Then again, why shouldn't it be?
Carpaccio Bar, 8 Ibn Gvirol St., Tel Aviv
Other carpaccio dishes you shouldn't miss:
Kovshim – We only have good things to say about a carpaccio dish (NIS 38) that takes slices of pumpkin, softens them on a pan and tops them with hameiri cheese, slivers of red chili and fresh oregano leaves. The sourness of the cheese, delicate sweetness of the pumpkin, kick of the chili and the aroma of the oregano make this dish a creative and superb interpretation, which redefines the traditional concept. It's also an excellent choice for vegetarians. Kovshim, 48 Hakovshim St., Tel Aviv
Amore Mio – This Italian restaurant doesn't make overly sophisticated food, instead choosing to focus its attentions on large, very tasty Italian dishes. One is the traditional style of carpaccio (NIS 44), with extremely thin slices of excellent beef fillet, olive oil and lemon juice, which don't overpower the taste of the meat but don't disappear into it either. It's needless to say that the parmesan is also excellent. We'd gladly eat this every day. Amore Mio, 100 Ibn Gvirol St., Tel Aviv
SALT – This Mediterranean restaurant may be located on the ground floor of a boutique hotel, but has a lighthearted, inexpensive menu with influences from everywhere from Spain to Greece – including a stop in Israel for a bit of a local twist. They offer two carpaccio dishes, our choice being the beetroot carpaccio (NIS 44). This enjoyable, delicate and sophisticated dish is made of thin slices of grilled beets decorated with orange segments, broken pistachios fragments, baby basil leaves, and kashkaval cheese. SALT, 136 Hayarkon St., Tel Aviv
Layla Mourad – This fun tapas bar gives carpaccio a genuine Mediterranean twist by way of its eggplant carpaccio (NIS 28), made from singed raw eggplant in a garlic, oregano, lemon juice and olive oil marinade. The thin slices have a smoky bonfire flavor and are sprinkled with sea salt and Turkish tulum cheese. Incredibly tasty. Layla Mourad, 4 Herzl St., Tel Aviv
CENA – We discovered a good and very creative (maybe even too creative) carpaccio dish (NIS 52) at this new bistro. It's made from beef fillet flavored with pickled lemon, roasted tomato vinaigrette, and shards of hazelnuts. An abundance of seasoning creates a dish laden with flavors and well-smoked meat. CENA, 42 Montefiore St., Tel Aviv
The best carpaccio dishes outside of Tel Aviv:
Bread Wine – One of the most popular restaurants in the Yehud area, thanks to its excellent pastries, but also because of the tasty food. You'll find two carpaccio dishes here: Fish fans can enjoy a salmon carpaccio (NIS 27), or our recommendation of the beef fillet variety (NIS 46). The meat is nicely complemented with olive oil, reduced balsamic vinegar, coarse salt, ground pepper and baby basil leaves. Bread Wine, 4 HaHoresh St., Yehud
Limousin – It's not surprising to discover a terrific carpaccio (NIS 38) at one of the country's best meat restaurants. A private cattle herd from the Ramat Yishai area supplies the top-notch meat, which is smoked in a special way, resulting in an excellent meat and refined carpaccio. Here they use veal fillet, adding to it the classic ingredients of balsamic sauce, olive oil, garlic, lemon, and parmesan cheese. A lovely dish. Limousin, Horesh HaAlmonim, Ramat Yishai
BBB Burgus Burger Bar – The hamburger chain surprised us with carpaccio (NIS 38) that easily outdid their burgers. This dish is made from fresh, thinly sliced beef rump, served with parmesan and balsamic. A lovely addition is the small accompanying salad of baby arugula and radish. BBB Burgus Burger Bar – branches nationwide
Moo V'Moo – This well-known meat restaurant started out as a butcher's shop in 1984. Our choice is the divine beef fillet carpaccio (NIS 44), with its thinly sliced, melt-in-the mouth meat and delicate marinade. One of the best carpaccio dishes outside of Tel Aviv. Moo V'Moo, 177 Herzl Boulevard, Rehovot
Bourbon Street – You can guess that this places draws inspiration from New Orleans by the name alone. Adi, the owner, lived there in the past and decided to open up a place with a similar style to American bars. Apart from the 34 different types of whisky on offer you can find several tasty dishes in the Creole spirit, like carpaccio shrimp (NIS 42), an American variation of this dish made from very finely chopped, delicately seasoned shrimp. Simple and delicious. Bourbon Street, 8 Hamanofim St., Herzliya
ICYMI
Ken Burns' Brilliant 'The U.S. and the Holocaust' Has Only One Problem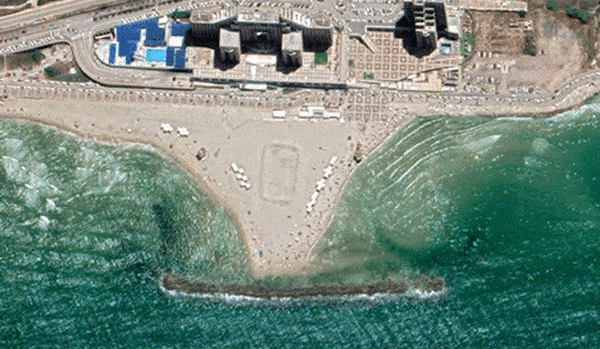 Facing Rapid Rise in Sea Levels, Israel Could Lose Large Parts of Its Coastline by 2050
Lapid to Haaretz: 'I Have Learned to Respect the Left'
The Mossad's Fateful 48 Hours Before the Yom Kippur War
As Israel Reins in Its Cyberarms Industry, an Ex-intel Officer Is Building a New Empire
How the Queen's Death Changes British Jewry's Most Distinctive Prayer