Tel Aviv's Hottest Bars Have Trendiness on Tap
Beat the Mediterranean heat with a tipple or two at these sleek, sexy nightlight spots, all of which are new to the Tel Aviv nightlight scene.
Port Said
Port Said, the latest wrinkle in Tel Aviv's watering holes, is named after the coastal Egyptian city. Like all Mediterranean metropolises, the city Port Said has been through millennia of war and destruction, making the drinkery's moniker seem a bit forced. No matter, however, since most people still refer to the place by its old name, Teder (Frequency).
The new spot, found right behind Tel Aviv's Great Synagogue, is a hybrid restaurant-bar that doesn't mess with success. Its setup is similar to its predecessor Teder with seating spread throughout the indoor space and spilling out towards the steps of the Great Synagogue. Master chef Shani's bar menu is both tasty and poetic, and the cheerful staff has a low turnover rate as they serve the thirsty hordes in the humid, heavy Tel Aviv summer heat.
Because it is still in its "soft opening" stage, its opening hours vary by the day. Once the bar has settled into a neighborhood groove, its owners say Port Said will be open year-round from morning to night.
In terms of décor and other sundries, the bar has made some improvements. Outside seating has been upgraded. A high bartop helps define the space and the bar has put Goldstar beer on tap instead of Maccabi.
Perhaps the sweetest touch, and the most likely to please the customers, is the establishment's background music, which comes exclusively from vinyl records. Maybe that touch will persuade people to start calling the new kid on the block by its given name.
Port Said / Har Sinai 2
Teder (Frequency)
The folks behind Teder: Pop-up Radio Bar had originally intended to shift the location of this rad resto-bar from season to season. But thanks to Tel Aviv's heavy-handed bureaucracy and the winning location – also near the Great Synagogue, the tavern-on-the-go concept was scrubbed.
Patrons instead were blessed with two seasons of drinking under the open skies of Allenby Street. Today, at the beginning of its third season, Teder appears to be trying to reconnect with its original concept by splitting itself into two new locations, which are very remote indeed. The first is Teder Tokyo which, like its name suggests, is expected to open in Japan in the near future. The second is Teder Tel Aviv, whose existence is no less intriguing and whose location still remains top secret.
In two months' time, somewhere in downtown Tel Aviv, the adventurers of the new Teder will set up shop with the same throbbing heart beat, mandatory outdoor seating and thoroughly refreshing music selection as its forefather. Thirsty visitors can also expect a new offering of tasty bar nibbles and an artistic synergy that will keep us guessing all over again.
Teder / TBD
Zinger
Before you visit the new Zinger, on the corner of Yehuda Halevi Street and Mazeh Street, it's important to know that this spot shares only two things in common with the old Zinger bar – name and address.
The old trend of a bar with obligatory outdoor seating that crowds the sidewalk has given way to indoor bars that inject the neighborhood with fun thanks to hooting, hollering and dancing. At Zinger there is a cute seating space, lit by a giant window that faces the actual bar and brings the focus back to where it should be: dispensing the tonics themselves. Zinger's old sofas are no more, revealing a wide expanse of elevated seating that wraps the welcoming, square bar in the center of the room.
The music is also fresh, with upbeat alternative rock giving a jolt of energy to the regulars. The new Zinger has only been up and running for a week but already the appeal seems universal. All sorts of clientele get a jovial, warm welcome.
Zinger / Mazeh 49
The new Soda Bar
The disco ball that calls itself the Soda Bar began its days flung all the way out on Menachem Begin Road. Now it's looking for a bigger piece of the action so is being packed up and shipped to a new, more central location on Nahalat Binyamin.
Soda Bar, Take Two, as it is being called, is just a slightly smaller version of its bubbly big brother, and the new branch maintains the colorful, minimalist décor of the bar's earlier incarnation.
The establishment is housed in a single, rectangular room, one that for some reason reminds you of your parent's living room when you threw a party while they were out of town. The corner bar serves standard tipples as well as cocktails built on a Dr. Pepper base. There are seats all around and a DJ booth spinning everything from disco to techno. The room pulses with a crazy, multi-colored lighting scheme.
In some ways, Soda Bar is fighting sad-clown syndrome: It's bright and wild, but lacking any sense of humor. If there still are any hipsters left in the world, they can be found sitting by their self-conscious, ever-ironic selves at Soda Bar.
Yet not all is lost. The new incarnation has made a foothold with the locals, with loyal patrons arriving in the early evening and sipping in the Technicolor shadows until the wee hours.
New Soda Bar / Nahalat Binyamin 43
Chechka
Chechka opened practically in secret, sneaking into the same building as Beeper Bar by many of the same owners. The two spots, connected by a passageway door, are separate establishments that provide a study in contrasts.
Beeper is all colors and warm welcomes, while Chechka is underground, dimly-lit and gruff as can be. It's only open weekends and for special events, when the emphasis is on music.
Chechka is long and narrow, with its slender walls traced by entrancing industrial designs. At one end sits a DJ booth and at the other, a wide open space that looks as if it might swallow its patrons. And with the stark lighting and design, the carefully curated tunes and the bar's location in an office building free of tired and cranky neighbors, getting lost in this bar might not be such a bad idea.
Chechka / Rothschild 28A
Junk Yard
For as long as Tel Avivians can remember, the mega bars were situated in the city's tony north and center while the south of the city was left feeling dirty and ignored. But all of that changed when Merhav Yarkon (Yarkon District) and the Post Office arrived.
The Post Office opened six months ago, and expanded just five months later. The new spot in the bar's yard is aptly called Junk Yard. A former outdoor storage space has been reborn as a hot spot that is all Tel Aviv, but with a sweet injection of Berlin.
The requisite graffiti, swivel chairs and giant fresco of surfers are all here, as is the vintage automobile slowing rusting away at the end of the bar. The ground floor is classic, small and cozy, while the upper level offers a more expansive bar. Background music shifts from day to day, with freestyle spinning at the beginning of the evening that then blends in with the height of party that blasts out of the stereo from Post Office next door.
Junk Yard is like that high school girl we all knew, who always looked as if she had just thrown something on but in reality had spent three hours primping.
Junk Yard / Yehuda Halevi 46
Café Europa
With a super group like this, you can't go wrong. The quartet responsible for the new joint at 9 Rothschild Street is so cool that they ought to start a band.
Shlomi Zidan (Teder) brings in lightness. David Tort (Breakfast, The Cat and Dog) brings edge. Maoz Alonim and Itay Hargil (Habasta and Hameorav) are responsible for the menu. And at first glance, Café Europa, like its owners, is full of contradictions.
Café Europa is currently only open at night, but the owners hope to eventually operate it as a restaurant by day and a drinking establishment by night.
The first floor provides a light, summery atmosphere. Upstairs, it's more serious with a heavy, dramatic bar made of marble.
Café Europa was designed for the older clubgoer, the man or woman who has tired of dimly-lit basements but still wants a tipple and a nibble before calling it a night.
This consideration spills into the owner-designed playlist, as well, which goes from smooth ethnic grooves to Serge Gainsbourg and Tom Waits. But the jewel in this European crown is the menu. The gourmet menu spans the world – try to choose between the steak tartare, the shrimp pasties and the beet ravioli. And the cocktails? Divine sip after sweet, summery sip.
Café Europa / Rothschild 9B
Cookies and Cream Bar
In the stormy heart of Allenby Center, accessible through a side door, Cookies and Cream seems like a tasty little secret. At long last, thirsty Tel Aviv has a bar that focuses on what actually matters: the alcohol.
With more than 40 kinds of whiskey and tequila flowing as the house libation, Cookies and Cream is a place for people who like their drinks good, cold and stiff.
The bar boasts a warm atmosphere and precise lighting. You can do shots at the larger bar running the length of the entire room, or nurse your hooch with some privacy at the smaller, more intimate bar. As is expected in a place free of pretension, Cookies and Cream offers a rich, varied and simple menu. The music runs from funk to soul to rock and roll, and if you behave very nicely, you might even catch a Mizrahi dance party at the end of the night. The crowd is older, around 30-plus. Hurry on over, because come winter time this joint won't have an empty seat.
Cookies and Cream Bar / Allenby 99
Pineapple Express
Fans of the megabars at the Tel Aviv Port now have yet another massive space to lose themselves in. Built on the ruins of the former Irish pub Arthur, Pineapple Express is massive, handsomely furnished, close to the sea and under the open sky. It is a place for sultry, beautiful young things and the guys who buy their drinks.
By day, this swinging spot is an Italian restaurant. But at 6 p.m., as the sun begins to slide down and the first wave of clubbers – mostly tourists – make their way in the door, the cava starts to flow and the rhythm begins to change. In the wee hours, the second wave hits, with hardcore lushes drinking the bar dry and shimmying away in the club's inner space.
Music is steady from night to day, but the age of the crowd can change in a blink. DJ Tomer Maizner handles the tunes, which run from happy mainstream to American hip hop styles to pop and dance.
Pineapple Express / Hangar 23, Tel Aviv Port
Paulina Stash Bar
The good news is that Ofer Shechter, the Israeli entertainment darling, has opened a bar. The better news is that it's not the main reason to head over.
Together with fixtures from Israel's night owl scene, including Gal Shor (Ilka bar), Nir Cohen (VIP Room), and Gil Asheroff (Temple Bar), as well as the steady feminine touch of Hagit Bornstein, who handles the menu and art, Paulina Stash appeals to all kinds of crowds. It is a bar for everyone, and it never gets lost or loses its edge.
The building is said to be the first edifice ever constructed in Tel Aviv. It is split in two, divided into bar-and-barbecue Paulina on one side, and her evil twin Stash, with dim lighting, a smoking permit and an alley view.
This haven for split personalities is outfitted in retro chic décor, with modern elements juxtaposed against the lovely old construction of the building. The result. A bar that offers everything you could want, and more.
Check out the slightly twisted artwork, which rotates each month. The music is funk and Balkan, and the menu, like Ms. Stash's mood, changes every day.
Paulina Stash Bar / Herzl 2
Barbara Frye
A new bar has risen from the ruins of the Bukowski Bar, and this time around, she's a lady.
Barbara Frye is named for Bukowski's first wife, and she is as accommodating as a loving Jewish mother. The space has a big, friendly bar, high tables, sofas for a lounging and a great terrace. It's everything you could ask for when looking for a stellar night out.
The drink selection is extension and beautifully done – you could get a hangover just from reading the menu. Are you famished? Dieting? Just in the mood for a snack? No matter what your state when you walk in the door, Barbara can cook up something to hit the spot.
The TVs show sports games to please the men, but the sound is kept on mute, to the joy of the ladies. Music is mainstream but in a good way, and the bar is often known to host the occasional afternoon party.
There are specials on pitchers of beer and chasers (for example, 1.8 liters and four chases for NIS 144), and chasers at NIS 10 each.
Barbara Frye / Frishman 39
Alla Rampa
South Tel Aviv seems trapped between two worlds. It's known as a place suffering from crime and illegal immigrants, but at the same time, as the nexus of Tel Aviv's emerging culture and nightlife. Now, the freshest new player in the neighborhood has joined the effort to overhaul this neighborhood's reputation.
All Rampa opened just last week, staring down the skeptics with a big smile and a sweet, romantic air. Omri Barel (of Beit Habatim) and David Beinart (of Chef) spent two years fantasizing about this little spot, and now, with vision and imagination, have overhauled a former lottery-ticket joint on a godforsaken plot into a restaurant/bar that is worth the trek.
Alla Rampa was built by hand, and in between the bricks and mortar, there is plenty of love and invention. Barel and Beinart installed a beckoning outdoor seating area, an inner sanctum with a bar, an open kitchen and a DJ area. All of this is accented by carefully chosen art.
Alla Rampa is, like as its name suggests, built on a kind of ramp. It is also in the middle of nowhere. But its surroundings refine, rather than detract from, the experience, allowing patrons to enjoy the spot based on its own merits rather than as one puzzle piece in a busy neighborhood. It also allows the DJ to turn that music up, up, up.
The menu is innovative and exciting. From edgy opportunities to complete meals, the items are trusted classics with a twist. Parties spill out on to the street and into the night, and hopefully, as business continues to boom, also into the day.
Alla Rampa / Ha'Amal 21
Yasu
Yasu is opening soon, and when it does, it will be a cool refreshing drink in the midst of the staid lukewarm offerings of Tel Aviv's many bars. Yasu was designed as an ode to summer, with a big central bar, a massive terrace offering views of the sea and walls a décor of blue and turquoise. Call it a western tavern with a Middle Eastern twist.
Yaso / HaYarkon 105
Joselito
Joselito – also known as proprietor José Ramon, a Spaniard who fell in love with Israel – has, along with his business partners Barak Ettinger and Tomer Moore (Café Jeremiah and Haradio), taken over one of the sweetest spots in the city. As one might expect, Joselito is Spanish style, bringing together a Barcelona Catalan menu and live performances of Spanish music.
Joselito / Ahad Ha'am 39
Click the alert icon to follow topics:
ICYMI
Ken Burns' Brilliant 'The U.S. and the Holocaust' Has Only One Problem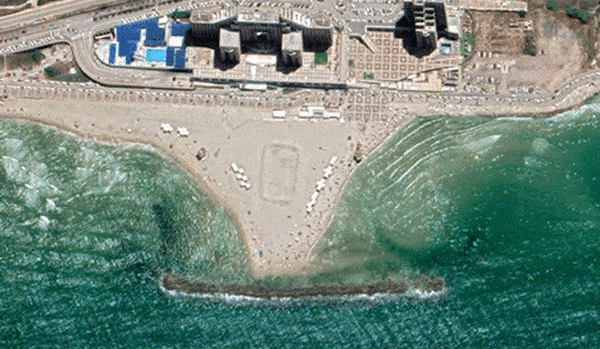 Facing Rapid Rise in Sea Levels, Israel Could Lose Large Parts of Its Coastline by 2050
As Israel Reins in Its Cyberarms Industry, an Ex-intel Officer Is Building a New Empire
How the Queen's Death Changes British Jewry's Most Distinctive Prayer
Chile Community Leaders 'Horrified' by Treatment of Israeli Envoy
Over 120 Countries, but Never Israel: Queen Elizabeth II's Unofficial Boycott