This Israeli Professor Wants to Make Cryptocurrencies More Democratic
En route to an egalitarian digital currency, researchers from the Weizmann Institute of Science want to create a universal basic cryptocurrency income
SpaceX owner and Tesla CEO Elon Musk. The dynamic of cryptocurrencies today is that the rich get richer, but 'we want to fix that,' says Prof. Shapiro
Credit: HANNIBAL HANSCHKE/ REUTERS
"Twelve years on, digital currencies play almost no role in ordinary economic activity," economist Paul Krugman wrote recently. Law-abiding people don't use them, he asserted, and he even postulated that they are part of a speculative bubble or even a "natural" Ponzi scheme.
Cryptocurrencies, despite their hype, don't enjoy good public relations. Their energy consumption is ruinous, their fluctuations are a roller coaster for investors and a single tweet can lift a currency or make it crash. Digital currencies are also associated with the excessive enrichment of their devotees and are considered a playing field for only the wealthiest.
On the flip side, there are people who use this relatively young technology to develop innovative applications and business models involving the use of tokens or smart contracts via Ethereum's blockchain network. This makes it possible, for instance, to pay artists more fairly for their works by making use of NFTs.
The most ambitious and comprehensive plan to reform the world based on a cryptocurrency is apparently that of Prof. Ehud Shapiro of the Weizmann Institute. Over the past few years, he has gathered a group of Israeli and foreign researchers from various disciplines – economics, political science, computer science and more.
Together, they are planning the infrastructure for a democratic, egalitarian digital world in which digital currencies play an important role. The group includes Dr. Nimrod Talmon from Ben-Gurion University of the Negev as well as Dr. Gal Shahaf and doctoral student Ouri Poupko from Weizmann.
"There are both wonderful things and terrible things about cryptocurrencies," Shapiro said. He then proceeded to list two main flaws.
First, "there's no doubt that they destroy the environment. The fact that cryptocurrencies use what is termed 'proof of work' is a catastrophe," he said, referring to a verification method that makes it so that digital coins based on Bitcoin and Ethereum consume a great deal of electricity and leave a massive ecological footprint.
"If we had a reasonable global government, it would outlaw proof-of-work currencies. This is an aspect of cryptocurrencies that must be stopped, and every minute that it continues simply constitutes global irresponsibility."
Second, Shapiro said, the dynamic of cryptocurrencies today is that the rich get richer. You need money to make money.
"We want to fix or change the fact that the existing currencies are plutocratic," he said. "We want a democracy, not a plutocracy in which power isn't distributed in an egalitarian fashion, but according to how much money each person has."
Commenting on Krugman's statement that cryptocurrencies may be "natural Ponzi schemes," Shapiro said, "According to this idea, the first to join always profit at the expense of people who join later. Because crypto technology is very dynamic, and there's no doubt that better currencies with more advanced technologies will arise, every currency has a finite lifespan.
"No currency will last forever, not even Bitcoin. So if the currency's value rises and then later falls, [investors] will eat it when a better, more efficient currency emerges."
A digital social contract
Currencies are just one piece of the complex digital puzzle Shapiro and his colleagues are putting together. The supreme long-term goal they set for themselves is a transition from what they term a digital feudal system, in which the lords do whatever they please in their own territory (Facebook is an outstanding example), to an era of digital cooperatives that belong equally to all their users.
According to this vision, in a just digital world, Facebook would be replaced by a different platform in which everyone would own their own digital capital – that is, their personal information. Users would be paid for their digital work, such as viewing ads, creating content and more.
Shapiro was an internet entrepreneur back in the field's early days, and in 1993, he built one of the internet's first social networking platform. The fact that he was ahead of his time didn't work to his benefit. The platform allowed people to send messages, open chats and roam the web together.
"At that time, documents were the only things on the internet," he said. His company's slogan was "Bringing people to the web." And indeed they came.
Later, Shapiro taught himself biology and became known as one of the developers of the molecular computer. "The promise of molecular computers still hasn't been fulfilled, but it remains valid," he said of the groundbreaking invention.
Today, however, he has abandoned biology almost entirely and is working on creating a "philosophical, conceptual, mathematical and computational infrastructure that will ultimately become a software platform, a technology for digital social contracts."
Digital social contracts lie at the heart of Shapiro's vision. The term "social contract" derives directly from two thinkers, Jean-Jacques Rousseau and Pierre-Joseph Proudhon, who viewed the social contract as the basis of democracy.
One example of a digital social contract that brings together people who decide to join voluntarily is money, Shapiro said. In this case, an egalitarian digital currency.
How would this work? The digital currency is supposed to serve as a universal basic income. This idea, which has gained steam in recent years, holds that every person will receive a fixed monthly income irrespective of his or her employment situation or financial condition. But unlike a universal basic income provided by a government or some other centralized body, this model is grassroots – a social organization that emerges from the ground up.
The first, most basic requirement for this idea to succeed is that everyone has a single, genuine, unique digital identity. This is a complete contrast to what happens today in the crypto world and on social media, where fake identities abound.
One article written by Shapiro's group shows how, via an egalitarian currency and a system of fines and mutual sureties, it would be possible to build social networks based on mutual responsibility, so that the chances of a fake persona entering would be low.
"If a fake persona is discovered, whoever was involved in its entry into the network would pay a fine," Shapiro explained. "If the fake persona created coins, his partners would have to absorb the damage caused by the coins that went into circulation."
Blue coins
In a social contract involving digital currency, every party to the contract gets up in the morning and mints one coin. "Say we call this the blue contract," Shapiro said. "Every morning, everyone makes a new blue coin using his digital identity."
Assuming there are many such communities, the researchers also investigated how communities could trade with each other.
"We showed several things scientifically," Shapiro said. "Our first article showed that even if there are different communities – the yellow, green and blue communities – and each of them has its own currency and a joint social contract, they can cooperate.
"On first thought, you might think the blues would trade with the blues, the greens with the greens and so forth. But we want networks enabling everyone to trade with everyone instead of there being some centralized figure who arises and controls one community of the democratic currency.
"We wrote an article, a mathematical study, showing how yellow, green and blue currency communities, all egalitarian, could arise and how they could cooperate if, for instance, some people are accepted into both the blue and the yellow community. But they won't be able to profit twice. Therefore, each morning, those people will decide which coin they choose to mint that day, based on their own needs.
"We show mathematically, using tools from the field of economics, that if there are enough people at the intersection between the green community and the blue one, between the blue and the yellow, and so forth, and if certain conditions of a perfect market exist, in the end, the value of these currencies will reach equilibrium. That also makes it possible to trade currencies."
Shapiro said he and his colleagues aren't yet at the stage of writing software, but are still formulating the concept and proving its feasibility in certain applications.
"In the future, our goal is to develop technology that will realize this," he said. "These coins will be tradable on the stock exchange.
"They won't be made of different materials than Bitcoin or Ethereum. From a theoretical standpoint, there's no difference. They will look, smell and sound like any cryptocurrency.
"It's not as if a digital coin has value in and of itself. It's not as if Ethereum or any other currency has some inherent value that this system lacks. Every digital currency is a fiction."
Today, there are thousands of different kinds of digital currencies governed by different rules. Bitcoin, for instance, sets a ceiling of 21 million coins on the market at any time; Ethereum has no similar ceiling.
The egalitarian digital currency, in its base state, has one coin, and according to the contract, each person mints it once a day. "But the contracts can be changed by mutual consent," Shapiro said. "If tomorrow, the blue currency people decide that one coin isn't enough and they want two, then there will be two. If there are a billion coins and they decide there need to be fewer, that's possible too."
Shapiro said an innovative design of the blockchain is already in development stages. "The moment you make a cryptocurrency based on original identities, it's possible to make more effective blockchain protocols," he explained.
"Our goal is for this to work on smartphones, without a main server. If someone controls the main server, then he has preferential status – he has to be paid, and he's liable to become a monopoly. An egalitarian social contract means there is no main server.
"Therefore, we're developing a simple, efficient, green protocol to do blockchain on a smartphone. This is the model we're proposing, and it's an integral part of our approach. It's based on the concept of genuine identities; otherwise, it won't work."
Click the alert icon to follow topics:
ICYMI
Ken Burns' Brilliant 'The U.S. and the Holocaust' Has Only One Problem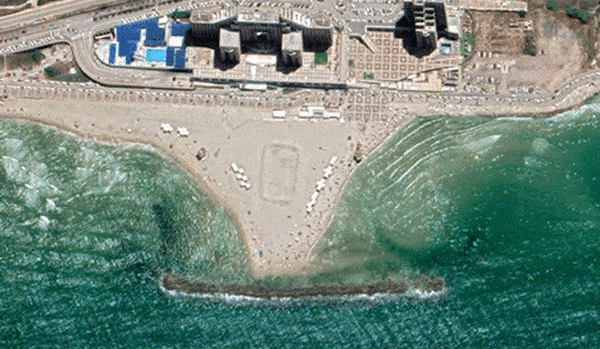 Facing Rapid Rise in Sea Levels, Israel Could Lose Large Parts of Its Coastline by 2050
As Israel Reins in Its Cyberarms Industry, an Ex-intel Officer Is Building a New Empire
How the Queen's Death Changes British Jewry's Most Distinctive Prayer
Chile Community Leaders 'Horrified' by Treatment of Israeli Envoy
Over 120 Countries, but Never Israel: Queen Elizabeth II's Unofficial Boycott