Achilles' Heal: The Fall and Rise of Basketball Legend David Blatt
Fate and a couple of life-changing injuries brought basketball coach David Blatt to Israel, where he now stands at the helm of perennial champion Maccabi Tel Aviv. From his childhood near Boston, to his years studying English Lit at Princeton, to his Olympic medal as coach of the Russian team, Blatt's story is studded with surprising twists and turns.
Maccabi Tel Aviv coach David Blatt at game against Hapoel Holon, October 14, 2013. Lives and breathes basketball.
Credit: Sefi Magriso
David Blatt is a student of fate. He also coaches basketball. But not the way you might expect. It's not every professional sports personality – or Israeli household name – who lists Homer's "Iliad" among his favorite books, or whose hero, since childhood, has been Achilles.
"I look at my sportsmen, my players, as the modern-day gladiators," Blatt says, sitting just outside the dark starship walls of Maccabi Tel Aviv's home at the Nokia Arena as traffic whooshed by on the nearby Ayalon Highway. "We are indeed the modern-day stories of feuds and of epic tales. That's what it's all about."
For David Blatt, sports stories have had much to do with how fate can turn on a dime, or on the jagged edge of a broken bottle buried out of sight, underwater.
It was fate, in the form of life-wrenching injuries, which put this very American person in Israel. One, in high school, nearly finished his life in sports, yet ultimately made him a star basketball player. A second put an end to his basketball career, but led him toward becoming a world-renowned coach, bringing him all the way to an Olympic medal as the famously unlikely coach of the Russian team in London.
Fate, in its painful instruments, ultimately planted him as head coach of perennial champion Maccabi Tel Aviv, in an Israel where professional sports is a true and fervent religion, and where his is arguably the top job in all of the nation's professional sports.
Few professional teams anywhere in the world have dominated a sport in their own nation as has Maccabi Tel Aviv. Having grown up in a town outside Boston, however, David Blatt was no stranger to basketball dynasties, even legendary ones.
"I was a boy who, every Celtics game night, had a transistor radio pasted to my ear," he says, watching in quiet amusement as, three gates down, "X-Factor" emcee Bar Rafaeli and thousands of auditioning hopefuls pack the Nokia stadium plaza. "I think my ear is still 'cauliflower' as a result."
Blatt's childhood idols, led by center Bill Russell and power forward Tom "Satch" Sanders, set NBA standards that today seem all but inconceivable. Blatt's radio allegiance was rewarded with an astounding eight NBA championships in a row.
It was something of a dream then, that when Blatt, a basketball star in high school, was in the process of choosing a college to attend, Harvard University's then-head coach, future Hall of Famer Sanders, came to recruit the standout point guard at South Framingham High.
"To me, that was enormously significant," Blatt recalls. "I grew up on guys like Satch Sanders. My first book report, which I turned in to Miss Mitchell, my fourth grade teacher, was on Bill Russell, on manila paper, onto which I'd pasted pictures of Bill Russell and the other Celtics that played with him. So Satch Sanders recruiting me to go to Harvard was a very big thing."
In what would become a life theme of doing the unexpected, Blatt then told Harvard No. "It was the right decision," he says, with a quiet clarity in his voice that seems unnerving in a time and place of Israeli-grade uncertainty. "I wanted the best combination of academics and athletics that I could find. I was smart enough then to know that Princeton had a better team, and that there was really no significant difference from the academic aspect. So I chose Princeton."
Turning down athletic scholarships at other schools – Ivy League schools had none to offer – Blatt worked throughout his four college years, taking out student loans and qualifying for financial aid.
English Lit at Princeton, no less
There is something about Blatt, something not of this century, or even the last, that makes you look twice when he speaks. Asked what he studied at Princeton, Blatt displays an unaffected seriousness of thought, and a depth of self-knowledge that – viewed against the glitz and gilt and superficiality, the profanity and the trash talk and the often ridiculous irony of the world of premier professional sports – are nothing less than jarring: "English literature, which I use a lot to this day. Many times, I call upon the resources of my literary background in expressing things to my players. Or in terms of how I conceptualize."
The style of many another basketball coach, the interviewer notes, often relies much more on four-letter words.
"I use them, too. And, by the way, you find them in literature, a great deal. But there's a little bit more to it than that, in my psyche as a coach, and as a motivator, and a teacher."
As a youth, he played all sports with zeal, shifting with the seasons from baseball to track and field, from football to hoops to ice hockey on a frozen pond.
One summer's end, the day before high school football practice was to begin, Blatt was water skiing with his two best friends from down the street. They remain his best friends to this day, nearly 40 years later.
The challenge was to "jump-start" off the beach, hopping on one foot, with the other in the ski. "Then you begin your slalom with the ski," he recalls, his eyes showing something of the coiled-spring calm, the attention to the details of memory, and the broad perspective of a Russian poet.
"The first time I tried it, I didn't make it. The ski was small for my foot, so it was hard for me to put on. But I didn't want to take it off and walk back, so I just hopped on one foot back to the beach, and unfortunately I hopped right on a broken bottle in the water."
The bottle sliced through the bottom of Blatt's foot, severing the flexor tendons. At the time, the lake was far from any medical facility that could perform emergency surgery, so he was rushed back to Framingham Union Hospital.
Blatt had been a standout on the football team the year before, and had high hopes for the coming season. Now, for Blatt, the season – and football – were over.
There's a rare credibility, an ease and precision of analysis to the way to the way Blatt looks at himself and his past. There is no boasting in the esteem in which he holds the player he might have been. "I was on my way to being a tight end, because I was a very good receiver. I had a promising future in football. I loved the sport. I was good at it."
At first, Blatt found the injury and the loss of football devastating. But it would prove to be the turning point in his life, aided by a coach who would become his mentor and role model.
"That was hard for me, because I was a non-stop athlete. I never stopped playing one thing or another. So the idea that I had to sit down for a while and not do anything was crushing to me. But certainly it made me more determined. Certainly it gave me a kind of a motivation to go even beyond what I had already been doing at that point.
"I was always a determined kid. Even long before that happened, I was somebody who just believed he could do whatever it is he wanted to do," Blatt says.
"He was absolutely the best high school basketball player I ever came in contact with," his coach, Phil "Smokey" Moresi, told a local newspaper in 2002. "His best attribute was his understanding of the game. He would be able to see the game unfold before him, long before anyone understood what was going on down the court. That was really the key to his success."
For Blatt, "Coach Moresi and sports in general were the refuge, the source of confidence, and, really, the making of my identity as a young man. Without question, my willingness to take responsibility, and probably my ability to see things around me, were the foundation for what I do today."
Israel, by contrast, "didn't really hold a big part of my consciousness. I was very aware of it. I went to Temple Beth Am for Hebrew school and Sunday school. My mother even worked there on the weekends with physically disadvantaged children. Like many Jewish kids at the time, I'd put money in the jar to plant trees in Israel and support the country."
But a life in Israel? "I never really even thought about it. It was not an idea in my mind, or an ideal of mine."
It all started on kibbutz
In 1979, his sophomore year at Princeton, the course of Blatt's story was to shift again, this time toward Israel. Blatt didn't know it, but as his Princeton squad played Columbia in New York, he was being scouted.
Bob Gonen, an American immigrant to Israel and the coach of the Kibbutz Gan Shmuel basketball team, then a contender in Israel's top league, approached him after the game.
"He said, 'Are you Jewish?' I said yes. He said, 'How would you like to come visit, spend a summer playing basketball and being a volunteer on Kibbutz Gan Shmuel?' I said, 'Great.'"
Blatt would come to love the volunteer life. At first, he worked in the cotton fields, doing irrigation. "After a while, I got a little tired of getting up at 4 in the morning, so I changed my job to the juice factory, so I could get up at 6 in the morning."
After six hours work and a bit of rest, he would spend every afternoon playing basketball until late in the evening, with and against the professional players. "I had such a great time."
He also came to know Israelis, both for their warmth and for their often disarming directness.
The time at Gan Shmuel pointed him toward a new goal, making the American team for the 1981 Maccabiah games. It would turn out to be a superb team, winning a gold medal.
"That experience was so overwhelming and so meaningful," Blatt remarks. "But in all honesty, I had already signed a contract to play with Maccabi Haifa for three years.
"From the time that I came here in '79, I knew that I wanted to play in Israel professionally for some years. I realized that I wasn't making the NBA, and I wanted to continue to play basketball professionally, in terms of money, but more than anything – to keep playing."
Blatt had no plans to stay, though. When the three years were up, he moved to Atlanta, where his two friends from the old neighborhood had moved after college. Blatt went to work for Xerox, as a major-accounts salesman for office systems.
He lasted two years. Ready for a job change, he decided to go back to Israel "for a year or two."
For some of Blatt's loved ones, the idea of his playing pro ball in a war zone was a tough sell. "My mom was all against it, and my friends all asked me 'What the hell are you doing?'
"First of all, I'd been in Israel, I knew what was going on. Second of all, I wanted to play ball. That was what I loved to do. That was my passion."
He also knew something else. On his return, he'd have to serve in the Israel Defense Forces. "My mother wasn't thrilled about that, either. But I was ready to work. You only go around once in life, and I felt that this would be a life experience that I would always remember. And it was."
His status as a ball player for Hapoel Jerusalem kept Blatt effectively out of harm's way, at least in military terms. In the end, it was basketball itself that would end his playing career.
"Being a student of literature, and having had one of the more influential books in my life, the "Iliad," as a backdrop, it was only natural that I would follow in the footsteps of my hero, Achilles, and finish my career with a ruptured Achilles tendon.
"So, my metaphorical death in the world of professional sports came by the fate of one of my great heroes, growing up."
'Low end of the gene pool'
Blatt was then 34. Throughout his career, with the limited salaries of those days, he had always enjoyed coaching youth and junior teams, both as a contribution to his ball club and to pick up some extra money.
He had also taught himself to communicate. When he'd begun playing ball in Israel, he says, his Hebrew had been "negligible. I knew a few words. I had recognition of the characters from Hebrew school, before my bar mitzvah." On the other hand, "my family is made up of many linguists. My sister speaks five or six languages fluently, my other sister speaks four. So even though I was at the low end of the gene pool of the three of us, being the youngest, it was natural that I'd have an affinity for languages. I picked it up quickly. It was also important to me."
When he first came to Israel, he continues, basketball in Israel was very different that the game as it is played today. "I had a real appreciation for the Israeli players, because they were tough, they were determined, and I felt that they were much less spoiled than the Israeli players today.
"They were hungry, and they were really willing to work. They wanted to learn. There were a lot of talented players then, but it was more about their toughness. That's what impressed me.
"It was also very typical of the society," he adds.
Are players less tough now? "Definitely. Not all, but overall. And they've had the benefit of more teaching. More exposure to different kinds of basketball, different philosophies. Over time, the athleticism of players has developed greatly.
"And, of course, there's the fact that money has become such a big factor in the professional life of players here and everywhere. Back then, players were being paid, but they weren't even necessarily making their living from the game. Some had outside jobs. They were tougher – they had to fight for everything, and they were willing to do it."
The interview is interrupted, not for the first time, by a passerby who steps up and, uninvited, launches into a lengthy, detailed scouting report on a prospect he insists that Maccabi Tel Aviv must sign. Blatt listens intently, and thanks him with warmth. "Okay, man. Toda raba. See ya."
He turns back to the interviewer. "Here, no one will hesitate to tell the coach of Maccabi Tel Aviv what to do. Having been here a while, I've come to embrace and enjoy and expect that kind of thing. But at first, it was very, very difficult for me.
The major difference between the Israeli and the American cultures? In general, he says, and bearing exceptions in mind: "If you ask an American what time it is, he'll look at his watch, and he'll tell you exactly. And you'll say thank you and he'll say you're welcome.
"You ask an Israeli, and he'll say, 'Mah, ein l'cha sha'on?' [What, you don't have a watch?].
"But – if it comes to being invited into the homes of an Israeli or an American, the American may allow you to come – with a month's notice, and at an exact time, and no expectation for a meal or a drink – whereas, the Israeli will take you into his house unannounced, and give you the shirt off his back."
Ambassadorial aspirations
In 1991, his commitment to Israel took a new direction. "I married a beautiful Israeli girl, Kineret, from Netanya. I actually even coached her – before we started dating, I want to specify."
They have four children. One daughter just finished her military service. Another is still serving as an officer. He also has a 16-year-old son and a daughter about to turn 15.
Blatt, a former high school class president, is asked if he might follow the path into politics of former Maccabi great Tal Brody, who was defeated for a Likud Knesset seat in 2008 by present Deputy Defense Minister Danny Danon.
"Politics? No. But I really have a sincere interest in international relations. I've always said that in my next life, or maybe in my next job, I'd love to work in some capacity in the ambassadorial field." He notes that he has represented Israel as an individual and as a personality in high-profile coaching positions in Russia, Turkey, Greece and Italy.
One of his dreams remains coaching in the States, in the NBA, "to work in the place I grew up, in the environment that taught me much of what I know about the game. I'd like to give a lot back, I'd love to do that."
Another dream, perhaps his fondest, is to be able to close out his career as coach with his son, now 16 and a member of Israel's cadet team, playing at Blatt's old position, point guard. "He's a terrific player," Blatt smiles. "Better than I was.
"It's the way I'd like to finish my career: Coach him and quit."
He's not complaining about life thus far, he stresses. "You're talking to a guy who has one of the best jobs in European basketball and certainly the No. 1 position in Israel from a sports standpoint.
"I'm in charge of holding down the fort on this great dynasty," he said in early June. "Right now, in my five years as head coach, we've won every cup and we've won every league championship. We'll see what happens on the 13th of June. I've got a 49-0 record in cup and in playoff competition. And I want one more on the 13th. Because I kind of feel like at 50 and 0, I could be considering doing some other things."
As fate would have it, the Israeli championship final would pit Maccabi against a Cinderella team. Maccabi Haifa had never won the championship, and finished its season a year ago a dismal dead last.
To sharpen the air of reversal-of-fortune, Haifa's head coach was another American, Brad Greenberg, a newcomer to Israel, who had left the States under a cloud of allegations of major recruiting violations and misleading investigators as head coach of a Virginia university.
At halftime, Blatt's Tel Aviv squad led the championship game. But Haifa roared back, gaining strength as the clock ran down. Maccabi Haifa won its first championship ever, 86-79.
And David Blatt? He took the loss hard. He'll be back next year, though. For a new chapter.
ICYMI
Ken Burns' Brilliant 'The U.S. and the Holocaust' Has Only One Problem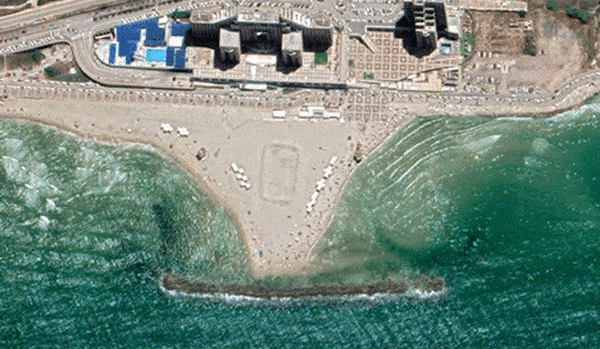 Facing Rapid Rise in Sea Levels, Israel Could Lose Large Parts of Its Coastline by 2050
As Israel Reins in Its Cyberarms Industry, an Ex-intel Officer Is Building a New Empire
How the Queen's Death Changes British Jewry's Most Distinctive Prayer
Chile Community Leaders 'Horrified' by Treatment of Israeli Envoy
Over 120 Countries, but Never Israel: Queen Elizabeth II's Unofficial Boycott