The 25 Greatest Jewish Athletes of All Time
When discussing the "greatest" Jewish athletes of all time, we do not always mean the best, but rather Jews who distinguished themselves in sports in a remarkable way. Some were pioneers, breaking down barriers for other Jews or setting precedents for all athletes in their particular discipline. Others simply dominated their era.
In that spirit, Haaretz presents its list of 25 greatest Jewish athletes of all time:
Harold Abrahams
Track and field
Born in Bedford, England, in the last year of the 19th century, Harold Abrahams will not only be remembered as the first Jew – and the first non-American – to win the 100-meter dash at the Olympics, he will also be known as the man who redefined the modern sport of athletics. After failing to make an impression at the 1920 Olympics in Antwerp, Abrahams hired a private coach to prepare him for the 1924 games in Paris – the first time an amateur athlete had paid for individual training. The controversial investment paid off and he took gold in the prestigious 100-meter race and silver in the 4x100m relay. Abraham's brief but glittering athletics career was immortalized in the movie "Chariots of Fire."
Angelica Adelstein-Rozeanu
Table tennis
Born in Bucharest in 1921, Angelica Adelstein-Rozeanu is generally considered the greatest female table tennis player of all time, winning 17 World Championship titles, including six straight singles championships from 1950 to 1955. She first won the Romanian women's title as a 15-year-old in 1936, a title she held for the next 21 years (excluding the war years 1940-45, when she did not compete). She was also the first Romanian woman to win a world title in any sport. Forced out of the Romanian table tennis federation along with other Jews in 1957 by a new anti-Semitic chairman, she refused to follow her husband when he immigrated to Israel that year. She soon returned to competitive play after the chairman was purged from his position, winning three titles in Russia in 1960. She eventually moved to Israel in 1960 and won the gold medal at the 1961 Maccabiah Games. She was awarded Romania's highest sports honor – the title of Merited Master – in 1954.
Ali Bacher
Cricket
Despite playing just 12 times for his country, Ali Bacher is still considered one of the greatest cricketers in South African history. The son of Lithuanian immigrants who came to South Africa in the 1930s, Bacher's greatest contribution to South African cricket was as administrator of the South African Cricket Board, a position he assumed in 1981. His finest moment came in 2003, when he chaired the organizing committee of the Cricket World Cup, held in South Africa for the first time since the lifting of the international sanctions imposed to protest the country's policy of apartheid. He was inducted into the International Jewish Sports Hall of Fame in 1991. A piece of cricket trivia: the figure on the Israel Cricket Association logo is none other than Bacher.
Victor Gyozo Barna
Table tennis
Once described as "the greatest table tennis player who ever lived," the Hungarian-born Barna is the most outstanding unsung hero of Jewish sports. In a career that spanned six years, Barna amassed a total of 32 World Championships medals: 23 gold, six silver and three bronze. Despite sustaining a broken arm in a car crash in May 1935 – an injury that effectively ended his playing career – Barna went on to win the World Doubles title with Richard Bergmann (another International Jewish Sports Hall of Fame inductee) in 1939. That was the year in which he moved to England, where he lived until his death in 1972. To this day, the Victory Barna Memorial Cup is awarded to the best player at the annual world Table Tennis Championships.
Isaac "Ike" Berger
Weightlifting
Technically speaking, Ike Berger was Israel's first Olympic medalist, beating judoka Yael to that title by 36 years. Born in 1936 in Jerusalem, in what was then Palestine, Berger and his family moved to New York City in 1949. In 1955, the 19-year-old Berger, still not an American citizen, won the senior U.S. weightlifting title. He repeated the feat in the next two years – after which he was granted citizenship. In the 1956 Melbourne Games, Berger won the gold medal with a lift of 776.5 pounds (352.5 kg). The next year, he returned to the country of his birth for the 5th Maccabiah – and promptly smashed the world record in the featherweight competition, becoming the first athlete to set a world record in any discipline on Israeli soil.
Sue Bird
Basketball
Sue Bird, a WNBA superstar, is one of the greatest women's basketball players ever to play on one of the greatest college basketball powerhouses of all-time, UConn. Legendary coach Geno Auriemma signed Sue in 1998 as part of his best recruiting class in University of Connecticut history. She delivered by helping the team to two national championships, including an undefeated season in 2002; ESPN ranked that team as the no. 4 team of all time. Sue won the 2002 Naismith Award as the nation's top player. Bird has played all 11 of her WNBA seasons with the Seattle Storm, winning two titles and earning seven All-Star selections. In 2011, fans voted her one of the top 15 players of the WNBA's first 15 seasons. A three-time Olympic gold medal winner with Team USA, she is one of only nine women to have won an NCAA title, a WNBA title and Olympic gold. She also led Spartak Moscow to Russian Super League and Euroleague titles in the 2006-07 season.
Louis "Lou" Boudreau
Baseball
Cleveland Indians fans have been waiting since 1948 for another World Series title. They probably would have been waiting since 1920 if it weren't for Lou Boudreau, who as player-manager led the Indians to the 1948 title while earning the honor of the American League's Most Valuable Player. Boudreau was selected eight times to the All-Star Game, won the 1944 AL batting title, and led the league in doubles three times during his 14-year career. He also led AL shortstops in fielding eight times. His mother was Jewish, but his father raised him Catholic after their divorce and he did not identify himself as Jewish but has been kept on lists of Jewish baseball players, most likely because of his feats. He still holds the record with hitting four consecutive doubles in one game, which he set in July 1946. In 1970, he was inducted into the Hall of Fame and the Indians retired his jersey number, 5.
Ryan Braun
Baseball
Ranked no. 3 on Sporting News' 2013 MLB Top 25 players, Ryan Braun has emerged as one of baseball's greatest All-Stars of the past decade. Between 2007 and 2012, he ranked third in the majors in slugging percentage (.568), sixth in homers (202), seventh in RBIs (643) and eighth in batting average (.313). He has played his entire career with the Milwaukee Brewers, chalking up what some have called one of the greatest rookie seasons ever in 2007, when he earned Rookie of the Year honors. He was named to the NL All-Star team every season from 2008 through 2012. Nicknamed "The Hebrew Hammer" in the tradition of Al Rosen and Hank Greenberg, Braun says he's proud to be a role model for Jewish kids but he doesn't want to make a big deal of his Jewish identity, noting he never had a bar mitzvah. He is currently under scrutiny for links to a clinic that allegedly distributed performance-enhancing drugs.
Omri Casspi
Basketball
Omri Casspi has not had a stellar NBA career, but he distinguished himself by becoming the first Israeli player to make it into the world's premier professional basketball league. Casspi made his professional debut with Maccabi Tel Aviv as a 17-year-old during the 2005-06 season. After winning local honors such as Discovery of the Year in 2007 and Man of the Year award in 2008 as well as placing fourth in the 2008-09 FIBA Europe Young Men's Player of the Year Award, Casspi declared himself eligible for the 2009 NBA draft. The Sacramento Kings made him the 23rd pick overall. Casspi made his NBA debut in October 2009 and had his first start that December. He participated in the NBA All-Star Weekend Rookie Challenge that season. Casspi averaged 10.3 points per game his rookie season, but never had a breakout year after that, and was traded to Cleveland prior to the 2011-12 season.
Lillian Copeland
Track and field
Unquestionably the greatest female athlete of her generation, Lillian Copeland excelled in the shot put, discus and javelin, setting a remarkable six world records in each of the disciplines between 1925 and 1932. Born in New York in 1904, she won a silver medal for the United States at the 1928 Amsterdam Olympics in the discus, and she took gold in the same event four years later in Los Angeles. There is little question that had her favorite discipline – the shot put – been an Olympic event for women in 1928 or '32 she would have won gold. She retired from competition in 1932 to study law, but came out of retirement long enough in 1935 to win gold medals in the discus (37.38 meters), javelin (36.92 meters) and shot put (12.32 meters). She was inducted into the U.S. Track and Field Hall of Fame in 1994, 30 years after her death.
Gal Fridman
Windsurfing
Israeli Gal Fridman's field of expertise is one of the most esoteric of all Olympic sports, and his haul of medals, one gold (2004) and one bronze (1996), hardly puts him in the upper echelons of sporting achievement. But his place in Jewish sporting legend is guaranteed by the fact that he was the first Israeli to stand on the winner's podium at the Olympics and listen to "Hatikva," the national anthem, being played. Born in Karkur near Hadera in 1975, Fridman started windsurfing at the age of seven and began competing at an international level in 1994. His greatest achievement before the 2004 Olympics was a gold medal in the Mistral World Championships in Thailand in 2002.
Benny Friedman
Football
Benny Friedman is considered professional football's first great passer. After being named twice an All-American at the University of Michigan, Friedman set a single-season record with 11 touchdown passes during his 1927 rookie season with the Cleveland Bulldogs. He went on to lead the NFL in TD passes his first four seasons, breaking his own record with 20 for the New York Giants two years later. No team would match that feat until 1942. Giants' owner Tim Mara was so impressed with him that he bought the entire Detroit Wolverine team, with which Friedman played in 1928, just to have the rights to the quarterback, according to Sports Illustrated. On the other hand, Friedman was the victim of media bias and anti-Semitic slurs in the press. The International Jewish Sports Hall of Fame inducted him in 1979, and the football Hall of Fame followed suit in 2005.
Hank Greenberg
Baseball
The word "first" appears so many times in the various online biographies of Hank Greenberg that it is almost impossible to count them: He was the first Jewish superstar in baseball; the first Jewish ballplayer elected to the Baseball Hall of Fame; the first player to win the American League's Most Valuable Player award at two different positions; the first major leaguer to enlist in the U.S. Army after Pearl Harbor; he was even the first to stir rabbinical debate over his participation in vital end-of-season games that happened to fall on Yom Kippur. When he died in 1986 at the age of 75, Joe DiMaggio said, "He was one of the truly great hitters, and when I first saw him at bat, he made my eyes pop out."
Agnes Keleti
Gymnastics
Winner of a staggering 10 Olympic medals – including five golds – Agnes Keleti is one of the most successful female Jewish athletes of all time. Only two Jewish athletes – swimmers Mark Spitz and Dara Torres – have amassed more Olympic medals than Keleti, a member of the Gymnastics Hall of Fame. Born in Budapest in 1921, Keleti defected from Hungary immediately after the 1956 Olympics in Melbourne, where she was the most decorated athlete, and has lived in Israel since 1957. She has served as a coach for the Israeli gymnastics team and as a physical education instructor in Herzliya, where she still lives at the age of 92.
Sandy Koufax
Baseball
The man with the golden arm enjoyed a six-year stretch as perhaps the most dominant pitcher in baseball history. He racked up a 25-game win record in three different seasons, captured five straight ERA (earned run average) titles, and set a new standard with 382 strikeouts in 1965. His fastball and devastating curve enabled him to pitch no-hitters in four consecutive seasons, culminating with a perfect game in 1965. He posted a 0.95 ERA in four career World Series, leading the Dodgers to three championships. And he managed to inspire equal quantities of admiration and frustration by refusing to play on Yom Kippur for Game 1 of the 1965 World Series (he won Game 7 on two days rest). Even being forced into an early retirement by arthritis did not stop the Brooklyn-born Koufax from breaking records. In 1972, he became – at age 36 – the youngest person ever inducted into the Baseball Hall of Fame.
Lenny Krayzelburg
Swimming
Born in the Ukraine in 1975, Lenny Krayzelburg was already one of the top swimmers in his age group when he immigrated with his parents to the United States at the age of 12. Having just missed out on a place in the 1996 Atlanta Olympics, Krayzelburg broke three world records in 1999 in the 50-, 100-, and 200-meter backstroke events. He went on to win a total of four Olympic gold medals in the 2000 and 2004 Games. At one point, he owned all six world records in the backstroke, long course and short course. Having twice been unable to accept an invitation to participate in the Maccabiah Games (once because he couldn't afford the airfare and once because it clashed with the World Championships), Krayzelburg delighted many by forgoing the 2001 World Championships to participate in the 16th Maccabiah, where he won gold medals and set Maccabiah records in the 4x400-meter relay and the 100-meter backstroke.
Nancy Lieberman
Basketball
Nicknamed "Lady Magic," Nancy Lieberman was a basketball trailblazer, becoming the first woman to play and coach in a men's league. Born in Brooklyn in 1958, she played mainly on boys' pick-up teams before joining her high school girls' team. She earned a silver medal with the U.S. team in the 1976 Montreal Games, having already won gold at the Pan Am Games the year before. She had a stellar college career, winning three national titles and two national Player of the Year awards and setting numerous records at a time when accurate statistics were not kept for women's sports. In the 1980s she played in the men's U.S. Basketball League and for the Washington Generals against the Harlem Globetrotters. At 39, she was the oldest member of the WNBA in its inaugural 1997 season and broke her own age record when she played for the Detroit Shock in 2008. She became the first female coach in the NBA's D-League in 2009 with the Texas Legends.
Sid Luckman
Football
The most successful Jewish football player in the history of the NFL, Sid Luckman spent nine seasons as quarterback of the Chicago Bears (1939-47), winning four NFL Championships (in 1940, 1941, 1943 and 1946) and five Western Conference titles. The Brooklyn-born star set numerous offensive records, was named All-Pro five times (1941-44, and again in 1947) and was elected to the NFL's Pro Football Hall of Fame in 1965. In 1950, at the age of 34, Luckman closed out his brilliant 12-year pro career by completing 904 of 1,747 passing attempts for 14,683 yards (8.42 gained per pass) and 139 touchdowns.
Daniel Mendoza
Boxing
Despite his remarkable achievements in the ring, Daniel Mendoza's contribution to boxing transcended his three years as British heavyweight champion. Boxing as "Mendoza the Jew" in late 18th century London, Mendoza (1764-1836) was the first Jewish prizefighter. His remarkable success earned him the patronage of the Prince of Wales (later George IV), the first boxer to earn such an honor. His success paved the way for Jews to gain greater acceptance in all sectors of British society, from sport to politics. Standing just 1.70 meters tall, he invented what became known as the Mendoza School, in which a fighter uses his fists as guards and makes use of sidestepping tactics to exploit his speed and punching power. Considered the father of scientific boxing, Mendoza was one of the inaugural group elected in 1954 to the Boxing Hall of Fame and the inaugural class of the International Boxing Hall of Fame in 1990.
Laurence E. "Lon" Myers
Track and field
Simply put, Myers was the greatest athlete of the 19th century. Born in Richmond, Virginia in 1858, he was the first man to run the quarter mile (440 yards, or 402 meters) in under 50 seconds. During the course of his career, he lowered the record at that distance from 50.4 seconds to 48.8 seconds. At one time or another over a 21-year period, Myers held every American record for races at distances ranging 50 yards to one mile. During a tour of England, a clipping from the Manchester Athletic News stated that "there never was a man more naturally cut out for running than L.E. Myers," while the Earl of Crawford stated that Myers "is the only real runner I have ever seen." His career was not without controversy, however: In 1884, he was charged with violating the amateur code but was eventually cleared of all charges.
Dolph Schayes
Basketball
By the time Adolph "Dolph" Schayes retired from professional basketball in 1964, he had played a staggering 1,509 games – more than any other player in NBA history. Named Rookie of the Year in 1949, he led the Syracuse Nationals to the 1954-55 NBA title. Schayes owned five NBA records upon his retirement: most consecutive games played (764, between February 1952 and February 1961); most minutes played (29,800); most field goals (6,135); most free throws made (6,979); and most points (19,249). Born in New York City in 1928, he was one of the best, and the last, to use the two-handed set shot. As coach, he won the 1965-66 NBA Championship and earned 1966 NBA Coach of the Year honors. From 1966 to 1970, he also served as supervisor of NBA referees. In 1977, Schayes was head coach of the U.S. Maccabiah Games basketball team, and with the inspired play of his 2.11-meter, 18-year-old son Danny, the Americans won the gold medal.
Mark Spitz
Swimming
Challenged only by Michael Phelps for the status of greatest swimmer of all time, Mark Spitz's collection of honors speaks for itself: 32 world records (25 individual and seven in relay events) from 1968-72; nine gold medals, one silver and one bronze in two Olympics; and five gold medals at the 1967 Pan Am Games. The highlight of his glittering career came at the Munich Olympics in 1972, when he won seven gold medals and set new world records in all seven events. His celebrations were cut short, however, by the Black September terrorist attack that left 11 Israeli athletes dead – an event that profoundly affected the young American. "It was the end of innocence in sport," he said in an interview some years later. "I completely freaked out. Here I was, 27 years after the end of World War II and there were still madmen killing Jews because they are Jews."
Eva Szekely
Swimming
Born in 1927 in Budapest, Eva Szekely became not only one of the greatest Jewish athletes in the modern era, but is considered by the swimming world to be one of the greatest swimmers of her generation. Against the backdrop of World War II in fascist Hungary, Szekely was expelled from her local team as a "religious undesirable." For two years, between 1944 and 1945, she lived with her family in a Swiss-run safe house in Budapest. She went on to compete in three Olympic Games (4th place in the 200-meter breaststroke in 1948, gold in the same event in 1952 and silver four years later), smashing 10 world records, five Olympic records and 101 Hungarian national records along the way. As a coach, she was no less successful: Her daughter, Andrea Gyarmati, won a silver medal at the 1972 Olympics, setting a world record of her own in the 100-meter butterfly.
Dara Torres
Swimming
Beautiful enough to be one of Sports Illustrated's swimsuit models, talented enough to enjoy a successful career in sports journalism and outstanding enough in her chosen sport to have won 12 Olympic medals, Dara Torres is the only American swimmer to win medals at five Olympic Games (1984, 1988, 1992, 2000 [after coming out of a seven-year retirement] and 2008). In Beijing, she was the oldest swimmer ever to earn a place on the U.S. Olympic team yet managed to set an American record in the 50-meter freestyle, winning silver. Born in 1967 in Beverly Hills, Torres began her successful swimming career as a pre-teen when she set a national age-group record in the 50m freestyle at the age of 12. After winning a gold medal in the 1984 Olympics, Torres attended the University of Florida, where she won the maximum possible NCAA All-America honors (28). She was inducted into the International Jewish Sports Hall of Fame in 2004.
Henry Wittenberg
Wrestling
The sport of wrestling may be Greco-Roman by tradition, but during the career of Henry Wittenberg it was more Jersey Jewish. A keen chess player (as a child, he captained his high school team), Wittenberg brought to the sport an intellectualism that is rarely seen in any discipline. Born in 1918, Wittenberg only started wrestling in college, but recorded a winning streak of 300 consecutive matches, culminating in a gold medal at the 1948 London Olympics. At the 1952 Olympics in Helsinki, Wittenberg became one of the first American athletes to defeat a Russian counterpart in international competition. He retired from competition in 1952 – after taking gold at the 4th Maccabiah – and became coach of the U.S. national wrestling team. He also coached at New York's Yeshiva University. He was inducted into the Wrestling Hall of Fame in 1977.
This list was compiled by Peter Hirschberg, Steve Klein, Simon Spungin and Elli Wohlgerlernter. Simon Spungin and Steve Klein wrote the text.
ICYMI
Ken Burns' Brilliant 'The U.S. and the Holocaust' Has Only One Problem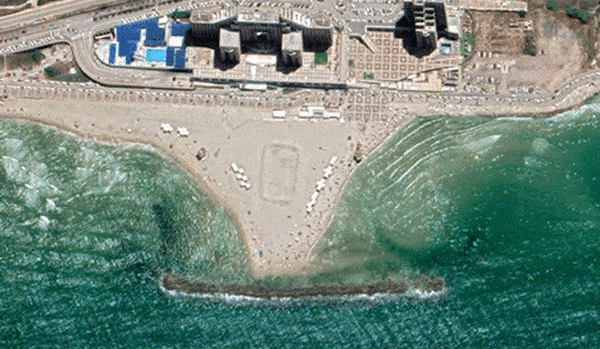 Facing Rapid Rise in Sea Levels, Israel Could Lose Large Parts of Its Coastline by 2050
As Israel Reins in Its Cyberarms Industry, an Ex-intel Officer Is Building a New Empire
How the Queen's Death Changes British Jewry's Most Distinctive Prayer
Chile Community Leaders 'Horrified' by Treatment of Israeli Envoy
Over 120 Countries, but Never Israel: Queen Elizabeth II's Unofficial Boycott