Google Blurring Out Satellite Images of Israel - Again
After legislation limiting satellite imagery of Israel expired, Google began showing higher resolution images. But recently something changed for the worse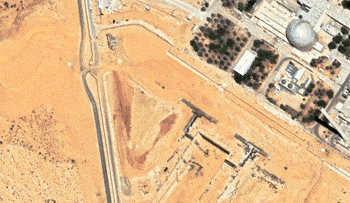 Dimona reactor in the clear (August 2021) was replaced with a blurred image (August 2019)
Credit: Google Earth
Google is once again displaying pixelated satellite images of large parts of Israel on its Maps and Earth services. Two years ago, the U.S. legislation banning commercial firms from publishing high resolution satellite images of Israel expired – and since then Google Maps have been updated with much better imagery. But recently, this change was reversed and now areas that had previously been shown much clearer are once again blurred.
In 1997, Congress passed legislation, known as the Kyl–Bingaman Amendment, that limited commercial satellite imaging firms from providing high resolution imagery of Israel. In July 2020, a Trump administration order was issued which allowed American companies to sell much clearer and higher resolution images of Israel and the Palestinian territories than they could before, changing the resolution from 2 meters to 0.4 meters. In other words, it allowed the sale of satellite imagery in which every pixel on the screen represented 40 centimeters on the ground. This is the difference between making out the rough contours of a building - compared to seeing a car on the street.
Since then, commercial satellite imagery companies have offered much higher quality photos of Israel. Google Maps and Google Earth have also begun updating their satellite imagery and showed large swaths of Israel, including classified facilities, at higher resolution than before.
However, due to an unknown reason, Google recently updated its imagery – with older photos at lower resolution, which show entire cities pixelated.
For example, after Trump's administrative order took effect, Google updated its images of the Dimona nuclear reactor with higher resolution photos. An image from August 2021 on Google even showed new construction work at the site, but anyone who now looks at the reactor site on Google will see a blurred image from an earlier date – August 2019. See the differences between the two images for yourself here:
Ben-Gurion International Airport was also seriously downgraded: Google previously offered higher resolution satellite imagery of the airport from May 2021, but if you look there today you will see a very blurred photo from January 2021. See the differences between the two photos here:
Those who live on the southern side of Haroeh Street in Ramat Gan who want to see how their building looks from space will not be able to find it on Google: Even though the company showed a high resolution picture of the entire city in May 2021, now the small neighborhood in south Ramat Gan is shown in a very blurred image from January 2021. See the difference between the two photos here:
Another example: Who blurred Bnei Brak city hall? See the difference between the two images, May 2021 compared to the much blurrier January 2021 shown today:
Entire regions throughout the country were blurred anew in the latest update, including, for example, a few neighborhoods in Rishon Letzion and Ramat Hasharon, half of Petah Tikva and most of the Sharon region north of Tel Aviv. At the same time, some of Israel's highly-classified defense facilities were left at higher resolution, including the Haifa Port. Many other areas haven't been updated for several years now – and still show very old satellite images at a very low resolution.
Harel Dan, a remote sensing expert, said on Twitter the most probable cause for this is Google trying to clear out clouds and their shadows from the satellite images. While that can explain some of the images downgraded, other cities with no clouds above were also downgraded to lower resolution, older images - like Eilat and Be'er Sheva. See the difference between the photos below.
Two weeks ago, Haaretz asked Google as to the logic behind the choice of which areas are blurred anew, and whether this was intentional or a mistake. We reached out again before publication. If a reply is received from Google, we will update it here.
But if you still want to see the high resolution images that Google already released over the past two years, you will have to download to your desktop computer the Google Earth program – (the web browser version won't suffice). On the upper toolbar, click on the clock icon: "Show historical imagery". Use the slider to browse archive satellite imagery of the region you are focused on, and see the historical changes of the ground, construction and demolition – and much more.
Google's satellite imagery service is not the only one available in the market: High quality images of Israel – though not necessarily the most up to date ones – are available and can be seen here, here and on the Survey of Israel's official website, where you can notice another interesting phenomenon.
ICYMI
Netanyahu's Israel Is About to Slam the Door on the Diaspora
Head of Israel's Top Art Academy Leads a Quiet Revolution
Ken Burns' Brilliant 'The U.S. and the Holocaust' Has Only One Problem
Israel May Have Caught the Worst American Disease, New Research Shows
Why the Head of ACLU's Human Rights Program Has Regrets About Emigrating From Israel
Netanyahu's Election Win Dealt a Grievous Blow to Judaism