Testing Facebook's Claim: Can We Really Find Out How Netanyahu Targets Us?
'Facebook needs to air out its laundry where it can be seen – and it doesn't smell good,' says a digital media researcher after Meta invited journalists to a briefing on 'tools that will help you preserve transparency and electoral integrity'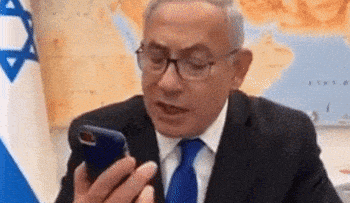 In 2019, then-Prime Minister posts a video claiming 'the Arabs are having a huge electoral turnout'
Meta, Facebook's parent company, held a briefing for journalists in Israel last week in preparation for the November 1 Knesset election – with the goal of getting media outlets acquainted with a tool that is supposed to increase transparency and enable the revealing of which messages politicians are paying to promote.
But an examination by Haaretz and conversations with researchers have revealed that Facebook has actually neutered the ability of journalists and researchers to understand how politicians are targeting different audiences and manipulating the public.
The pre-planned briefing was held a day before a severe warning from the nonprofit Israel Internet Association, which said Meta is unprepared for the Israeli election and failures have been identified that could harm electoral integrity.
"Meta is trying to allow people to express their opinions, make their voice heard on the different platforms, and we have more than 3 billion users around the world who can do this very thing," said Elul Rifman, the business and marketing partnerships manager for Meta in Israel, at the start of the briefing. "Nonetheless, we are not naïve and we know, even more so since 2016, that there are bad actors, people who are trying to take advantage of the platform."
Rifman considers these malicious actors to be a minority, and it seems with a certain amount of justification. In the wake of the Cambridge Analytica affair – an online data mining political consulting firm that provided "big data" analysis services, target audience segmentation and political message targeting – which was exposed because of its use of the personal data of Facebook users, including during the 2016 election campaign in the United States. Facebook has reduced the access of outside companies to user data, but at the same time it has closed the tap for those who want to provide a warning of the abuse of Facebook's systems – journalists, researchers and civil society groups – by politicians, media consultants and professional campaigners.
The tool that Facebook has taken such pride in is called Ad Library. It was launched in 2019 with the promise of unprecedented transparency. In the library, you can see all the Facebook pages of all the politicians and parties in Israel who are now promoting paid posts with a focused message for a segmented audience. It is possible to search according to keywords and see the total spending of every Facebook page that promoted any paid content, up to seven years in the past.
To understand why it's important, first we have to understand what sector-specific paid promotion is. Everyone who has a Facebook page, whether private citizen, commercial enterprise, media outlet or politician – can pay Facebook to promote a very specific message that they want to convey, to a very specific audience they want to target. The message will be viewed on Facebook only by those who fit the profile that the advertiser defined ahead of time.
So for example, politicians can take a security-minded message to a defined right-wing audience, a liberal message to a left-wing audience, take their dog for a walk only on posts that animal lovers will see, support construction in the West Bank in a post that only settlers will see, etc.
Facebook allows advertisers to build their desired target audience for every message, by defining a sector by means of thousands of pieces of information it collects about every user; whether this is information users provided themselves on Facebook (married/single, education, political opinions, etc.), areas of interest that Facebook has determined for users based on the pages they follow and the groups they join, and sites they visit (sites in which the Facebook pixel - that connects the site to the visitor's identity on Facebook - is embedded).
Advertisers can also tailor a focused message to a focused group of users, based on their email or mobile phone number. The parties carefully collect email addresses and updated phone numbers ahead of every election campaign by means of other tools they use – including mass text messages, bots on Telegram, and apps and databases they purchase from third parties.
Paid promotion can be harmless, but it can also allow completely improper practices when it comes to election campaigns – for example, publishing fake news to certain population groups, pitting one population against another for political gain, manipulation and disinformation campaigns. The danger in this case is particularly when such ads target specific groups, because they are invisible to most of the population, to researchers and journalists, and therefore are very hard to follow.
Facebook's Ad Library is supposedly intended to expose bad actors paid to promote improper practices. However, researchers have warned that this tool does not provide enough transparency and suffers from many technical problems, including paid posts that disappear at critical times, and paid ads that manage to get around the system entirely and don't appear on the list. "The more time that goes by, the more insights can be expected to be gained by this system," Rifman promised in a briefing by Facebook for journalists two years ago. But since then, the information has become more limited.
"Facebook has launched transparency tools on the one hand, and on the other hand has made them vague and useless," explains Prof. Anat Ben-David, a digital communications researcher from the Open University. "The Ad Library presents aggregate and general data of the amounts of money parties are paying for each ad, but as my research and that of others has shown in the past – this data is analytically useless and does not help understand anything about targeting patterns," she explains. That is, all the paid promotions are presented in the library, but the information is too general – how much money an ad costs and the size of its target audience. There are no details about the identity of the target sector, and so the method used by a politician and why a certain ad was chosen cannot be analyzed.
Another Facebook tool does provide important data, but the company built it in such a way that prevents broad analysis of the data and drawing conclusions. Users who are exposed in their feed to a paid promotion can click on "why am I seeing this ad," and Facebook will show them the categories they meet that targeted them. In the previous election campaigns, Ben-David says, they managed a campaign to collect political ads by crowdsourcing. "We asked users to send us screen grabs of the ad they saw together with the reasons they received it," she adds. "For example, an ad from January 2021 said: "Yaron Zelekha's page targets residents of Israel 18 years and over who are interested in Yesh Atid, Yair Lapid, Tzipi Livni, Merav Michaeli, Stav Shaffir, and Gideon Sa'ar. The ad is marked as political and funded by the New Economic Party [chaired by Zelekha]."
Thus Prof. Ben-David and her colleagues were able to identify how various politicians focused their messages to various audiences, according to realms of interest. One Labor Party ad targeted "residents of Israel 29 years of age and over who are interested in the LGBTQ community." Other politicians who wanted to target right-wing supporters focused their ads on "people who are interested in Amit Segal," (a Channel 12 journalist known to be right-wing) or Channel 7 (a media network that identifies with religious Zionism). When ads were created to target the left wing supporters, they chose "people who are interested in Haaretz." In another case, Benny Gantz's page targeted people interested in the Eurovision Song Contest, in what appeared to be an effort to focus on the LGBTQ community.
The problem with this wonderful button is that it is completely separate from the Ad Library. Only end-users see it. Thus millions of fragments of important information are cut off from each other, instead of the critical information appearing in a central tool that allows concealed interests to be analyzed. There is no connection between these two components that Facebook claims increase transparency – and so the general public, journalists and researchers can't identify the characteristics of a campaign and understand what manipulations are applied in each instance.
The two tools dealing with paid promotion entirely miss another aspect of manipulation on Facebook: the use that politicians and parties make of bots, in fictitious accounts and automatic tools for mass promotion – to create the impression of public interest in the posts they promote. The moment a certain post artificially reaches a critical mass of shares and likes, it goes viral and then many real users further share it, and this has a snowball effect. And if it's fake news the damage is much greater.
It's enough to look at the warning last week issued by the Israel Internet Association of another aspect of manipulation by Facebook to understand how unsatisfactory things still are in this area. A study by FakeReporter.net and the association reveals rampant use of fake and anonymous Facebook profiles in ways "that clearly violate the clear community rules" and that some of them are using the platform to promote criminal activities unhindered. The report concludes that apparently no special steps have been taken in Israel to deal with limitations of enforcement in Hebrew and "Meta still fails significantly in dealing with content defined as violating the purity of elections in languages other than English."
When asked at the press briefing about the possibility of identifying what characteristics politicians chose in focusing their message, Rifman responded: "In the near future there will be a possibility to identify whether this was an audience that was personally targeted, but not to the level of 'did they target cat-lovers.' There's a certain balance. I'm talking for a moment as someone who works with advertisers, and they say: 'What is that supposed to mean? There's nowhere in the world where I promote an ad campaign and someone looks into the laundry. Puts my socks out there for the whole world to see – at a level that any competitor can see every word I've written.' I think that Meta certainly has gone farther here than any other organization. When someone publishes an ad in your newspaper, how much transparency is there? How many details can be seen?"
Paid promotion is a significant source of income for Facebook, and according to Ben-David, Rifman is dissembling. "He is obfuscating the fact that the people whose underwear are on display are not the politicians – it's us, the citizens. Facebook serves the advertisers and not democracy or the general public. And so it's important to Facebook to help the advertisers and conceal the reasons for the targeting to allow competition between them and to promote their business model. But elections are not a competition between advertisers. And when manipulative entities can make use of sector-specific ads to unfairly influence the outcome of elections, then – Facebook's laundry has to be aired out, and it doesn't smell good."
Click the alert icon to follow topics:
ICYMI
Ken Burns' Brilliant 'The U.S. and the Holocaust' Has Only One Problem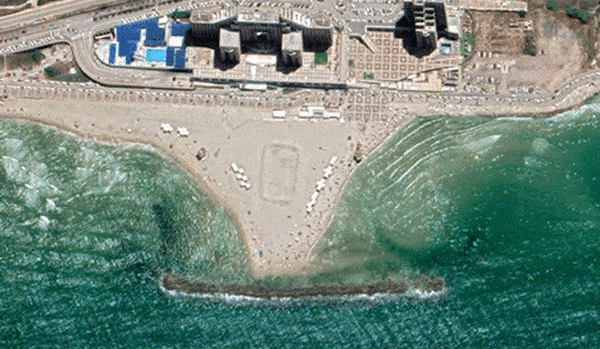 Facing Rapid Rise in Sea Levels, Israel Could Lose Large Parts of Its Coastline by 2050
As Israel Reins in Its Cyberarms Industry, an Ex-intel Officer Is Building a New Empire
How the Queen's Death Changes British Jewry's Most Distinctive Prayer
Chile Community Leaders 'Horrified' by Treatment of Israeli Envoy
Over 120 Countries, but Never Israel: Queen Elizabeth II's Unofficial Boycott