The Diary of a Bathmodon Who Had a Really Big Baby 62 Million Years Ago
Paleontologists describe the life of one of the earliest placental mammals, deducing that she gestated for almost seven months and had a big baby who was born with a mouthful of teeth
illustration of Pantolambda bathmodon with baby.
Credit: Henry Sharpe
Around 62 million years ago, after gestating for almost seven months, a Pantolambda bathmodon gave birth to a really big baby.
In and of itself, peering into not only the life span but the pregnancy of an animal that lived so long ago, as Gregory Funston, Stephen Brusatte and colleagues reported Wednesday in Nature, is an extraordinary coup for paleontology.
Bathmodon's existence had been known but not its lifestyle, let alone details of its pregnancy, the team points out.
The birth probably was not fun. The baby was large. Of course, she was pretty hefty herself, being a pantodont. That is an early placental mammal that arose after the great dinosaurian die-off 66 million years ago.
Before that, mammals were nocturnal animals no bigger than a mongoose. The pantodonts were the first to get bigger.
The baby was highly developed – in contrast to newborns among her cousins the marsupials, who do have a placenta (a small one).
In marsupials, birth consists of expelling a fetus that crawls into a pouch and stays there for months, attached to the nipple, until it is ready to face the world. Even more primitive are the monotreme mammals that still lay eggs like birds and lizards do.
No crawling fetus or egg, our baby bathmodon: it was born with a mouthful of teeth and may have been mobile from day one, as baby herbivores today tend to be. Newborn herbivores need to be able to rise on their shaky little legs immediately after birth, not only to reach the mother's nipples but to evade predators.
The baby bathmodon nursed for only a month or two, the team deduced, from which point it would have been independent (or had a degree of independence; it isn't only humans who hang around the nest for ages after being weaned). It would then live for less than 10 years.
So, bathmodons were like an early mammal on speed: they gestated long but then grew fast, lived fast and died young compared with mammals of comparable size today.
This extraordinary view of life 62 million years ago was told based on groundbreaking analysis of fossil teeth: growth lines (like tree rings), and chemical analysis, which is indicative of diet.
"The great novelty of our technique is that we've used geochemical approaches to target chemical fingerprints of birth and weaning in fossils that are 62 million years old. These approaches have not been used previously on fossils that are more than 2 million years old," Brusatte says (referring to Australopithecines, where it was deduced that they may have breast-fed for around six years).
As for the estimated duration of bathmodon's gestation, it is inferred, the researchers clarify.
"This method opens the most detailed window we could hope for into the daily lives of extinct mammals," Funston says. "It's like reading their diaries, but recorded in their teeth."
The analysis relates only to Pantolambda bathmodon but may showcase a similar strategy in the broader group of Pantodonts. "Because Pantolambda is an early placental mammal, it means other early placentals are likely to have had similar strategies too," he adds.
The story of a bathmodon
Mammals are believed to have emerged some 210 million years ago, deep in dinosaur temporal territory. The first ones, Morganucodontids, looked like miniature weasels, but they stayed sub-radar. Mammalia only came into its own after the great dinosaur extinction around 66 million years ago, probably surviving both the "terrible reptiles" and extinction event/s because they were small, nocturnal and good at hiding. Some suspect Morganucodontids were rather reptilian, with sluggish metabolism and long life span.
Placental mammals only emerged after the dinosaurs were (almost all) gone, which begs the question of how pre-placental early mammals procreated. We don't know, but maybe they laid eggs like monotremes do, Brusatte says. Monotremes include the like of the platypus and the echidna.
Studying the bathmodon fossil involved cutting its teeth into slices so thin that they were transparent, Brusatte explains. Daily growth lines evident in the slices provide a "clock," and vaporizing some teeth using lasers brings insight into its life story. That's because the chemistry of the tooth is one thing when the wee one is born, then changes as it drinks milk, then changes again when it starts to eat food.
In Pantolambda, which based on artists' reconstructions looks like a capybara, pregnancy lasted a fraction under seven months. The baby would suckle for one to two months, which begs the question of how, with all those teeth, the mother could take it for any time at all. Maybe the mother had milk patches rather than nipples, like marsupial echidnas or platypuses have today.
Dinosaurs out, destiny in
This protracted gestation, the researchers suggest, resulting in a big baby who then grew like a weed may have given the pantodonts an advantage over other mammals once the dinosaurs were gone.
Which was what exactly? The trick of growing big babies inside that could take on the world shortly after birth was an evolutionary innovation, and could have enabled the pantodonts to procreate relatively frequently, the researchers postulate.
"We think of long gestation periods as 'normal' because they are so common today. But these are an incredibly unique and specialized way to reproduce that only placental mammals can achieve," Funston says, putting things into proportion. This emerged as mammals began to break from their "roles" as the small, nocturnal insectivores they had been for 100 million years.
This method, which is akin to what mammals do today, strongly suggests it had one "highly invested" baby at a time, which would be born furry, toothed, and (almost) ready to roll.
The teeth growing in the womb were baby teeth, which were replaced by adult teeth starting at about four months of age – again indicative of a fast-tracked life.
Big adult, big baby is a hallmark of placentals, who are the most common group of mammals today. As they grew, they conquered the world. "By showing that extended gestation had arisen much earlier in placental mammal evolutionary history than thought, we suggest that this played a role in the ability for placental mammals as a group to get bigger after the dinosaur extinction, when other groups of mammals remained much smaller," Funston says.
No downside to this life strategy? Well, it takes a lot of resources to grow large, fast-living babies, and as post-dinosaur ecosystems filled up, they would have had to compete for food. But until then, they had a key advantage over other groups of mammals that were birthing embryos and eggs.
If they were so successful, what happened? The Pantolambda group were "incredibly successful" throughout the Paleocene and Eocene, becoming the largest mammals ever – until they were superseded after about 30 million years by other groups, Funston explains. "Pantodonts were eventually outcompeted by a wave of new types of mammals, including many groups today, that arose after a pronounced climate change event."
Incredibly successful species. Climate change. The end.
Click the alert icon to follow topics:
ICYMI
Ken Burns' Brilliant 'The U.S. and the Holocaust' Has Only One Problem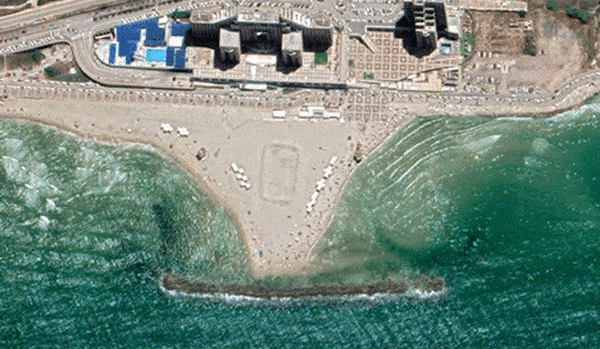 Facing Rapid Rise in Sea Levels, Israel Could Lose Large Parts of Its Coastline by 2050
Lapid to Haaretz: 'I Have Learned to Respect the Left'
The Mossad's Fateful 48 Hours Before the Yom Kippur War
As Israel Reins in Its Cyberarms Industry, an Ex-intel Officer Is Building a New Empire
How the Queen's Death Changes British Jewry's Most Distinctive Prayer