'We Have a Kind of a Secret Fraternity. Like a Chabad House for Gays'
This week at the Tel Aviv airport: Two Israelis who have found an international community on an unlikely app, and a Portuguese ex-gymnast who found home at the circus
Assaf Tahar and Roman Pankov.
Credit: Tomer Appelbaum
Assaf Tahar, 38, and Roman Pankov, 33; live in Tel Aviv, arriving from Vienna
Hi Roman and Assaf, what did you do in Vienna?
Roman: We flew there to celebrate Christmas, and we've just come back.
Assaf: The truth? Mostly, we rested and ate.
Roman: We walked at least 20 kilometers [about 13 miles] a day; one day we did 32.
Assaf: On Christmas, everything is closed, like Yom Kippur here, so I cooked a holiday meal. I don't know if it's traditional.
What did you make?
Assaf: Stir-fried dishes, pasta, meat, chicken.
Roman: A type of tortellini.
Assad: Vienna is a very big city. I think I'm going to go back.
It's different being a gay tourist, isn't it? Grindr is nominally a sex app, but in practice it's a site where you can find everything, get recommendations, meet people who will just show you the city.
Assaf: In general you're right, it's a completely different experience, but for this trip it wasn't right, because Vienna is not a draw for gays. And in the winter it's hard – no one wants to go outside to meet up.
Roman: When I fly alone, that's what I do. It's a terrific way to meet local folks, regardless of the purpose, but particularly in order to get to know the place. You're never alone. It's pretty amazing.
Assaf: It's a community within a community, kind of secret. I was in Japan, which is a very closed society, and suddenly you open Grindr and meet Japanese gays. We have this kind of secret fraternity. They really want to help you.
In what way?
Roman: For example, if you need directions, ideas for where to eat, for a bar, where there are parties, or in a more extreme case, if you don't have a hotel room or something like that. You can sleep at someone's place, not necessarily for sex, and meet people from all corners of the planet, with common interests and different experiences.
Something like a Chabad House.
Roman: A Chabad House for gays, yes.
Assaf: There's a similarity between religion and the community. That's a community, and this is a community. We always say that if Roman knows someone, then I certainly know someone who knows him, or someone who's dated him.
The law of interconnected gays.
Assaf: Exactly. If the estimates are right, then what, it's 10 percent of the population? Let's be generous, 7 percent have come out of the closet, including lesbians? And because of that there are age gaps, because if we limit ourselves to people our ages, we won't have a lot of possibilities.
Roman: It's easy to bridge the age gaps.
Because the basic experiences are similar?
Roman: Yes, the primary common denominator is quite large.
Assaf: There is everyone's scar – being in the closet – but it seems to me that it's becoming less problematic. At our ages, it still exists, everyone has had this experience, and there is also a common interest, as we know. I have straight friends, but I won't talk to them about the guy who's walking by me now, it doesn't interest them. It's more fun to share with someone who thinks like you, however superficial that may sound.
It doesn't sound superficial!
Assaf: Yeah, well, it's a kind of fraternity.
What do you do in life?
Roman: I work at Bank Mizrahi, I deal with the monitoring and controlling of banking systems.
Assaf: I work for a high-tech firm, with Chinese clients.
What does the company do?
Assaf: Our product is VPN. The company's agenda is to make the internet transparent, so that everyone will be able to see the information as it is. We have a lot of Chinese clients, and the goal of our team is to ensure that they don't misuse the product – for example, to try to bring down human rights sites and things like that.
To put on a mask and spray internet graffiti.
Assaf: Something like that, yes. We stand on guard so that that won't happen.
Is that important to you? There are after all companies that infringe on human rights – those of gay people, among others.
Assaf: Yes. We place an emphasis on that. Even if we make a little less money, we prefer that the company remain as ethical as possible.
Leonor Bruges de Oliveira, 23; leaving Eilat, flying to Dubai
Wow, you have a great name!
Yes, I have a big name. I'm from Lisbon originally.
What were you doing in Israel, Leonor?
I worked in Eilat, in the "Wow Show." I do circus acts like Cirque du Soleil, and I'm moving to Dubai. Same work, different country.
How did you get into the circus?
I was a competitive gymnast, No. 1 in Europe in acrobatic gymnastics. I was supposed to quit, I had a knee injury and I was too thin for the weight categories in competitions, so I wasn't healthy. I wanted to keep doing what I loved, and I found the circus, which you can do until you're much older. It was always somewhere in the back of my head.
What's the difference between what you do in a circus and acrobatic gymnastics?
In the circus it became performance art. A competition is more robotic, the judges want something and you need to do exactly that. In circus performances, all you need to do is something you think people will like, and it doesn't matter if it's done well technically. As long as people enjoy themselves, you're doing it right. I needed to learn that, because I'd got used to trying to be perfect.
What do you mean?
A lot of times, you do something really difficult, but people don't understand that it's so difficult, so it doesn't have an effect. Sometimes you do something very simple, but people really react to it. You start to understand how people look at things, that they don't understand exactly what you did, that they've never done it.
What do you actually do?
I do a lot of different things. Here I mainly danced and did handstands. My specialty is called "hand to hand": It's me and a guy, who is usually stronger and bigger, and he throws me in the air, and I do flips and somersaults above him.
Is it scary?
Yes, a little, sometimes. But I love it.
Have you ever been injured?
Many times. There was a serious knee injury when I was competing, and one time I fell on my head. There are always minor injuries, but it's usual. I had one in the back, the wrist, nothing special.
What kind of people are in the circus?
There are people from every place and every background. Some of them get interested and study the trade; I came from the world of sports. I have a lot of friends who were born into a circus family.
Circus family?
The parents, the grandfathers and grandmothers, that's all they know. They travel a lot, so they're very open-minded. You do one show, and leave. When most people think about the circus, they think of a traditional one, but there is much more than a ring with animals. There are performances all over the world – on cruises, at big dinners, etc. It's part of the job; you don't stay in one place long.
Have you ever been in a place where you wanted to stay?
It's always hard to leave. I'm not crying now, because I've cried enough already. I always want to stay longer – but for too long? No. I always want to move around.
What's it like when your work is so physical?
Sometimes I have the feeling of "Wow, I need to go to work" – but it's not a feeling of real work. My family has regular jobs, and I know how different this is. I travel, I have very good conditions; I work two hours a day. I really have a good time when I'm working, which is amazing. I'm very lucky, it's a dream job.
How much impact does the audience have on you?
The connection makes you confident. With the masks it's a bit harder, because you don't see their faces, and it's hard to understand what people are feeling.
What do you think they're feeling?
When I'm dancing, I feel as though I'm having a good time, and people enjoy watching. Doing hard exercises – I think people are impressed, they see something they didn't know was possible. Sometimes they're afraid, because they get what you're about to do, but I always get a nice feeling from the reactions. Maybe it's in my mind, maybe it's just easier for me to perform that way.
ICYMI
Ken Burns' Brilliant 'The U.S. and the Holocaust' Has Only One Problem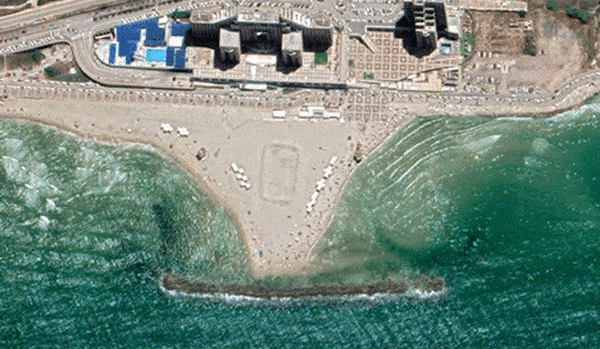 Facing Rapid Rise in Sea Levels, Israel Could Lose Large Parts of Its Coastline by 2050
As Israel Reins in Its Cyberarms Industry, an Ex-intel Officer Is Building a New Empire
How the Queen's Death Changes British Jewry's Most Distinctive Prayer
Chile Community Leaders 'Horrified' by Treatment of Israeli Envoy
Over 120 Countries, but Never Israel: Queen Elizabeth II's Unofficial Boycott