'I Have Yet to Experience Israel Outside the American Bubble'
An American programmer who immigrated to Israel because he felt it's where he belongs as a Jew, and an Israeli-Belgian dancer living between two worlds
Shmuale Mark.
Credit: Tomer Appelbaum
Shmuale Mark, 25; lives in Tel Aviv, arriving from Maryland
Hi Shmuale, what were you doing in Maryland?
I came on aliyah three years ago, when I was 22, and now I was on a family visit. A nephew was just born.
Why did you decide to make aliyah?
I felt that I belonged here, that this was my place as a Jew. Even when I was in high school, I felt that I wanted to come here, enlist in the Israeli army and build a life in this country. Also to raise a family at some stage.
I see you're wearing a kippa. The spectrum of Judaism in the United States is different from what it is here, right?
In the United States the Haredim, and the national-religious community are more mixed with one another, and the secular Jews have hardly any connection to Judaism at all. Here, even secular people pay attention to Judaism in some way.
How did you define yourself there?
There I defined myself as Modern Orthodox. That means that we observe the mitzvot, keep Shabbat and all that, but we are also part of American society. A little like the national-religious here.
What did you do before coming on aliyah?
I studied computer science at university and then I came to Israel and enlisted in a combat unit – Nahal [a brigade that combines infantry service with civilian work in a town or settlement].
You were older than the other soldiers. Did you feel you had a different perspective?
Yes. Everyone understands that there are problems in the system, understands that mistakes are made and that not everyone is perfect. I may have succeeded in understanding that better because of my age.
Were you afraid of things you saw during your military service?
I think my service was meaningful, but not all that much happened. I saw things happening that made me very sad, but there was nothing that broke my heart. Those who served with me have now been discharged and are thinking about what to do – study, travel. And I already have a degree and I've started working in high-tech, as a programmer. That's what I wanted to do; for me it's a dream that came true.
High-tech is a bit of a Western bubble in Israel.
It's interesting to have gotten there despite the fact that I really was an American – I am still an American, actually. The truth is that I haven't yet experienced this country outside that bubble. There was a long period when I was in an American bubble with American friends, when I got to the kibbutz with other lone soldiers like me. It's a bit hard to leave that bubble. Most of my friends in Tel Aviv are also in high-tech, it's been a big part of my life here until now.
You were on a kibbutz with lone soldiers?
During my army service I lived in Kibbutz Sde Eliahu. They take in people from Garin Tzabar [a program for young adults who immigrate by themselves and serve in the IDF], people like me from the United States and from a few other countries who want to make aliyah and enlist. I had an Israeli adoptive family there, which helped me leave the bubble a little.
What's it like, becoming part of an adoptive family?
I love them and they love me, but it's not simple. In my own family, I was always the youngest, and suddenly I had 6-year-old brothers. I'd never spoken with small children. And when I got here I didn't have such good Hebrew, so it was hard for me to talk to them – but the main thing is love. If that exists, you can get through anything.
How do you develop love for people you don't know and whose language you don't speak?
You sit down at the Shabbat meal and understand that there is love there. They really cared about the fact that I had arrived here in order to serve. And you care that they have opened their home to let you in. That's exactly the culture I like here.
How did your parents react to your immigration?
They were used to it, because my brother made aliyah 10 years ago, but it was hard for them with me, because I was the youngest of five. I leave the house and they're alone.
Do you see your brother here?
He lives a 10-minute walk from my apartment in Tel Aviv.
That's terrific. Has his decade in Israel turned him into an Israeli, for you?
Maybe not exactly, it takes time. I'd say that he's a lot more Israeli than I am. He feels more comfortable about behaving like an Israeli.
Oriane Gidron, 24;lives in Brussels and flying there
Hi, Oriane, where are you headed?
To Belgium. My father lives in Israel, so I come to visit every year at least, but I live in Belgium. Am I leaving home or returning home?
What do you think?
Leaving home and returning home. My father is Israeli and my mother is Belgian. I was born in Israel and I lived here until age 6. Then we moved to England, then to Belgium, and now I live in Europe.
Do you feel divided?
I belong to both worlds. Now I am returning to Belgium and I will be in shock. I'll think, "What's the deal with these Belgians? This isn't me." And when I come here it's also a shock – the way Israelis are…
When did your father come back to Israel?
Two years ago, right before the coronavirus. My parents hadn't been together for a few years. He waited until all of the children were over the age of 18, and then he decided he was returning to Israel.
What was that like for you?
Mostly good, because I know how much it suits him. Life goes on. I have also become independent and am continuing by myself, I don't need parents for everything.
What's it like to see your father once a year?
Different. Intense. It's more special meeting him once a year, because I'm really coming to see him. He works, but we do outings, we do Shabbat, see family, go out to eat; we enjoy ourselves. We take the time to be together.
Does he look different to you after a year?
Now that you ask, yes. He was also alone for a while, without the children. He found himself. All those years as an Israeli abroad didn't suit him.
Did you feel that when you lived in Europe? That Dad was ....
A stranger? Yes. He would also tell me that. The accent, his French, little things. Let's say, in terms of clothing, in Belgium people go everywhere dressed well, and here it's jeans. Or in Belgium, I always learned how to write emails properly, with "Dear, blah blah blah," and where the comma and the period go. I really worked on the emails, looked to see if they were correct, professional; I'd forward them to friends to be checked before sending them off. Here in Israel you call someone or send a WhatsApp message, and that's it. Things that were natural for me, seemed odd to my father.
So what do you do?
I just completed a degree in dance at the Academy of Theater and Dance in Amsterdam, and when I get back I'll start an instructors' course in yoga. The degree included anatomy, music, philosophy; you learn a lot about the theories behind dance. Naturally it's also very physical. I danced every morning for three hours minimum, and sometimes in the afternoon as well.
What is philosophy as it relates to dance?
It's communication. It sounds like a cliché, but there are people who experience emotions in painting or singing. With me it's in how I move. I let it all out with energy and it comes out as dance.
Is there such a thing as Belgian dance?
The type of dance I learned is modern, which is specific. In auditions I always see who comes from what country by the way they dance.
How do people dance in different countries?
It's funny, because it's tied to culture. You see that the French will be perfectionists, but with less personality. You see it immediately. They will be in the front row and will show themselves, but they won't open their heart. Belgians laugh at French people for being humorless.
And Israelis?
Israelis are big, they're a force… a bit off-putting, but also in a positive way. It's beautiful, it's "Wow – they don't care, they don't care what it looks like." It's like being loud, but with the body. Totally in keeping with their culture.
Japanese?
They're tougher on themselves, they won't try to do something different. The teacher will tell them to do it this way and it will be robotic. They won't add anything of themselves to it.
Americans?
Creative, perfectionists – they're good.
Where are you on the scale between Israeli and Belgian, in dance?
I didn't want to have a specific style, so I took something from the Israelis and the Belgians and the Dutch. A lot of dancers do that. I'm a combination. I can be a perfectionist and do what I'm told, but I've worked on being big and gross and not being perfect – just to do what comes out.
Click the alert icon to follow topics:
ICYMI
Ken Burns' Brilliant 'The U.S. and the Holocaust' Has Only One Problem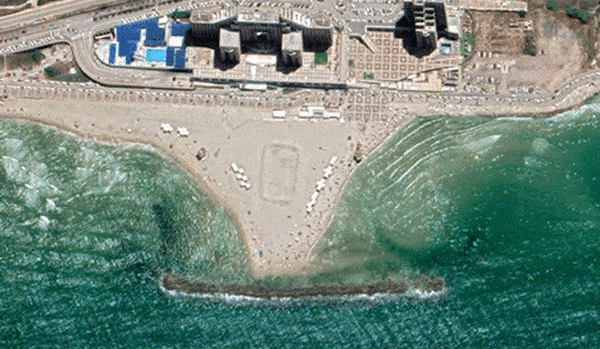 Facing Rapid Rise in Sea Levels, Israel Could Lose Large Parts of Its Coastline by 2050
Lapid to Haaretz: 'I Have Learned to Respect the Left'
The Mossad's Fateful 48 Hours Before the Yom Kippur War
As Israel Reins in Its Cyberarms Industry, an Ex-intel Officer Is Building a New Empire
How the Queen's Death Changes British Jewry's Most Distinctive Prayer