'I Was Intrigued by Israeli Culture. So I Wrote My Thesis on the New Israeli Male'
This week at the Tel Aviv airport: A French-Israeli couple that was brought together by a dating app a day before the first COVID lockdown, and a father dealing with his son's choice to become ultra-Orthodox
Shai Levi and Anne-Solenne Lea.
Credit: Tomer Appelbaum
Shai Levi, 28, and Anne-Solenne Lea, 27, live in Tel Aviv; Anne-Solenne is arriving from Paris
Hi, what are you doing here?
Shai: We're a couple. I'm here to pick up Anne-Solenne after almost a month of being apart.
How did you meet?
Anne-Solenne: We met a year and a half ago via Bumble [a dating app], a day before the first lockdown. Because of the lockdown we didn't meet again, we only text-messaged for a month, and then we met outside an am:pm [Tel Aviv convenience store chain], because everything was closed.
A first date at am:pm?
Shai: We sat between buildings, it was a date of five-six hours. I think we brought beer from home, because it was after 11 P.M. and we couldn't buy alcohol.
Anne-Solenne: I moved in with Shai after four months. It was a bit unexpected, but I'd wanted to leave my place, and his roommate had just left, so there was an opportunity. We thought that, worst case, what could happen? We'll give it a try, and if it works we'll stay together, I'll submit a visa request and stay. Because we met when everything was shut down, we became very close fast. We spent a lot of time together; we slept at each other's place almost every night from the first date. It was natural.
What were you doing in Israel?
Anne-Solenne: I was working at the French Institute in Israel. In France, if you're under 28, you can submit your candidacy to work in any embassy or state institution. It can be scientific or cultural projects, a lot of things. I submitted a request for Tel Aviv. I really wanted to get here, I wanted to live here. I simply felt that I wanted to experience it.
Can you say why you felt that?
Anne-Solenne: I wrote my thesis on the political culture in Israel, and on how, after 1948, Israel created an entire cultural system to forge the new Israeli male, something beyond being just Jews. The new male, the sabra, is strong, proud, someone who's not be afraid to fight in a war.
Why did you choose that subject?
Anne-Solenne: I have no idea, no one in my family is Jewish, I have no connection to Judaism. I was simply intrigued by Israeli culture. I did a year as an exchange student in Istanbul, and thought about traveling to Israel. That was six years ago. My friends and I knew all kinds of political things about Israel, but we wanted to come here with an open mind. We arrived on Independence Day and we were just shocked by the way people were super-national everywhere, and didn't understand why. It was only later, when I started studying in Jerusalem, that I grasped that it was an exceptional day.
So you wrote a thesis about the emergence of the Israeli man, and now you're going out with one. What's that like?
Shai: That's a question I've asked her about 25 times.
Anne-Solenne: The main difference I see is that it's a bit hard for Israeli men to talk about feelings. But I think that everything is simpler, more direct. That's truly part of Israeli culture: If you want something, you say it. I learned that from my stay here and also from Shai, that if you feel something, why not say so? If you want something, why not say so? No one will get hurt.
Shai: It's a question of how cultural disparities effect relationships. It's hard for me to point to big differences at the level of a romantic relationship. I don't feel a difference in terms of what it involves but I can point to a difference in communication. There's a constant disparity between communicating with a person who speaks your mother tongue, and someone who doesn't, even if they have learned it – and Anne-Solenne is learning Hebrew and also speaks it pretty well. But there will always be a gap in communication, which can sometimes lead to misunderstandings and quarrels. On the other hand, I believe that this is one of the fun things we have. Just hearing the French language every day is a delight; it compensates for the lack of communication.
What does it mean to quarrel because of lack of communication?
Shai: After we chill out, we wrap up our quarrels with a seal of, "It was lack of communication and nothing else." It's not a case of meaningful things that are engraved for all time, but everyday things. And there are the fun things, which are created because I live with a human being whom I love and who comes from a slightly similar but also different place. That generates constant interest, and I love that. I love the fact that I am not living with someone I am so familiar with, but someone who can tell me new things about the world. Whether it's art or history or anything else connected to the place she's from.
Mitchell Greenberg, 55; lives in the Baltimore area, flying to New York
Hi Mitch, what were you doing in Israel?
I visited my son. He's 29, and 10 years ago he became religiously observant. He is Haredi [ultra-Orthodox].
What's that like?
It was hard at first. Now it's hard sometimes.
Were you surprised when he turned religious?
He was a hippie-marijuana-smoking-atheist. When he got off the plane, after his first year of college, he had started to wear a kippa and he said he wanted to become a Haredi rabbi. There is some logic to that, because he was actually searching for something all the time. And he found the most restrictive life possible.
How did the family react?
We were open to how weird it was. I had a bar mitzvah only because I felt I was obligated to. Our whole family is like that.
It sounds very Israeli, not American.
My ex-wife went to the Maccabiah Games 20 years ago. When she got back she told me, 'You should have been an Israeli. You would have loved it. You're disgusting, impulsive, say whatever you feel like saying, you have no filters."
So what did you do during your trip here?
My son got married two years ago, his baby daughter was born in May. He's already given his wife a get [bill of divorce] and he's miserable. Her father is one of the rabbis at his yeshiva, and they are really pressuring him, so I said I would come to help. And I did.
Pressure? What do they want?
They don't want him to see his daughter for a year, because it will stress out his ex-wife. Not because he's a bad father – he's a very good father. There's a lot of pressure. My son wants to be loved, and it's really driving him crazy.
How did you help him?
I kicked their asses. Just kidding! We held a mediation meeting and we talked. They had had a mediation meeting that he hadn't told me about, until he called me midway through and said he wanted to read me a contract over the phone. I told him that I don't do anything that way and that he should send the contract. He sends it – it's in Hebrew. I told him to translate it for me – he can't do that now. The contract he almost signed compels him to give a lot of money – he earns zero, so any amount is a lot – and to forgo seeing his daughter for a year with no promise that afterward he'll be able to see her again. I told him not to sign anything, and that I would be there in another six days. You didn't expect all this, right?
You look calm, as though all of this didn't happen to you.
When I was speaking on the phone, during the mediation meeting, I was in my office, and a colleague looked at me and said, "Don't break anything!" I wanted to hit my son in the face. What an idiot! I told him to get out of that office, and he didn't leave. So I got my mother and his mother on the line. They told him, "You have to respect your parents, it's a law. If your father tells you to do something, you do it." He still didn't do it. But I expected that I would arrive and things would go well, because that's what I do. I'm a lawyer, I fix things.
You don't look like a lawyer.
So I've been told.
What's it like to see your son becoming religiously observant?
I understand it. He and I were best friends. Even when he was a drug-smoking hippie, he never hurt anyone. He was useless during that period, but he's super-smart. We could talk. He was judgmental about everyone who wasn't a vegan hippie – but now, the judgmental thing? Nothing is right if it's not his way. He told me that I am absolutely against his religion, and I told him that I'm against all organized religions, but that his has absolutely turned him into shit. You think that God is behind you, and that's twice as bad.
Is he like you?
Yes, he's very much like me.
Were you afraid you would lose him?
Six years ago we had an argument and he said to me, "How can we communicate? We have nothing in common anymore." My whole body went cold, and I thought how easy it would be not to see him again. So easy! He lives on the other side of the world, he doesn't use the phone. I realized how fragile it is, how easily I could lose my son. So I said to him, "Look, we don't have to have a lot in common. We don't have to believe in the same things. What I love about you is your passion, and you know that I have passion. They don't have to be the same passions. We have common memories, and that should be enough." It worked out. But for a moment my balls were in my throat.
Click the alert icon to follow topics:
ICYMI
Ken Burns' Brilliant 'The U.S. and the Holocaust' Has Only One Problem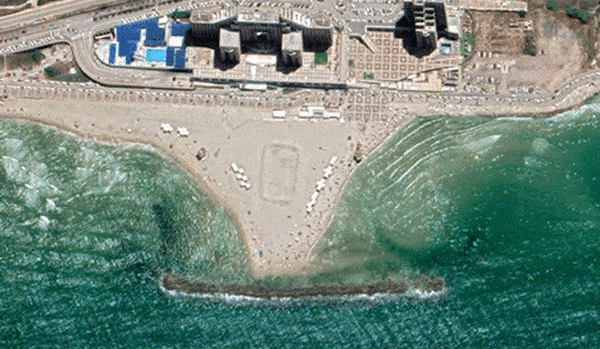 Facing Rapid Rise in Sea Levels, Israel Could Lose Large Parts of Its Coastline by 2050
As Israel Reins in Its Cyberarms Industry, an Ex-intel Officer Is Building a New Empire
How the Queen's Death Changes British Jewry's Most Distinctive Prayer
Chile Community Leaders 'Horrified' by Treatment of Israeli Envoy
Over 120 Countries, but Never Israel: Queen Elizabeth II's Unofficial Boycott