'You Can Be Gay in Russia – in Secret. We Wanted a Normal Life, So We Moved to Israel'
This week at the Tel Aviv airport: A tango dancer who left a life of oppression behind in Russia, and a jazz composer who wants to make it before he's 30
Otar Bagaturia.
Credit: Tomer Appelbaum
Otar Bagaturia, 34; lives in Givatayim, flying to Georgia
Hi Otar, what have you been doing in Israel?
I'm a new immigrant from Russia. I moved here three-and-a-half years ago with my husband. We didn't want to live in Russia, and my husband is Jewish, so we were able to make aliyah. We are the fourth same-sex couple to make aliyah from the former Soviet Union. The Russian embassy in Israel didn't want to let us make the move; they said that my husband has to come first, and then, in six years, I would get citizenship. But the law says that if you're married to a Jew you can enter the country and get an ID card. So we did it through the Interior Ministry. It took half a year and a lot of paperwork, but we succeeded.
What's it like being a same-sex couple in Russia?
You can be gay in Russia and live a good life – if you are successful in other fields and don't live in a small city. You can create a close circle of people around you and be free in your bubble. But if you want to be open about it and become parents, to live a family life, then it's a problem. I know couples who live together in secret and tell their children not to tell anyone that this is their family. We didn't want that. We wanted to raise a family and live a normal life.
What do the two of you do?
We teach tango, both regular tango and queer tango. Tango is a very hetero-normative dance: The man leads and the woman is led, and in queer tango we break that pattern. In queer tango you can be a man who's led, you can dance in same-sex couples. We did it in Russia, and we brought it here.
What were the reactions to queer tango in Russia?
They were mostly all right, but there was a group that really hated us. There's a big tango event called Milonga, and we were able to participate in it, but there were events that same-sex couples couldn't participate in. When I started to do queer tango, I wasn't very good and I had to prove myself to everyone. Here you can be an average dancer and dance with a man, and no one cares. It's amazing. You don't have to be the best in order to survive. In Russia I had to be a very good dancer in order to be able to dance with my husband.
What were your fears before you came to Israel?
I was afraid of how it would be to be gay in Israel, because I knew it's a relatively religious country, but I was happy to discover that it's only in my head. I can hold hands with my husband in the street without any problem, but I still look to see who's around us. That's a habit I'm trying to break. In Russia it's dangerous to hold hands in the street. Some crazy person might try to attack you. It's really scary.
When did you decide that you didn't want to live in Russia?
I started thinking about it when I was 18. When my husband and I began living together, we started to talk about it. Israel was the simplest option for us, because we didn't want to ask for asylum in another country and live in refugee camps. In Russia I worked as a dentist. When I had to decide what I wanted to do in Israel, I decided that I didn't want to bring along a whole bag of things that I don't like anymore.
Do you think you'll go back to being a dentist?
No. When I'm asked why I did it, I say that I was young and needed money. I come from a family of physicians, very conservative. In a conservative family you can be a lawyer, a doctor, a dentist or an accountant. Those are the options you have.
How did you start dancing?
I trained in karate for many years, and then realized that I didn't want to fight any more. I was surprised to discover how similar tango is to karate. The energy is different, but the postures, the movement, are very much alike. The feeling in tango can sometimes be like in war, but it depends on the emotion you bring to the dance. The sexual tension is always there.
What do you like about tango?
It's all about connecting and moving together, like a close relationship of three minutes. You can learn a lot from it, like in therapy. It's a social thing; you don't dance with one partner but with many people. There's a tradition regarding how to invite someone to dance – not with a hand gesture but through eye contact. That's hard for people, because in real life you don't stare at someone you don't know.
What have you learned about yourself through tango?
I saw how afraid I was to touch, afraid to connect with someone I didn't know, afraid to get close, afraid to start a conversation. Tango shows you what you need to work on in yourself. I learned how to be in close contact without being afraid of what was going to happen.
Shimon Gambourg, 26; lives in New York and arriving from there
Hi Shimon, what were you doing in New York?
I've been living in the United States for five years, two of them in New York. I did an undergraduate degree at Berklee [College of Music, in Boston] and now I'm doing a master's in jazz composition at the Manhattan School of Music, and after that, inshallah, a doctorate.
What led you to study abroad?
In the past only the stars of "Good Old Land of Israel" music would go abroad to become professionals, but now anyone can do it. Everyone who goes to Rimon [School of Music] finds themselves there. I was at Rimon, too, and I went on to Berklee, because it was natural. What could I do? They gave me the scholarship and told me to come. So I told my mother I had no choice, salamat, see you. After the bachelor's, I said I would do the master's at the school I always wanted to go to.
Why there?
The school accepts two composition students a year, all the rest are instrumentalists. There's a fusion between composing and playing, so that's why I went there. It pushes you to express yourself as an artist, so you'll have the whole package. People in Israel who have the whole package – like Yoni Rechter, for example – are the ones who stay around for generations.
What's special about composing jazz?
It's a niche; no one in Israel really does it. In jazz you have an ensemble, and in the ensemble are people who are souls, improvisers – each of them has a personality. And you need to find the platform to give them in the framework of your melody. If you don't find a platform to give your people, then what difference does it make who they are? And if you find too much of a platform to give them, then it also doesn't make a difference.
Are you okay with them not sticking to what you composed?
I'm pretty awful with that. A month ago I did a session with an orchestra and I was ticked off because I wanted them to play one thing and they wanted to play something else. But in the end, if you're too nasty to them, they don't give you what they're good at.
You've managed quite a bit relative to your age.
The young guy at the Israel Philharmonic, Lahav Shani, took over from Zubin Mehta when he was just 30. If I get to 30 and I don't have a job like that, I'll feel that someone is breathing down my neck. I have all kinds of friends who made it. Before Rimon and the IDF orchestra, I was at Thelma Yellin High School for the Arts, and that's the worst. You're 15 and all around you are people who have already done so much. [Actress] Shira Haas was in my class. I have plenty of friends whom I study with now, and they're all three years younger than me – it's hard to explain to them that I was in the army for three years.
How did you get to jazz in the first place?
I started playing an instrument at age 13, which is considered very late. That I got into Thelma wasn't obvious, because there, by 15, you're supposed to know what you're doing. I had friends who grew up playing an instrument, because that's what their parents wanted for them. I felt that if they're doing it, maybe I'm missing out. At a certain stage they grasped that maybe I'm talented at this and that it's worthwhile for me to go that school, and from there everything started to roll. From high school you go on to the IDF orchestra and from there to Rimon. After that you go abroad to get a degree or two, and it keeps going.
What's your goal?
The goal is for me to have a band in New York and to record my stuff and to succeed like the three artists I know who are succeeding at it. To do what I love and somehow get by.
Do you still enjoy what you do?
I always enjoy it. At school it was hard at first, but I found new things to take an interest in. If you're curious, then school is a good idea; if you are withdrawn, you don't need school. Everyone I know from Thelma didn't go on to school; they just moved to New York and made it on their own.
What type of people are studying with you?
At Thelma it was very easy to spot jazz folks. Everyone comes from the same background, we're all Israelis, most of us are Russian. In the United States it's harder, because they're American kids who from a young age played and listened to jazz, and it's their tradition.
Besides school, what awaits you in New York?
A girlfriend. She's in school with me, we met on the first day, and it's continued from there. We both play double bass, so we're in a kind of competition. Musicians' relationships mostly don't work, but if they do then it's probably good.
Click the alert icon to follow topics:
ICYMI
Ken Burns' Brilliant 'The U.S. and the Holocaust' Has Only One Problem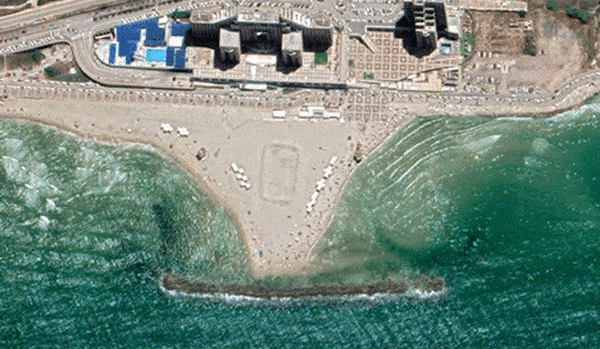 Facing Rapid Rise in Sea Levels, Israel Could Lose Large Parts of Its Coastline by 2050
As Israel Reins in Its Cyberarms Industry, an Ex-intel Officer Is Building a New Empire
How the Queen's Death Changes British Jewry's Most Distinctive Prayer
Chile Community Leaders 'Horrified' by Treatment of Israeli Envoy
Over 120 Countries, but Never Israel: Queen Elizabeth II's Unofficial Boycott