Eurovision Chief Defends Next Year's Contest in Israel: 'We Don't Want to Be Used Politically in Any Way'
Jon Ola Sand, the man who essentially runs the contest, predicts in a visit to Israel that BDS activists won't flood the country next May – but warns that the city's reputation will suffer if there's not enough lodging for foreign fans
EBU director Jon Ola Sand in Tel Aviv. "The best way to present Israel to the world will be to do so without political intervention and without manipulation. People will spot it the moment it occurs."
Credit: Meged Gozani
Two sworn enemies met for the first time last week: Eldad Koblenz, CEO of Kan, Israel's public broadcaster, and Prime Minister Benjamin Netanyahu, who has threatened repeatedly to shut the corporation, mostly because Koblenz was chosen to head it. Presiding over the tense meeting in Jerusalem, at which the two said little, was Jon Ola Sand, executive supervisor of the European Broadcasting Union – the man who runs the international Eurovision Song Contest.
As Israeli singer Netta Barzilai proved in her victory in the last competition, held in Lisbon, Eurovision has much greater power than one might imagine. Indeed, Netanyahu gave up his plan to separate Kan's news company from the rest of the corporation once he understood such a step could hurt Israel's chances of hosting the 64th annual event, slated for May 14-18. Moreover, he suggested that Culture Minister Miri Regev backtrack on declarations about the contest being held only in Jerusalem.
Netanyahu and his ministers were also angry that Sand's EBU had demanded a written statement to the effect that Israel will not deny entry to any tourists arriving for the competition for political reasons. The Israelis insisted they wouldn't sign any such document, but the prime minster did exactly that. Next May, he will smile all the way to the song festival at the Expo Tel Aviv convention center.
Sand, a 56-year-old Norwegian, is aware of Netanyahu's opposition to Koblenz's corporation and understood he was in a minefield, but managed to maintain as professional and friendly an atmosphere as possible at their meeting. His job, after all, is to serve as the envoy of a contest that is dedicated to the systematic abstention from anything involving politics.
"There was a lot of noise during the first weeks [after this year's competition, in May] and all sorts of people tried to intervene but that's only natural," he tells Haaretz. "It's nothing new that politicians make all sorts of declarations. The moment we declared it would be in Tel Aviv, everyone accepted it."
People kept quiet because you threatened that if they continued to intervene, they would be preventing Eurovision from being held in Israel.
Sand: "We cannot permit the contest to be politicized. We were very clear about that. It seems that now everyone understands that Tel Aviv was a good choice. Jerusalem hosted the event twice before and in Tel Aviv, which has proven itself in hosting diverse cultural events, it will be much easier to deal with the issue of Shabbat.
"Even politicians understand that if they try to politicize Eurovision, it won't look good. The best way to present Israel to the world will be to do so without political intervention and without manipulation. People will spot it the moment it occurs."
Can you ensure there won't be any political speeches at Eurovision?
"Definitely yes."
Sand noted that all the countries hosting Eurovision in recent years have had to sign similar documents regarding admittance of guests from abroad.
"It's the same letter. It goes to Sweden. It goes to Denmark. It goes to Germany, Portugal, Ukraine. We've had it every year. And the reason for this is that if we don't do it every year, it will be like, 'Why are you doing it [only] this year?' It is as important for us that this is in place wherever we are because this is the framework for the Eurovision Song Contest," he says.
"The letter is not only about that but it's also the security guarantees we need. And with that comes also the ability for this contest to move around Europe. We have to be able to move it to any territory, and that's why we have to have a framework set up."
Soldiers of love
Last month, Israel's Supreme Court ordered the authorities to admit American student Lara Alqasem into the country, after the state had detained her for more than two weeks at Ben-Gurion International Airport, claiming that she was a boycott, divestment and sanctions activist. Sand is aware that a BDS activist who is a Eurovision fan may want to see the competition in Tel Aviv, but says it's too early to determine policy regarding such a scenario.
"I'm not ready for that discussion now because this is something we have to look into," he says. "It's not about me, what I would think about it. It's more about the dialogue we will have with the government from now and onward. It is also about seeing the whole security picture and how this could be handled. "
Pressed about whether his union would oppose BDS activists coming to Eurovision, he says: "We don't want the Eurovision Song Contest to be used politically in any way. So, if you're an activist and you come because you are an activist using Eurovision to promote your value or your standpoint – we don't see that as positive. So, we would like everyone to come here to focus on the event itself."
A few days after Netta won the competition, there was an article in The Guardian. It said even though the Eurovision always tries not to be political, the point that the Eurovision will be hosted in Israel makes it political from the very start. How are you going to deal with it? Because we've already seen protests in Ireland and Iceland.
"I cannot do anything about the perception – what people think about the Eurovision Song Contest in Israel. It's a fact that we will be in Israel. And it's a fact that the three TV shows and everything we do around the TV shows here will be nonpolitical. That is what we can safeguard."
Added Sand, "I cannot tell people in Ireland what they should think but as an organization we have a promise to our participating broadcasters to keep the shows free of politics. I see no boycott movement at the moment, [among any] of our members, and we have to remember there aren't countries participating: There are broadcasters, and none of these broadcasters has mentioned anything about boycotts to us. No one."
In Ireland there was a broadcaster that told its employees that if anyone doesn't want to go to Israel for Eurovision, they will allow it.
"That's also fine, if there are people who don't want to go to a certain country. [When the 2005 contest was held] in Ukraine there were people and broadcasters who were afraid of going there because of the war situation. Of course, you don't force your staff to go there. So that's fine. That's totally different from boycott."
"I don't understand the pink-washing. You can consider it a gay TV program, but it's not," he insists. "We have a couple of thousand gay followers, but out of the 200 million viewers. This reach is so broad. It reaches a lot of young viewers and old viewers. So we are not specifically focusing on a gay audience. Our demographic is so wide, so spread [out]."
Love shine a light
"Some countries like the Nordic ones have a very strong license fee, so they are financed by license fee alone, no commercial income, no advertising. [It's] not at all allowed to receive government support for programs. It's forbidden," he says, adding that host cities often donate funds, but they can't be used for the broadcast itself, rather just for the venue and certain events surrounding the contest.
While the zeitgeist in Europe these days is tending toward more nationalism and extremism, from Brexit to Hungary, Sand says he doesn't fear any threat to the concept of Eurovision, which sees Europe as a continent whose countries work together.
"I don't think [that trend is] a threat for Eurovision," he says. "I think Eurovision is more important than ever ... I have no feeling that the song contest will not stay strong in all this. Again, I see no signs that this is putting a pressure on Eurovision. I don't see that now and I believe that Eurovision can be more needed than ever to showcase what we can do together and the unity of Europe."
We note that one country that no longer demonstrates unity and standing together is Turkey, which withdrew from the contest in 2013. Sand doesn't see that country, which won Eurovision in 2003, returning anytime soon: "I see no sign of that. We are all very sorry that Turkish broadcaster is not participating anymore. They brought a huge audience, they brought a flavor to the song contest. They were always well prepared, always good acts, very strong artists."
Some participating counties like Belarus are actually dictatorships. Don't you care about the inner democratic processes of the countries that participate in Eurovision?
"The Eurovision Song Contest is [held] among member broadcasters – not states in Europe. It's the broadcaster in Belarus that's participating. We know that broadcaster and we are cooperating with the broadcaster. The rule is that if you are a member of the EBU, you have to comply with certain standards as a broadcaster, and we also think it's really good that in some countries the broadcaster could be under pressure and being an EBU member could help them.
"We have an excellent relationship with the broadcaster in Belarus. I see how important this event is for the broadcaster, and by that I think we are supporting the public service sector in that country."
You know that the prime minister in Israel has said that he would close Kan.
"We have followed this very, very closely. This is what we do. We help our member broadcasters to stand strong."
My impossible dream
One of the problems that arose regarding hosting in Tel Aviv is the lack of hotel rooms and other accommodations. Prices are already soaring. Sand asserts that his broadcasting union is trying to ensure that there will be lodging for the participating delegations and journalists attending the contest. The problem, he admits, is that the problem could make Tel Aviv end up looking bad.
"What we can do is secure enough hotel rooms for the delegations, and also for a contingency [involving] the press, and for some VIPs. We have managed to do that, so we will have no problem, but the price structure is a real problem. And we might even see that delegations will have to live in other places outside Tel Aviv.
"This will be a reputational issue for Tel Aviv, because everyone will talk to their broadcaster who will say it on the evening news. It will be a reputational problem. I hope that Tel Aviv can see this, but I don't know if it can fix it."
The contest will be held in the Expo convention center, whose capacity is fewer than 10,000 seats. Some observers expect that many of the arrivals will end up outside the hall. So what will tourists do if there are too many fans?
"First of all, we sell out nine shows because you can see the dress rehearsals. There will be three shows each day."
About Netta, do you think the message in her song, "Toy," was actually important in terms of her winning or was it more about the performance?
"I've always said that you need to have all of it. You have to have a message that is understood one way or another by the audience because if they don't feel it, [if it doesn't] touch them – they don't care. It can't only be spectacular. It also has to get a message out, and I think Netta had a really good message but she had a fantastic performance, and she created a 'wow' moment. And you need that moment, where both the TV viewers and the judges say 'wow.'"
Do you think the #MeToo movement was important?
"I don't think people are [so] analytic about it when they vote. They don't say, 'Oh, this is a #MeToo song.' But the underlying message was there, and I think that was what was captured. It was really something that touched them."
Last question: If you could choose to have dinner with any of the winners of the Eurovision, who would it be?
"Well since I had dinner with (ABBA's) Björn Ulvaeus and I've met with Johnny Logan several times, I've met Alexander Ryback many times. Mans Zelmerlow, I know very well. I regret I didn't have a chance to have dinner with Lys Assia, the first winner of the Eurovision Song Contest. She attended all the song contests. She won in 1956. She died last year. She was a grande dame, a real lady. By winning the first song contest, she became an icon. I regret that I never had the chance to do that because if I had, it could have been really interesting."
Click the alert icon to follow topics:
ICYMI
Ken Burns' Brilliant 'The U.S. and the Holocaust' Has Only One Problem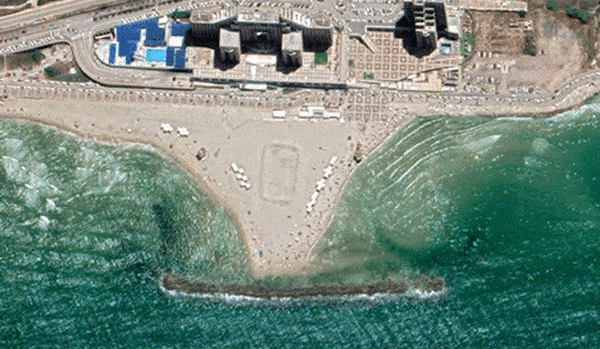 Facing Rapid Rise in Sea Levels, Israel Could Lose Large Parts of Its Coastline by 2050
Lapid to Haaretz: 'I Have Learned to Respect the Left'
The Mossad's Fateful 48 Hours Before the Yom Kippur War
As Israel Reins in Its Cyberarms Industry, an Ex-intel Officer Is Building a New Empire
How the Queen's Death Changes British Jewry's Most Distinctive Prayer