Analysis |
When Lapid Talks About Two-state Solution, He Isn't Talking to Mahmoud Abbas
Reindorsing the two-state solution, the Israeli PM sought to win left-wing votes, but even if he wins the election he'll have to form a coalition with MKs who oppose a Palestinian state ◾ Netanyahu has created an alternative Likud, another significant milestone in the transformation of the party to a one-man, one-family movement
What is it that a party head can want for himself in the midst of an endless election campaign if not to generate discourse, set the agenda, spark ideological debate, kick up a "storm" (that will die out even before Rosh Hashanah)? Prime Minister Yair Lapid managed to obtain this holiday gift for himself Thursday night at the UN General Assembly. A few generic sentences about the need for a two-state solution "on condition that the Palestinian state will seek peace and not become another base for terror" has incited a godawful riot in our little shtetl straight out of "Fiddler on the Roof."
Is anything still left of the Israeli Left? Listen to Nir Baram
Subscribe
Turns out that the tried and true Pavlovian conditioning hasn't rusted after years during which the cause of it was growing moldy in the attic. Everyone played their role in the show: On the left, they welcomed (even if with gritted teeth for reasons to be explained below), on the right they fulminated, in the center they ignored and the speaker's people partied.
Israel's Arab voters can decide it all. Do they want to? LISTEN to Election Overdose
Subscribe
It doesn't matter that Lapid had said these things about two months ago standing beside Joe Biden in Jerusalem. It doesn't matter that on that same platform in 2016 Benjamin Netanyahu announced he "remained committed to the two-state solution," urged Palestinian Authority President Mahmoud Abbas to meet, invited him to make a speech in the Knesset and himself to the parliament in Ramallah. It doesn't matter that four years later he inaugurated with Donald Trump the "deal of the century," the bottom line of which was the same: two states.
Nor does it matter that Lapid's statement in and of itself is of no practical significance and of zero probability. There is no partner. Abu Mazen is edging towards the end, the West Bank is crumbling between his fingers and even if Lapid does manage to form a government after the election, it will have to include elements that are opposed to a Palestinian state. Incidentally, what difference does it make that this is Lapid's known position, especially ever since he realized that disguising himself as right-wing was useless? In this pasture there is no grass for Yesh Atid, there never was and there never will be.
The emotions that exploded in the wake of what was reported a day before the speech, so it might occupy an entire news cycle before Friday, Saturday and a long holiday, were excessive. Just as previous Prime Minister Naftali Bennett voiced his contrary view at every possible opportunity, whether in a proactive statement or by demonstratively ignoring the issue, so his successor is entitled to express an opposing view. New Hope's Justice Minister Gideon Sa'ar and Housing Minister Zeev Elkin, along with the heads of the rightist wing of the National Unity Party, expostulated. Finance Minister Avigdor Lieberman of Yisrael Beiteinu joined them – he too has the election on his mind. Defense Minister Benny Gantz and former chief of staff Gadi Eisenkot, in the other part of National Unity, kept mum.
Eisenkot is on the same page as Lapid. And Gantz too is more or less there. If Lapid hoped to reveal the stitching between them, he succeeded. He hopes not only to reveal it, but also to grab – votes. Ultimately, the story is entirely political. Forty days before the election, the prism reflects just one value: EVERYTHING is political. Welfare is political, crime is political, economics is political. Even a drunken bride who embarrasses a famous crooner is political. When the interim prime minister and head of Yesh Atid declares his support for the two-state solution, he is talking partition but thinking occupation. Lapid is marking out territories he is intending to annex: territories of the left-center. At the moment, this is his motto: The party first, the bloc later.
The veer to the left is aimed at Meretz and Labor voters and at the left side of National Unity. Lapid aspires to more than the 23 or 24 Knesset seats the public opinion polls are expecting for him. If he succeeds in shaving at least one seat off the three slates (his maximum was and remains his breakthrough in 2013, with 19 seats), he will come out happy. Meretz head Zehava Galon, Transportation Minister Merav Michaeli of Labor and Gantz, less so.
In retrospect, it is possible to understand the inputs the prime minister invested in the attempt to unite Labor and Meretz. He certainly knew what he was going to say at the General Assembly and preferred that the two parties to his left run together, so that neither would be demolished and now he is gambling that neither will fall below the electoral threshold. And even if that does happen, he has been and remains a long-distance runner. Netanyahu will form an ultra-extremist, messianic, homophobic, chauvinistic government. He will survive as much as he survives, maybe he will cut a plea deal and then another election and who knows.
Lapid put together the outgoing government and put someone else at its head. He had that government in mind even before the March 2021 election. Now he is signaling that he has chosen a different route. Maybe because he realizes that a government with so many contradictions and opposites in it will not rise again. A coalition with Hadash-Ta'al, the remains of the Joint List, is not in the cards. Not even on paper, never mind in life itself.
The Haredim will come only if there is an insane crash in the rightist bloc, and there is no sign of that. On the contrary. Netanyahu is steadying in the public opinion polls at 60-61 Knesset seats. If Interior Minister Ayelet Shaked withdraws, that could transfer an entire Knesset seat to Likud. Balad, which has blind stubbornness as part of its DNA, will run till the very end and give Netanyahu as a gift many thousands of votes against him that will be thrown away; on the other side, sugarplums await him thanks to the Bader-Ofer law whereby votes for parties that didn't pass the electoral threshold get divided up among the other parties, proportionally to how many votes each of them won, and thanks to low turnout in the Arab electorate.
Zanga zanga
On Wednesday afternoon, Netanyahu convened the members of the Likud slate, the current and the forthcoming one, for a toast to mark Rosh Hashanah. The honor of opening the assembly was given to lawmaker Tzachi Hanegbi, who in the party primary was pushed down to a slot on the ticket that is unlikely to put him into the next Knesset. The attendees wondered if he was a wimp, or a noble soul. They met at Meatos, a kosher meat restaurant in Tel Aviv. The meeting was closed, with no media. I inquired whether in the coming weeks we will be encountering the traditional election events: the Campaign Launch, the Presentation of the Slate. At present they aren't planned, according to one person on the slate. The official reason: Netanyahu sees these as a waste of money.
Other candidates voiced a different, more interesting explanation: In this election campaign, Netanyahu has made a decision to disengage from the activists and the heads of the branches and groups. In the last round they disappointed him; they received nice salaries and they didn't supply the goods. About half a million Likud voters didn't turn out to vote, or they migrated to other parties. The motivating effect on Election Day is the most important element in the campaign, in his view. It succeeded in some of the previous elections and saved him from defeat in 2015, also thanks to the video he produced about "the Arabs thronging in huge numbers to the voting stations," which has already won a place in the pantheon.
Having learned from experience, Netanyahu has chosen outsourcing: a campaign headquarters to which he has recruited young people, mostly students, some of them settlers. Each of them has been made responsible, it has been said, for two residential areas in cities that are unreliable, has been given a list of names of Likudniks and has been required to go street by street, lane by lane, zanga zanga as Muammar Gadhafi famously said, and knock on the doors to remind the electorate of its sacred obligation. In the past few months, campaign headquarters chief Yossi Shelley has built up an alternative Likud party. A parallel construct, extra-territorial. An entire ex-machina operation of volunteers and a few paid people who are circumventing the branch offices and the activists and are, in effect, rendering them superfluous. This is another significant milestone in the transformation of the party to a one-man, one-family movement.
Shelley was appointed because he himself has no political ambitions. He doesn't come from within Likud, he can't be pressured from below or threatened with settling of accounts in the primaries. He is subordinate solely to the boss and does what he asks. The person who filled this role in the past, and conveyed settlers to the Likudish cities to energize the vote, was Shlomo Filber, currently a state witness who conveys his versions of events from one side to another.
The wheeler-dealers who have been compartmentalized out of the fleshpots this time are angry. It is they who have always fanned the enthusiasm at Likud gatherings, the cheers, the energy, the hoohah, the cries of Hooray Bibi/Sara that always put smiles on the faces of that pair. This time they can't be relied upon to make this happen. Instead of hooray they are liable to shout "Away!" Therefore all the gatherings, large and small, have been canceled and replaced by the mobile, armored, transparent glass menagerie, the Bibi-ba. The Likud chairman is moving from one commercial center, traffic circle and parking lot to the next, speechifying for 10 or 15 minutes, sometimes to 100 people, and moving along to another address. Thus, there is less potential for a clash. These are the gatherings of our times.
"I think that it's a mistake," a Likud veteran told me. "On Election Day the ones who will be working are the Likud grass roots. People who know every party member in town by name. In the primary, 80,000 people came out to vote. These are people who are committed. It would have been possible to activate them, but they're giving up on them. Netanyahu has never been thrilled with them, but he always gives into pressure and releases the funds. This time he is going with his feeling all the way."
Something else is missing from this campaign: Sara. She wasn't present at the toast, even though it was closed tightly. She hasn't been seen at the candidate's side in his tours around the country, nor at other events. Bibi-ba, Sara-nah.
This is not by chance, someone with inside knowledge explained to me. Netanyahu has made a cold decision: to neutralize all the land mines, get all the hazards out of his way. His first-born son, Yair – clear, major, tangible trouble – has been exiled or has exiled himself abroad. He hardly tweets at all, but rather makes do with retweeting others. Even without his unique product, there is enough filth, lies and bullying on the internet. Some of that is produced by members of the family. His distancing from the thick of the election events was defined as essential by the relevant advisers. The father didn't argue. Nor did the lady. She is perhaps convinced that the nation is in love with him and feels sorry for her, sees her as a victim and a martyr, or a "battered woman," as she once defined herself with a typical lack of self-awareness. The reality is a bit different. If you are worried, don't be: We will see enough of her after the election.
Heard but not seen
Let's make no mistake. The son and the wife are involved in every comma in the campaign but are keeping out of the limelight that they're so addicted to. Restraint is power, Ariel Sharon once said.
Their disappearance fits the overall narrative: proper and dignified as befits national leadership. Well, everything is relative. Netanyahu's announcement that followed Hezbollah leader Hassan Nasrallah's horror video added its own pile of lies. (Nasrallah says that, in the absence of an agreement on maritime borders, Hezbollah's red line is the start of production at Israel's Karish natural gas rig off the coast.)
The Likud campaign is also coming out with messages meant to reassure, even if they're sometimes amusing. Netanyahu keeps repeating that he'll form "a broad national government" – and so of course his emissaries keep repeating this, armed with strict talking points.
Netanyahu promises to "reform" the legal system, but it's best to believe the people repeatedly yanking the mask off his face, like Likud lawmakers David Amsalem, Nir Barkat and Yoav Kisch.
It isn't that Netanyahu has finished settling accounts. On Wednesday, Likud uploaded a campaign ad targeting religious Zionists – in blue and white with an Israeli flag in the background. The headline: "Partners on the path, loyal to the national camp!" And then: "Religious Zionism" – the overall movement and ideology, not the far-right party led by Bezalel Smotrich – "is a part of the Likud leadership and its full partner in crucial national decisions."
Photos of Likudniks representing this community adorn the announcement, including Amit Halevi, Idit Silman, Moshe Saada and Ariel Kallner. And also Amichai Chikli. As they're facing the camera, it's hard to discern that Chikli isn't wearing a skullcap. He's secular.
So be it, but the most senior skullcap wearer on the slate, Yuli Edelstein, isn't there. Let's not forget that Edelstein once thought he could run against Netanyahu for the party leadership.
The exclusion of Edelstein (No. 18 on the ticket, someone who lived in the Gush Etzion settlement bloc for most of his life after immigrating from the Soviet Union) is even more striking considering some of the people with photos. Kallner at 34 and Halevi at 36 may not even make it into the Knesset.
You might ask, how are they energizing the grassroots with such a meatless campaign? Well, that's the difference between the official campaign, which buys billboard space and sends representatives to the television studios, and the more underground campaign that's mainly on social media. With the help of so-called journalists, they show videos, archival materials and Lapid memes.
Another mini-campaign is warning against Lapid. The elements are familiar: The prime minister is an empty vessel, an untalented TV presenter. Meanwhile, top Likud people are being interviewed under ironclad instructions. Many of them are being kept from the studios, and various desks and interviewers are being boycotted to prevent uncontrolled damage. (Amsalem on Channel 1 was a glitch.)
An excellent example of the change at Likud is Miki Zohar, once the caucus' bad boy. He's now one of their better-behaved figures, but he fell from grace with the Netanyahu family long ago.
Still, of late (and not only because of his son, a gifted singer), Zohar has returned to the TV studios. The royal family is allowing this, with gritted teeth.
Back to Sara. Though she and her son are missing in action, this doesn't mean the lady has vowed not to meddle in staffing at campaign headquarters. This past week, an esteemed campaign expert who recently helped a Likud lawmaker win a respectable spot in the primary was asked by that lawmaker to join Likud campaign headquarters.
The expert, who has worked with parties and politicians from across the political spectrum, agreed. The lawmaker excitedly told whoever he told about his acquisition.
Very soon the new hire was informed that a senior person at campaign headquarters very close to the family was against employing him. The expert wondered why, as did the lawmaker. After evasions and excuses, he heard the reason: Sara vetoed it because he once worked with Bennett and Shaked.
In Bibistan, nothing changes. Yair Netanyahu nixed Moshe Klughaft – after the strategic adviser had signed a contract with Bibi – because of Klughaft's connections with Shaked and Bennett and a chance conversation with Gantz. Yair's mother nixes somebody else out of vengefulness and incurable paranoia concerning that same demonic duo, Bennett and Shaked.
Klughaft and the other expert came to help, to contribute. Ultimately their reputation is also on the scales. They certainly weren't planted by anyone. Netanyahu isn't the first to distance his party's people from the campaign and isolate functionary A from functionary B. He learned this from Ehud Barak back in 1999.
But just as he's asking the other two members of his triumvirate to sacrifice, they're demanding that he fold, again and again. He always folds.
Shaked's non-apology
The apology by Shaked, the head of the Habayit Hayehudi party, is baffling. Ostensibly she had to do it. According to some opinion polls, if she apologized for joining the Bennett-Lapid government, a very small percentage of her potential electorate might forgive her.
But she didn't apologize for joining the government and for the stakes she has planted there to this day – and for at least another six months if there's a sixth election. She expressed regret that her voters were disappointed – a response that might cause them even more sorrow. And then where will she go?
Shaked spent the week getting a bill passed in its first of three votes related to the complex – and stuck; thanks, Likud – process of letting Israelis visit the United States without a visa.
Unfortunately, this legislation has no importance; it won't be completed by Election Day. In the next Knesset the government will have to start the entire process over. The law on continuity of legislation from one Knesset to the next doesn't apply to government-sponsored bills.
What's interesting is the sequence of events that led to the vote in the Knesset. To bring the bill to a vote during the election recess, the Knesset House Committee had to meet. The committee chairman, Nir Orbach of Yamina, has been screwed from every direction and isn't running on November 1. He refused to bring the bill for a vote.
As he complained bitterly to anyone who asked: For what, for whom? For Shaked? For Lapid? But then he convened the committee. His colleagues asked what had happened. He answered: The U.S. ambassador called and asked me to. I couldn't say no.
ICYMI
Ken Burns' Brilliant 'The U.S. and the Holocaust' Has Only One Problem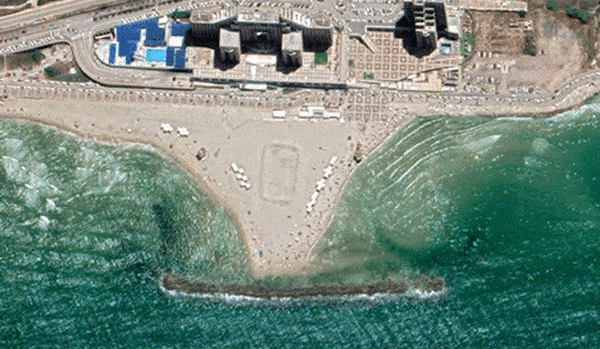 Facing Rapid Rise in Sea Levels, Israel Could Lose Large Parts of Its Coastline by 2050
As Israel Reins in Its Cyberarms Industry, an Ex-intel Officer Is Building a New Empire
How the Queen's Death Changes British Jewry's Most Distinctive Prayer
Chile Community Leaders 'Horrified' by Treatment of Israeli Envoy
Over 120 Countries, but Never Israel: Queen Elizabeth II's Unofficial Boycott