Opinion |
Why Iran Won't Save Netanyahu
Netanyahu's Iran policy was a disaster for Israel's national security, poisoned relations with U.S. Jews and the Democrats and failed at the ballot box. But ahead of November's elections, his opponents are making a similar mistake
A decade ago, then-Israeli Prime Minister Benjamin Netanyahu campaigned against a deal with Iran to halt its nuclear progress. His political opposition is still pandering to that failed policy
Credit: AP
Israelis of most political stripes can agree on the core threat Iran poses to Israel. No one truly wishes to see a nuclear-armed Iran whose leaders regularly advocate razing Israeli cities to the ground. Even those who are critical of Israel's double standard as a nuclear state itself, surely don't support more nuclear-armed states in the region.
Similarly, Iranian support for Hamas, Hezbollah and Islamic Jihad is bad for Israel and for Palestine, no matter where you stand politically. Just as America's massive military support perpetuates Israeli occupation, Iranian armament of Palestinian and Lebanese factions seduces both sides into the irresistible pull of military strategies, rather than diplomacy.
Israel's Arab voters can decide it all. Do they want to? LISTEN to Election Overdose
Subscribe
It is no apologia for the occupation to acknowledge that each fresh war in the region threatens hundreds of thousands of civilian lives, wreaks social destruction and hacks away at the cadaver of a peace process.
Finally, there is Iran's ultra-hardline leader, Ebrahim Raisi. Though he is subordinate to the real decisionmaker, Ayatollah Ali Khamenei, Raisi's words matter. His recent comments to 60 Minutes interviewer Leslie Stahl to "allow" historical research into what he called "some signs" that the Holocaust actually happened place him either in the same loony bin as anti-vaxxers who insist on doing their "own research," or else he is signaling an iron wall against any softening of Iran's stance towards Israel.
Despite the gravity of these challenges, Israel's political debate about Iran – made more visceral during an election campaign – is a mess. The public conversation on Iran has been hijacked by Benjamin Netanyahu, and he alone defines its boundaries, despite the catastrophic failure of both his policy and its power to sway voters on the campaign trail.
Iran has been embedded in Netanyahu's political DNA from his political beginnings, but it became a centerpiece of his agenda from his return to power in 2009. For the next few years Netanyahu hammered away at the issue of Iran, clearly conveying that it was the only worthy topic in the region, rather than the petty Palestinians.
The strategy failed by his own measure. Despite mad-dog preparation for a military strike and Israel's relentless opposition to the compromises required in diplomacy, the Western powers marched towards a deal.
The policy also failed Netanyahu on the campaign trail. As the elections of 2015 drew near, he faced a serious threat from the challenger party Zionist Union (a Labor-led formation together with Tzipi Livni's HaTnuah), which was edging ahead in surveys.
Desperate to prove his global standing, Netanyahu seized on Iran. After years of traducing President Obama, Netanyahu now dealt a stunning blow, bypassing the president to appear by Republican invitation in Congress, where he leveraged the impending deal with Iran as the excuse to break all the rules.
Once again, the policy was a disaster: The damage to Israel's relations with U.S. Jews and the Democratic party reverberated for years and it still lingers. Months later, the U.S. and the P5+1 countries and the E.U. signed the deal with Iran anyway.
Politically, it was all for naught. Prior to Netanyahu's speech, polls showed a majority of Israelis were against the ambush in Congress, and afterwards, my surveys showed that a majority of Israelis believed Netanyahu had damaged U.S.-Israel relations. Two weeks later, horserace polls showed Likud trailing by as many as four seats. Netanyahu managed to snag victory only through a last-minute bare-knuckle campaign of incitement against Arab citizens late on election day.
Then came the crowning achievement of Netanyahu's failure on Iran, in policy and in politics. In May 2018, President Trump withdrew from the JCPOA. Netanyahu openly boasted that he himself had convinced the President of the decision – however exaggerated, the claim has at least some measure of truth.
The rest is history: Iran went on an enrichment bender, putting it closer than ever to a bomb, and international supervision has been sharply curtailed. Trump's move shattered American credibility, making Iranian mistrust one of the biggest obstacles to reviving a new deal.
Israel's military establishment has criticized the withdrawal: Former IDF Chief of Staff and Defense Minister Bogie Yaalon, no fan of the original deal, told Haaretz's Anshel Pfeffer in 2021 that withdrawal was the "main mistake" of Israel's Iran policy ; former Mossad chief Tamir Pardo called it a "tragedy" and an "unforgivable strategy."
One year later, Netanyahu's Iran policy was forgotten at the ballot box. His would-be coalition partners won 65 seats in April 2019, but Avigdor Lieberman, who shares Netanyahu's Iran hawkishness, wasn't worried about keeping him in office so he could lead on Iran. Instead, Lieberman – who had served most recently as defense minister –bolted from coalition negotiations, knowing or hoping he would spark Netanyahu's eventual downfall.
And a swath of Israeli voters didn't seem worried about losing Netanyahu's leadership on Iran, when they rewarded Lieberman with a three-seat rise in the September 2019 poll and Likud lost six seats.
Still, Netanyahu and his coterie parrot the line that the deal – and apparently any deal – is an existential threat. When challenged to justify leaving the JCPOA after Iran has raced towards weapon-grade enrichment, they offer the bizarre line that sanctions need more time, as if the U.S., the EU, the UN Security Council hadn't been enacting sanctions on Iran since the 1979 Islamic Revolution, targeted at the nuclear threat since 1992.
Is there any alternative for voters to consider? Both Naftali Bennett and Yair Lapid have mostly continued Netanyahu's overall policy, with two distinct tweaks, says Iran expert Dr. Meir Javedanfar, a lecturer at Reichman University: they prioritized the U.S.-Israel relationship and avoided open fights, while seeking not to alienate the security establishment in Israel.
The new government continued striking Iranian weapons convoys in Syria bound for Hezbollah, and declared the vaunted "Octopus Doctrine": "We no longer play with the tentacles, with Iran's proxies: we've created a new equation by going for the head," says Bennett, meaning Israel will no longer hesitate to strike senior Iranian regime officials, including those managing the proxies on Israel's doorstep, rather than confining attacks to Iranians involved in the nuclear program.
But the change (now caretaker) government seems terrified to break the rhetorical boundaries set by Netanyahu regarding Iran's nuclear program. Both Bennett and Lapid have insisted they were staunchly against a renewed deal, without quite clarifying their position on diplomacy itself, leaving only sanctions and a military option lurking in the background.
As the latest almost-agreement in negotiations for reviving the JCPOA was apparently deferred again, Lapid lost no time insisting on his contribution to killing diplomacy. Haaretz military analyst Amos Harel wrote "the current Israeli government sounds more like Netanyahu than Netanyahu."
But if Netanyahu's Iran policy failed for Israel and failed to feed his electoral needs, why aren't his main opponents more bold about criticizing his actions and advocating a different policy? To be sure, hardly any Israeli analyst or politician is enthusiastic about the potential for diplomacy at a time when Iran is making immediate threats against Israelis abroad, and Raisi pulls out the Holocaust denial card.
But analysts at the Institute for National Security Studies, mapped out distinct, if modest policy aims. In their view, what they call "the current stagnation" is the worst option for Israel and at present they see no other effective response to Iran's nuclear aims if the talks fail.
The alternative, they write, is dialogue with the U.S. in ways that do not undermine negotiations; deepening the cooperation with countries of the region, and acknowledging that without an agreement Iran is more inclined to take "aggressive actions against its neighbors." Former Mossad chief Pardo and a whole community of Israeli ex-security figures openly supported US efforts to revive the JCPOA.
Apparently Prime Minister Lapid is not fundamentally opposed to a future diplomatic agreement. An unnamed official told the Jerusalem Post that a new agreement was desirable. A senior diplomatic source told me that although Lapid and current government is against the current deal, "that doesn't mean he is against any deal."
Competitors in the current election should stop suppressing their dissenting stances and actually compete with Netanyahu on Iran. Even within the limited range of options, boldly exposing his policy failures would be a start.
Lapid is expected to hint again at the military option in his upcoming speech at the United Nations General Assembly, while also calling for a better deal. A full-throated legitimization of diplomacy would be a stark next step.
Resorting to confrontations with the U.S., mumbling acknowledgments of the professional military assessment, and pandering to Bibi's terms of debate, conveys neither courage nor leadership on Iran. It won't pay dividends at the ballot box or reinforce Israel's national security, either.
Dahlia Scheindlin is a political scientist and public opinion expert, and a policy fellow at The Century Foundation. Twitter: @dahliasc
Click the alert icon to follow topics:
ICYMI
Ken Burns' Brilliant 'The U.S. and the Holocaust' Has Only One Problem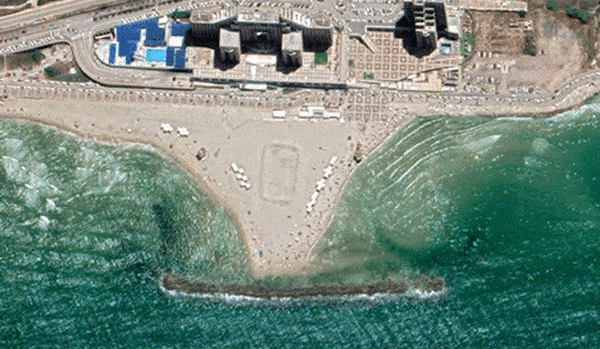 Facing Rapid Rise in Sea Levels, Israel Could Lose Large Parts of Its Coastline by 2050
As Israel Reins in Its Cyberarms Industry, an Ex-intel Officer Is Building a New Empire
How the Queen's Death Changes British Jewry's Most Distinctive Prayer
Chile Community Leaders 'Horrified' by Treatment of Israeli Envoy
Over 120 Countries, but Never Israel: Queen Elizabeth II's Unofficial Boycott