Analysis |
It's a Long, Long Road to Israel's November Election. And It's Going to Get Dirty
Israelis have witnessed something new over the past year: a parliamentary opposition – under Netanyahu – that lacks any empathy for human suffering. Bennett, however, is a statesman, even if a little patronizing toward Lapid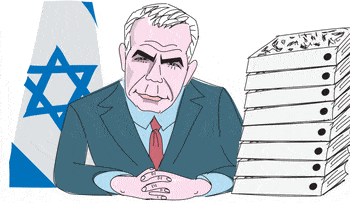 The end of the road for the 24th Knesset, like its entire life, was one of pain and suffering. It capped a week that symbolized everything bad about it during the little over a year it was in power: a fractured coalition, too many of whose heads believed they were destined to be prime minister and waged an endless campaign against each other. It was a coalition with too few responsible adults and too many opportunists.
Above all, it was a coalition facing an opposition whose likes we've never seen: violent, vulgar, brutal and cynical, without a drop of empathy for human suffering. It spat on the public, including its own voters. There were no red lines, but there was a personality cult. It was captive to a single person who, still seeking to skirt his corruption trial, turns every stone and scorches every bit of earth to completely destroy the young experiment known as Israeli democracy.
"Abortion bans hurt U.S. Jews' religious freedom": LISTEN to Sheila Katz
Subscribe
Thursday, at the Knesset's final session, Benjamin Netanyahu took the podium to give his speech of victory over the defeated coalition. He was interrupted a few times. "You don't respect the Knesset," he shouted at Speaker Mickey Levy. "That's not the way to run a meeting!" the opposition leader scolded, red-faced, before turning his back on Levy. Netanyahu's fit clashed with his confident speech.
The term "robbed Cossack" – a perpetrator who pretends to be a victim – was invented for such a character. At the cabinet's inauguration on June 13 last year, the incoming prime minister wasn't permitted to finish a sentence and was met with scorn, curses and feral cries from the opposition benches.
It was Netanyahu who orchestrated this over the past year. He did so from a distance, silently, with a wink, as he sat smugly in the hall, his head buried in papers, and later in his new phone. The Amsalems, Distals and Karas said sickening things about the State Prosecutor's Office, the judges, the police and anyone who represents law enforcement, not to mention about their opponents. Netanyahu remained silent, nearly always. But all the darts were aimed at journalist Gadi Sukenik.
Levy was one of the more patient Knesset speakers of recent decades, especially considering what he was up against. He was subjected to truly criminal threats from the neighborhood bully David Amsalem, who every week from his seat or the podium promised to take his revenge on Levy and hurled gutter language – his trademark.
If something else symbolizes the term that ended Thursday, it's what didn't happen. Naftali Bennett, the outgoing prime minister, was in the hall but didn't give a farewell speech. He knew what he could expect, what kind of riotous behavior, what curses he would hear.
I was reminded of the swearing-in of Ehud Barak's government on July 6, 1999. Netanyahu, the outgoing prime minister, asked to say a few words, to say goodbye to the lawmakers. His speech was heard out in exemplary silence; when he left the stage almost everyone present, including leftist and Arab legislators, went up and shook his hand. This culture of decorum disappeared from our parliament the moment Netanyahu and his gang lost power in 2021.
"My first mission," he declared Thursday, "will be to address the cost of living and housing. Many in the audience might have been reminded of similar promises before the 2015 election." ('It looks like I'll have to take care of this myself,' he said then –
and let the real estate bubble swell to zeppelin-size.)
In addition, he'll take care of Iran just as he did (not) take care of it in recent years – the years of Iran racing unhindered toward a nuclear bomb. And of course, he'll restore our national pride.
But we know the truth. His main task will be to create an escape route from his corruption trial. That's why he's running for the umpteenth time. That's why he dragged the country into four general elections in two years. That's why he'll try to form a coalition whose members will pledge to save Captain Bibi from the judges' verdict – which will be based on the evidence, not the slanted courtroom tweets of the Bibi-ists.
Make no mistake: Despite his successful legal campaign and the fickleness of the smooth-tongued state witness Shlomo Filber and all the prosecution's screw-ups, the likelihood that Defendant No. 1 won't be convicted of at least some of the charges (after all, he agreed to plead guilty to two counts of fraud and breach of trust) is near zero.
Next week, when we hear Hadas Klein, Arnon Milchan's personal assistant, testify about the mechanism of corrupt hedonism that she operated for many years despite her repulsion, we'll remember who we're talking about. We'll remember who was here and who may return, vengeful, unrestrained and more hedonistic than ever.
These will be the first articles in the coalition agreements with the natural partners. These will, of course, be the first laws to pass in the 25th Knesset if the outgoing opposition switches sides to the government benches.
The euphemism for the campaign of vengeance and destruction against the rule of law will be "necessary reforms in the legal system to restore the people's faith in their judges and prosecutors." Even the so-called pragmatic Likud lawmakers are toeing the line, fearing the voters in the primary.
"It's important to our constituency," said former Justice Minister Tzachi Hanegbi, who had been a favorite of the Supreme Court president at the time, Aharon Barak. On the other hand, why should we complain about Hanegbi? Netanyahu was like that too.
Destructive interference
Bennett's retirement from political life was written on the wall the moment he announced the Knesset's dissolution and Lapid's ascent to the premiership. He had no choice. The latest reports from his entourage that he was having second thoughts were largely a trial balloon that didn't produce much.
The scenario in which someone who a moment ago was prime minister can't pass the electoral threshold (the number zero is displayed below his picture in television polls) is a terrible humiliation. Bennett examined the surveys and the results of focus groups urgently convened by his pollsters and advisers in recent days. He concluded that he had no chance. Let Ayelet Shaked take on this adventure.
When Bennett announced his resignation, his heir, Shaked stood there sour-faced and wrapped in thought. It wasn't a lack of emotion that created her frozen look as her partner waxed sentimental, including about her. She was obviously trying to calculate the few and challenging paths that could get her across the threshold.
In talks with party lawmakers and officials Thursday, she drew up an outline for a campaign to reinvent herself as Yamina chief. The campaign will be largely about economics and support a "broad government," not ruling anyone out except the Joint List of Arab parties. Mansour Abbas' United Arab List can be a partner as long as the government has a majority without it and therefore isn't dependent on it. And of course, Netanyahu is fit and worthy to be prime minister – as are, by the way, Yair Lapid, Benny Gantz and Gideon Sa'ar.
For a whole week Shaked tried, unsuccessfully, to persuade Bennett not to retire. Bennett told her: To win Knesset seats I'll have to say "Anyone but Bibi." I'm not comfortable with that. On the other hand, if I campaign for a broad government, I won't pass the electoral threshold.
Shaked will try to prove to Bennett that he was wrong. "Naftali was one of the best prime ministers," she said Thursday. "It's a shame it didn't translate into political support."
Shaked wants to be the weight that tips the balance and decides which government is formed. There's no need to play games. It's clear which alternative she prefers. Until the moment the Knesset was dissolved, she bent over backward to try to form an alternative government headed by Netanyahu. We won't be surprised if, during the campaign, Netanyahu works on her behalf, knowing she's in his pocket. But if her party doesn't stand a chance he'll offer her all the incentives in the world to withdraw.
Yamina, meanwhile, is slowly hollowing out. The party's second most prominent legislator, Matan Kahana, is being courted vigorously by Sa'ar of New Hope and Gantz of Kahol Lavan. Kahana, for now, is leaning toward Gantz. His position is unequivocal: anyone but Bibi. Kahana considers Netanyahu a clear and present danger to the state.
As Kahana sees it, during the election campaign all the players must have "Yes Bibi" or "No Bibi" written on their shirts. After that they can talk about economics, religion and state, security and whatever else. So it's clear that Kahana and Shaked weren't destined to walk together. That would be destructive interference – a term from physics, according to Kahana, that refers to two waves that cancel each other out.
Kahana doesn't believe in Yamina's potential post-Bennett. Contrary to some assessments (like mine), it turned out this week that Bennett never seriously considered skipping over Shaked and handing the party to Kahana. As Bennett told his friends from his special forces days, if she wants it, it's hers.
"She has walked together with me for 10 years. She was loyal. I won't stick a knife in her back," he said, even though Kahana is the second authorized signatory of the party, following the outgoing chairman.
It's hard to judge a prime minister after just one year; either way, in today's climate, it's sometimes better to be missed. A little rest and the chance to accumulate some cash for the later resumption of his political career won't do any harm. It worked for Sa'ar, Netanyahu and Barak.
Bennett's term was heroic, just as it was tragic. The goodwill blessings he received from cabinet members from throughout the eight-party coalition emphasized his character. He's a people person who shows respect to all partners, and especially to the heads of the parties that stood by him. (Maybe he had no choice because he didn't have a political base when he took up the role.)
The popular saying over the past two months – you can't run a coalition with a party of six Knesset members – isn't true. Bennett didn't manage with his original seven because he made bad choices and later didn't pay attention to the cries of distress from below.
Sa'ar would have managed with six MKs. Yisrael Beiteinu's Avigdor Lieberman and Labor's Merav Michaeli would have each managed with seven MKs. The problem wasn't the number of lawmakers in the ruling party, it was their quality and the size of the coalition. It didn't have any fat, just flesh and bones – and a weak immune system.
Bennett's retirement speech was an apt continuation of the way he ran the government: stately and unifying. Just like Netanyahu, he failed to run a harmonious office. Unlike Netanyahu, he knew how to cooperate with his ministers and give them full credit.
But where Netanyahu was an expert, Bennett registered his most painful failure – maintaining a coalition. His painful lesson was that without bread there is no Torah and without Idit Silman there is no government.
Babysitter Bennett
Since we learned that Lapid would be replacing Bennett as prime minister, one of Bennett's main messages has been: "I'll stay as long as needed to help Yair with major issues and defense." He has said this in every interview and off-the-record talk.
Bennett is being sincere. He wants to emphasize the radical difference; after all, he was ignored by his aggrieved predecessor, who actively tried to make things difficult for him – forget about a smooth handover. Bennett is also emphasizing his friendship with Lapid and his statesmanship as he tries to ensure a smooth transition.
Lapid's people turned up their noses. The frequent references to a handover began to sound more like a mentorship. At one stage a hint was made to Bennett's office: Ease up on the patronizing.
Lapid suffers from an image of somebody a bit vacuous; this was justified at the beginning of his political journey, less so today.
He has grown up, learned what he needed to learn and forgotten what he needed to forget. He formed a large, thriving party. Most of his confidants – to his credit, women as well as men – stay with him for years; they're loyal and discreet, and they specialize in their roles. They don't get changed like socks.
He has been both finance and foreign minister, and in the past year he was a member of every classified forum. And as the alternate prime minister earmarked to take the top job in a rotation government, he saw all the intelligence.
So a handover, go ahead. An emphasis on friendship and a desire to help, okay. But a babysitter? No thanks. Lapid is ready!
There's another key issue between Bennett and Lapid that hasn't been solved yet, the "nuclear file." As agreed between the two a few months ago, Bennett will be a sort of one-man ministry on Iran affairs. At the time, eyebrows were raised in the intelligence community.
But since this possibility seemed distant, the intelligence people forgot about it, until now. How exactly will Bennett coordinate a defense issue of the greatest importance?
It isn't logical and doesn't really comply with the law. The Mossad, which is responsible for the Iran file, is subordinate to the prime minister. The same goes for the National Security Council. The heads of Military Intelligence, the special forces and actually the entire military answer to the defense minister and the wider cabinet.
How is Bennett going to squeeze in there? If he deals with Iran, what's the prime minister supposed to do, focus on the rising gasoline prices? Make phone calls to our medal-winning athletes? What will he talk about with Emmanuel Macron next week – the grape harvest in the wine regions? What will he talk about with Joe Biden in less than two weeks?
Iran is the first issue on the agenda for both Lapid and Bennett. Bennett will be briefed later.
A doom loop and a Catch-22
Lapid comes to the role he dreamed of from a much younger age than everyone assumes. He's reasonably mature, more than some of our previous prime ministers.
The current conditions aren't ideal. In addition to the problems of the moment, Lapid will have to conduct his party's election campaign and cautiously navigate between it and the other parties in the camp.
It's not altruism, which he showed in the last election, but neither is it cannibalism. His starting point is roughly 20 of the Knesset's 120 seats. An efficient campaign from his new position, along with a shiny acquisition like the previous military chief, Gadi Eisenkot, can certainly shrink the gap with Netanyahu's Likud.
But Lapid's real challenge will be bigger than calculating whether the left-wing Meretz party can make it into the Knesset. Will he talk center or turn left? To what extent does he want to gain seats for his party (Bennett's Achilles' heel) at the risk of jeopardizing the whole camp?
And there's the following tidbit: The Arab community is talking about a candidate high on Lapid's election slate. (In the outgoing roster, Yesh Atid had an Arab Israeli in the 26th slot.)
We can be sure that Yesh Atid will project unity, and Lapid is an excellent campaigner. His dilemma resembles that of Netanyahu vis-à-vis Gantz when the former military chief was a leading candidate against Bibi.
Will Lapid resort to lies and mudslinging simply because that's our new and twisted world, and that's the way his rival behaves? But if he does this, will he impair his party's performance at the polls?
Some of the above dilemmas are reflected in the following story. Late Monday night, Lapid met with Yamina's Nir Orbach at the back of the Knesset hall. "I owe you thanks. You saved me from a diplomatic crisis with the Americans," Lapid said, according to a person present at the encounter.
Lapid continued: "Tomorrow night, my son is graduating from Ariel University [in the West Bank]. If you hadn't delayed the dissolution of the Knesset by two days, the first thing I did as prime minister would have been to ride in a convoy to Samaria for a celebration. Nobody in the world would have believed it was a coincidence."
Nice. He didn't mention how this would have closed a circle. On October 30, 2012, a few months after he launched Yesh Atid, Lapid went to Ariel to present his party's platform. At the time, he characterized Yesh Atid as center-right, an illusion that over the years he awoke from. "If I had known," Orbach told Lapid, "I might not have delayed the vote."
Either way, the general election – the fifth in three and a half years – will once again revolve around the man who refuses to leave: Netanyahu. At least this time around, it's clear who rejects him and who doesn't.
Bibi-yes/Bibi-no is the sad story of Israeli politics, and endless doom loop. Or maybe this time for Lapid, a Catch-22.
Deep underground
The Labor Party boycotted the votes on the dissolution of the Knesset, it was claimed, over the failure to advance the Tel Aviv subway project, which will augment the light rail system already under construction. Michaeli, the Labor Party chief and transportation minister, was angry at Lapid for allegedly not trying hard enough to push the bill through. Lapid's ally, Finance Minister Lieberman, was also angry.
Well, Lapid really didn't try very hard, but Michaeli could have completed the legislation a few months ago. It didn't happen because of her ego.
About a month before the decision to dissolve the Knesset, when the government had already lost its majority, Michaeli asked the Joint List's Ahmad Tibi to support the bill. He said he'd be happy to, but he had two conditions: at least one train station and one subway station for the Arab community, and he gets the credit. He also has voters to think about.
Michaeli easily agreed to the first condition; the plans include stations in Arab towns. To the other one, no way. After all, why would anyone other than her get credit for two stations out of hundreds?
No problem, Tibi, a seasoned politician, told her. If you change your mind, come see me again. On the day Bennett and Lapid announced the dissolution of the Knesset a week and a half ago, she went running back to him. I agree, she announced. But it was too late. (Tibi says he didn't meet with Michaeli, it was the Joint List's Ofer Cassif, who spoke with Michaeli's people.)
Meanwhile, talks were underway to form an alternative government under Netanyahu. The ultra-Orthodox parties, especially the Ashkenazim, whose leaders don't believe that 61 Knesset seats will be achieved this time, ran around like crazy between Gantz and Netanyahu. Bibi agreed to send Gantz offers he wouldn't be able to refuse.
The problem was the person making the offers, so Gantz rejected everything immediately. I don't believe him, he told ultra-Orthodox politicians Moshe Gafni and Yaakov Litzman – and the whole world.
Netanyahu was embittered, even insulted, some say. He knows that any used-car salesman is considered more honest than he is.
Back to the subway. In a last-ditch effort, secret talks were underway Wednesday to seal a deal: Amichai Chikli would return to Yamina if the bill got passed. Michaeli and Lieberman were in favor. Lapid was neutral. They thought that their path was clear until Sa'ar, the justice minister, tweeted angrily from London: "A surrender to extortion on the Chikli issue is corrupt and against the law." And so the move was scuttled. Yamina, that is, Bennett, was against it.
Chikli, the first to desert Yamina's sinking ship, was dropped pretty late, during the Knesset's spring recess. That was another managerial mistake by Bennett. If he had acted in time, with the required cruelty, against the first deserter, Silman might not have followed in his footsteps. She was saved from a similar fate, and apparently a spot will be reserved for her on the Likud ticket (with or without Orbach).
She's the Patty Hearst of Israeli politics; she gave herself to the people who harshly ridiculed her and embarrassed her in public. To a great extent, she's the sad story of the 24th Knesset – a tale of treachery and darkness.
Click the alert icon to follow topics:
ICYMI
What if the Big Bang Never Actually Happened?
Why Palestinian Islamic Jihad Rockets Kill So Many Palestinians
'Strangers in My House': Letters Expelled Palestinian Sent Ben-Gurion in 1948, Revealed
AIPAC vs. American Jews: The Toxic Victories of the 'pro-Israel' Lobby
'This Is Crazy': Israeli Embassy Memo Stirs Political Storm in the Balkans
Israel Rewards Hamas for Its Restraint During Gaza Op