WATCH |
Israel Election Countdown: A Special Briefing
What's Yair Lapid's plan, will Naftali Bennett really be kingmaker and can Netanyahu clinch it. WATCH this election briefing by Haaretz and Plus61J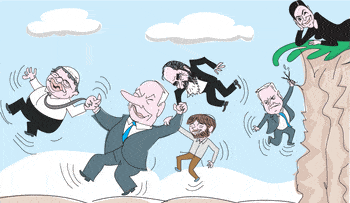 Nine days to Israel's fourth election in two years, Haaretz's Anshel Pfeffer and Allison Kaplan Sommer dissect the upcoming election and answer viewers' questions.
The special briefing was moderated by Plus61J Media Editor Michael Visontay, and supported by event partners Limmud Oz and Limmud Sydney.
ICYMI
What if the Big Bang Never Actually Happened?
Why Palestinian Islamic Jihad Rockets Kill So Many Palestinians
'Strangers in My House': Letters Expelled Palestinian Sent Ben-Gurion in 1948, Revealed
AIPAC vs. American Jews: The Toxic Victories of the 'pro-Israel' Lobby
'This Is Crazy': Israeli Embassy Memo Stirs Political Storm in the Balkans
Israel Rewards Hamas for Its Restraint During Gaza Op