Analysis |
Netanyahu Fails to Secure Loyalty in His Bloc, but So Do His Rivals
Lapid's candidacy for premiership takes blow from his former 'brother' Bennett ■ The Knesset's Kahanist guest of honor points his finger at a female Arab Labor candidate in a grotesque display fitting of the Purim adloyada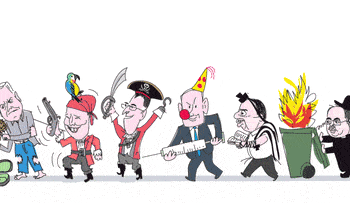 Illustration.
Credit: Amos Biderman
For many long weeks Prime Minister Benjamin Netanyahu and his associates have been toiling to persuade the heads of the ultra-Orthodox parties and Religious Zionism Chairman Bezalel Smotrich to revive the rightist-Haredi bloc. With the exception of Interior Minister Arye Dery (Shas), who agreed enthusiastically and for entirely self-interested electoral reasons, all the others turned up their noses. Netanyahu did not give up. He hounded them. "Even Sara got involved," said one of the partners. "She made phone calls."
Lengthy and tedious negotiations ensued. Netanyahu demanded a cut-and-paste of the original loyalty oath from February 16, 2020: At that time the party heads signed off that they would not participate in any coalition except one headed by Netanyahu, and would not conduct separate negotiations with anyone else, only via Likud.
The Haredim coughed in Netanyahu's face. The version they proposed was an anorexic shadow of the original: They commit themselves to establishing a government with Likud and warn of a left-wing government headed by Yair Lapid (Yesh Atid). Smotrich did not agree to sign even this nonsense. He remembers what happened in May 2020 – Netanyahu ignored his written commitment, formed a unity government with Kahol Lavan and left Yamina, which had signed these wacko oaths time after time, out in the cold.
This time it was sloppiness on the part of Netanyahu's factotums. They believed that Smotrich would not dare to break ranks and look like someone who could even imagine any other coalition possibility. They were mistaken. In Likud they put out the updated version and rejoiced: The bloc is in our hands! This is a mirage. The ultra-Orthodox, and possibly even Smotrich, understand what has changed between the last election and the one we are celebrating today.
Back then, they did not have even the theoretical possibility of joining the other camp, Benny Gantz and Lapid. This time there is Gideon Sa'ar and Naftali Bennett, head of Yamina, a religious-secular party, who has always known how to maintain good relations with them. The supply on the shelf is larger and more realistic. There is no reason for them to bind themselves with chains. Netanyahu insisted, again, that they sign. So they scribbled something. Sometimes it's confusing: Is this a prime minister or a notary public?
The failure vis-à-vis the partners, which has been depicted by the prime minister's residence as an achievement, has not been sufficiently internalized by the public. It is for this that we are here. To provide a service.
It has to be said: Netanyahu has been blessed with a gift from God. He is the ultimate Teflon politician: Nothing sticks to him. Thanks to this gift, a big mishap he experienced this week looks like a tiny ripple that has disappeared.
In the Prime Minister's Office there is a deputy minister of nothing, Fateen Mulla (Likud). Mulla is the Druze representative on the slate. He is a leading contender for the title of our most obscure elected official. Therefore it was logical to send him, an Arabic-speaker, and none other to Ramallah to ask our Palestinian friends to exert their influence on the Arabs of Israel to vote Likud. Or, at the very least, not to vote for the Joint List.
The story was reported in Yedioth Ahronoth. Mulla even confirmed it to the reporter before campaign headquarters got around to instructing him that the truth, in the midst of a campaign (and in general in Netanyahu's universe) is not an option. Likud of course issued a denial.
I asked an Israeli Arab politician what he knows. "Mulla met with Ziad Darwish," he told me, "a member of the committee on the Palestinian Authority's interactions with the Israelis."
What did he say?
"That Netanyahu has changed. That people must not vote for the Joint List. He did not tell them that people mustn't vote for Mansour Abbas" – leader of the United Arab List (Ra'am), the Islamist faction that broke away from the Joint List.
In short, Netanyahu is good for the Arabs. Now, let us imagine that Yair Lapid sends Ibrahim Kassem (No. 26 on his slate) to carry out a similar mission. Within about one minute, videos would be uploaded to the internet attributing to him an alliance with terrorists, subversive activity behind the government's back, treason and a pinch of antisemitism.
Back to our Teflon. The Mulla affair died down and evaporated from the discourse. However: Ibtisam Mara'ana! No. 7 on the Labor Party slate has continued to command our attention. Even after she apologized a thousand times and shed tears and even after she submitted to the Supreme Court, which deliberated on her disqualification, an ultra-Zionist statement that the average Haredi would not dare sign, the orchestrated and wicked danse macabre around her continues.
In this Purim adloyada, in which white is black and the wolf is the lamb, there has also been a reversal between the accuser and the accused. Itamar Ben-Gvir strutted through the corridors of the Supreme Court building with his robe aflutter, in the capacity of he who cries out on behalf of 7 million Jews. The quest to kosher him and render him white as snow, second only to the operation to clean Israel's beaches of tar, was completed successfully. The right-wing media that have mustered to bring Netanyahu the 61 Knesset seats he needs to establish a coalition, have done their job.
The Haredi-national-religious campaign for Brother Itamar has also made it into the opinion pages of Haaretz. This is what Akiva Novick wrote (in Hebrew) on February 21 in an article entitled "The Knesset Theater": "As strange as this may sound, Itamar Ben-Gvir is a moderating influence in the leadership of the extreme right." The previous evening, the "moderating influence" on behalf of Otzma Yehudit posted a video imitating a Lapid coalition WhatsApp correspondence. In it, our acquaintance Ibtisam tells a Holocaust joke and posts a picture of Hitler, with a red heart emoji beside it. Everyone deplored it, including Smotrich, and it was only from Netanyahu that we did not hear a word. Maybe it escaped him. Okay, we are already accustomed to the fact that our prime minister is not a "moderating influence."
Dreams and nightmares
In the midst of the 2015 election campaign, Mark Mellman, Yair Lapid's American pollster, came for a visit to Israel. He was shown the major parties' campaigns. Zionist Union, headed by Isaac Herzog and Tzipi Livni, ran at that time under the slogan: "It's us or him," which was supposed to be a suitable Zionist response to the slogan of Netanyahu and Likud: "It's them or us."
Mellman spoke a single sentence that engraved itself in the memories of Lapid's people: "When two sides run exactly the same campaign, one of them is mistaken."
Six years later, Lapid is determined not to repeat the mistake. Restraint and strength, as the hero of the previous segment once said. Netanyahu is taunting him, making an effort to drag him into a duel, which is the most comfortable arena for him. In the public opinion polls Netanyahu beats Lapid on the question of suitability for being prime minister. For now, the challenger, aware of his weak point, is not allowing himself to be tempted. Lapid prefers to deal with his opponent's obvious sore spot: that "solid right" government he aims to establish with the honorable Interior Minister Dery, Housing Minister Yaakov Litzman, Knesset Finance Committee Chairman Moshe Gafni of United Torah Judaism, Smotrich and Ben-Gvir.
For Netanyahu this is a dream government. "Without rotation, without equal partnership, without all those maladies," as he said on Wednesday. Most of the public sees this ensemble as a nightmare government. Extremist, nationalist, Haredi and super-religious. It will also be joined by Yamina as the moderate partner in the coalition.
Netanyahu has no other possibility. The public opinion polls are showing that a government in which Lapid, Sa'ar, Bennett and Avigdor Lieberman (Yisrael Beiteinu) are partners looks more appealing to a majority of voters. If only they were able to cooperate, put one of them in position as leader and present attractive merchandise to the Israeli electorate, Netanyahu would be able to invite the movers to Balfour Street. It would be best if he chose someone other than moving contractor Avner. The last time he and Sara made use of Amedi's services, it ended in a police investigation and nearly an indictment.
It is not possible to minimize the gravity of the blow Lapid suffered this week. Bennett's commitment (which we will discuss below) that he will not be in any government Lapid heads – which joined Sa'ar's earlier ruling out of Lapid – in effect wiped out the latter's campaign to become prime minister. Without Sa'ar's New Hope and Bennett's Yamina, he is left with the Labor Party, Meretz and the Joint List. That is not how you build a government. That is how you build another term as leader of the opposition. Collateral damage was also caused to Netanyahu: All his messages, all his prayers were aimed at building Lapid up as his main opponent, at strengthening him, at bringing his prospective Knesset seats up into the 20s in the public opinion polls. Now he is only facing Sa'ar and Bennett.
Even though politics is conducted according to interests, it is not devoid of personal elements. And it seems to me Lapid has been personally hurt by the boycott imposed on him by someone who for months boasted that he, unlike his colleagues, doesn't play the boycott game. The moment Bennett and his co-leader Ayelet Shaked realized that the suction tube Netanyahu is aiming in the direction of their voters is beginning to work, they dropped their main message and drew a big fat X. On whom? On Brother Lapid, who brought them into the government back in 2013.
"We had no choice," a top person in Yamina explained to me. "We lost an entire Knesset seat to Likud in a single week. Our friends from Religious Zionism are afraid we will join a government under Lapid. We have another two seats like that. We have to take care that they won't escape too. We hope we have plugged the leak."
My party is your party
From Naftali Bennett's perspective, his commitment to not joining any government headed by Yesh Atid Chairman Yair Lapid was necessary. The bleeding from his Yamina party had to be stopped. Indirectly, his U-turn has also helped Gideon Sa'ar. If centrist voters conclude that Lapid is no longer in the game for the position of prime minister, some of them might consider moving to Sa'ar's New Hope.
In any case, the next prime minister (or prime ministers) will come from the ranks of the right. Benjamin Netanyahu, Sa'ar, Bennett – or election number five. The most popular scenario at the moment talks about an alliance between Sa'ar and Bennett after the election, before the pilgrimage to the President's Residence. A bloc of two, who will be joined by Avigdor Lieberman, agreement as to which of the two will be first in the rotation as prime minister, the finance portfolio to Lieberman, the foreign affairs portfolio to Lapid. Labor and Meretz will be invited in. Maybe also Shas. The likelihood? Reasonable, if the bloc of Likud, Haredim and Religious Zionism doesn't bring in the minimum of 61 Knesset seats, together with Yamina.
And if Bennett does bring the bloc across the threshold? The prevailing assumption is that Bennett will demand rotation with Netanyahu as prime minister – first (not reasonable) or second (won't happen).
There is another scenario, about which there is less talk: Bennett will go to Netanyahu and say to him: I will come with you, even without a fake rotation that you will give me, on one condition: Convene the Likud central committee right now, by Zoom or by Shmoom, and pass a decision to bring in Yamina. Not just me personally, but rather a full delegation from my party in all the institutions: central committee, convention, bureau, secretariat. I, Ayelet Shaked and Matan Kahana will become members of Likud, with all the rights and obligations.
What would Netanyahu gain? That's clear. A "full" right-wing government. What would Bennett gain? That's clear. At long last, he will be Likud. In a ruling party. No more Sisyphean election races. No more graphs of voter numbers that plunge exponentially as Election Day draws nearer.
He will bide his time patiently until the end of the Netanyahu era. In the meantime, he will build up his strength in Likud. On the day after, he will contend at eye level, not opposite a mythological leader with superpowers but rather against flesh and blood politicians like current Finance Minister Yisrael Katz, MK Nir Barkat, Transportation Minister Miri Regev, Settlement Affairs Minister Tzachi Hanegbi and MK Avi Dichter. Bennett is one of the youngest in the bunch. He is no hurry.
Crying and shooting
Ehud Barak likes to tell the following story: When he first entered political life, he met Ariel Sharon. "Ehud, you are new here and we have known each other for many years," said the experienced Sharon to the rookie lieutenant general. "I want to illuminate for you the difference between the battlefields we've both been in and the battles in politics that only I know.
"In the battlefield, when we hit the enemy, he isn't there anymore. That's it. The same holds when they hit one of ours. In politics, however, the language is that of a slaughterhouse: They killed me, we butchered him, they're stabbing me in the back, they are spilling my blood. The truth is different," continued Sharon in his picturesque language: "It's like a battle between two snakes at the ranch. They rise up opposite each other, move in attack motions from side to side, raise dust. But when the dust settles, they are both still there. I have been here for 20 years now and no one has disappeared, unless the Holy One, blessed be He, took him."
I recalled this story when I encountered Benny Gantz's reaction to the statement by 150 retired top military officers (among them Barak) who in polite and respectful language urged him to resign from the race. "They are shooting me in the back," he said bitterly (in a continuation of an earlier statement of his: "I flung myself down on the grenade"). Let us just mention here: The last politician who was shot in the back was Yitzhak Rabin. Maybe the time has come to shelve this barracks phrasebook.
In a continuation of Sharon's snake analogy, the question is whether Gantz will not disappear, and will remain with us after the election as well. In the public opinion polls he is holding steady at the threshold minimum of four Knesset seats. The fifth seat (in the Channel 12 News poll) or the fourth seat (in the other polls) was born after Gantz's emotional reaction. Maybe with weepiness one can indeed build up leadership, or at the very least electoral probability.
And perhaps the new Kahol Lavan narrative is working? If you don't vote for us, they are threatening, Netanyahu will fire us from the government, bring Amir Ohana back to the Justice Ministry, sack the attorney general and the state prosecutor, and their successors will see to absolving him from the travails of his trial. We are your safety plug. Remove us, and the sewage will overflow. It must be noted here that the horror show now at the heart of the Kahol Lavan campaign is not likely: The transitional government will be under fearful, hahe non-fictional scenario of a fifth elwkeyed scrutiny and under limitations by the attorney general and the High Court of Justice.
The Gantzes are working on their target audience in two parallel channels: emotional and intellectual. In the first, they are flogging themselves and asking for forgiveness. In the second, they are focusing their argument on the non-fiction scenario of an election this summer, and the prolongation of the equal government as a transitional government with Kahol Lavan in it, until October or November.
"You are angry at us, I know," said Minister of Culture and Sports Chili Tropper in an online meeting he held this week with disappointed voters. "But think logically: What is more important? Keeping us in the government, in the justice, defense, culture and communications ministries, or bringing No. 6 on the Labor Party slate into the Knesset, or No. 18 in Yesh Atid?"
They asked him about the statement by the military people. He got angry. "Many people there have political interests. Some of them were against us before. I didn't find anyone there like Gadi Eizenkot, for example. Most of them have been out of the military for at least 20 years. And apart from that," added Tropper, "why aren't they calling on Meretz to drop out? Its situation is like our situation, if not worse."
The stability of Gantz's party in the public opinion polls is a great wonder. It's hard to find people who voted for Kahol Lavan in 2020 who are saying they will vote for it again. Hard is putting it mildly. Nearly impossible. This perplexing situation is giving rise to conspiracy theories: One of them holds that shady systems, in which Balfour Street specializes, are performing manipulations – via flesh and blood creatures and all sorts of bots – in the public opinion polls, which are based, it must be recalled, on internet panels. They say they will be voting for Gantz in order to put on a false show and deceive so that he will continue with his "attack" and meet his end in the real ballot boxes. The fall of Kahol Lavan means the transfer of a Knesset seat and a half, maybe two, to the right-wing bloc. In the Likud WhatsApp groups, evidence can be found for this ostensible plot. Participants spur one another on to lie, or proudly report that they have lied.
Throwing nearly four seats from the center-left bloc into the garbage is currently at the top of Netanyahu's wish list. Gantz is prepared to sign right now for four Knesset seats plus one vote. However, if making it past the threshold is not a certainty cast in statistical concrete, he will start hearing pleas to withdraw honorably not only in statements from retried top brass, but also from his own people.
Click the alert icon to follow topics:
ICYMI
What if the Big Bang Never Actually Happened?
Why Palestinian Islamic Jihad Rockets Kill So Many Palestinians
'Strangers in My House': Letters Expelled Palestinian Sent Ben-Gurion in 1948, Revealed
AIPAC vs. American Jews: The Toxic Victories of the 'pro-Israel' Lobby
'This Is Crazy': Israeli Embassy Memo Stirs Political Storm in the Balkans
Israel Rewards Hamas for Its Restraint During Gaza Op