Merger Mania: Israeli Parties Will Link Up Before the Election – Here Are the Possibilities
Two weeks to go: The chances for mergers are highest on the far right, not the mainstream right, even though political scientists are having a hard time figuring out the ideological differences between Naftali Bennett and Gideon Sa'ar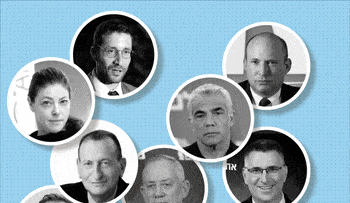 Two and a half weeks before the party tickets close for the March 23 general election, political observers say a big consolidation is in the cards, but somehow the opposite is happening right now.
Politicians are writing off possible alliances, and parties are splintering, the latest being right-wing Yamina, with its leaders Naftali Bennett and Bezalel Smotrich hurling invective at each other. The following are some of the possibilities, from left to right.
Meretz-Labor, or Meretz and Ron Huldai's new party. Many in Meretz believe the link-up with the parties just to its right in the last campaign, Labor and Gesher, actually reduced Meretz's strength in the current Knesset. This time it isn't going to merge with anyone. Party leader Nitzan Horowitz aims to invest in the Arab community, so he as put two Arab Israelis in the slate's top five and is expected to campaign in Arab towns at a considerable expense.
While it might seem to make sense to run with the new party of Tel Aviv Mayor Ron Huldai, The Israelis, Horowitz doesn't think much of Huldai, whom Horowitz lost to in the 2013 Tel Aviv mayor's race. The two parties have not been talking at all.
As for Labor, the primary election that the party leaders have surprisingly opted for is slowing up the clinching of possible unions on the left. Ehud Barak, a former prime minister and Labor leader, isn't running for party chief after it emerged that his chances of sealing an attractive left-wing link-up were low.
Merav Michaeli, a former journalist and TV anchor, is running hard to become party leader. She may join up with Meretz or Huldai's party if she wins, but if the polls point to a Labor revival, she might have the party run on its own.
Itzik Shmuli, the current minister of labor and social affairs and a hero of the 2011 social protests, has yet to announce whether he plans to contend for the party's leadership. He might be more willing to hook up with another party, probably preferring Benny Gantz's Kahol Lavan.
Chances of any of these unions: Nearly zero
Huldai's party and Ofer Shelah. This seems to make sense, if you can call going with Ofer Shelah, formerly a key legislator in Yair Lapid's Yesh Atid party, a merger. His new party, Tnufa, isn't going anywhere in the polls, to put it mildly, and is mainly perceived as a desperate attempt to win a place on another slate.
Meanwhile, no contacts are underway between Huldai's party and Shelah, and Shelah doesn't have much to offer but a sharp mind and good name. It could be that during the home stretch he'll join Huldai's ticket.
Chances: Reasonable
Yesh Atid and Huldai's new party. Such a merger of center-left outfits could create a large alliance that would draw most of the votes from the Kahol Lavan camp. But Lapid doesn't like link-ups, though he's willing to absorb into Yesh Atid people he admires, like Meirav Cohen, who left Kahol Lavan to join his party.
Last time, pressure from the public and the media for link-ups led to the founding of Kahol Lavan. This time there's no such pressure. In any case, Lapid will never yield the top spot on a slate, and Huldai doesn't give the impression of being particularly cooperative. The only thing that might get Yesh Atid into this union would be fear of some other substantial link-up in the center-left bloc that would draw votes away.
Chances: Low
Kahol Lavan with some other party. Some of Gantz's associates are telling him to drop out, while some are telling him to run. He's looking for someone to merge with and can't find anyone. He had an agreement in principle with Shmuli to run together, but now Labor must have a primary whose result can't be predicted.
Lapid isn't willing to absorb the original party that Gantz founded, Hosen Leyisrael, only some of its members and their party funding. There won't be talks with Bennett's Yamina, ever. Huldai has explicitly said he doesn't want Gantz. Even the former army chief's threat to run with his party alone doesn't seem to be scaring anybody.
Still, Gantz has 14 units of party funding, a treasure in electoral terms. Someone might agree to take the bride just for the dowry.
Chances: Low+
Moshe Ya'alon's Telem with some other party. No chance. No one wants Moshe Ya'alon, a former army chief, Likudnik and partner with Gantz and Lapid in Kahol Lavan. Ya'alon is determined to maintain his party at any price, including a train wreck at the ballot box.
Yamina with Gideon Sa'ar's New Hope. This is the most logical union from an electoral and political perspective. Even political scientists are having a hard time figuring out the ideological differences between Bennett and Gideon Sa'ar, certainly after Bennett broke off with Smotrich.
Both are trying to circumvent Prime Minister Benjamin Netanyahu on the right and are flirting with people disappointed with Bibi, the liberal religious, Kahol Lavan refugees and centrist voters. A link-up would form a large right-wing party that could really threaten the prime minister.
But there's no way to neutralize the egos of either Bennett or Sa'ar. And Sa'ar isn't interested; he's convinced he'll push Bennett down to a single-digit performance in the election and then bring him into his government.
Chances: Close to zero
Bezalel Smotrich's Religious Zionism party with Yamina. The parting of ways between Smotrich and Bennett has generated a shock wave of recriminations in the religious-Zionist media. The arguments are familiar and worn: Is religious Zionism sectorial or part of the general population, should it be looking inward or outward, is it better to be small and homogenous or large with compromises at the margins?
As of now this looks like a bitter, emotional dispute that Netanyahu's envoys are fanning enthusiastically to damage Bennett. But in the end, it's still the religious-Zionist swamp. The rabbis will preach, the mediators will mediate and a link-up is likely to be announced at an emotional press conference at which the two parties declare that "for the unity of the Jewish people" they're running together.
Chances: High
Habayit Hayehudi with Yamina or Religious Zionism, or Otzma Yehudit with Religious Zionism. Another party on the right, Habayit Hayehudi, is about to choose its new leader – either Nir Orbach or Hagit Moshe. Moshe is Smotrich's, while Orbach is Bennett's. Whoever wins will affiliate Habayit Hayehudi with his or her ally's party.
A union between Smotrich and Itamar Ben-Gvir of Otzma Yehudit is electorally logical for the far right and nationalist-ultra-Orthodox fringes, but Ben-Gvir thinks Smotrich is using him to extract concessions from Bennett and for now has broken off contact. If he ever feels that Smotrich is serious, the chances are very high that they'll run together.
Click the alert icon to follow topics:
ICYMI
What if the Big Bang Never Actually Happened?
Why Palestinian Islamic Jihad Rockets Kill So Many Palestinians
'Strangers in My House': Letters Expelled Palestinian Sent Ben-Gurion in 1948, Revealed
AIPAC vs. American Jews: The Toxic Victories of the 'pro-Israel' Lobby
'This Is Crazy': Israeli Embassy Memo Stirs Political Storm in the Balkans
Israel Rewards Hamas for Its Restraint During Gaza Op