Analysis |
Netanyahu Has Realized He Has Nothing to Lose
With $14.5 million in taxpayer money, Netanyahu has launched a campaign to re-brand immunity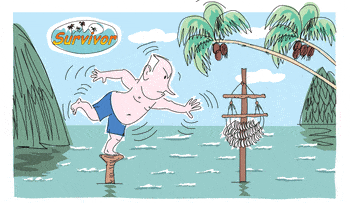 Illustration by Amos Biderman.
After being stymied by the Knesset in April, and failing at the polls in September, defendant Benjamin Netanyahu's has suffered a serious blow to his plans. His schemes involving organizing private legislation in the form of the "French law," which would have prevented him from being prosecuted as a sitting prime minister, and a bill that would have empowered the Knesset to override Supreme Court rulings, have also gone with the wind. Immunity is the last bit of ammunition at his disposal, the dregs at the bottom of the garbage can.
Like a common criminal, Benjamin Netanyahu stood before the nation Wednesday evening and lowered the bar of national shame to new depths. True, the prime minister has yet to be convicted of anything. But his behavior, his language and his declarations are those of a criminal. His string of lies, which have also been exposed in all their nakedness, are what one expects from a lawbreaker, certainly not from a national leader.
Netanyahu's whole purpose during the past year, in which he dragged Israel into three elections and inflicted on it an unprecedented political and constitutional crisis – all with the help of spineless collaborators in Likud and the right-wing bloc – was to avoid having to seek immunity. He is aware of its serious damage, to the punishment it will elicit from the electorate, a punishment that will be meted out not only to him but to his party as well.
If anyone hoped that the humiliation and embarrassment of facing his citizens and effectively admitting to defrauding and deceiving his country, his nation and his voters would inject a little humility into the guy – just the opposite occurred.
With the brazenness of one who has already internalized the fact that he has nothing to lose and that when it comes to his trial and possible incarceration he is living on borrowed time, Netanyahu once again launched a barrage of groundless and contemptible accusations at the state prosecutors, the police and the attorney general.
On his way down – as this column has noted often and as is now being played out before our very eyes – he is determined to topple the pillars of the democratic regime and law-enforcement bodies, and to incite the cohorts of his faithful against them.
Bibi, the master of foot-dragging, has gained some time. For him, the alternative – the opening of a trial in the near future – is not an option. It never was. The reports about the "intensive consultations" in the Balfour Street residence ahead of his announcement on Wednesday were intended to create the totally false impression that the decision to seek immunity was difficult for him, as though there were other options available.
Similarly, the narrative that his confidants tried to create, to the effect that his forceful negative response, in a recent television interview, of "What? No Way!," related only to whether he would pursue passage of legislation intended to block a trial or to outflank the High Court of Justice, was a fraudulent misrepresentation. True, that statement did refer to the question of whether he intended to tailor a legislation garment to his specifications. But the interviewer followed up with an intelligent question: Would he do something to prevent his Knesset immunity from being lifted? To which he replied: "I have not been involved in that and I don't intend to get involved in it."
Two lies in one short sentence: He was involved, and how. And he had an intention, too, if he'd won the election. Everything was on the table (or under the table). Fortunately, the plan was perforce aborted.
For the premier, the best-case scenario would be a fourth election, and then a fifth, and so on into deep into the new decade. He'd like to go straight from Balfour to the Great Leaders of the Nation section on Mount Herzl – at the age of 120, of course, during a period of a who-knows-which transition government, when Israel will be in a state of collapse, something like Venezuela today.
It's clear to Bibi that even if the rightist-ultra-Orthodox bloc gets 61 seats on March 2, an almost unimaginable scenario, not all Likud MKs will support his immunity request in the Knesset plenum. He'd do well not to count on them or to assume that Ayelet Shaked and Naftali Bennett are in his pocket. If they do manage to scrape by with four or more seats and make it into the parliament, most voters in their Hayamin Hehadash party will expect them to oppose granting immunity to Netanyahu.
One idea contemplated by his inner circle was to try to garner some support from the Joint List: After all, it's for the Arab MKs, representatives of the beleaguered minority, that parliamentary immunity exists. Emissaries on his behalf put out feelers and received a resounding no. The days of deals and agreements between him and them are over. They're not about to help the person who transformed their persecution, humiliation and bloodletting into policy.
Despite his haughty tone and bluster on Wednesday evening, the Netanyahu we saw is just plain scared. He tried to project a jocular mood, emitting an embarrassing chuckle when he said he had been accused of getting "favorable coverage" in the media. But what he projected was neither self-confidence nor humor – it was fear. Like someone passing by a graveyard on a dark and stormy night, who is whistling a happy tune as loud as he can.
Positive in a negative way
"Treat your men as you would your own beloved sons. And they will follow you into the deepest valley," Sun Tzu wrote in "The Art of War." Maybe that's what Netanyahu was thinking at the rally of supporters that he orchestrated for himself on Sunday (under the guise of lighting Hanukkah candles), where he coined the phrase, "Immunity is a cornerstone of democracy."
If that's what he thought, he was right. His troops (under the guise of elected public representatives) cheered him on. On Monday some of them were interviewed in the media and, uttering the same inanities, compounded the moral disgrace he had conferred upon them by acting as his mouthpiece and defending him.
What was most noticeable about the rally was the backdrop. Standing behind the prime minister were boys and girls from Likud Youth. They had replaced the MKs who, in the recent campaign for their party's leadership primary and at gatherings held during the 21 critical days that preceded the Knesset's dissolution, had been seated on the stage surrounding the premier. When he needed them, he showed them off; when they became superfluous, they were lowered back down to their natural place at the feet of the emperor, lest they become accustomed to the spotlight. And this week young, unknown extras took their place.
His speech on Sunday effectively launched Likud's election campaign. The 50 million shekels (about $14.5 million) that the state has allocated to the party will be invested in an attempt to brand the problematic immunity concept, which even in right-wing realms doesn't enjoy great popularity, to put it mildly. It's his Achilles' heel. It will be the centerpiece of the campaign.
He will go on to reiterate what he declared this week: the immunity is temporary; I will stand trial after I serve my term of office. Even if it's not comfortable for you, even if it's difficult, you must cast your ballot for me, Netanyahu, because I am the best prime minister, the most suitable for Israel at this time of tremendous challenges.
That line won't get him any new voters. And he won't find his six missing seats among Kahol Lavan or Yisrael Beiteinu voters. The leader of the latter party, Avigdor Lieberman, made it perfectly clear what he thinks about parliamentary immunity and the person seeking it. Netanyahu has no choice but to withdraw into the shell of his electorate, in the hope, which lacks any solid foundation, that the 250,000 votes he didn't get in September will somehow materialize in March.
Last week, his PR people came out with another meaningless spin that made headlines for a day or two. The campaign ahead will be positive, they told reporters. We won't badmouth, won't vilify, we won't run amok – we will focus on the stupendous achievements of the past decade, and there's plenty to be proud of. Anyone who wanted to believe that got that positive blow right between the eyes on Wednesday evening, when the prime minister addressed the public.
He did in fact devote some of his remarks to his achievements, but very quickly the familiar bad Bibi cropped up: the guy who isn't capable of saying something positive even if his life depends on it.
Mirror image
In the 12 days that remain until the parties must formally submit their slates for the upcoming election, the hopes of leaders of the political camps are concentrated on two players from the rival sides.
Netanyahu's strategy of increasing the size of the rightist/ultra-Orthodox bloc by six seats at least, which would give him an immunity coalition, is based on Labor leader Amir Peretz and his adamant refusal to run with Meretz on the same slate. And in the same way Netanyahu is praying that Peretz won't collapse under the pressure of Labor MKs, former party bigwigs and scared voters, and will persist in that refusal – so, too, Kahol Lavan leader Benny Gantz is casting his gaze on the other Peretz, Rabbi Rafi, the minister of education, who signed an agreement to run together with Itamar Ben-Gvir, head of the Kahanist Otzma Yehudit party. With the elegant skill of a thief in the night, Katz went behind the back of his partner to date, Bezalel Smotrich, head of the National Union, and confronted him with a fait accompli.
Peretz was driven by childish ego considerations. Since he entered politics, clueless, he's constantly been compared negatively to Smotrich, a wily political fox. Wanting to show the world that his basic training was over, he went to Ben-Gvir and struck a deal. He then invited Smotrich to sidle into a slot he'd left for him on the ticket for the Knesset. Not surprisingly, Smotrich took umbrage and went into disconnect mode.
Peretz's rash and foolish move has been criticized primarily because of its moral implications: The education minister has now joined forces with an admirer of the mass murderer Baruch Goldstein, with a standard-bearer of Jewish racism and despicable Kahanism, a man whose party colleagues were disqualified from running in the last election by the High Court.
That's all well and good, but also a boomerang in terms of the interests of the right-wing bloc: There is zero prospect of a joint Otzma Yehudit-National Union list passing the electoral threshold. Many former National Religious Party voters who, with a supreme effort, managed to swallow the delusional Peretz, with his vision of "schools for prophecy" and conversion therapy for LGBT youths, will have a hard time digesting Ben-Gvir as well. They'll prefer Likud.
In the April election, Bennett and Shaked's Hayamin Hehadash failed at the polling stations. For their part, the slate including Peretz, Smotrich and Ben-Gvir got five seats, just one more than the threshold needed to enter the legislature. If the right wing runs now under three heads – Habayit Hayehudi and Otzma Yehudit, Hayamin Hehadash, and National Union – two of the three will be in serious danger of extinction. The right-wing bloc, at 55 seats today, will shrink.
The mirror image of Peretz is Peretz: If either Labor-Gesher or Meretz fails to make it into the next Knesset, the center-left bloc will lose at least two seats that it doesn't have to spare. The entrenchment in the mud of Amir Peretz and his running mate, Orli Levi-Abekasis, is a vital (albeit not sufficient) insurance policy when it comes to Netanyahu's attempt to reach the 61-seat bar.
It's hard to divine what Peretz and Levi-Abekasis are thinking. It's as though a virus has taken control of them and is undermining their common sense. It's obvious to everyone that in March the voters on both sides of the political divide will be inclined to return to the two big parties. The hard-up satellite parties will again face the threat of obsolescence, as occurred in April. In that election Bennett-Shaked and Moshe Feiglin didn't cross the electoral threshold, while on the left, Meretz survived thanks to a mandate's-worth of Arab votes, a mandate it subsequently lost when the Joint List reunited.
The difference between Rafi Peretz and Amir Peretz is that with the former, the deed is done, the agreement has been signed. The latter, however, seems to have left the door open. He says that a final decision will be made closer to the filing deadline for the party tickets, on January 14. His interlocutors are finding it difficult to decide whether this is a stratagem designed to calm the fears of his electorate, or whether he really will give serious consideration to a merger with Meretz. His indefatigable stunts have left them mistrustful.
No. 1 diplomat
He's not yet outdone Abba Eban, who was Israel's United Nations ambassador for nine years – and ambassador to Washington as well during part of that time – but Danny Danon is on the way to completing five years as envoy to that world body (four years and seven months, to be exact). The opinionated and irritating politician whom Netanyahu dispatched to New York to dislodge him as chairman of the Likud Central Committee, arrived there in October 2015 and is expected to leave in May.
For the past two years he's been living from one extension to the next. The latest of them (for now) came at the last minute at year's end when his term was just about to expire. Only then, before the ball plunged in Times Square, did he got the reassuring call from Jerusalem, apparently from Balfour Street.
Netanyahu's foot-dragging, which this time surpassed his innate tendency to put off decisions until after the 11th hour, was not accidental. Discussions were held in his bureau about finding a possible successor to Danon. The name of Public Security Minister Gilad Erdan, virtually a serial candidate for the UN post, came up again.
Netanyahu's motivation for wrenching Erdan away from the Knesset and flying him to points west, is transparent: Erdan in the past expressed heretical thoughts about his possible support for his boss' immunity request or any other manipulation aimed at helping the accused avoid his day in court. If the day arrives that a decision will be in the hands of the Knesset plenum, it's best to get rid of the obstacle in advance.
But then some complications arose. Let's say Erdan, or for that matter any other MK or minister – such as Tzachi Hanegbi or Ophir Akunis – would agree to take up the UN post. Their name would be sent to the appointments committee, which would approve their candidacy. Under law, the candidate would then have to resign from the Knesset. At which point a petition to the High Court would certainly be filed, on the grounds, which have become pretty permanent around here, that this is a transition government. Netanyahu can appoint ministers as he pleases, but an ambassador is a horse of a different color. And if the High Court were to rule in favor of the petition, former MK Erdan would lose twice: For him, there would be no Knesset and no UN.
From the moment this legal situation was discovered and made clear to all the relevant parties, Danon got another seven more months.
Click the alert icon to follow topics:
AIPAC-backed Dem Declares Victory Against Progressive Challenger in Texas Runoff
Prospects for Reviving Iran Nuclear Deal 'Tenuous' at Best, U.S. Envoy Says
Israeli PM Offers Condolences After Texas Gunman Kills 21 at Elementary School
Biden Decides to Keep Iran's Revolutionary Guards on Terror List, Says Report
Progressive Jews Urge ADL Chief to Apologize for Calling Out Democratic Activist
It's AIPAC vs. Bernie Sanders in Too-close-to-call Texas Democratic Runoff