Analysis |
Alongside Pleas for Unity, Netanyahu Revealed His Bluff: There Will Be No Rotation Agreement
Meeting between the PM and Lieberman mainly benefited the latter ■ And Gantz is wondering from whose experience he should learn
Prime Minister Benjamin Netanyahu with Likud MKs at the swearing-in of the 22nd Knesset in Jerusalem, October 3, 2019.
Credit: Olivier Fitoussi
UPDATE: Netanyahu walks back on snap primary meant to curb Likud 'coup'
Never in living memory has an Israeli prime minister given such a grim and ominous speech, almost apocalyptic, at a festive reception for the swearing-in of a new Knesset.
Israel's Arab voters can decide it all. Do they want to? LISTEN to Election Overdose
Subscribe
The usual clichés were replaced with warnings of a future war, unprecedented security challenges, huge expenditures and dramatic economic decisions, unlike any we remember since the days of "after the Yom Kippur War."
>> Read more: Netanyahu-Gantz unity government? Israel in 1984 has its lessons ■ In Netanyahu's party, assassins never get to sit on the throne | Analysis
Prime Minister Benjamin Netanyahu, whose passion to establish a unity government right away is second only to his rejection of any hint of unity before the election, pledged blood, sweat and tears in the near future to his people on Thursday. "A unity government will be established, he said, looking straight at Kahol Lavan leader MK Benny Gantz, "sooner or later, but it will be established."
Only cynics and small-minded people would find in his words the seeds of justification to go against President Reuven Rivlin's unity plan, which he is careful to praise. If the situation is so serious, if the regional pressure cooker is about to explode any minute, who would consider replacing an experienced premier like him with a political newcomer like Gantz?
Without meaning to, he exposed his own bluff in a speech that was intended to soften Gantz's obstinate opposition to join him as number two in a rotation agreement devised by Rivlin. Anyone who thought differently now understands that he has no intention of giving up his place, even if and when he is indicted. The country first and foremost, he will quote his rivals' slogan.
Where, the small-minded person will say, were all the threats, all the challenges, all the existential dangers that Netanyahu warned of on Thursday, two and a half weeks ago? Until September 17, he was only interested in one thing: obtaining 61 Knesset seats and creating an immunity government. After failing at the polls four months after failing in the Knesset, he is now begging for unity.
He won't get immunity, that train has already left the station. But he'd be better off waging his legal battle (or, alternatively, negotiating a plea bargain) as prime minister.
The swearing-in of the Knesset on Thursday was one of the most bizarre events of the modern era. Only 156 days had passed since the last such event took place. Eight new faces replaced eight old ones, some of whom had only served for a few months as lawmakers, during a time when the Knesset was not working at all. The possibility of another election being held in February or March is not so small. The thought put concern on the faces of the MKs.
A few of them, for example the last 10 on the Likud Knesset roster, let's say from about number 25 and below, are scared to death. Another round, in which Likud comes with a prime minister under criminal indictment, whom most of the public sees as responsible for the unprecedented political entanglement, is not a surefire prescription for electoral success.
Could we imagine a Knesset after this one without the strong personages of Likud MKs David Bitan, Miki Zohar, Shlomo Karhi and Kati Sheetrit? They certainly can't. The question is, will they do anything about it.
Is he ready?
Netanyahu probably didn't really mean to agree to hold a primary leadership contest for the job of Likud chairman. On Thursday afternoon a leak emerged from his inner circle to Channel 12 News' Dafna Liel that he was "considering" it. He may have hoped that all party chiefs would support him, and then he could once again enlist, as he did the last time, the chairman of the party secretariat, Minister Ariel Katz, to confirm, in a dubious and crooked process, his re-election.
But that didn't help. Katz did release, at the speed of light, a statement in support of his leader, but after that came Gideon Sa'ar's tweet, "I'm ready." Not since Prime Minister Menachem Begin's three words "I can't anymore," have so few syllables wrought such holy havoc on a party that has forgotten what it's like to have a different leader.
By press time, no one had added their name to the list of candidates. There are not many: Gilad Erdan and Yuli Edelstein mainly.
Those two had considered running after Netanyahu steps aside, but running against him, that's another story. He's ten times more "ready" than anyone else and has a machine like nobody else. On the other hand, if Sa'ar wins, their aspiration to reach the top will go into deep freeze for a long time. And if Sa'ar brings in a respectable number of votes, at least 40 percent, he will build himself a big camp in the party and make himself the crown prince.
Since 2005, when Ariel Sharon split the party and established Kadima, there has been no real contest for the leadership of Likud. Netanyahu beat Silvan Shalom, at the time his main challenger, and since then only small fry have run against him, like Danny Danon and Moshe Feiglin, or he was able to make various and sundry power grabs that made the primary redundant.
On Thursday he announced at the Likud Knesset members' meeting that the planned primary was "intended to reinforce my leadership," to supposedly destroy once and for all any hope for his removal. His statement is typical of his mode of thought. This is not an election, it's a process to confirm his position as party chairman and its candidate for prime minister.
What is he really going for? To lock himself in as chairman and candidate for the next Knesset. That's where he's headed. If he's elected now, he assures himself a full term until the election for the next connection (which in our crazy lives could be in 2020). He wants to chain Likud to him ahead of his trial, if and when it happens.
The speed with which Sa'ar responded shows that he wasn't taken completely by surprise. And why would he be? Before every campaign, the party chairman and candidate for prime minister must be re-elected one way or another. Netanyahu always loved to surprise, to come from behind, to announce a "lightning" primary, to leave his rivals unprepared, to take the whole pot.
Now he has encountered a new reality. Some people think that Likud members have the right to at least choose among different alternatives, certainly now after two failures, political and electoral, and ahead of any indictments.
Mirror, mirror on the wall
Netanyahu waited for Avigdor Lieberman on Thursday like a kid forced to meet an abusive baby sitter. The experience was as humiliating as his trek to Canossa, even though he was the host. A week had passed since Lieberman declared that he would meet if called upon. Netanyahu, who in his critical condition, should pounce on any sliver of a chance, no matter how small, to form a coalition, made clear to his inner circle that he never wanted to speak to that gentleman (he apparently used a different term) again. "I've realized what he wants," he muttered in disgust.
There's no choice, people he consulted told him. Before you return your mandate to form a government to the president, you have to prove to the public that you left no stone unturned. Although he would have been happy to turn over a stone on the head of his guest, he acquiesced, gritting his teeth. So as not to arouse false hope, Lieberman published a post before the meeting tying himself to his original pledge to support only a secular unity government, with Likud, Kahol Lavan and Yisrael Beiteinu.
The useless meeting at the prime minister's office came at a good time for Lieberman. After a period of time away from the limelight, he was back in the headlines. Early next week, before Yom Kippur, he has promised to publish his own list of conditions for a unity government. Meanwhile Netanyahu is expected to turn his mandate back in to the president, who will dribble it over to Gantz, whose chances of success are less than Netanyahu's.
Gantz is the mirror image of Netanyahu: the latter wants to shorten the time until the end of the 21 days during which either a new government (headed by him) will be established, or a new election is called.
The speeding up of the political clock is aimed at speeding up the clock of a decision in Netanyahu's pre-indictment hearing, and/or making it difficult to organize any rebellion in Likud and/or who knows what. Precisely for this reason, Gantz's interest is the opposite: to hold on to the president's authorization until the 28th day and then enter a no man's land, the black hole where the laws of physics clash and collide.
It is Netanyahu who meanwhile is paying the price for the situation in which the country finds itself because the man at its helm is a criminal suspect who refuses to vacate his seat. According to a survey published last week, most Israelis consider Netanyahu responsible for the mess and will regard him as the main culprit if a new election is forced on us.
He is beginning to be seen, even in the eyes of die-hard Likudniks, as a chronic intestinal blockage in the body of the patient, which if it persists, will exact an irreversible price. His actions and what is happening to him raise the continual impression of increasing distress: the hearing, which will continue for at least another two days, his almost daily meetings with his friends from the "bloc" who attest to his fear that some of them may abandon him, and his decision to take away from MK Avi Dichter the (temporary) chairmanship of the Foreign Affairs and Defense Committee so that MK Moshe Gafni (of Degel Hatorah, part of United Torah Judaism) can continue as head of the (temporary) Finance Committee. The representative of a party with three Knesset seats gets preference over the government's main party, with 32 seats.
Well, no surprise there. Netanyahu's alliance with the ultra-Orthodox is natural, strategic, divine. The alliance he has with this party is due to a confluence of circumstances; it is instrumental, one-way, for his own needs only.
Guess who's coming to dinner
On Sunday morning, Rosh Hashanah Eve, Netanyahu woke up and decided he was going to see Benny Gantz. He loves those mini-dramas. They are part of a ritual and a political courting of his hard-to-get coalition partners. He believes that three hours in the living room with him and Sara can melt any iceberg. Or at least drive it crazy.
The prime minister ordered his people to get him Gantz. It turned out that Gantz was on vacation in London. They talked to him on the phone and set a tentative date to meet on Wednesday.
"I'm ready to come to you in Rosh Ha'ayin," the suitor said, and even publicly announced it. The man he was courting waited two days and then turned him down. He's beginning to understand the political game.
The question is, has Gantz also begun to understand the depth of the dilemma that he will face should he exhaust his mandate to form a government? The days are rapidly counting down toward the dissolution of the Knesset. The alternative he faces is no less difficult than Netanyahu's; another election is a risk. Who can promise him he will be the one leading Kahol Lavan for the third time? Maybe Gabi Ashkenazi, who (almost) any place he goes is told, "Bro, if only you were the head, you'd bring in more votes." Even a sober and cool Golani veteran in the reserves can find his head spinning over such admiration.
Gantz, who as has been written here, holds a different position than his three co-leaders, who call themselves "the cockpit." He was prepared to enter into talks with Netanyahu about Rivlin's plan. It's clear to him that a rotation, even if only on paper, will bring him closer than ever before to the premiership. But Ashkenazi and Yair Lapid, and to a lesser extent Moshe Ya'alon, have warned him that this would be his end; Netanyahu would break the agreement, would maneuver and delay, and should he enter a period of incapacity in wake of an indictment, he would make Gantz's life difficult from his residence on Balfour Street.
On the other hand, some people are whispering in his ear (the one that can hear, not the one with tinnitus): Remember Tzipi Livni? She was on the verge of signing with Netanyahu in 2009, but she hesitated, set conditions and in the end was left out, eventually disappeared from political life. The same thing happened to Isaac Herzog in 2015 and thereafter again during the term of the 20th Knesset. More than once he conducted negotiations and almost signed, but his fellow party members thwarted him. Herzog disappeared into the Jewish Agency, to the benefit of the Jewish people.
But then again, we haven't forgotten pleasant-faced Shaul Mofaz, who replaced Livni at the helm of Kadima. In April 2012, he inherited a party of 28 seats, was seduced by Netanyahu's promises and went into a ridiculous and needless unity government (in which, of course, none of the promises were kept). In February 2013, elections were held, and Kadima was left with two seats. Such a crash had never been seen in Israeli democracy. So what is the lesson to be learned here? That there is no lesson.
Brotherly covenant
Netanyahu and Yamina MK Naftali Bennett have met at least three times over the past two weeks since the election – three meetings and many phone calls. In his weakness, his vulnerability, his death throes before being cast from the political arena, Netanyahu has turned Bennett into a phone friend. Not only him, of course – all the heads of the right-wing parties and the ultra-Orthodox, too. But his relationship with them, unlike with Bennett, hasn't been twisted for the past six or seven years into a morass of hatred, harassment, suspicion and revenge, fueled by the good temperament of Sara Netanyahu.
Bennett has still not been sufficiently rehabilitated to be invited to the official residence. He probably won't ever be able to step into the halls of the Forbidden City on Balfour Street. But he is a welcome guest at the prime minister's office. By the way, after every such meeting the prime minister's people inform the press, especially the right-wing outlets.
Netanyahu's game is transparent: Bennett, chairman of Hayamin Hehadash, is perceived by Netanyahu as in charge of things in the Yamina party (whose other components are Bezalel Smotrich's National Union and Rafi Peretz's Habayit Hayehudi).
Netanyahu believes that as long as Bennett is at his side, Yamina is all with him for sure. And the opposite is true. If Bennett, who is considered the most moderate and centrist of all seven Yamina MKs, begins to look toward Gantz, there would be nothing to prevent the others, or some of them, from doing so. And so he is investing in maintenance of Bennett's support.
To this must be added talk in the prime minister's circles that he wants to blend Hayamin Hehadash into Likud before the next election. Bibi wants to do that, someone in his orbit told me, but just not with Bennett. And not with Ayelet Shaked, she's out forever. Sara can stand Bennett somehow. Shaked, never.
The prime minister and the prime minister's wife should know: Like the slogan on the poster Netanyahu's supporters raised for him, reading: "Netanyahu, you'll never walk alone" – Bennett will never walk alone to Likud. It's true that Shaked knocked desperately at the doors of the ruling party on the eve of the election and was rebuffed. But Bennett knew about it and agreed to it. In this instance, he has made clear: two for the price of one, or neither.
Attorney general in the crosshairs
Netanyahu showed no humility, no regret, not a drop of a shame when this week he became the first prime minister in Israel's history who is being subjected to a pre-indictment hearing on a series of serious criminal charges. While any Western leader in the same position would step down, he chose to continue and walk the same destructive path that he has taken since the beginning of the investigation against him: self-victimization and whining on the one hand, and continuing to incite against law enforcement on the other.
In warm words he encouraged his supporters who demonstrated near the home of Attorney General Avichai Mendelblit in Petah Tikva: "Thank you to the many, many of you who came out tonight with no notice and with fervor. You have touched me," he tweeted at the end of the holiday. They returned the favor in a statement that defined the proceedings involving him as "political persecution by a huge apparatus whose components have come together to convict at any price."
He probably connects more to this "deep state" message than to the unwavering expression of support for the prosecution team expressed by the most senior of his attorneys, Ram Caspi, at the entrance to the Justice Ministry in East Jerusalem. He mentioned each one by name: Mendelblit, Shai Nitzan, and Liat Ben-Ari. Eighty years old, with abundant achievements, Caspi and his measured words momentarily restored the gentlemanliness to the legal melee surrounding Balfour. What a difference between him and attorney Yossi Cohen.
At the head of the counterattack campaign is a completely bizarre right-wing activist, Ran Karmi Buzaglo, who led the public campaign in support of the soldier, Elor Azaria, who shot and killed a prone Palestinian in Hebron. Netanyahu is in good company: Two Dreyfusses rose up in the Land of Israel, and both are being defended by a man who tried to send a burning kite to the Gaza Strip and ended up setting Negev fields ablaze.
And Netanyahu's message to the Likudniks was: Keep on, and grow stronger. On Tuesday night only a few hundred came to Goren Square near Mendelblit's home in Petah Tikva (which Bibi called "many, many"). He would have wanted to see tens of thousands. But we know his mind: sow fear in the hearts of the investigators and the prosecutors, and of anyone who can threaten his weakening rule.
When he spurs on his supporters to protest against the chief law enforcement official in Israel, he conveys to the attorney general that his time has come. That now his head is in the crosshairs. Mendelblit is the last line of defense between suspicions and a trial, and possibly on to prison.
Remember Dudi Amsalem, now a minister in Israel? In his Mafioso style, he threatened at the time that if it is decided to indict the prime minister, "millions will take to the street." If we thought (and we didn't, even for a moment) that Amsalem was speaking from the heart, now we realize that he was simply unveiling the final stage in his boss's plan: wreak chaos in the country if and when the indictment becomes fact.
Netanyahu has no intention of going to jail, and not even of standing trial. He has two alternatives if it is decided to indict him: to burn down the clubhouse or sign a plea bargain.
At the hearing, he has said, "the suspicions will fall like a house of cards…not even dust will remain." But he has done everything not to reach this point; in December of last year he moved the election up to April. He had a perfect plan: to establish a government in May, to devote the two months until the Knesset's summer recess to stitch together an immunity package plus restricting the Supreme Court's power to criticize a decision not to rescind immunity; and then, protected from justice, to pass a series of laws in the Knesset that would break the knees of the justice system and leave it weak and disabled.
Inside his legal cartridge, and that of Yariv Levin, his candidate for justice minister, is a bullet for every gatekeeper: the attorney general, the state prosecutor, the Supreme Court, the police of course, the legal advisors in the government ministries, and the state comptroller (Matanyahu Englman will not be there forever).
By the time Netanyahu is done with them, Israel will have separated itself from Western democracies and be joining pariah countries like Andrzej Duda's Poland, Recep Tayyip Erdogan's Turkey and Abdel-Fattah al-Sissi's Egypt. It's not coincidental that he is proud of his friendship with two of the three.
Click the alert icon to follow topics:
ICYMI
Ken Burns' Brilliant 'The U.S. and the Holocaust' Has Only One Problem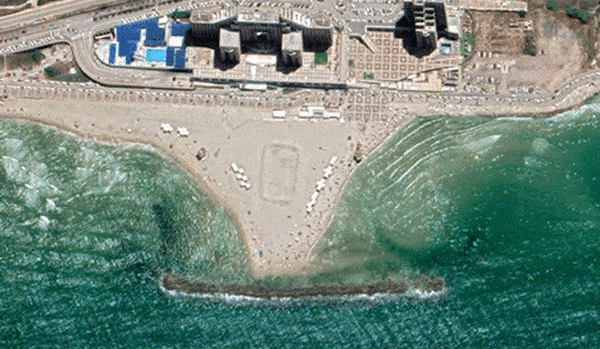 Facing Rapid Rise in Sea Levels, Israel Could Lose Large Parts of Its Coastline by 2050
As Israel Reins in Its Cyberarms Industry, an Ex-intel Officer Is Building a New Empire
How the Queen's Death Changes British Jewry's Most Distinctive Prayer
Chile Community Leaders 'Horrified' by Treatment of Israeli Envoy
Over 120 Countries, but Never Israel: Queen Elizabeth II's Unofficial Boycott