Israel Election Results: Netanyahu Says He Wants Unity Government; Gantz: I Will Lead It
Kahol Lavan MKs say they will sit with Netanyahu ■ Shaked says she isn't sure she will join right-wing bloc ■ Gantz widens edge over Netanyahu as 98% of vote counted
Prime Minister Benjamin Netanyahu and Kahol Lavan leader Benny Gantz shake hands at a memorial service for Shimon Peres, September 19, 2019.
Credit: Olivier Fitoussi
>>This live blog is no longer updating, for new updates click here
Prime Minister Benjamin Netanyahu called on rival Benny Gantz to meet him "at any hour" on Thursday in order to hold discussions. "We must form a broad unity government," he told the Kahol Lavan leader, whose party widened the edge over Likud according to the latest election results. (Who is Benny Gantz? Read the full profile)
Israel's Arab voters can decide it all. Do they want to? LISTEN to Election Overdose
Subscribe
By the day's end, the two hadn't met. Gantz, meanwhile, has stated that he is interested in a broad unity government, but would like to be at its helm.
With 98 percent of the votes counted, Kahol Lavan has won 33 out of 120 Knesset seats, with Likud following with 31 seats. Netanyahu's bloc, comprised of right-wing and ultra-Orthodox parties, currently stands at 55 seats. The center-left bloc has 57 seats.
Avigdor Lieberman, whose Yisrael Beiteinu party is projected to have eight seats, is expected to be the election's kingmaker. On Wednesday morning, he reiterated his support for a "broad liberal unity government," which would include Yisrael Beiteinu, Likud and Kahol Lavan.
■ Netanyahu clings to power – but his days are numbered
■ Netanyahu's loss creates opening for Trump, U.S. Jews
■ How Arab voters deprived Netanyahu of victory
■ Liberal Tel Aviv, radical settlers: How Israel voted
The third largest party in the Knesset is the Joint List of Arab parties, with 13 seats. It is followed by ultra-Orthodox party Shas, which gets nine seats and United Torah Judaism, which gets eight seats. Ayelet Shaked's Yamina gets seven seats, the results indicate, Labor-Gesher get six and Democratic Union get five seats.
6:53 P.M. United Torah Judaism sources say party not ruling out coalition with Lapid if he agrees to status quo on religious issues
Sources in United Torah Judaism say they are not ruling out sitting in a coalition with Kahol Lavan's Yair Lapid if he is willing to maintain the status quo on religious issues that are important to ultra-Orthodox voters. According to a senior official in the party, "everyone is reevaluating in light of the situation." The official says that there are disagreements within the party on the matter, with Chairman Yaakov Litzman refusing to consider sitting with Lapid, while other members are opposed to his policy ideas but not to him personally. Lapid, a former finance minister, has butted heads with the ultra-Orthodox community because of his campaign to strip draft-age yeshiva students of exemptions from army service when he served in government between 2013 and 2015.
5:33 P.M. Russia: Israeli-Palestinian peace efforts unimpressive for years, 'responsible stance' needed
Following Israel election results, Russian Foreign Minister Sergei Lavrov tells Israeli and Palestinian leaders of the Geneva Initiative in Moscow that he would like to see an Israeli government that would adopt "a responsible stance" regarding the Israeli-Palestinian conflict and called a two-state solution necessary to its resolution.
4:22 P.M. President Rivlin to begin asking parties who they want to form government on Sunday
President Reuven Rivlin will begin talks with the parties elected to the Knesset on Sunday to see who they might recommend to form the next government.
3:33 P.M. Lieberman: Enough, Netanyahu – let's sit with Gantz
Avidgor Lieberman has repeated his call for Netanyahu to form a national unity government with Gantz. Lieberman wrote on his Facebook page that Netanyahu is claiming he wants a unity government but is still trying to convince members of other parties to join his bloc – and that if the prime minister fails to obtain the six additional seats he needs to form a coalition, he will blame Gantz and Lieberman and force Israel to go to its third election in a year.
3:15 P.M. Lapid: We can't let Netanyahu drag us into another election
Kahol Lavan's No. 2, Yair Lapid, said that "If Bibi steps aside, a unity government could be established here. Netanyahu is attempting to drag the country into a third election. He refuses to accept the results of the election. One man is preventing the formation of a liberal unity government."
Lapid called on forming a government "with everyone who believes in civil marriage, canceling the supermarket law [which gives the interior minister more authority to keep stores closed on Saturday], and transportation on Saturday, and with those who are not involved in corruption and have indictments hovering over them."
The Kahol Lavan co-leader stressed "that the nation didn't give Netanyahu its vote of confidence, and now he is trying to replace the people. We must prevent him from dragging us into another election.
Moshe Ya'alon and Gabi Ashkenazi, Kahol Lavan's No. 3 and 4, ruled out joining forces with Netanyahu.
2:47 P.M. Netanyahu: I'm disappointed that Gantz won't meet with me
Prime Minister Benjamin Netanyahu said that he was disappointed that Kahol Lavan leader Benny Gantz has still not accepted his call to meet and discuss a unity govenment. "Gantz, my offer to meet still stands," he said. "This is what the public expects of us."
2:18 P.M. Gantz: I would like to be at the helm of a broad, liberal, unity government
Benny Gantz said he intends to form and lead a "broad, liberal, unity government."
"In order to form a unity government, one can't come with political blocs and spins," Gantz said, presumably responding to the deal that Netanyahu struck with the right-wing parties. "You come with responsibility and seriousness. I attend to act accordingly," Gantz said.
"After an election that was forced on Israel, [Israel] voted and made a clear choice. The people voted for unity and Kahol Lavan won the election. It's the biggest party," Gantz added.
"The Israeli people wanted a unity government after the last election too," said Gantz, vowing to form a "broad, liberal unity government."
Gantz declared that his party "will bring about real change and heal Israeli society," adding that he will not accept any dictates. "This negotiation will require patience and sticking to our principles," he said. "There will be no shortcuts."
12:55 P.M. Haredi parties not ruling out sitting with Kahol Lavan's Lapid
Sources in Likud ally United Torah Judaism told Haaretz on Wednesday that the party would not exclude joining a coalition with Kahol Lavan co-leader Yair Lapid - boosting the prospects of a national unity government. Lapid has historically been at ideological odds with religious factions, and particularly with UTJ chairman Yaacov Litzman.
11:12 A.M. Netanyahu, Gantz shake hands at Peres memorial
10:50 A.M. Likud says right-wing party leaders signed deal not to negotiate separately
A Likud spokesperson said that the leaders of right-wing parties signed a deal declaring that their select candidate to form a government is Netanyahu and that none of the parties would enter coalition negotiations separately, and that the parties will hold negotiations as one, unified right-wing bloc.
10:48 A.M. Bennett: Gantz needs to accept Netanyahu's call and stop his boycott
Ayelet Shaked's political partner and number two on Yamina's slate, Naftali Bennett, tweeted on Wednesday morning that "Benny Gantz ought to respond immediately to Prime Minister Netanyahu's call to meet, and stop this stupid boycott. We have a country to run here."
10:20 A.M. Netanyahu to Gantz: Let's meet today, we must form a broad unity government
Prime Minister Benjamin Netanyahu said Thursday that despite his efforts to build a right-wing government, "there is no choice but to form a broad unity government."
"Benny, it is on us to form a broad unity government. Today. The nation expects us, both of us, to accept responsibility and work together," Netanyahu said.
"So I'm calling on you, Benny, let's meet today, at any hour, to advance this process that is the mission of the hour. We cannot go to third elections, there's no reason to – I oppose it," Netanyahu said.
Netanyahu added that he had spoken to the right-wing leaders and they plan to enter the negotiations for the national unity government as a unified bloc, saying that the government should be "as wide as possible."
9:50 A.M. Gantz's party in the lead with 33 seats as 97 percent of vote counted
With 97 percent of the vote counted, Kahol Lavan gained a seat, giving them 33 and placing them two seats ahead of Likud. Lieberman's Yisrael Beiteinu lost a seat, bringing its total down to eight. The center-left bloc now has 57 mandates and is leading the right-wing bloc by two seats.
8:45 A.M. Ayelet Shaked says she hasn't yet agreed to joint a Netanyahu government
Yamina leader Ayelet Shaked said Thursday morning that her party has not yet agreed to join a right-wing government headed by Prime Minister Benjamin Netanyahu.
"The prime minister has asked that we join the bloc, but we have to think about it," Shaked told Kan Bet.
Netanyahu announced Wednesday that he had met with the leaders of the right-wing parties and begun negotiations to form a coalition. He is expected to meet again with the party leaders at 9 A.M. on Thursday.
Shaked said her party is "not ruling out anyone." She added that she's not opposed to "Kahol Lavan joining the coalition or [Labor's] Amir Peretz, or Lieberman... The most important thing is that we don't force the nation into a third election."
For earlier Election Day updates, click here
Click the alert icon to follow topics:
ICYMI
Ken Burns' Brilliant 'The U.S. and the Holocaust' Has Only One Problem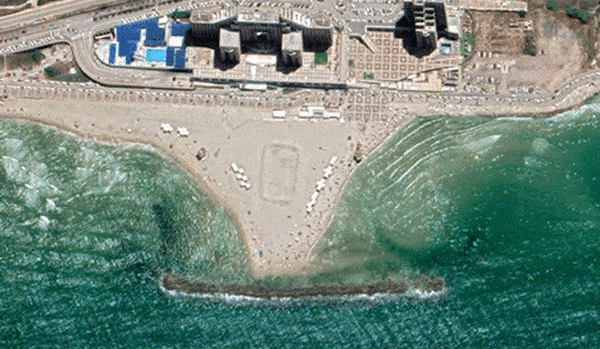 Facing Rapid Rise in Sea Levels, Israel Could Lose Large Parts of Its Coastline by 2050
As Israel Reins in Its Cyberarms Industry, an Ex-intel Officer Is Building a New Empire
How the Queen's Death Changes British Jewry's Most Distinctive Prayer
Chile Community Leaders 'Horrified' by Treatment of Israeli Envoy
Over 120 Countries, but Never Israel: Queen Elizabeth II's Unofficial Boycott