Israel Election 2019: Every Politician Is Now a wanna-Bibi With Netanyahu's 'Losing' Strategy
In other countries on Election Day, politicians express confidence that they are going to win. In Israel, everyone from Gantz to Shaked is a prophet of doom — just like Netanyahu
In April, Netanyahu made a surprise visit to the beaches near Tel Aviv, exhorting sunbathers to go home and vote. This time, Kahol Lavan's Benny Gantz and Yamina's Ayelet Shaked did too.
Credit: Tomer Appelbaum
As journalists and Kahol Lavan activists arrived at the Rosh Ha'ayin polling station Tuesday morning to provide the backdrop for Benny Gantz's arrival to vote, the first thing they saw was a giant Likud battle bus parked in front of the Nofim school. (LIVE election results: Netanyahu fails to secure ruling majority)
This wasn't just any Likud bus. This was the "Miribus," Culture Minister Miri Regev's election ride across the country, in which she has regaled voters with blaring nationalist songs and impromptu interviews with herself and other Likud luminaries (including Sara Netanyahu).
Israel's Arab voters can decide it all. Do they want to? LISTEN to Election Overdose
Subscribe
Though you wouldn't put it past her, Regev wasn't actually here to troll Gantz. Of all the 11,000 polling stations across Israel, both politicians vote at the same one. Being an officer and a gentleman, Gantz allowed Regev and her passengers to go in first and vote. As Regev left, she was gently mobbed by Kahol Lavan supporters chanting "hasrat tarbut" (uncultured), a word play on "sarat tarbut" (culture minister).
>> Read more: Israel election 2019: Netanyahu, Gantz or deadlock? 7 scenarios, 5 outcomes ■ Israel election 2019 - so nice they held it twice: Our top takes ■ It's the prince of darkness vs. Israel's very soul | Analysis
"They're whining and their noses are crooked and will remain crooked," responded Regev with her usual grace. "I'm going from here on my MiriBus to as many places as I can to get the sourpusses out to vote."
For all the talk of "tribal" Israel, it is not surprising that Gantz and Regev live in the same suburb, Neve Afek — small, neat villas built in the 1990s for career army officers. Their backgrounds are not so different, born to immigrant, traditionally religious parents of meager means, advancing themselves through their military careers: Gantz in the paratroopers; Regev in the spokesperson's unit.
If the political landscape had been different, Gantz and Regev could have been running on the same slate on Tuesday. Gantz comes from a family of Labor Party activists, and Regev — who, before her opportunistic reincarnation as a Likud rabble-rouser, was known as the army spokesperson who sold the 2005 Gaza disengagement to the Israeli public — once tried to secure a spot on Labor's Knesset slate. Both of them could have fit naturally into Labor when it was still a party with serious aspirations to power. Instead, after climbing as far as they could in the Israel Defense Forces, they both entered politics in the age of Benjamin Netanyahu.
The prime minister has gradually emptied Israeli politics of any real ideology, breaking society into warring tribes of "Jews" and "Israelis," increasingly divided by one issue: Netanyahu himself.
Kahol Lavan has been in existence for only eight months, and in this time has taken the place in the center of the political map that was once occupied by Labor. But the vague platform it has presented to voters is right-of-center and, if anything, resembles Likud in better days, before the "National Liberal" party became nothing more than a personal platform for Netanyahu.
As Regev and Gantz's supporters milled around the polling station's entrance in near identical blue T-shirts, it was impossible to tell the Likudniks and Kahol Lavaners apart.
But whether new politicians join Likud like Regev did, or the artificial centrist parties like Gantz's Kahol Lavan, they are all in Netanyahu's mold — devoted only to either perpetuating his power or ending it. In effect, they are all wanna-Bibis.
With Regev and her Miribus gone, Gantz could finally arrive to vote. His supporters couldn't quite decide what song to sing as Kahol Lavan — unlike Likud and the other veteran parties — has yet to find its own catchy jingle. Every one of the activists was a general in his own right and tried to get them to stand in orderly rows of three, just like in the army. When Gantz turned up, he didn't stop to talk to them. Instead, he plunged straight into the school, where only the media was allowed to record his bland statement.
Upon leaving, one of his aides said: "We're going to be like Bibi this time. We won't be telling the media about Benny's appearances, and he may not do any. We'll decide on the spur of the moment if we think we need to."
Instead of touring the country, Gantz drove to Kahol Lavan's situation room in Tel Aviv, where he was appraised of the voting patterns in the first few hours. Then he made a surprise visit to a mall in Haifa, just after Netanyahu himself emerged from the official residence in Balfour Street to speak with a megaphone at Jerusalem's Central Bus Station.
A digital campaigning expert working for one of the parties observed: "For the party leaders now, keeping their pulse on the digital aspects of their campaign is far more important than being seen out and about. We're not such a small country anymore, and the Israeli electorate is too big to motivate effectively without the most detailed lists of voters, their phone numbers and voting preferences. There are people out there obtaining databases, legally or illegally, and building lists to sell to the parties."
In the past, Israeli politicians used to give the media advance warning of the places they planned to visit on Election Day, before retreating to party headquarters to make last-minute phone calls to voters. Reporters and camera crews would follow their convoys, crisscrossing the country at breakneck speed. Now, those politicians are all cowering in their campaign lairs, waiting for Netanyahu's next move or trying to ape his tactics.
In April, Netanyahu made a surprise visit to the beaches near Tel Aviv, exhorting sunbathers to go home and vote. This time, Yamina's Ayelet Shaked and Kahol Lavan's Yair Lapid hit the beaches as soon as they had voted themselves (and Gantz himself went to the beach later).
Netanyahu has made every Israeli politician a wanna-Bibi. One party leader texted Tuesday afternoon: "We are all fighting a digital election, and we don't know what we're doing. It's Netanyahu's 'gevalt' legacy." Even if Netanyahu loses this election or is forced to resign soon after over his corruption investigations, his gevalt strategy is here to stay.
Every politician around the world expresses confidence on Election Day — even if no one believes them when they say they feel they're going to win. Netanyahu turned that political orthodoxy on its head. He is the only politician who everyone believes is going to win who spends Election Day, and the days preceding it, saying at every opportunity that if the current trends hold, he is sure to lose.
It's a counterintuitive, hysterical strategy — which is devastatingly effective. And every Israeli politician is using it in this election. Labor-Gesher, the Democratic Union and Yamina are all warning that not only could they end up on the losing side, there's a fair chance they could fall below the electoral threshold and be wiped out.
Of course, being the innovator he is, Netanyahu ratchets up his gevalt level every campaign. In 2015, he added racism with his "Arabs voting in their droves" Facebook video. With racism now becoming standard, in April he introduced (false) voter fraud allegations and voter intimidation when he sent 1,000 activists armed with hidden cameras to the polling stations in Arab communities. This Election Day, he's blatantly breaking the election law by spreading false polling through Likud's Facebook chat-bot feature and giving frantic interviews to radio stations.
And, of course, every hour, on the hour, he's on Facebook Live, delivering another broadcast of "We are in danger of a left-wing government with the Arabs!"
The other party leaders simply can't keep up with this 69-year-old grandfather and his limitless energy and hunger for power.
Even Avigdor Lieberman, who prides himself on operating differently to Netanyahu, has been doing it in recent days. He has repeatedly said that in the secular neighborhoods and towns, voters are complacent and are going to give Netanyahu and his ultra-Orthodox partners another majority.
To drive his message home, he made one planned visit on Election Day, to the tony Sarona Market in Tel Aviv. Lieberman, Israel's quintessential "Russian politician," more at home in the immigrant suburbs where his core constituency lives, emerged into the Sarona courtyard — which was packed with Tel Avivians taking advantage of the election holiday to have a long lunch — blinking in the light.
For once, he seemed out of his comfort zone, faced with a crush of passersby, his own rent-a-crowd and the media, which finally had been given time to prepare for the arrival of a senior politician. He didn't quite know where to stand, or in which direction to make his prepared statement (which, ridiculously, was about his ultranationalist Yisrael Beiteinu party's policy of "live and let live"). He even forgot to remove his chewing gum before speaking.
In his mission to take down Netanyahu, even Lieberman is reduced to operating on Netanyahu's terms. But then, he began his political career over 30 years ago wanting to be Netanyahu, carrying around his shirts and electric shaver. The first but certainly not the last wanna-Bibi.
Click the alert icon to follow topics:
ICYMI
Ken Burns' Brilliant 'The U.S. and the Holocaust' Has Only One Problem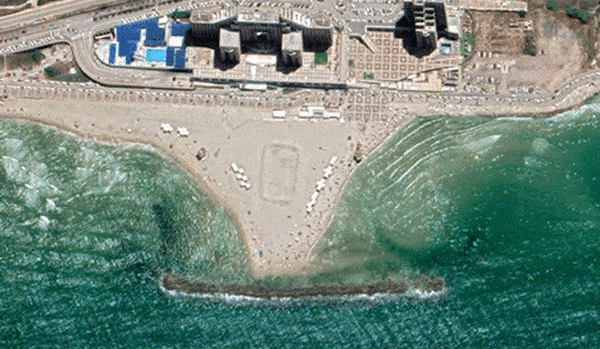 Facing Rapid Rise in Sea Levels, Israel Could Lose Large Parts of Its Coastline by 2050
As Israel Reins in Its Cyberarms Industry, an Ex-intel Officer Is Building a New Empire
How the Queen's Death Changes British Jewry's Most Distinctive Prayer
Chile Community Leaders 'Horrified' by Treatment of Israeli Envoy
Over 120 Countries, but Never Israel: Queen Elizabeth II's Unofficial Boycott