Israel Election 2019: Netanyahu, Gantz or Deadlock? 7 Scenarios, 5 Outcomes
All Israel election polls suggest the result is too close to call and no fewer than five possible outcomes — which, whisper it, could even see Israelis facing another election in early 2020
A Likud supporter holding an election campaign poster depicting Netanyahu. in Jerusalem, September 13, 2019. All Israel election polls suggest the result is too close to call.
Credit: \ AMMAR AWAD/ REUTERS
There is only one important outcome on Tuesday, Israel's Election Day: Will Likud and the three (or possibly four) other parties expected to endorse Prime Minister Benjamin Netanyahu emerge with a majority of 61 seats or more in the new Knesset? With 60 seats or fewer, Netanyahu will not have a governing coalition and new possibilities would open up — though it will not be plain sailing for Kahol Lavan leader Benny Gantz to build a coalition of his own. (LIVE election results: Netanyahu fails to secure ruling majority)
The question of which party wins the most seats, Likud or Kahol Lavan, is a secondary one. Netanyahu will win if his coalition bloc wins. If it doesn't, then it will certainly help Gantz to have the larger party in his claim for the mandate to form a government from President Reuven Rivlin. But it will be a psychological and tactical advantage, not a decisive one.
Israel's Arab voters can decide it all. Do they want to? LISTEN to Election Overdose
Subscribe
The baseline for these Election Day scenarios is 60 — the result of the last election on April 9 when the Netanyahu bloc lacked just one seat for a majority, after Avigdor Lieberman decided his five Yisrael Beiteinu lawmakers would not join.
The media polls carried out in the last three months all predict that Likud — together with Yamina, United Torah Judaism, Shas and possibly Otzma Yehudit — will struggle to reach 60, let alone 61. But the polls have buried Netanyahu many times before and he usually came back from the dead.
Tuesday's result cannot be identical to April 9 as some of the parties that ran then have since merged, others have broken apart or dropped out altogether. Otherwise, the polls in recent weeks suggest minor changes, largely to Netanyahu's disadvantage, and that Likud and Kahol Lavan — which received an almost equal number of votes in April (Likud had just 15,000 more votes) — are still roughly even.
The seven scenarios detailed here are not contradictory: any of them could happen simultaneously. They will become evident as soon as we have an inkling of the real results in the early hours of Wednesday morning (the exit polls at 10 P.M. Tuesday, which were mostly wrong in 2015 and in April, may only muddy the waters further). However, only one of the possible five listed outcomes can happen.
Scenario 1: A Likud surge
In the last two elections, the pre-Election Day polls failed to detect the late surge of right-wingers to Likud. No polls gave Likud its final tally of 30 seats in 2015 or 35 in April. If the pollsters have it wrong again, and Netanyahu's efforts to get out the recalcitrant Likud vote and cannibalize his erstwhile partners are successful, that may not in itself be enough to save his majority. This is because many of those votes will come at the expense of parties that are part of his coalition anyway. Also, a Likud surge could ensure that the far-right Otzma Yehudit does not cross the 3.25 percent threshold, leading to the potential loss of two or even three coalition seats.
Scenario 2: A Kahol Lavan surge
The other big mistake of the pollsters in April was their failure to detect the degree to which Gantz's new centrist party would cannibalize the party to its left, Labor. Kahol Lavan's popularity seems to have waned slightly since the previous election, at least if the polls are to be believed. But if Kahol Lavan can also pull off a last-minute surge, it could have a range of implications — not all of them necessarily helping Gantz. Even if it makes Kahol Lavan the largest party, it could at the same time push either Labor-Gesher or Democratic Union — perhaps even both — beneath the electoral threshold, wasting seats and giving Netanyahu a much higher chance of securing a majority.
Scenario 3: A Lieberman surge
All the polls conducted since the end of May, when the Knesset was dissolved, have Yisrael Beiteinu capitalizing on Lieberman's decision not to join the coalition unless the draft law calling for the conscription of yeshiva students was passed. In many of the recent polls, Yisrael Beiteinu is predicted to double its current five seats. These seats are likely to come at the expense of coalition parties (especially Moshe Kahlon's Kulanu, which won four seats in April but subsequently merged with Likud) and opposition parties. If this trend holds, it is hard to see how Netanyahu can make up the gap and win a majority — unless Lieberman is so successful that he attracts many former center-left voters as well.
Scenario 4: Otzma Yehudit gets in
In April, the neo-Kahanist Otzma Yehudit was part of the Union of Right-Wing Parties (now running as Yamina). This time, the Jewish supremacists are going it alone, although until a few weeks ago the prospect of them crossing the electoral threshold seemed unthinkable. But some of the final polls have the party on four seats, or very close. It is all still within the margin of error, but should Otzma Yehudit shamefully make it into the next Knesset, it is potentially worth an extra couple of seats for the coalition. The party wouldn't make life easy for Netanyahu in coalition negotiations, but its seats would be part of his majority.
Scenario 5: Labor or Democratic Union fall
The other unthinkable of this election is that Labor, the party that ruled Israel for half of its existence, fails to cross the electoral threshold. And while the polls all have Labor scraping through, it could yet be a close thing. The changes since the last election — Labor's merger with the centrist Gesher, and the defection of one of its most popular stars, Stav Shaffir, to the Democratic Union — make it impossible to predict. Meretz, the main party in the Democratic Union alliance, barely passed the threshold in April. Gaining Shaffir, as well as Ehud Barak and Yair Golan, should have boosted its popularity, as reflected in most of the polls. At the same time, though, the reemergence of the predominantly Arab Joint List, as well as Barak's unpopularity with many Arab-Israeli voters, could cost it. If either Labor or Democratic Union drop out of the next Knesset, it will be a major boost to Netanyahu's chances of securing a majority. If both of them fail, his majority is all but certain.
Scenario 6: Arab turnout is up
The Joint List won 13 seats in 2015, thanks to a massive surge in the Arab-Israeli turnout — which at 64 percent was close to the national level. In April, when the Joint List split into two competing alliances, Arab turnout plunged to just 49 percent and three seats were lost. Now the Joint List is reunited and there is an expectation that turnout will rise somewhat, though probably nowhere near the heights of 2015. Still, even a modest improvement should yield a seat or two. And because of the proportional representation arithmetic, another seat for the Joint List means one less for the right-wing bloc — so that's a net loss of two for the Netanyahu majority. That is unless a significant proportion of Joint List's gains come at the expense of the Democratic Union crossing the electoral threshold.
Scenario 7: Jewish turnout is down
There is no precedent for two Knesset elections in the space of six months. The expectation is that this will probably mean a lower turnout among the Jewish community, but no one can predict just how low it will drop and which parts of the electorate will be most impacted. It is almost certain one sector will not be affected: the ultra-Orthodox (or Haredi) community, where everyone will turn out to vote at the urgent orders of their rabbis. This is good news for Netanyahu, as Shas and United Torah Judaism are locked into his coalition. A low turnout means the ultra-Orthodox vote is worth more, and both parties could end up gaining seats that will go to Netanyahu's majority. But there is a downside for Netanyahu as well, since long-term research shows that voters with lower incomes and fewer years of education who tend to vote Likud are usually less likely to vote than the center-left voters who are wealthier and better educated. If this replicates itself Tuesday, the Haredim will make up the shortfall — but a majority may remain beyond Netanyahu's grasp.
Outcome 1: Netanyahu majority, Likud largest party
Bibi's dream scenario. A fifth term ensured with an unquestionable mandate. Now all that's left is to ensure the Knesset also votes to grant him immunity from prosecution and he may well remain in power long into his seventies.
Outcome 2: Netanyahu majority, Kahol Lavan largest party
Netanyahu gets to proclaim victory all the same (though there will probably be a Gantz victory speech as well) and can form a coalition. However, if he faces major difficulties — for example, if his majority relies on Otzma Yehudit and a handful of Likud lawmakers rebel against a government with Kahanists — Gantz may yet get his chance as Rivlin will have a solid case for giving him the mandate this time.
Outcome 3: No Netanyahu majority, Likud largest party
In this case, both Netanyahu and Gantz will certainly make parallel victory speeches and claim that the nation chose them. It will be down to Rivlin to decide who gets the first opportunity, and seeing as Netanyahu already failed back in April, the chances are that he will choose Gantz this time.
Outcome 4: No Netanyahu majority, Kahol Lavan largest party
Bibi's nightmare scenario. He will have no claim to victory (though no one will be surprised if he tries to accuse the Arabs and the left wing of "stealing" the election). In this case, Rivlin's choice will be clear — but even though Gantz gets the first chance, he has no clear path to a coalition of his own because the opposition, even with a majority, will consist of Arab and center-right parties that are extremely unlikely to sit in the same government. This would leave Gantz to find some "national unity" permutation. Netanyahu will still be around, trying to run down the clock on Gantz and holding out for at least part of the term as prime minister in a rotation agreement.
Outcome 5: Deadlock
It happened in April and the polls indicate that it could well happen again: Netanyahu stuck on 60 seats and neither Likud or Kahol Lavan significantly larger than each other. With no side the winner, every alternative is possible — including a national unity government, a rotation government, defections, a minority government, splits and mergers, indictments or even a coup within Likud against Netanyahu. And, heaven forbid, eventually a third election in early 2020.
Click the alert icon to follow topics:
ICYMI
Ken Burns' Brilliant 'The U.S. and the Holocaust' Has Only One Problem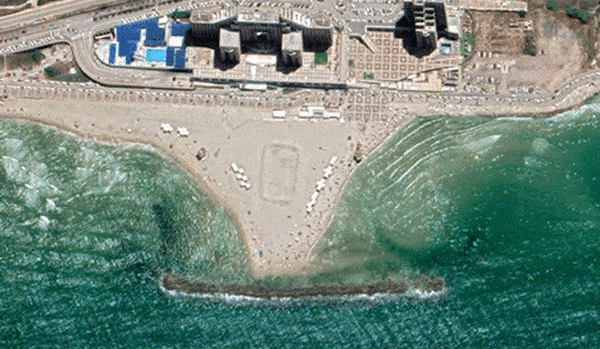 Facing Rapid Rise in Sea Levels, Israel Could Lose Large Parts of Its Coastline by 2050
As Israel Reins in Its Cyberarms Industry, an Ex-intel Officer Is Building a New Empire
How the Queen's Death Changes British Jewry's Most Distinctive Prayer
Chile Community Leaders 'Horrified' by Treatment of Israeli Envoy
Over 120 Countries, but Never Israel: Queen Elizabeth II's Unofficial Boycott