Netanyahu's Plan to Escape Trial, in His Own Words: 'Time for Them to Be Frightened'
The PM changed versions during the course of his interrogations, talked about the 'Judgement Day' to come after Adelson, and sounded determined not to stand trial
Benjamin Netanyahu speaks during his meeting with Russian President Vladimir Putin in Sochi, Russia, Sept. 12, 2019.
Credit: Shamil Zhumatov/Pool Photo via AP
fImmediately after the last election, Prime Minister Benjamin Netanyahu outlined to members of his inner circle a plan to extract him from facing trial. The plan was based on obtaining immunity from the Knesset and passing legislation to prevent the High Court of Justice from removing that immunity. (For the latest election polls - click here)
If his bloc wins 61 Knesset seats next week, Netanyahu will presumably resort to this rescue plan. For him it will be the Day of Judgment.
Israel's Arab voters can decide it all. Do they want to? LISTEN to Election Overdose
Subscribe
"Stop being frightened. It's time for them to be frightened," Netanyahu told his confidants, referring to justice officials, headed by Attorney General Avichai Mendelblit and State Prosecutor Shai Nitzan, who have decided to indict him in three cases, subject to a hearing.
>> 'Internet, TV, radio – it's all left': Latest leaks reveal depth of Netanyahu's media obsession ■ Netanyahu was warned over media intervention, but leaked audios show he's possessed | Analysis ■ Conflict of interests? The real story behind Netanyahu's rant at his communications minister
Netanyahu told his confidants why he insisted on his destructive plan, telling them he had lost all confidence in the legal system on all levels – the attorney general's office, the state prosecutor and the court system.
"They want me in prison," he told one of his cronies, noting that if he were indicted that would indeed be the result – not because he had crossed a red line, but merely due to the jurists' collective hostility toward him and his ideology.
Netanyahu appears to wholeheartedly believe himself to be a victim, framed by prosecutors and that Mendelblit, who is weak, doesn't believe in them at all, but couldn't withstand the pressure.
In his interviews with the police Netanyahu acted like a hunted man. "It's a wacky conception," he told national fraud squad chief Koresh Bar-Nur in January 2017. Bar-Nur came to Netanyahu's residence with a team of investigators to question him under caution on Case 2000, involving a bribery deal Netanyahu allegedly negotiated with Yedioth Ahronoth publisher Arnon "Noni" Mozes.
Under the deal, Netanyahu would push for legislation that would undermine Yedioth Ahronoth's main rival, the freebie Israel Hayom, in return for favorable coverage in Mozes' paper, which would ensure Netanyahu remains in power.
During the interrogation Netanyahu slammed on the table repeatedly with his hand, lowered his voice to emphasize certain things and resorted frequently to English phrases.
"You're in an insane offside," he told the investigators. "Is this what you're going to say to the public?!"
He told Bar-Nur and his colleagues they were wasting his and their own time with futile questions. "Be serious, guys," he said. "Nobody, but nobody in the world (in English) would think that I think this law (the Israel Hayom law) is good. And even if I said it, nobody believes I meant to actually do what I said."
Bar-Nur: "So why did you say it to Mozes?"
Netanyahu: "I told you, it's like (reverting to English) Game of Thrones."
Bar-Nur: "But you didn't only play the game inside the room. You went to Elkin (Netanyahu had asked ministers Zeev Elkin and Yariv Levin to find out if the law could be enacted during the election campaign). You invested time in the matter."
Netanyahu: "Because he (Mozes) gets everywhere. He knows. He hears!"
Bar-Nur: "You're drawing a picture of some monster wandering around the Knesset who knows everything and manipulates everyone."
Netanyahu: "I'm not drawing, I'm describing…He built a situation room. He's got a secluded room there. I know. All kinds of strange things, Okay?"
Bar-Nur: "A command post with diagrams of Bibi and Sara, is that what you think, sir?"
Netanyahu: "No, I'm hallucinating…he's working, come on, he's working." Later he explained in English: "This guy is a rare guy…"
When he was caught saying something inaccurate or not telling the truth, Netanyahu skipped blithely over the mine, demonstrating confidence that in the war on public opinion he would have the upper hand.
For example, after the detectives found the recordings Netanyahu had made of his conversations with Mozes on the prime minister's bureau chief's iPhone, they gave Netanyahu a chance to tell them on his own accord that he had initiated the recordings.
Meshulam (one of the detectives): "Were the meetings with Noni documented?"
Netanyahu: "I didn't document them."
Bar-Nur: "No protocol? Video? Audio?"
Netanyhau: "No."
After several minutes of talking on other matters, Meshulam said: "You stated here firmly that you didn't record anything of your meetings with Mozes…but you did record the meeting. What do you have to say about it?"
Netanyahu: "I didn't record it."
Meshulam: "You didn't…"
Netanyahu: "Er, it's possible there was an attempt to record, yes."
Meshulam: "What do you mean, an attempt to record?"
Netanyahu: "It's possible that Ari Harrow tried to record…it could be. Don't know. He wanted to record."
Meshulam: "Of his own initiative?"
Netanyahu: "Don't remember, we said Noni must be recording it…"
Meshulam: "I'm telling you that you initiated the recording. What do you, sir, have to say about that?"
Netanyahu: "I didn't remember until you told me a moment ago…we saw him take out an instrument, put in an instrument. I don't remember. It's possible…and then I said, he must be recording and I'm exposed."
In the midst of the interrogation Netanyahu asked to consult with his lawyer, the late Jacob Weinroth, who was nearby. When he came out he asked the detectives if he could offer them anything to drink or eat in the meantime, "but mind you don't get accused of receiving gifts."
When he returned from the consultation his version about recording the negotiations with Mozes changed completely. "I'm under constant extortion with this man. He stabs, stabs, stabs," he told the detectives.
"And in this recording, I also remembered just now, I've caught him. By recording him I can actually show who this man is, if the Day of Judgement comes."
Meshulam: "Is that why you recorded?"
"Obviously. Now I'm remembering it."
Meshulam: "What is the Day of Judgement?"
Netanyahu: "The Day of Judgement? There are several situations in which he could take control again…"
Meshulam: "You're holding him by the balls?"
Netanyahu: "Excuse me, no. What are you saying?...I cannot know what he would do someday. He wants to destroy Israel Hayom…Mr. Adelson is not a young man, OK? And let's say he passes away and suddenly you return to a state secretly controlled by that thing?...I'm trying to understand what led to this thing. Why I recorded…"
Meshulam: "That's what we're asking."
Netanyahu: "Sheldon Adelson passes away."
Mesnulam: "And."
Netanyahu: "There's no Israel Hayom."
Meshulam: "And."
Netanyahu: "I want the state to know who it's dealing with…you go back to a situation in which this man is again ruling the state."
But if Netanyahu didn't believe Mozes and had no intention of keeping his own promise to the publisher, what would the recordings be worth on the Day of Judgement? According to Netanyahu, both men were brazenly lying to each other. The detectives discussed this point for some time, but Netanyahu insisted that the public would believe him.
Meshulam: "How do you think you're portrayed in this conversation?"
Netanyahu: "I didn't believe him for a moment and had no intention of doing it."
Meshulam: "But what did you expose? You say (in the recordings) that you're in favor of the Israel Hayom law. You say you're playing a game and he's playing a game. In what way are you different from him?"
Netanyahu: "In what way am I different from him? There are 8 million people in Israel. You can sell them anything you like, but nobody will believe that I went and meant to do it. Nobody!"
Bar-Nur: "And on Judgement Day the public will believe those things (that Noni said)."
Netanyahu: "I think so."
Bar-Nur, who specialized in dealing with crime organizations, told the prime minister that keeping recordings for the Day of Judgement was a practice he knew of only "among criminals."
"You record things too," Netanyahu said angrily.
Later the detectives tried to settle the contradiction between the suspect's two versions. "You said you recorded because you suspected he was recording," Bar-Nur said. "Now you're saying you wanted an insurance policy for the Day of Judgement."
Netanyahu: "Also. The trigger for recording was wait, he's recording us. This man is capable afterward of doctoring it. (in English)…I'm not ruling out anything as far as he's concerned, he's capable of anything, and if everything falls and the state is in his hands again then first record him, record him."
Bar-Nur: "And you meet with a person who is capable of doing such things?"
Netanyahu: "I meet with plenty of people like that. In the diplomatic world."
In the case dubbed Case 1000, in which Netanyahu allegedly received lavish gifts from wealthy friends, the prime minister also played the victim's role. When first questioned in the case he was asked if a public official who receives gifts from a tycoon worth 700,000 shekels is crossing the normative threshold.
"I have to think about that," he replied.
A few days later Bar-Nur asked him if he had an answer yet. "I'm not crossing the normative threshold," Netanyahu answered immediately.
Bar-Nur: "So why did it take you time and why didn't you say that straight away?"
Netanyahu: "Nu so I'm telling you. I thought about it, OK?...Now I'll tell you, there's nothing in the world like what you're doing here. There's no such thing that they come to Francois Holland or Barack Obama and say to them 'did you get cigars from your friends'…No way! What the hell?! You didn't even investigate the 1.3 million shekels for Olmert's pens…There's one law for Olmert and another for Netanyahu?"
Bar-Nur: "Will you continue taking cigars and bottles?"
Netanyahu: "No, I won't."
Bar-Nur: "Why, if it's normative?"
Meshulam: "He stopped smoking."
Bar-Nur: "And champagne bottles and jewellery?"
Netanyahu: "I wasn't the consumer…"
Bar-Nur: "You say passionately that it's normative."
Netanyahu: "Normative is what Noni Mozes and the media decided is normative. But I want to ask you a normative question…how come you're investigating such a thing?"
Immediately after the previous election Netanyahu said he was lucky when Mendelblit decided to release the details of susicions against him weeks before the polls opened. The public was exposed to the materials gathered by the prosecution, yet gave him renewed confidence that justified keeping him in power and brushing the charges aside. If Netanyahu and his allies gain 61 Knesset seats in the election next week, he will likely carry out his rescue plan.
Aides to the prime minister commented: "Another false media spin. Prime Minister Netanyahu did not advance any immunity law. At first you said he was pushing the immunity law, then you said it will be part of the coalition agreements. None of that happened nor will it happen. Netanyahu said many times it's not right to issue a decision about a hearing before the election, if it cannot be held by the time of the election. Such a decision could have misled the public, distort the voters' will and damage the democratic process. The last election's results proved clearly that the public believes the prime minister's cases are persecution, based not on facts but on false gossip and state witnesses who were extorted by violent and wrongful means to hand over Netanyahu's head."
Click the alert icon to follow topics:
ICYMI
Ken Burns' Brilliant 'The U.S. and the Holocaust' Has Only One Problem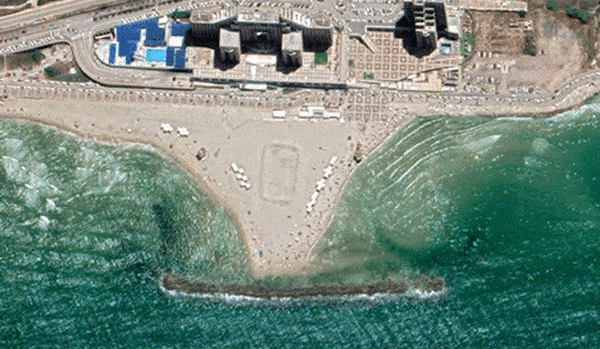 Facing Rapid Rise in Sea Levels, Israel Could Lose Large Parts of Its Coastline by 2050
As Israel Reins in Its Cyberarms Industry, an Ex-intel Officer Is Building a New Empire
How the Queen's Death Changes British Jewry's Most Distinctive Prayer
Chile Community Leaders 'Horrified' by Treatment of Israeli Envoy
Over 120 Countries, but Never Israel: Queen Elizabeth II's Unofficial Boycott