Voter Suppression in Israel: Debunking Netanyahu's Claims on Arab Voter Fraud
Would allowing cameras into polling stations actually stop voter fraud? How would it impact Arab voter turnout? 4 key questions in the debate about voter suppression in Israel
An Israeli-Arab woman casting her vote in Haifa in the April 9 election.
Credit: AMMAR AWAD/ REUTERS
Benjamin Netanyahu has been at the forefront of an aggressive attempt in recent weeks to permit filming in Israel's polling stations. Although his Likud party has suffered several setbacks in its attempts to introduce legislation, many expect the prime minister to refuse to accept defeat on the matter ahead of next week's election.
The question of cameras in the polls is multifaceted, touching on constitutional, legal, ethical and racial issues, as well as factual claims about the alleged danger of voter fraud that Netanyahu says urgently necessitates his proposed solution.
Israel's Arab voters can decide it all. Do they want to? LISTEN to Election Overdose
Subscribe
On few of these issues is there agreement between proponents and opponents of the measure. And as the debate has played out, a lot of sand has been thrown in eyes of the public.
Here are some of the most troubling questions raised by the debate, and attempts to answer them...
Likud activists say they deployed some 1,200 cameras in Arab polling stations in April. How much fraud did they uncover?
Netanyahu claimed, in a Facebook video he posted on September 4, that "voter fraud occurred to a vast extent in the last election," and that "we won't let them steal the election another time." Whom did he mean by "them"? That same day, his party elaborated on Netanyahu's message, explaining that if it hadn't been for "fraud," the Arab party Balad "would not have passed the threshold [to enter the Knesset], and the right-wing bloc would have received 61 seats." Just to eliminate any doubts about his concerns, Netanyahu also sent a message to the party faithful on Tuesday, in which he claimed that "the Arabs want to destroy us all — women, children and men."
In fact, Likud never produced evidence to support either the general claim about widespread fraud, or the specific suggestion that Balad "stole" the election at the ballot box. But the Palestinian-nationalist Balad party, which ran together with the Islamist United Arab List in April, is a red flag for many Jewish Israelis because of its refusal to recognize even tacitly the Jews' right to their own state, and because of the provocative — not to mention criminal — behavior of some of its former members. For much of the public, pointing the finger at Balad requires a low burden of proof.
Nonetheless, no fraud charges have been brought against any party or individual related to the April 9 election. The financial daily Globes reported on September 8 that the Central Elections Committee examined five suspicious ballot boxes (out of 10,270 nationally) for foul play, and sent two of them onto the police for criminal investigation. In those cases, the beneficiaries of the alleged fraud were Likud and the ultra-Orthodox Shas party.
A Haaretz investigative also found there were irregularities regarding ultra-Orthodox parties – in this instance in a deal with Arab parties regarding their representatives at the voting stations. Haaretz found that in at least 130 polling stations, ultra-Orthodox individuals represented the Arab parties in ultra-Orthodox areas, and vice versa. This data reveals that United Torah Judaism and the Arab parties had struck a deal in which they informally agreed to swap representatives without advising the Central Election Committee.
Furthermore, in both the written and oral statements presented by Likud representatives in the August 8 elections committee hearing on cameras, they didn't offer any objective evidence — for example, analyses of elections in other countries — to support the assertion that allowing party activists to operate cameras in polling places would reduce fraud.
Opponents to cameras — and proponents as well, in more candid moments — say that their use will lower Arab voter turnout. Is this true?
The statement presented to the elections committee by Sawsan Zaher, a lawyer for Adalah: The Legal Center for Arab Minority Rights in Israel, included affidavits from three Arab citizens who described being present in polling stations in April when Likud activists were discovered operating concealed body cameras. They described feelings of anger, humiliation and fear that accompanied learning of the presence of undercover representatives of the ruling party, which has been so outspoken in its anti-Arab message in recent years.
One of them, who was himself a poll observer for the Ta'al party (led by Ahmad Tibi), which ran in tandem with Hadash, described how he received a call from several young women "who were working at the polls, some of whom said they were afraid because they were working on this day off without their families being aware of it, and they feared being photographed and having their images distributed [online]."
The witnesses also described how the disturbance caused by the discovery led to voting in their polls being paralyzed for an average of 45 minutes. That delay in itself could be enough to deter some people from staying around to vote.
Very little research has been done internationally about the impact on voters of having cameras in the polling stations — if only because in most countries with free elections cameras are not permitted in or around those stations.
One oft-cited study on the effect of cameras comes from Azerbaijan, from a decade ago. In addition to the possible concern about voter fraud, there was a very different fear: That polling officials would commit fraud on behalf of the country's autocratic regime and basically stuff the ballot boxes. In fact, in polling stations where cameras were mounted, voter turnout was lower. But the researchers believed these were more reliable numbers as the cameras deterred voting officials from committing fraud.
What is often lost in the discussion in Israel is the difference between having fixed cameras filming nonstop, and arming partisan activists with cameras to use as they see fit — which is what Likud has been proposing. The latter has, from a psychological point of view, the potential to turn the devices into political weapons. Also rarely noted is that there is little disagreement, at least in principle, about the possible benefits of filming the vote-counting stage of Election Day and the demand to permit filming in the polling place (not within the voting booths themselves, which no one is advocating) while voters are present.
It is in fact at the counting stage where there is serious potential for widespread fraud, as it is relatively easy for election officials to falsify results in individual districts.
How does the debate about voter fraud/voter suppression stack up against a similar discussion in the United States?
In both the United States and Israel, the ruling majorities know that the harder they make it for people to register to vote, the more likely that weaker, poorer, less educated citizens are to go to the trouble of trying to vote. According to Tehilla Shwartz Altshuler of the Israel Democracy Institute, "We know from the U.S. that any extra ID measure you put on [the] shoulders of voters is not applied equally to people from all social sectors. Usually, minorities find it more oppressive and come less to the polls."
In the United States, there is the additional problem of voter apathy: Among certain populations, you have to practically beg people to vote. In Israel, meanwhile, it's more like antipathy, or a feeling of powerlessness, or the desire to make a political statement, that keeps Arabs home on Election Day.
The day after the April election, the public relations firm Kaizler Inbar boasted on Facebook how it had been responsible for organizing the campaign to place 1,200 concealed cameras into polling places in Arab communities. As a consequence, it crowed, voter turnout among Arab citizens — 49 percent — was "the lowest that was seen in recent years!"
Of course, there's no proof that the PR firm was justified in taking credit for that dubious accomplishment — especially since the use of the cameras had not been announced in advance. In a survey of Arabs who did not vote, the Israel Democracy Institute concluded that 10 percent did so out of apathy, 11 percent were boycotting the election on principle, while 30 percent abstained from this particular election "actively and intentionally" (meaning, says the survey's director Arik Rudnitzky, that if circumstances had been different, they might well have participated).
To give some context to the participation rate falling below 50 percent in the Arab community, one need only look at the voting rate in local elections last fall in Israel's Arab towns. In the first round of voting, voter participation reached 85 percent on average, as compared with a voting rate of around 57 percent nationwide. (A poll conducted by Arik Rudnitzky for the Konrad Adenauer Program for Jewish-Arab Cooperation, at Tel Aviv University's Moshe Dayan Center, and released Wednesday, forecasts that the voting rate among Arab citizens will rise to 56 percent next week, with the potential to reach 60 percent.)
A recent U.S. study suggested that asking voters for photo IDs neither lessened voter fraud (of which there is limited evidence to begin with), nor intimidated voters from coming out on Election Day.
Is talk of a biometric database being created of voters' faces a real concern?
In her letter to the elections committee in August, the IDI's Shwartz Altshuler raised the issue of "the significant developments in the fields of a) facial recognition and b) deepfake videos over the past two years." She and her colleagues at the IDI have spent the past few years drafting a new privacy bill for the country.
Shwartz Altshuler tells Haaretz how, "once you have a data set with faces of all voters, together with their ID numbers, then you have a sensitive database." Even having that database in the hands of the Central Elections Committee, she adds, should be a source of concern — unless the use and handling of the database has been defined by law before it comes into existence. But, she notes, the proponents of voting station photography "wanted any supervisor on their behalf to be allowed to use his own device, and then send one copy of everything to the CEC, while keeping another copy for himself."
Just this week, Haaretz's Hagai Amit revealed how Likud has compiled a database with personal information — including in some cases political preferences — on the 4 million Israelis who appear in the country's voter registration rolls. Apparently unintentionally, the party posted the entire database on its website, open to the public, removing it only after an inquiry from Amit about the source of the data (which the party refused to answer).
In defending their demand to use cameras in polling places, Likud representatives — including the premier himself — argued repeatedly that there are surveillance cameras in the street, in stores and in hospitals, among other places. As the Likud brief for the elections committee claimed, "The public has become accustomed to the fact that the state has installed cameras in all public spaces, whose purpose is to preserve the public's peace and security and on the governing order in the state."
Says Shwartz Altshuler: "Saying something like that is just a demonstration of technological illiteracy." She explains that during the past two or three years, "with the ability of AI to recognize faces, people have begun to recognize how dangerous these technologies are, and there are cities — for example, San Francisco and Somerville, Massachusetts — that have outlawed the use of facial recognition technologies in the public space."
Last June, the American Civil Liberties Union released a report about the dangers posed by tethering the information gathered by 50 million surveillance cameras in the United States to new video analytics technologies. This combination "threaten[s] to fundamentally change the nature of surveillance from the current fragmented, collection-and-storage only model to a mass automated real-time monitoring system that raises significant civil liberties and privacy concerns," the ACLU said.
With Likud likely to continue pressing for a bill that would allow its own activists to film within the polling stations, allied to evidence that the party is applying AI technology to the voter data it has already harvested, there is good reason to think that this is the kind of legislation that should never be rushed into. The issues are many and they are subtle — and there is a lot at stake if we get this wrong.
Click the alert icon to follow topics:
ICYMI
Ken Burns' Brilliant 'The U.S. and the Holocaust' Has Only One Problem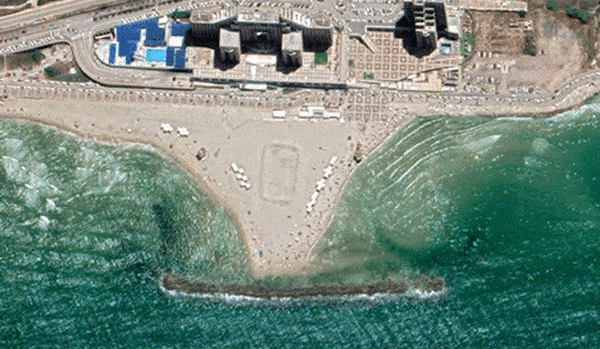 Facing Rapid Rise in Sea Levels, Israel Could Lose Large Parts of Its Coastline by 2050
As Israel Reins in Its Cyberarms Industry, an Ex-intel Officer Is Building a New Empire
How the Queen's Death Changes British Jewry's Most Distinctive Prayer
Chile Community Leaders 'Horrified' by Treatment of Israeli Envoy
Over 120 Countries, but Never Israel: Queen Elizabeth II's Unofficial Boycott