Analysis |
The Next Big Bang of Israeli Politics
A huge political and possibly constitutional drama hurtles toward Israel as Bibi scrambles for voters and Lieberman seems set to be kingmaker – or exorcist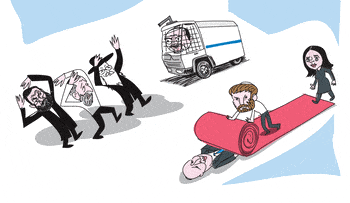 Illustration.
Credit: Amos Biderman
This is a weird election, and not only because of the circumstances that spawned it. The campaign will take place mostly during the summer months, July and August. If it's not enough that a large part of the public doesn't understand why it is having this election, a moment after emerging from the horror of the previous one – it is now doomed to get a new dose of something it's already sick of: crummy commercials, disinformation, spin, lies and deceit. The whole stew will be cooked up with the humidity, the heat, the perspiration and the frayed nerves of an Israeli summer. The parties, especially the two big ones, have decided to save their energy and resources until the last 17 days of the campaign, in September.
On Tuesday a campaign-planning marathon was held at the Prime Minister's Residence on Balfour Street in Jerusalem, in a number of forums. Likud's campaign manager will probably be Shilo Adler, a former director general of the Yesha council of settlements and for the past half a year an adviser to Prime Minister Benjamin Netanyahu, primarily regarding ties to the religious-Zionist movement. The participants' conclusion was unequivocal: No one will give two hoots about the campaign during the long summer vacation. We be throwing away money. We'll let the nation rest and relax, they decided – and then we'll hit 'em with everything we've got.
Results of initial public opinion surveys were presented in the Balfour sessions. They were not encouraging. As of today, the two to three Likud Knesset seats attributed to the votes of Russian speakers have shifted to Avigdor Lieberman's Yisrael Beiteinu. Another one or two seats have wandered to that party from Benny Gantz's Kahol Lavan. To all this can be added Lieberman's firm base of five seats from the April election, from voters who are loyal to the leader and his path, even if it's tricky and deceptive.
"At the moment, Lieberman has about eight Russian-speaking seats in his pocket, but his potential is far greater," according to a knowledgeable Likud figure. "We need to remember that Russian speakers in Israel account for 14-15 seats."
Lieberman can count on the Russian wellspring, but he's not content with that. His anti-Haredi, anti-"halakhic state" approach is already beginning to bear fruit in wider circles. A report this week noted that economists and industrialists are considering declaring their support for him.
Lieberman will also try to rope in figures with public appeal, like retired Israel Defense Forces generals. For him the upcoming election is an opportunity that may never come again to undo the stigma around him, to break through the stratosphere that surrounds him and to enter a galaxy of new targets and new publics. Playing the security card didn't help him in April, but maybe the anti-Orthodox joker will do the trick this time. Precedents: Tommy Lapid in 2003 and Yair Lapid in 2013.
Israeli politics of the past two decades has followed a cyclical pattern. Whenever the ultra-Orthodox become intoxicated by power, and shed all restraint – there's a pushback by most of the public. Parties running on a secular ticket begin to thrive and the Haredim are sent to the opposition benches for reeducation.
In 2003, after the Haredim had enjoyed the pleasures of power for many years, Ariel Sharon preferred Lapid Sr.'s anti-Orthodox Shinui party over that of his old friends in Shas. A decade later, after serving two particularly satisfying terms in the governments of Ehud Olmert and Benjamin Netanyahu, United Torah Judaism and Shas once more found themselves in the opposition vale of tears. On that occasion it was the son of the man who invented the anti-Haredi genre who forced Netanyahu to keep those parties out.
In the second half of 2019, it looks as though conditions among the Israeli public have ripened for a third round of crime and punishment. The secular majority has had its fill of the Haredi rampage. A Hasidic leader in Bnei Brak and a few others in Jerusalem – for whom any connection to the 21st century and its predecessor is purely coincidental – are giving the country the runaround. With vulgarity, lordliness, heartlessness.
Lieberman was the first to spot this, and has acted accordingly. If all his dreams come true, he'll kill two birds with one stone: send Netanyahu packing to his home and his trial, and keep the Haredim out of the next coalition.
Chaos theory
In the near future, Yisrael Beiteinu's retreat from the existing right-wing bloc could turn out to be this generation's true Big Bang of Israeli politics. One need hardly mention that the upcoming vote will determine the personal, and hence also political, fate of Benjamin Netanyahu. Still, the average Israeli apparently doesn't grasp the magnitude of the political, and possibly also constitutional, drama that is hurtling toward us.
In a nutshell: For Netanyahu to survive being ousted – following which he would be facing an indictment and a trial – the Likud-rightist-Haredi bloc will have to win at least 61 parliamentary seats in the Knesset, this time without Lieberman's party. As things stand now, senior figures in Likud admit, that looks almost like mission impossible.
To begin with, as noted, Lieberman is gaining strength. If the agenda of this election doesn't change drastically – with a war, say – he will ride the secular wave alone and will very likely find himself to be the kingmaker or, alternately, the exorcist, after September 17.
In the April election, the rightist-Haredi bloc – without Lieberman – lost a total of about six seats. In practice, because of the election laws, which benefit the large parties, the net damage was only three seats. Meaning that Netanyahu has to reclaim at least three seats for Likud. That will be no easy feat, for a number of reasons:
1. Because of the general disgust and anger over an election perceived as unnecessary, fewer people are expected to vote. The damage will accrue mainly to the two big parties. In the niche parties, the damage will be negligible, or nonexistent.
2. The proportion of voters among the Arab public will probably increase significantly, because of the return of the Joint Arab List. Those extra seats – three, according to the estimates – will come from voters who stayed home in April. In other words, the relative size of the center-left camp on the map will increase.
3. Moshe Kahlon will not bring with him to Likud all those who voted for his Kulanu party last time. Half are expected migrate to other parties that are not members of Netanyahu's bloc, namely, Yisrael Beiteinu and Kahol Lavan.
4. The potential merger of all the satellite parties to the right of Likud – those belonging to Rafi Peretz, Bezalel Smotrich, Naftali Bennett, Ayelet Shaked, Moshe Feiglin and Itamar Ben-Gvir – would be of crucial importance, though not enough to push the suspect prime minister and his party back from the abyss. "Even if there is a full merger on the right, our cause is almost certainly lost," a senior Likud person told me this week. "But if they don't run together, we will be totally lost."
What does that mean to you, I asked. My interlocutor couldn't say, exactly; his reply contained the words "chaos," "mess" and "disintegration," and was accompanied by much shoulder-shrugging. Would Bibi go home? How? When? What would President Reuven Rivlin, with his unlimited discretionary powers, do? Clearly, he would not countenance yet another election campaign. So, what sort of government would be formed? Headed by who? Will Likud's leaders be able to pull themselves together and choose a replacement? Would Knesset Speaker Yuli Edelstein (Likud) be the agreed candidate to be called upon to lead a broad national unity government until a new president is elected in June 2021? Stay tuned.
No judges in Jerusalem
This week Netanyahu appointed MK Rafi Peretz and MK Smotrich (the leaders of the Union of Right-Wing Parties) as education and transportation ministers, respectively. His aim is to heal his rift with the religious-Zionist movement, and to subdue the bitter grumbling and a growing sense of "disillusionment" with the premier within that camp. It means nothing to him that Likudniks are furious and frustrated at the fact that the senior operative portfolio that was in their hands (transportation) was handed without a battle to the leader of a party with two seats.
If last time he went well out of his way, even postponing a visit to President Vladimir Putin in Moscow, in order to get the Kahanist Otzma Yehudit party to join forces with Habayit Hayehudi – this time Netanyahu will commit hari-kari to ensure that all those parties, as well as Feiglin's Zehut and the party of Shaked and/or Bennett, run together. It's a basic condition for him, if he is to succeed.
Smotrich grasps the importance of this. In a crafty move, he urged Ayelet Shaked to return as No. 2 at his own expense. The subtext, which wasn't uttered publicly but was conveyed to her privately, was: In the next government, the justice portfolio will be yours again. Serious bait.
Smotrich wants to sever Shaked from Bennett in the hope that she will return to Habayit Hayehudi, which she was compelled to abandon under the pressure of her (former?) partner. This would in turn leave Bennett to decide on his future on his own: whether to accept the No. 4 position on the Union slate, or risk an independent run. I asked Shaked if she's ready for a disengagement. She refused to comment. In another week or two, she'll decide what's best for her and only for her.
By the way, in 2018, knowing that there would be an election the following year, Shaked asked the Finance Ministry to allow her to bring the entire complement of judgeships expected to become open in 2019 to the Judicial Appointments Committee. The committee met last November and chose 30 judges for district and magistrate's courts. Her successor, Amir Ohana (Likud), doesn't have a single thing to do: there are no new judges, and the Ministerial Committee for Legislation doesn't convene during the summer break. He's unemployed, and being treated with ridicule and contempt in the corridors of the Justice Ministry. They miss Shaked.
Coffee and other grinds
Behind the somewhat puzzling silence the strung-together Kahol Lavan quartet has imposed on itself, a fierce struggle is underway. It's the triumvirate of generals – Gantz, Moshe Ya'alon and Gabi Ashkenazi – versus Yair Lapid. Notwithstanding the demonstrative friendship and forced smiles, they are seriously divided over the question essence of their next campaign. Should they hitch a ride on what is shaping up as the fashionable trend of the next election – pushing out the Haredim – or should they continue with more of the same: security, indictment, Bibi-Bibi, etc., with the necessary modifications?
No one has any doubt that the theme of the coming campaign will be the ultra-Orthodox. The community's refusal to agree to the military-draft bill submitted by the defense establishment is what ostensibly led to the collapse of coalition talks between Likud and Yisrael Beiteinu. Lieberman has already scored big on this issue, and most polls show him gaining significant strength. If this trend continues, he might attract Yesh Atid voters who in April followed their leader and cast their ballot for Kahol Lavan.
Two weeks ago, this column reported trenchant remarks by Ya'alon, who's leading the conciliatory line toward the Haredim, against Lapid. He argued that the latter's insistence on maintaining the rotation agreement for the premiership was causing their new party damage in the polls and could endanger the formation of a potentially tie-breaking coalition after the election. This week, Ya'alon went to an ultra-Orthodox media outlet and had his photograph taken stirring "mud" coffee and chatting affably with the staff. Later on he was quoted as having used even sharper words against Lapid: "It would be preferable if he dropped the rotation idea."
Lapid's circle was aghast. "How does having your picture taken with Haredim get us more seats?" asked a person of whom it can be said that he is expressing with great precision the position of No. 2 on the slate. "It's a dumb situation: Yvet [Lieberman] is fighting to pass legislation that the defense establishment – not the Council of Torah Sages – drew up. Lapid is in the same place. So how can Bogie [Ya'alon] and Gantz take a different position? Are they against the IDF or something?"
Ya'alon and Gantz think that brandishing swords at the Haredim won't draw votes and will certainly not pave the way to the hearts of Yaakov Litzman (United Torah Judaism/Agudat Yisrael) and his ilk, along with their rabbis.
"They should take a lesson from [the case of] Shimon Peres," a source close to Lapid recommends. "For 20 years the ultra-Orthodox led him by the nose, let him believe that they were his partners – and he believed them. It's amazing that this group hasn't learned a simple lesson: Buttering up the Haredim only causes damage. We need to attract votes, as many as possible. If Gantz gets the nod [to form a government], the Haredim will come running to us, with Lapid or without him."
Farce in Meretz
About 40,000 votes by Arab citizens, three times as many as in the previous election, spared Meretz from extinction in April. They provided the party's fourth Knesset seat, the lifesaver.
Their flocking to the polling stations stemmed not from love of Tamar (Zandberg, Meretz's leader) but from resentment of Ahmad (Tibi). The split the latter forced upon the Joint Arab List angered many in the Israeli Arab public. Many were prompted to stay home on Election Day, and the percentage of Arab voters declined considerably, with the representation of their community in the Knesset falling accordingly (from 13 seats to 10). The main beneficiary was Meretz.
The lesson was learned. In September the slate will again be a joint one. Hadash, Ta'al, Balad and Ra'am will again walk arm in arm. They hope to get their voters out and reprise their achievement of 13 seats, maybe more. We've learned that the voters punish divisions and reward mergers. In that sense the Jews are no different from the Arabs.
However, in the wake of that change of direction, Meretz is again facing an existential threat. Next week, the thousand members of the party's convention will elect their leader. Zandberg will try to retain her top spot against Nitzan Horowitz, who has come in from the cold. If she wins again, her efforts will be aimed at calling in the cavalry that made the last-minute charge that saved her. To that end she's trumpeting the following message: "Jewish-Arab partnership."
"If there's an awakening among the Arab public," she said this week, "it could also trickle down into the Jewish public, which will realize that this is the way to increase the voting rate and the camp's overall strength. If 62 percent voted in Tel Aviv in April, 7 percent lower than the national rate – there's no reason for the voting percentage not to increase this time."
An understandable hope and a fine slogan, but mostly hot air. What Jewish-Arab partnership is Zandberg talking about? Today's Meretz, and obviously that of 87 days from now, will be the same Meretz: four Jews and one Arab in the opening foursome/fivesome, in the best case. True partnership is a zipper, not 80 percent vs. 20 percent.
Last Wednesday, we were informed of a revolutionary undertaking in Meretz: MK Esawi Freige and former MK Mossi Raz announced their intention to run jointly for the party leadership – an Arab and a Jew. What immediately smacked of being a cheap gimmick whose only aim was to improve their place in the next slate, ended very quickly as a farce.
It was the shortest run in history. Four days, no more, including the weekend, passed before the two abandoned their noble, groundbreaking, convention-shattering aspiration and threw their support to Zandberg. They had their picture taken with her and with veteran party member Gaby Lasky, raising their arms "for the sake of equality." What equality? Three Jews and one Arab – good old Esawi again.
Click the alert icon to follow topics:
ICYMI
Netanyahu's Israel Is About to Slam the Door on the Diaspora
Head of Israel's Top Art Academy Leads a Quiet Revolution
Ken Burns' Brilliant 'The U.S. and the Holocaust' Has Only One Problem
Israel May Have Caught the Worst American Disease, New Research Shows
Why the Head of ACLU's Human Rights Program Has Regrets About Emigrating From Israel
Netanyahu's Election Win Dealt a Grievous Blow to Judaism