This What Israel's Center-left Has to Do if It Wants to Take Netanyahu Down in the Next Election
Kahol Lavan's complete to-do list if it wants to win on September 17
Leaders of Kahol Lavan, Yair Lapid and Benny Gantz, at the Knesset, May 27, 2019.
Credit: Olivier Fitoussi
Can Benny Gantz pull off an upset and form the next government after the September election? Has the image he built in the last campaign, the fresh hope for replacing Netanyahu, fallen apart since? Kahol Lavan strategists have been busy outlining a number of moves meant to breathe hope into center-left voters, all while acknowledging that the chances of success are slim.
The strategy aims to boost the bloc's number of Knesset seats to a minimum of 61, thus blocking any possibility of Netanyahu forming the next coalition. But some of the key moves in this plan are not dependent at all on what Kahol Lavan itself does, but rather on other parties in the bloc.
Israel's Arab voters can decide it all. Do they want to? LISTEN to Election Overdose
Subscribe
Mission No. 1: More Arab seats
Kahol Lavan needs to accomplish two things in order to have the president task it with forming the next government. The first: The number of MKs in the center-left bloc must stand at 61 or higher (it is currently at 55), in order to achieve a blocking majority. Such a blocking majority does not require the active support of the Arab parties (in the last election, they did not recommend Gantz to the president), just that they maintain their opposition to Netanyahu. The second: The number of MKs recommending Gantz must exceed the number recommending Netanyahu.
>> When viewing the Arabs, Israel's left is like the right | Opinion
People involved with Kahol Lavan say the party aims to boost its bloc by six seats at least, and therefore views Arab parties Ra'am, Ta'al and Balad as well as Arab-Jewish party Hadash as holding significant potential. In the last election, when they ran in pairs, the four parties won a total of 10 seats, compared to the 13 they held in the previous Knesset when they ran as one party. Kahol Lavan has no way of influencing this move, but they are closely following the negotiations to reunite the Joint List and the efforts to raise voter turnout among Arab citizens.
Mission No. 2: Merger of Labor and Meretz
Kahol Lavan is largely responsible for the dismal showings by Labor and Meretz in the last election. The hope for an upset, along with Gantz and Netanyahu effectively making the election into a duel, led tens of thousands of voters who traditionally voted for left-wing parties to support Gantz.
Now, say Kahol Lavan officials, the aim is to enable Labor and Meretz to rebuild their strength and avoid moves that would put them in danger of falling below the electoral threshold. If the Kahol Lavan folks are to be believed, Gantz's party would rather see Labor and Meretz join forces, wage a spectacular campaign and make big gains, even if at the expense of Kahol Lavan
In the last round, a quarter of Meretz voters were Arab, winning the party one out of its four Knesset seats. Meretz is likely to focus on Arab voters in the next round, hoping to gain another seat from Arab voters - and if so, adding another seat to the center-left bloc.
Mission No. 3: Attract right-wing voters
The most important mission for Kahol Lavan is to attract enough right-wing voters to shift at least two seats from the right-wing bloc to the center-left bloc. If the bloc's leftist branch ups its strength according to the scenarios outlined above, just two seats taken from the right would suffice to create a blocking majority.
Party officials now see two paths to attracting these right-wing voters:
Path No. 1: A "right-wing" and "ethics-based" campaign that situates the party as center-right and attacks Netanyahu for his attempts to exploit the Knesset in order to evade his nearing indictment.
Kahol Lavan strategists believe that a significant number of right-wing voters are dismayed by Netanyahu's conduct and could be persuaded to switch over after Netanyahu broke his election promise not to seek legislation that would help him with his legal troubles.
Nevertheless, party sources expect to grant "immunity" of sorts to members of the Netanyahu family rather than attacking them. For instance, the campaign is unlikely to draw attention to the plea bargain that the prime minister's wife, Sara, signed in connection with financial irregularities at the Prime Minister's residence.
One of the campaign's primary target audiences will be voters who in the past cast their ballots for Finance Minister Moshe Kahlon's Kulanu party and who have been disappointed by his decision to run on a joint ticket with Likud, thereby purportedly breaking his promise to constitute a "moderate right wing."
Path No. 2: Kahol Lavan invests substantial resources in increasing its support in outlying communities.
Voting data from the April election demonstrate that Gantz failed to attract support in outlying areas of the country. His major achievement was attracting voters in relatively prosperous cities and in communities identified with the left wing (Tel Aviv, for example, where the center-left bloc received roughly 67 percent of the vote).
In outlying communities, Kahol Lavan lost to Likud by a substantial margin: In Ashkelon, for example, 42.6 percent voted for Likud whereas just 15.8 percent voted for Gantz's party. There, the right-wing bloc as a whole got nearly 80 percent of the vote. In Sderot, Likud got 43.5 percent of the vote whereas Kahol Lavan got just 9.2 percent. In Sderot, the right-wing bloc won 83.8 percent of votes.
Officials in Kahol Lavan plan on sticking with the slate from the April election but don't rule out symbolic changes. Party sources have ruled out a merger with Labor, after internal polling data showed that it would not boost the combined support of the two parties but might rather alienate right-wing voters. For the same reason, party officials don't expect to bring on other political figures such as former foreign and justice minister Tzipi Livni, whom is viewed as having a left-wing image.
On the other hand, they would be pleased to welcome someone like Gesher party leader Orli Levi-Abekasis, who might buttress two of Kahol Lavan's weak spots – the low number of women near the top and the absence of a social welfare agenda.
Learning from mistakes
Kahol Lavan officials have recently targeted a number of problems that present obstacles to carrying out their plans. Gantz, to begin with, isn't attracting sweeping public support. His statesmanlike conduct has also made him look soft in the face of recent moves taken by the governing coalition, including the appointment of Likud member Amir Ohana as justice minister despite Ohana's harsh comments about the judicial system
At the same time, the parties on the right will be working to avoid wasted votes on parties that do not pass the electoral threshold – as happened with Naftali Bennett and Ayelet Shaked's Hayamin Hehadash and Moshe Feiglin's Zehut. Such efforts could boost the number of right-wing seats when the public goes back to the polls on September 17, making it even harder for Kahiol Lavan.
Kahol Lavan officials point to last month's pro-democracy demonstration in Tel Aviv, which attracted tens of thousands of fervent protesters, as a major achievement for Kahol Lavan. But the public still remembers two party failures. One is the decision to support the reelection of Likud member Yuli Edelstein as Knesset speaker without floating a candidate of its own. This was perceived as an acknowledgement of defeat in the April election, even though in the end Netanyahu didn't manage to form a government.
>> Instead of taking on Netanyahu, his rival party is shooting itself in the foot | Analysis
The other was the embarrassing loss in a secret Knesset ballot of the party's candidate for state comptroller, Giora Romm, who was bested by Matanyahu Englman by a margin that made it clear that a considerable number of opposition Knesset members either voted for Englman or abstained.
Against this backdrop, Gantz's fervent supporters in the April election are liable to be apathetic when the September 17 election comes around, either staying home or finding a more attractive political home, including perhaps a joint slate comprised of Labor and Meretz, if it comes about, or a possible joint slate on the right headed by Shaked, Bennett and Feiglin.
Click the alert icon to follow topics:
ICYMI
Ken Burns' Brilliant 'The U.S. and the Holocaust' Has Only One Problem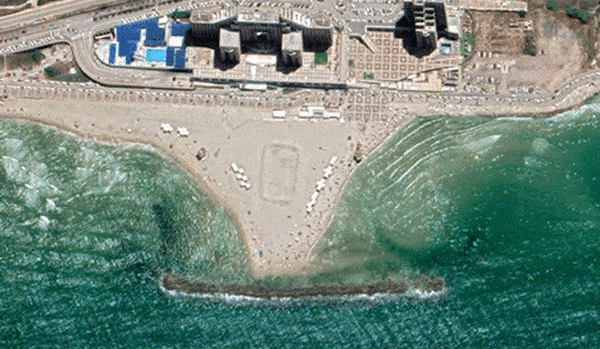 Facing Rapid Rise in Sea Levels, Israel Could Lose Large Parts of Its Coastline by 2050
As Israel Reins in Its Cyberarms Industry, an Ex-intel Officer Is Building a New Empire
How the Queen's Death Changes British Jewry's Most Distinctive Prayer
Chile Community Leaders 'Horrified' by Treatment of Israeli Envoy
Over 120 Countries, but Never Israel: Queen Elizabeth II's Unofficial Boycott