Analysis |
Because of Netanyahu, the New Election Could Result in the Same Nightmare
Up to his neck in crimes, Netanyahu may win September's election, but there will be an indictment, and he will be on his way to becoming history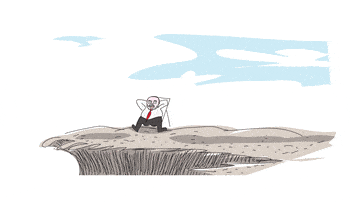 On Thursday, May 30, the countdown to the end of the long Netanyahu era began.
Next Monday, the Knesset was supposed to have convened for a festive session and voted its support for the fifth Netanyahu government, his fourth consecutive one since May 2009. The next day a marathon of legal legislation was to begin: One part was meant to rescue the suspect from justice, and the other was meant to deal a lethal blow to the Israeli legal system, its independence and power.
>> Netanyahu just suffered one of the biggest losses of his political career | Analysis ■ What the political meltdown means for Israel's security – and Trump's peace plan | Analysis ■ One April morning, this man woke up and decided Netanyahu will not be prime minister | Analysis
But it won't happen now. Israel is going to the polls again on September 17. This is insanity, Italy at its worst. A politician up to his neck in crimes, with a severe indictment hanging over his head is dragging an entire country to the polls, and no one in his party and no one in his planned coalition has put his foot down and told him: Stop! It's over! He decides, and 73 MKs follow him glassy eyed, like zombies.
Netanyahu realized on Wednesday night, and he showed this plainly, that the story was over. Elections on September 17, a new government – assuming that he wins and puts together 61 MKs without Avigdor Lieberman this time – at the beginning of November. This will be a month after his pre-indictment hearing. The Supreme Court-override law will not have passed, nor will he have immunity from prosecution: There will be an indictment and Netanyahu will be on his way to becoming history. It is doubtful that any of his "natural partners" will agree to sign a coalition agreement with someone on his political deathbed.
One of the most despicable days in the history of the Israeli parliament came to an end late at night on Wednesday when the 30-day-old 21st Knesset, the shortest in Israel's history, met to vote to dissolve itself. Netanyahu, the man who, drunk with power, celebrated his "incredible victory" on election night April 9, entered the Knesset chamber this time defeated and humiliated.
Until then, Israel had two candidates for prime minister who failed to form a government after being given the task by the president: Shimon Peres in 1990, after the political "dirty trick" of breaking up the second unity government; and Tzipi Livni in 2008, after the resignation of Ehud Olmert. Peres did not have 65 MKs in his bloc, and Livni was a political rookie who had never put together a government coalition.
Netanyahu is the third prime ministerial candidate to earn this dubious honor. His failure is the most stinging of the three: It came immediately after the election, after a clear victory for the right and with his having political experience that no one else in the Knesset had. What is the right-wing bloc now? Avigdor Lieberman, whose insistence on passing the new military draft law (which no one understands in detail) has driven the political system crazy, can no longer be considered an integral part of the bloc. Not as long as Netanyahu is its leader.
This is Netanyahu's second total defeat this decade, after his efforts to prevent the election of Reuven Rivlin as president five years ago ended in a rout. To add to the rage and humiliation, Netanyahu spent the tensest hours on Wednesday in a pitiable, sweaty, debasing, ineffectual pursuit after potential deserters on the left.
Even before a hearing and an indictment, Netanyahu is already a burden on his party and the state. If the rightist-religious bloc, without Yisrael Beiteinu, gets fewer than 61 Knesset seats in the next elections again, the nightmare we're in will repeat itself. Just imagine: Netanyahu cannot assemble a cabinet in November, the Knesset dissolves and everyone goes to the polls yet again.
"We could find ourselves in the same situation again after the next election," a senior Likud figure told me on Thursday. "The parties in the other camp would never negotiate with us. Even if the politicians want to, they'll be afraid of their voters. They'll probably promise them not to form a coalition with Bibi in the next election as well."
The key word in coalition talks is alternative. If Netanyahu hadn't been facing an indictment, he could have negotiated simultaneously with Kahol Lavan and would have formed a coalition a long time ago. But in his condition, which will get worse as the legal process continues, he will be damaged goods.
Our magician tried to pull a rabbit from up his sleeve, but what came out was a dead parakeet – and then another one, and another. What didn't he offer? The defense and finance portfolios to Tal Rousso and Avi Gabbay of Labor – the latter falling into the trap and saying he would "consider" the offer – the Justice Ministry to Shelly Yacimovich and the Communications Ministry to a designated Laborite.
He promised to give up on the Supreme Court-override bill and the immunity law, which were intended to be his escape hatch from a trial and possible prison term. Yes, he was even willing to sacrifice the things most precious to him, the original reason he moved up the election, just so he could stay in office and hope that even after the indictment he could remain there, as the law allows.
Wednesday's disgrace only shows how much of a failure the coalition negotiations were. Netanyahu needed to have made such arrangements earlier, at his leisure, in secret. After all, he suspected Lieberman from the very beginning, so why didn't he make sure he had an alternative? That is the price of his arrogance.
For four years Moshe Kahlon served as the sane, statesmanlike right wing in a radical nationalist government with racist elements. But Kulanu lost 60 percent of its seats and was close to extinction. This week, when Kahlon had to decide whether to run with Kulanu again in the next election and be wiped out or merge with Likud, he chose life. The deal he made with Netanyahu makes the most of the lousy cards the voters gave him, even at the risk of losing all the credit he amassed and turning into a joke and a symbol of opportunism.
Click the alert icon to follow topics:
ICYMI
Netanyahu's Israel Is About to Slam the Door on the Diaspora
Head of Israel's Top Art Academy Leads a Quiet Revolution
Ken Burns' Brilliant 'The U.S. and the Holocaust' Has Only One Problem
Israel May Have Caught the Worst American Disease, New Research Shows
Why the Head of ACLU's Human Rights Program Has Regrets About Emigrating From Israel
Netanyahu's Election Win Dealt a Grievous Blow to Judaism